Where To Spot Seahorses On Phu Quoc Island
The island's coastal waters feature three ecosystems that provide a hospitable environment for a variety of marine life: mangroves, coral reef, and sea grass. One of the most mysterious sea creatures that inhabits the coastal area here on Phu Quoc is the elusive seahorse.
Where to spot seahorses on Phu Quoc Island
The following is our list of the top 3 places to observe this beautiful creature.
1. Long Beach
Just behind Long Beach Pearl and close to Free Beach Resort and Nhat Lan Resort there is an area where you can snorkel to discover a variety of underwater life. We spotted this sea horse there: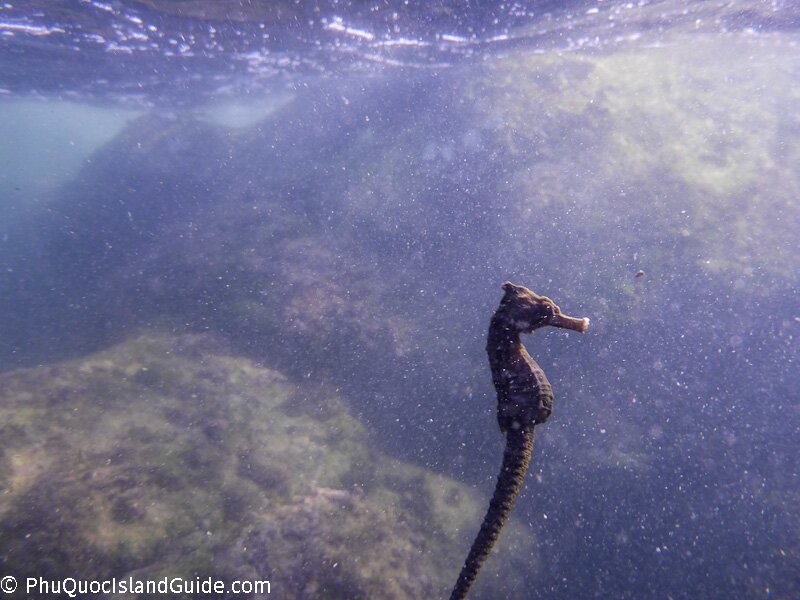 2. Seahorse Bay
Seahorse Bay is located off the coast of Thom Island which is located in the An Thoi archipelago. The best way to observe seahorses here is by diving.

3. Ham Ninh Fishing Village
Ham Ninh Fishing Village is located on the east coast of Phu Quoc Island and it is famous for having a jetty that stretches out to sea. The village has a small market where you will find live and dried seahorses for sale. Learn more about how locals consume seahorses.

4. Ham Ninh Coast
The Ham Ninh Coast is a shallow area adjacent to the islands largest sea-grass ecosystem. The sea-grass beds provide breeding grounds and nurseries to many marine life, including seahorses.

5. Da Chong Beach
Da Chong Beach is located in the north eastern part of the island and just south of Bai Thom Village. Here at Da Chong you will also find the pier where you can catch the slow ferry back to the Vietnam mainland. The surrounding water here is also rich with sea-grass where you will find seahorses.