99

Things To See and Do on Phu Quoc Island in Vietnam

Most people visit Phu Quoc to escape their day-to-day lives and enjoy a holiday on an island known to have some of the best beaches in all of Vietnam. However Phu Quoc has more than just beaches. It is an extremely diverse island where paradise and culture come together. Picking itself up from its dark war-era past, Phu Quoc has transformed itself to be Asia's "next big thing" offering tourists more than just another resort style vacation.
The following is our list of 99 things you can do on Phu Quoc, the ultimate island bucket list.  If you are planning on taking pictures/selfies at any of these sights and sharing the photos across social media, please use the hashtag #phuquoc.  A Phu Quoc map of all the locations listed below can be found here.
1. Watching The Sunset
Phu Quoc is one of the best places to watch the sunset at the end of the day in Vietnam. The golden sun sets into the deep blue sea along the western coast of the island. We asked Thoa, our island specialist and local expert, what her top 3 favorite spots were to watch the sunset are and these are her picks:
Ganh Dau Beach: For a picturesque sunset experience, head over to Ganh Dau Beach (Bãi Gành Dầu)  in Ganh Dau Village located in the north western part of Phu Quoc Island. Walk out to the far eastern section of the beach and take a seat on any one of the many large granite rocks facing the sea and watch the sun slip below the horizon in between the two far off islands – Bang Island and Mouse Island. It is a romantic spot which you will share with many young local couples.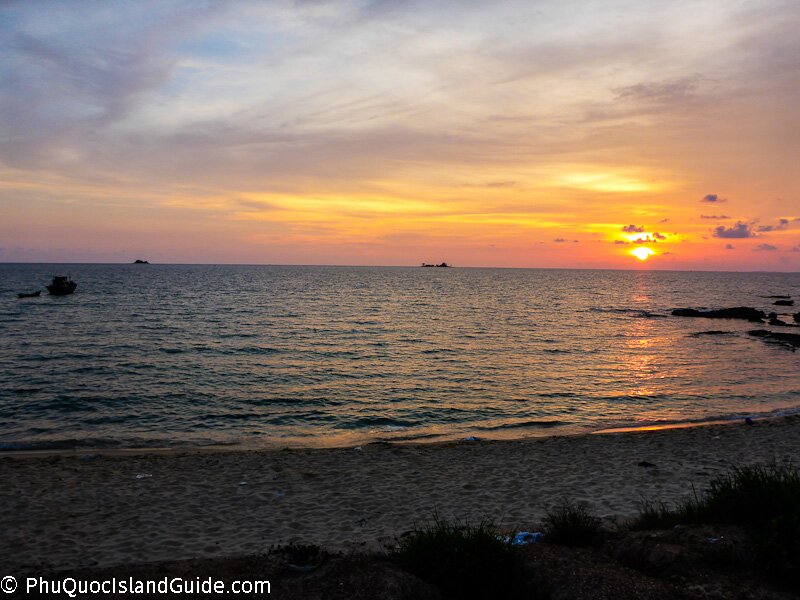 *There is another stretch of beach located in Gành Dầu on the northern side of Phu Quoc where a few beach resorts are located, however you cannot see the sunset from this location.
Dai Beach: Just south of Ganh Dau Beach is where you will find the upscale Dai Beach (Bãi Dài), a beach lined with 5 star luxury beach resorts as well as Phu Quoc's casino. With a well groomed beach and plenty of beach bars you would never have guessed that this beach was once deserted.   The sunsets here are amazing but since most of you will probably not stay at one of these posh resorts, we are going to tell you about the lesser known public undeveloped section of Dài Beach which is accessible to everyone, equally beautiful, yet more wild.  Located just north of Vung Bau Beach, past the Hon Mong Tay Resort, and south of the Grand World Resort, lies the secret Dai Beach. There is a small simple snack bar located on site, plenty of beach hammocks and chairs, and stretches upon stretches of practically deserted beach. It is the perfect spot to chill and reflect while watching a beautiful sunset with nearby Turtle Island in the view.

Ong Lang Beach: The sunsets from the popular, yet quiet, beach area known as Ông Lang Beach are spectacular year round. Depending on when you visit the island, you'll see one of two different types of sunsets: the summer season (wet season) will give you a powerful wave display while the sun sets, while the winter season (dry season) makes for a more serene sunset over a glass-like motionless sea. Either way, neither will disappoint. Anywhere along Bãi Ông Lang beach is a good spot to watch the sunset.

2. Swinging On The Paradise Swing

If you are searching for squeaky white sands,  electric blue sea, or a calm bay to swim in, Phu Quoc's Bai Sao beach is the perfect place for you.  We've written a lot about Sao Beach already, as it is one of the islands best beaches, but we have not talked about the number #1 selfie spot on this beach – the "Paradise Swing".  This wooden swing is attached to a palm tree that faces the sea.  It makes for a perfect photo op for snapchat or instagram selfies, wedding photos, or just random fun pictures and is located along the northern section of the beach.  There are many beach swings now on Phu Quoc, but this one is the original.  If you want to take a lot of photo's at this spot, come early as it is a very popular spot!
*"Sao" means star in Vietnamese, as in reference to starfish, and this beach is also referred to as Bãi Sao, Sao Beach, Star Beach, or Starfish Beach.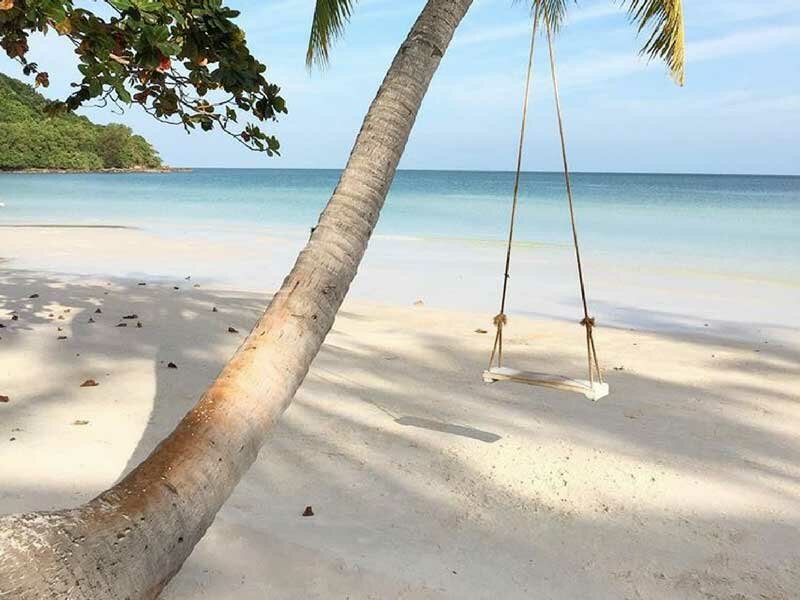 3. Try Jet  Skiing

Phu Quoc has Vietnam's best beaches and the island is destined to become the power water sports capital of the country. Here on Phu Quoc you can try jet packs, kite surfing, parasailing (the view from above is awesome), ride a banana boat, water skiing, SUP paddle boarding, wake boarding, wind surfing, kayaking, and jet skiing.  Newer bigger faster jet ski's can be rented at most of the luxury resorts and at some beach side bars.

4. Snorkeling From The Beach
Phu Quoc is Vietnam's best snorkeling destination and what's great about this island is that you do not need to join a tour to discover the islands marine life as most snorkeling can be done from shore. The 28 island archipelago collectively known as "Phu Quoc District" is surrounded by coral reef teeming with life and all you need is your snorkel, mask and our Phu Quoc snorkeling guide.  If you forget your snorkeling geat at home, don't worry as there are plenty of shops on Phú Quốc that have them.  Snorkeling on Phu Quoc is something you HAVE to do as it is a big bucket list item.

5. Hiking The Ganh Dau Trail
Go hiking while vacationing on Phu Quoc. The Ganh Dau Trail is the islands most popular trail as it is easy, accessible, and fun for the whole family. Located along the Suoi Cai – Ganh Dau road, just south west of Rach Vem Village in the north, the Ganh Dau Trail cuts through a small section of the Phu Quoc National Park. Here you will find some old growth trees, wild orchids, and even some wildlife. Bring plenty of water and a good attitude and get some fresh air by exploring this simple hiking trail. Learn more about the Ganh Dau Trail.
6. Tour a Phu Quoc Fish Sauce Factory
Phu Quoc is world renowned for producing the best fish sauce (Nước mắm Phú Quốc) on the planet. It is also one of the few places in Asia where you can independently tour a fish sauce production factory. Visiting a factory is free and will only take you around 30 minutes, or less depending on how you handle the pungent aroma emanating from the giant fish sauce vats.  Free samples are also available for the bold.
7. Freedive Phu Quoc

Phu Quoc is developing into a premiere freediving destination as it is an archipelago consisting of twenty eight islands all surrounded by canyons and coral reef.  On Phu Quoc, the freediving is better than the scuba diving, and the snorkeling is better than freediving.  Although not a new discovery, freediving has been here on Phu Quoc for a decade and was mainly done to catch fish (spear fishermen).  Today it is a real sport enjoyed by true hardcore fans of the activity.

8. Try Herring Salad at Kem Beach
Kem Beach is the best place to try herring salad (gỏi cá trích Phú Quốc), a raw salad made out of freshly caught herring fish and unique to Phu Quoc. Kem Beach is the best place to try authentic herring salad, for those who dare to eat raw fish. Herring is rich in omega 3-6-9's and the lime juice "cooks" the fish so it is not technically raw – think ceviche!  This is another experience that is on the verge of being extinct as well, and by the time you are reading this these beach side seadfood huts will be gone!


9. Visit The Mysterious Magic Wells
If you arrive early in the morning at Kem Beach you can commission a small long tail boat to take you to the nearby Magic Wells located in Emerald Bay Phu Quoc. This historical site, which is next to the ultra luxurious Premier Village Phu Quoc Resort, is famous for its small temple and fresh water well which was allegedly created in the 17th century as a result of a king, Gieng Ngu, striking his sword down into the ground to find water in order to quench the thirst of his troops. Learn more about the Kings Well.
10. Take A Selfie With A Mermaid
This iconic mermaid statue is located right on Long Beach across from the Long Beach Resort just south of Long Beach Village, the backpacker area. It is a representation of the islands most recognizable sea mammal, the dugong or sea cow.  Next to the mermaid you will find other beach statues as well as a small pier.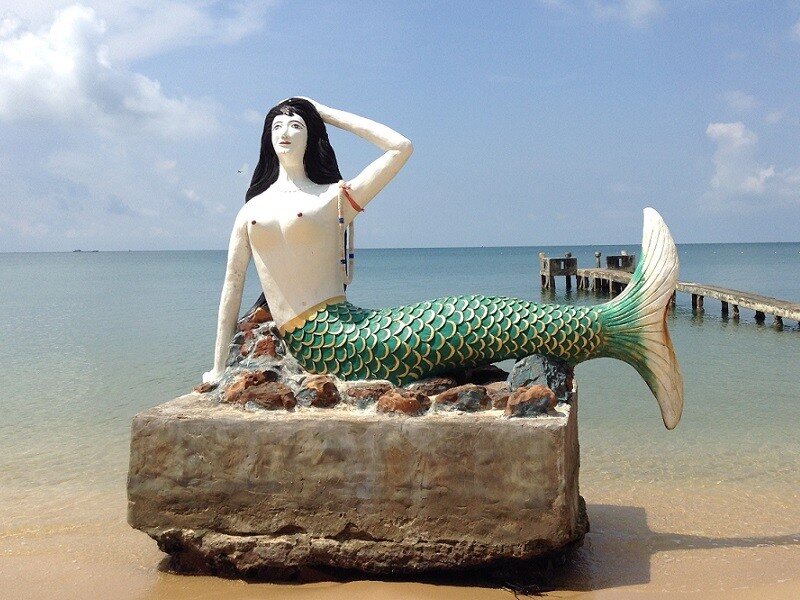 11. Watch A Live Mermaid Show
Now that you've seen the iconic mermaid statue its time for the real deal! Located inside Vinpearl Land, the islands amusement park, is an aquarium that features daily live mermaid show.  Girls dressed in mermaid costumes perform various underwater acrobatic stunts to which small children absolutely love.  It's definitely unique, and a must see show, especially if you enjoyed Disneys' "Mermaid" cartoon.

12. Play Out At Sea.

Remote Rach Vem Village not only provides a great vantage point to observe nearby Cambodia but just a few meters from shores lies a water sports activity center know as the Làng Biển Village,  which is a giant floating amusement park complete with inflatable rafts, jet skis, water jet packs, and more. The same floating inflatable amusement park is available at Bai Sao Beach, most likely being operated by the same company.


14. Watch The Sunrise At The Ham Ninh Jetty
Located around 14 kilometers from Duong Dong Town on the east coast of Phu Quoc is the small fishing village of Ham Ninh where you will find a long jetty that extends a couple meters out at sea. This jetty is unique to Phu Quoc and a popular tourist attraction. Get here early to watch an amazing sunrise right behind this massive pier. Learn more about the Ham Ninh jetty and fishing village.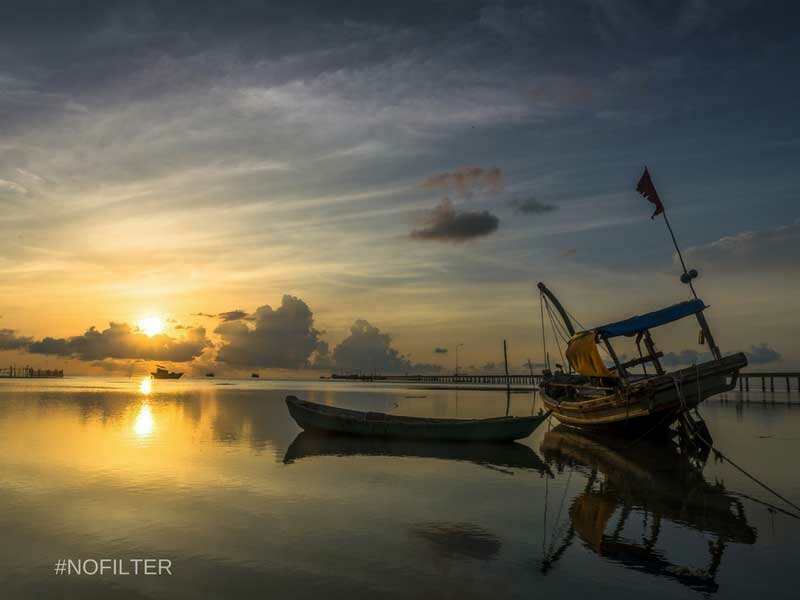 15. Phu Quoc Pepper Farm Tour

Phu Quoc produces over 1,000 tonnes of high quality black and white pepper each year and it is impossible to explore the island without seeing one of the numerous pepper plantations. Tour a Phu Quoc pepper farm and bring some back with you.  If you love cooking then there is nothing better than cooking with fresh peppercorns, which can be purchased on the island.
16. SUP Phu Quoc

SUP, or stand up paddle boarding, has recently become quite popular on Phu Quoc.  The sport is fun, low impact, and  best experienced during the high season when the water is flat and the wins are low. SUP on Phu Quoc is something your entire family can participate in and you can rent SUP boards at most beaches, especially Long Beach, Ong Lang Beach, and Bai Dai Beach. SUP Phu Quoc!

17. Discover The Mystical Cao Dai Temple
The mystical religion of Cao Daism is said to have started right here on Phu Quoc Island.  Visit this colorful temple located near the Phu Quoc Night Market and learn more about Cao Daism, the multi-god religion..  Religious ceremonies are usually held in the afternoon but you can visit the temple at almost any time.  Please remember to be respectful and wear the appropriate clothing. Learn more about the Cao Dai Temple on Phu Quoc.

18. Visit The Dinh Cau Rock Temple
The Dinh Cau Rock Temple is one of Phú Quốc's most iconic sites and no visit to the island is complete without seeing this quirky little temple perched on a rock next to the Duong Dong river.  At the back of the temple there is a small lighthouse and balcony overlooking the Phu Quoc pier. Learn more.

19. Soak Underneath A Waterfall
What's a tropical island without a waterfall right? Well Phu Quoc has one and it is spectacular! Discover the islands only real waterfall located just on the outskirts of Ham Ninh Village.  The Suối Tranh waterfall is a 4 meter tall waterfall that is surrounded by lush green vegetation.  There is a small lagoon at the base of the waterfall in which you can swim in and numerous picnicking opportunities in the area.  Learn more about Phu Quoc's waterfalls.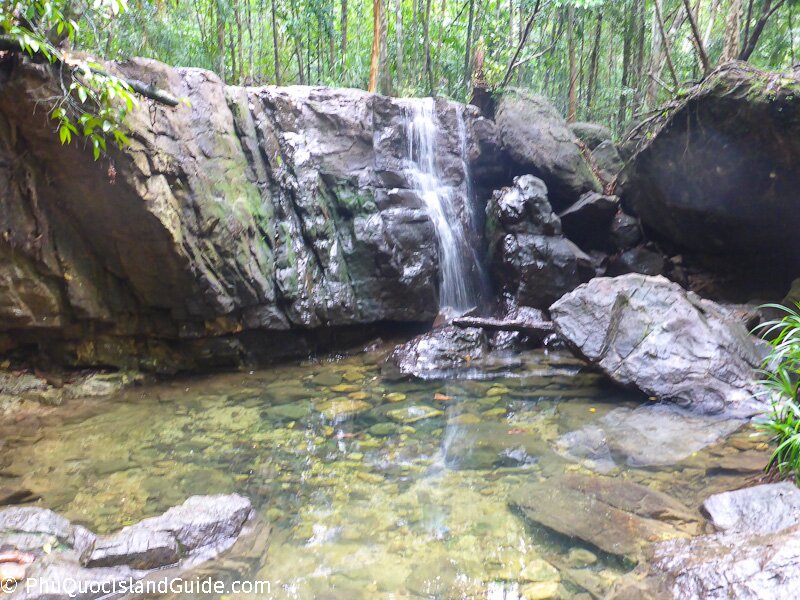 20. Eat At The Phu Quoc Night Market
One of the islands "must-see" attractions, the Phu Quoc Night Market in Dương Đông Town is an exciting open air street market that has plethora of restaurants, bars, and shopping opportunities.  Located on Bach Dang Street and next to the Dương Đông river, the market opens at 6:00pm nightly.  Expect to spend at least one evening here.  The atmosphere at the night market is electric and it is a great place to "people watch".  Like with all touristy places, the price of food and drink here are at a premium but you can still bargain with most vendors.

21. Visit Mot Island
Mot Island (Hòn Một) is a tiny peculiar island that is located in Bãi Thơm and connected to Phu Quoc's main island by a man-made bridge.  It's a small island that's perfect for picnicking, bird watching, and doing some deep thinking while gazing out at sea or at the islands largest mountain, Mount Chua (Núi Chúa).  Learn more about Hon Mot Island.

22. Search for Tram Mushrooms at Rach Tram Village
The rare yet delicious Tram Mushroom is an edible fungi found mainly in the Rach Tram area and is often harvested during the rainy season.  It is used mainly in soups and stir-fries.  If you are a foody or cook, foraging for these tiny mushrooms is something you have to do while exploring the island.

23. Explore the Duong Dong Market
Chợ Dương Đông, or Duong Dong market is Phu Quoc's largest wet and dry market.  It is the mother of all markets, and a real must-see when visiting Phú Quốc! Here you will find fresh fruits, vegetables, seafood, pepper, household items, and the best rice cakes in town.  Learn more about the Duong Dong market.

24. Explore Ganh Dau's Seaside Village
This charming village, close to Ganh Dau Beach, is located right along the islands northern coast (Mũi Gành Dầu), in a part of the island where few travelers visit. Its' quiet market echo times past; bicycles still meander through the sleepy town center and where little kids fly paper kites out at sa.  Ganh Dau Village is a small photogenic fisherman's village that has remained untouched from the islands development.

25. Visit The Nguyen Trung Truc Temple
Pay homage to Phu Quoc's local hero – Nguyen Trung Truc, leader of Vietnam's struggle for independence .  This temple located up in Gành Dầu features unique architectural design, paintings depicting Nguyen Trung Truc's journey, and homeopathic medicine which is free for the taking.  Learn more about the Nguyen Trung Truc Temple. If you are taking the ferry from Rach Gia to Phu Quoc and have some time to spare, you can also visit the larger Rach Gia Nguyen Trung Truc temple found nearby the ferry terminal.

26. Kayak To Fingernail Island
Feel like doing a little paddling while vacationing on Phú Quốc? The best all around ocean kayaking experience on the island is paddling from Vung Bau Beach to Fingernail Island, a tiny island surrounded by coral reef.  Learn more.

27. Watch a Phu Quoc Ridgeback Dog Race
The Phu Quoc Ridgeback dog is a unique dog originating from Phu Quoc Island.  Also found on the island is the Thanh Nga Kennel Farm which has a Phu Quoc dog race track, the only one in all of Vietnam.  Located in Cay Thong Village, Duong To Commune (near Duong Dong), the Phu Quoc dog race course has a total length of 400m and races are held 3 times per day.  Learn more about the race track.  Watching a dog race on Phu Quoc is an interesting and a bit weird experience.


28. Learn How Local Sim Wine Is Made.
Phu Quoc Island is home to numerous wild Sim fruit trees, a fruit that resembles a small purple grape.  The fruit is harvested and made into a wine (rượu sim Phú Quốc) and thus producing the islands very own native alcohol product. On the island you can visit a factory to see how the wine is made. Learn more.

29. Explore The Phu Quoc Museum
Learn more about the islands history by visiting Phu Quoc's very own museum! This multi-story privately owned museum located in the Long Beach area is home to a massive collection of fossils, relics, and pictures on everything Phu Quoc!

30. Tour the Cua Can river
The Cua Can river is Phu Quoc's most impressive river system which can comfortably be experienced by joining a Cầu Cửa Cạn river tour.  You can either tour the river via kayak, speedboat, or a slow river boat while soaking in the surrounding scenery.  The Cua Can river cuts through a secondary forest and you will see a lot of vegetation, fish farms, stilt homes, and even some wildlife.  The best time to explore this river to observe wildlife is in the morning.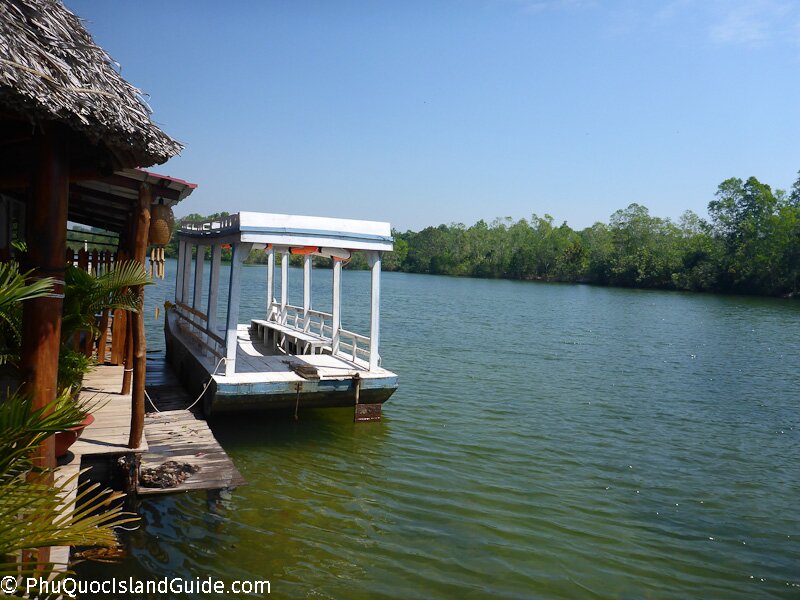 31. Discover Cua Can's Wooden Bridges
In Cua Can Village you will find a few simple yet picturesque wooden bridges that are still in use today.  These bridges will not be around for too long so see them while you can! Learn more about Cua Can's wooden bridges.

32. Wade Through Phu Quoc's Rock Garden
One of the most serene places on Phu Quoc Island is the ecotourism site known as "Rock Garden", a picturesque coastal area north of Hàm Ninh Fishing Village just south of Cây Sao Village.  The key attraction here is nature – numerous granite rocks jutting out of the turquoise sea adjacent to a white sandy beach.  If you are into yoga, meditation, or simply want to take your kids to swim in a very shallow safe sea, then check out this place.  Learn more.

33. Explore Phu Quoc's Backpacker District

Long Beach Village, or "LBV" for short, is Phú Quốc's backpacker district located in the heart of the busy tourist strip of Long Beach just off of Tran Hung Dao street.  Similar to the famous Koh San Road in Thailand, this densely packed area has numerous hostels, resorts, hotels, restaurants, bars, clubs, laundry service, Phu Quoc motorbike rentals, tour agencies, and more.  If its your first time on the island and you are on a budget, then check out Long Beach Village.
34. Visit the Phu Quoc Prison
Today Phú Quốc is an island known for its yellow and white sandy beaches, its unique ridgeback dog, a place that produces the worlds best fish sauce, and Asia's next top vacation destination. However Phú Quốc does have a dark past and this is all on display at the Phu Quoc Prison, which is also called the Coconut Tree Prison (Cây Dừa Phú Quốc).  Located in the South Eastern section of Phu Quoc Island just north of An Thoi Town, the Phu Quoc prison is a popular tourist attraction and another iconic sight on the island.  The prison has been decommissioned years ago and today it is a museum and national heritage site.  No visit to the island is complete without witnessing this unique historical place.  It is a must see, espcially if you have never visited a prison before.

35. Soak In Your Own Natural Pool

Located deep in the interior of đảo Phú Quốc is the ecotourism destination known as Suối Đá Bàn, also known as Da Ban Stream.  The Da Ban stream is a forested area that has numerous small streams and waterfalls and is defined by the presence of numerous flat granite rocks.  Some of these rocks have deep pockets of water which can double as natural Jacuzzi.  Learn more about this quirky place and discover the Suối Đá Bàn today!

36. Visit the Dương Đông Dam
The Dương Đông dam and reservoir is where the island's water supply is primarily stored.  It's a unique place that is off-the-beaten track but completely accessible, even though it is part of a restricted military area. Learn more about the Dương Đông dam.

37. Take A Selfie At The Dương Đông Sign
Not as big as the famous Hollywood sign but equally as cool is the Dương Đông sign located next to the Dương Đông dam.  This impressive sign can be seen on Google Maps satellite images and it's just an interesting place to check out if you love to explore and discover "non-touristy" things.

38. Try Your Luck At Catching A Big Fish!

The fishing around the Phu Quoc archipelago is an awesome experience for those of you who are anglers.  You can fish from shore or charter a boat and try to your luck at catching some really big fish.  Spear fishing on Phu Quoc is also gaining popularity and tours are not hard to find.  We wrote a complete guide to fishing on Phu Quoc here.

39. Fish For Squid At Night

The 28 islands that make up Phu Quoc provide the ideal conditions for squid to thrive and it is clear why you find squid dishes all over the island district, its because they are abundant.  You can catch them yourself by joining either a night squid fishing tour or just simply kayaking out in the evening and try fishing for them.

40. Enjoy A Seafood BBQ at Hon May Rut Island
Hòn Mây Rút is a small privately owned island located off the southern coast of An Thoi Town, Phu Quoc's second largest town. On this island you will find a family that has a small fresh fish farm.  Pick what you want to eat, pay per kilogram, and either cook it yourself or get the family to cook the seafood for you.  After you have had your fill, relax on of the many oceanfront hammocks found on this island before heading out.

41. Sip Sugar Cane Juice With The Locals At Dinh Cau Beach
There is nothing more thirst quenching and satisfying than a cup of freshly squeezed sugarcane juice (Nước mía) in Vietnam.  The most popular and atmospheric spot to enjoy this natural healthy drink is by Dinh Cau Beach.  Grab a drink, sit down on a plastic chair, people watch, and soak in the culture while watching the sun set into the deep blue sea.  This is the real Phu Quoc experience!

42. Observe the Phu Quoc Marine Park From A Rooftop

The rooftop at the An Thoi marina offers a panoramic view of the Phu Quoc Marine Park.  Here you can observe the busy An Thoi port below, have a 360 view of An Thoi Town, and see nearby Roi, Thom, and Dua Islands.

43. Go on A Safari
The Safari on Phu Quoc is the largest open air safari in Vietnam housing thousands of animals that have been imported from all around the world.  Visitors can take a trip through the safari via an electric tram, interact with animals, watch animals watch African Zulu Dancers perform,  and even dine at some of the best eateries on the island.  Learn more about the Safari on Phu Quoc.

44. Ride The Ferris Wheel At Sunset
Experience breathtaking, panoramic views on the islands largest observation wheel at Vinpearl Land Phu Quoc, a truly magical and romantic experience.  While taking a ride on the Phu Quoc ferris wheel you will have a birds eye view of the ocean as well as Phu Quoc Island itself.  The best time to enjoy this experience is when the sun is setting.

45. Explore Turtle Island
Turtle Island (Hòn Đồi Mồi) is a tiny island located off the coast of Ganh Dau and surrounded by coral.  Although the coral has been bleached out here you can, however, discover large barrel sponges covered in seaworms via swimming or snorkeling.  Turtle Island on Phu Quoc is also a great spot for an offshore picnic and the sunsets here are magical.  Get here either by joining a tour, kayaking from Dai Beach, or taking a boat taxi from Dai Beach as well.

46. Visit A Crocodile Farm
Part farm and part zoo the Phu Quoc crocodile farm is a unique experience on the island.  This venue houses numerous salt water crocodiles which are kept in cement holding cells.  If you have never seen a salt water crocodile before, then this place is for you.  Learn more.

47. Take A Local Ferry To Pineapple Island

Pineapple Island (Hòn Thơm Phú Quốc) is Phu Quoc's 2nd largest island and the terminal destination for the Phu Quoc cable car.  Take the local ferry from An Thoi port to the Pineapple Island for a very authentic Vietnamese experience.  Once on the island you can commission a motorbike taxi to take you around.  Learn more.

48. Have A Cup Of Coffee At The An Thoi Marina
At the base of the Phu Quoc Marina is a nice little cafe located next to the An Thoi port.  Its a great place to sit back, relax, and enjoy the port atmosphere while sipping on a Vietnamese style coffee.  There are seats inside as well as outside the cafe and prices are very reasonable.

49. Observe Anchovies Drying at Dat Do Beach
Phu Quoc is famous for its fish sauce and the main ingredient to make the aromatic sauce is anchovies.  Anchovies are abundant in the seas around Phu Quoc and you can observe the traditional way of drying them at Dat Do Beach.

50. Take A Tour Of The An Thoi Archipelago
The An Thoi archipelago, also known as the Phu Quoc Marine Park, consist of 15 islands most of which are surrounded by coral.  A popular a way to see these islands is by chartering your own boat or by joining an island hopping tour.  Some islands are inhabited while others are not, but if you are on Phu Quoc you should not miss seeing this archipelago, especially during the dry season when the seas are calm.

51. Enjoy Fresh Crab At Hàm Ninh Village
Along the coast of Hàm Ninh, next to the long pier, are numerous bare bones seaside and street-side restaurants that serve the villages most popular seafood item, sea crab. Ham Ninh is the cheapest place on Phu Quoc to try freshly caught crab. The Ham Ninh crab is usually boiled and eaten with a simple dipping sauce made out of salt, pepper and lime juiced.  Don't expect giant monster size crab though, sea crabs are generally small.  Tip: Tell the cook to remove the elastic rubber bands before boiling the crabs.

52. Experience Phu Quoc's Nightlife

Discover Phu Quoc's nightclub and bar scene after a day of exploring and beach lounging.  Phu Quoc has a growing number of nightly entertainment options.  From casual beach bars to pulsating nightclubs, there is something for everyone.  Majority of the Phu Quoc's nightlife is concentrated in the Long Beach area. To begin the night, start off by having a few drinks at the Phu Quoc Night Market and work your way down all the bars/clubs that line Tran Hung Dao Street, the main tourist strip.

53. Watch The Sunrise at Bai Thom
One of the most magical sunrises we have seen on Phu Quoc is at Bai Thom Beach.  With literally no people around and no traffic, all you hear are the sounds of waves crashes and birds chirping as the sun slowly ascends illuminating the sky above it. The experience is meditative.

54. Take A Trip Down The Rach Tram River
Rach Tram (Bãi Rạch Tràm) is a small fishing village located within the Phu Quoc National Park.  Getting here is not easy but for those who have a sense of adventure it is worth it.  The scenery around Rach Tram is spectacular and the villagers her are friendly and welcoming.  The mighty Rach Tram River is located here, which cuts through the heart of Phu Quoc's jungle.  You can commission a boat from withing the village and explore this river.  The mighty Ham Rong mountain overshadows the river and the area is home to numerous wildlife species.  Keep an eye out for the great hornbill bird!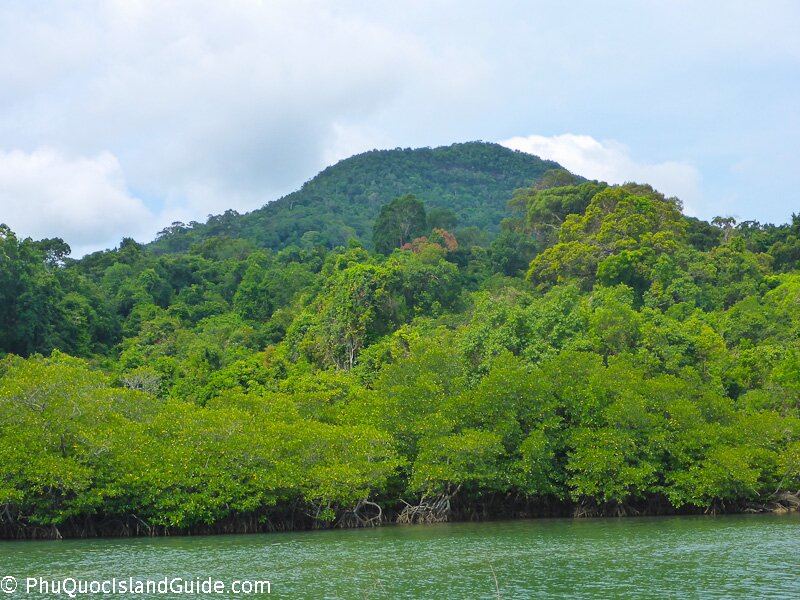 55. Spot Hornbills Flying Above
Phu Quoc bird watching is not limited to avid birders with binoculars but everyone can enjoy this activity on the island.  One of the islands iconic birds is the hornbill, which kind of resembles a toucan.  This giant beaked bird can easily be spotted around the island early in the morning either flying above you or resting on a tree branch.  The best place to spot hornbills are at Vung Bau and in Bai Thom.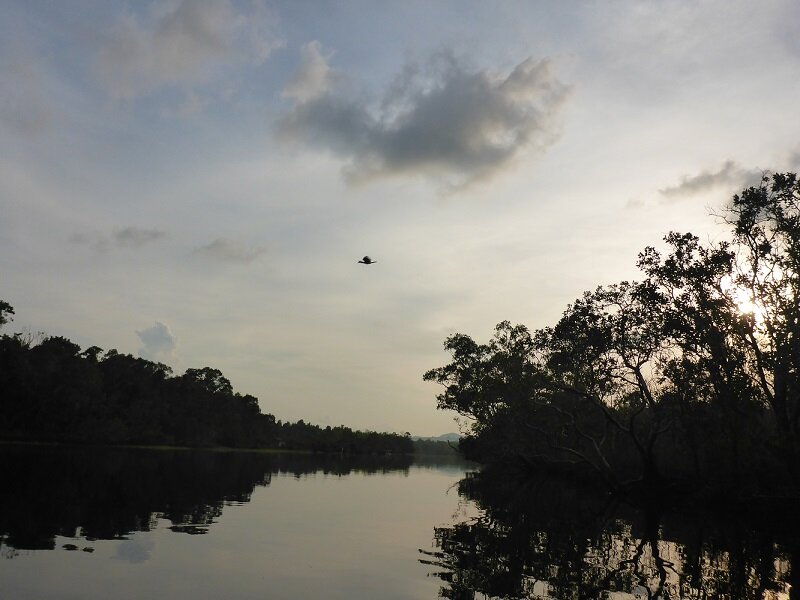 56. Spot Macaques Next To Bai Thom Road
Phu Quoc is home to a sizable macaque (monkey) population and they can easily be spotted next to the road that takes you to Bai  Thom, especially around the stretch of road that cuts through the national park. The best time to observe them is between 6:00am to 8:00am.
57. Motorbike around Phu Quoc
The best way to explore Phu Quoc is on two wheels.  There is nothing like getting on a motobike, using our digital maps to aide in navigation, and simply exploring what Phú Quốc has to offer.  If this is something you would like to do, we wrote an entire guide on it found here.

58. Try Phu Quoc's Famous Fish Cake Soup
The most sought after bowl of soup is served only for a couple of hours in the morning and it sells out quick.  It's delicious, cheap, and freshly made.  Read our Phu Quoc Food Guide to learn more about this place and other cool eateries found throughout the island.

59. Visit Dinh Ba, The Seaside Temple

Dinh Ba Temple (Dinh Bà Ông Lang Phú Quốc) is an interesting temple alsodedicated to Nguyen Trung Truc, a local hero, and is set directly on Ong Lang Beach.  It's worth a visit if you are in the area and a great place to take a break from the scorching sun.

60. Cool Down In A Luxury Beach Side Swimming Pool
Phu Quoc has some really awesome swimming pools most of which are right on the beach.  You do not necessarily need to be a hotel guest in order to enjoy the pool, just purchase a drink and/or food and go for a dip! We even ranked the 10 best swimming pools found on the island which you can see here.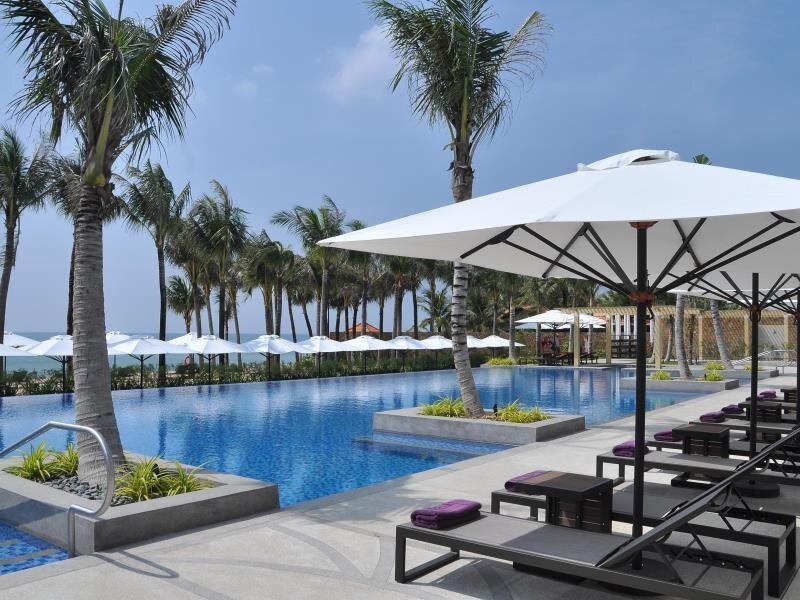 61. Visit The Island's Very Own Amusement Park
Phu Quoc has it's own mini "Disney Land" like theme park complete with a giant castle, roller coasters, water slides, kids world, sea world, theatre and an international food court.  Free shuttle buses transports guests from the popular areas around Phu Quoc and there is even a luxury resort right next door if you want to stay close by.  Discover Vinpearl Land Phu Quoc today!

62. Golf On Phu Quoc
"Fooooooooooooooooore"! Yes this tiny little island even has a 27 hole professional golf course located right next to the sea! You can use your own clubs (or rent them), have your own personal caddy, and the dress code is relaxed so all can play.  Learn more about golfing on Phu Quoc.

63. Scuba Dive on Phu Quoc
Phu Quoc is not known as a diving destination and the snorkeling is much better here but if you want to get up close and personal with the scattered coral reef here then consider scuba diving with one of the islands many dive operators.  It's a great place to try scuba diving because most dive sites are less than 10 meters in depth.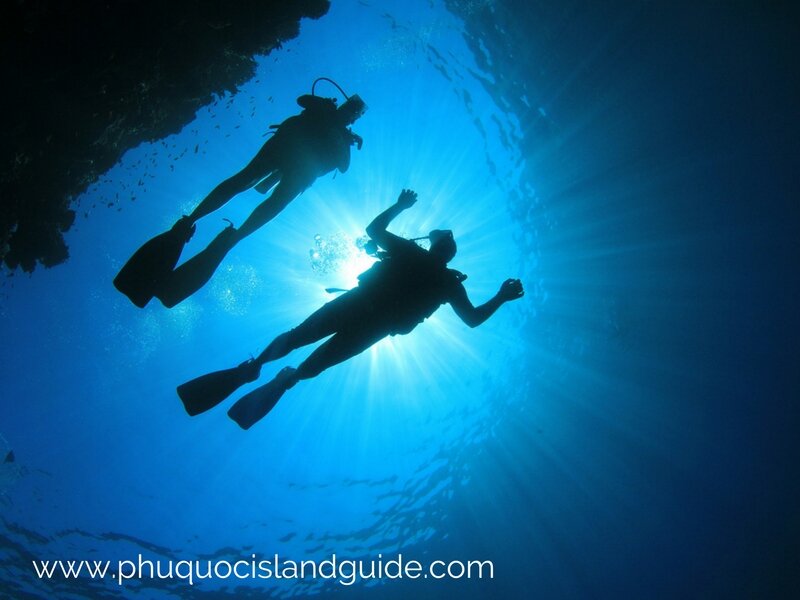 64. Walk Along An Ocean Bridge

Rach Vem's shallow shores are home to numerous seafood restaurants that are connected to the mainland by simple wooden bridges that are built right over the ocean, which have become a tourist attraction.  While you are walking on these simple wooden bridges, look down into the sea and you will spot starfish, conch, and other marine life that inhabit the shallow waters around Rach Vem.  If you are planning on posting a selfie, remember to use #phuquoc and also tag us @phuquicislandguide.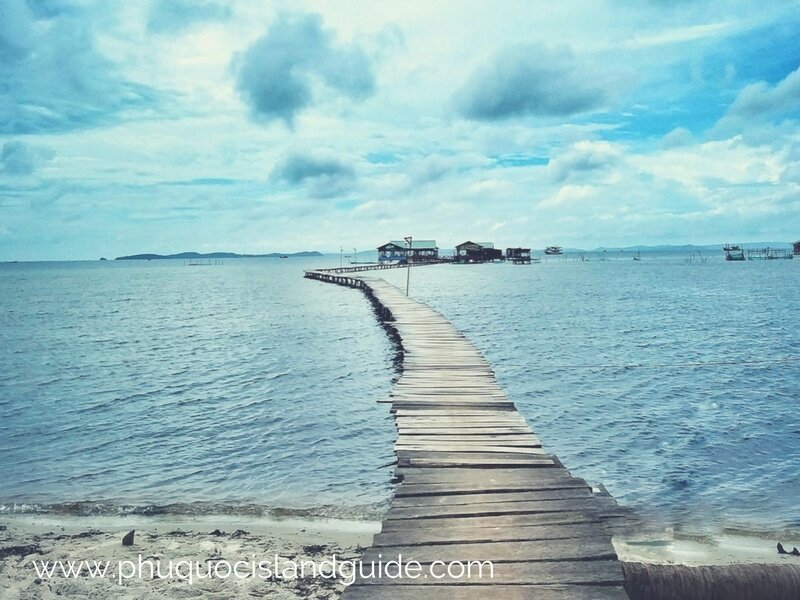 65. Take A Picture In Front Of The Vinpearl Land Sign
The giant Vinpearl Land signage up in Gành Dầu is a popular spot for selfies and group pictures.  This spot reminds us of our countless road trips across the USA and Europe where we would all pose for pictures next to the signs of major tourist attractions to show the world we have been there.  It's also fun! Say "Cheeeeese"!

66. Watch How Sea Cucumber's Are Processed In An Thoi
They are slimy and they look like a male sexual organ but regardless some people want to eat them!  Phu Quoc is one of the leading suppliers of sea cucumber ("đồn đột" or "đột ngậu") products in Vietnam.  Sea cucumbers are harvested from the sea and processed in An Thoi.  You can watch how they are processed and later order a sea cucumber soup, which is a unique island dish found on Phu Quoc.

67. Explore Phu Quoc's Microbreweries
If you are a beer connoisseur or just someone who appreciates fresh brewed beer then you will enjoy the few microbreweries that have opened on the island recently.  Some of these breweries use imported Czech technology, producing a great tasting beer while others use local methods.  Learn more about the microbreweries on Phu Quoc.

68. Look For Bio-luminescent Plankton

If you are walking along anyone one of Phu Quoc's beaches at night and see tiny flashes of green and/or blue light emanating from the ocean, then what you are seeing are Phu Quoc's bioluminescent plankton.  It's a rare treat to see them as they do not always glow, as it takes energy to make the chemicals that allow them illuminate, but when then do it is spectacular!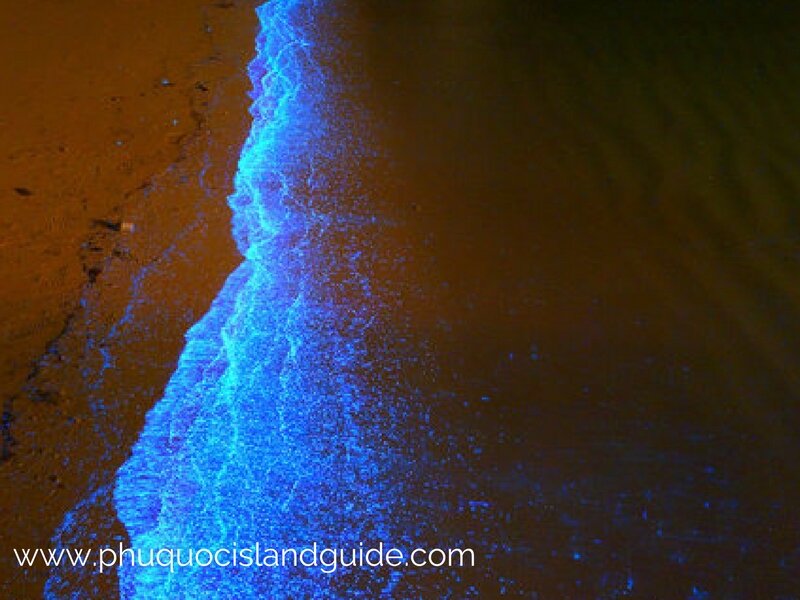 69. Visit The Sung Duc Pagoda In An Thoi
The Sung Duc Pagoda located in An Thoi is an interesting place to visit.  Although it is a relatively small temple representing a Chinese branch of Buddhism, the sheer quantity of Buddha statutes will overwhelm you.  Learn more about the Sung Duc Pagoda.

70. Visit The Old  Sung Hung Pagoda In Duong Dong

The Sung Hung Pagoda is one the oldest Buddhist temples on Phu Quoc and one that is easily accessible as it is located in the heart of Dương Đông Town.  Here you will find numerous Buddha statues, a small grave yard, and a lot of unique decorations.   Visiting the Sung Hung Pagoda will not take up too much of your time and it is a great place to learn more about Vietnamese pagoda architecture.  Entrance is free and the temple is opened from 7:00am to 6:00pm.
71. See The Big Colorful Buddha At The Su Muong Pagoda
Since we are on the topic of temples we should mention the Su Muong Pagoda, also known as the Hung Long Tu Pagoda, which is located about 5.5 kilometers east of Dương Đông Town. There are many highlights here, such as the view of the ocean from the main hall, the numerous pagoda's, and our favorite – the giant colorful and jolly Buddha statue.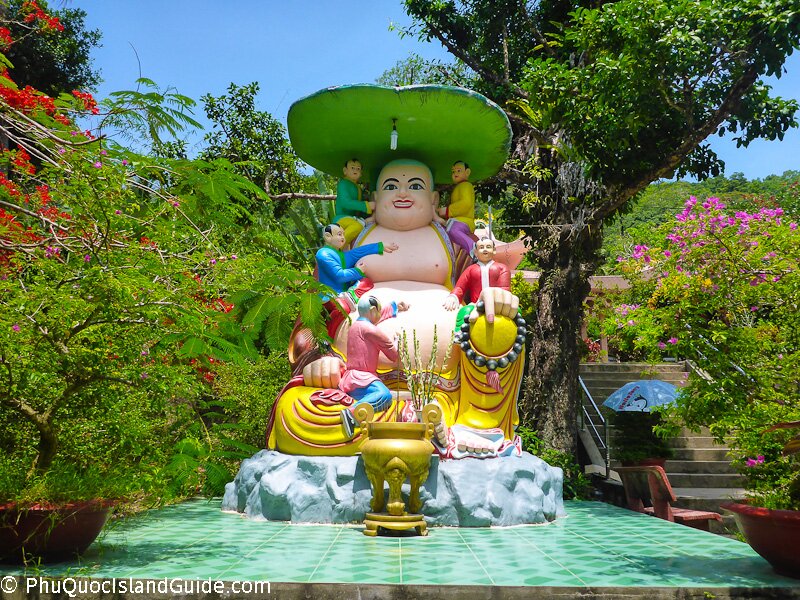 72. Look For The Great Phu Quoc Sea Eagle
Often overshadowed by the more colorful hornbill, the white bellied sea eagle is equally impressive and a fairly common resident on Phu Quoc.  The sea eagle, which is a bird of prey, and can be seen soaring through the sky, especially in the Ganh Dau area, while juveniles, which are darker,  can be spotted resting on tree branches during the day.  Look up at the sky around mid-noon to see these majestic birds of prey gliding in the air in search of prey.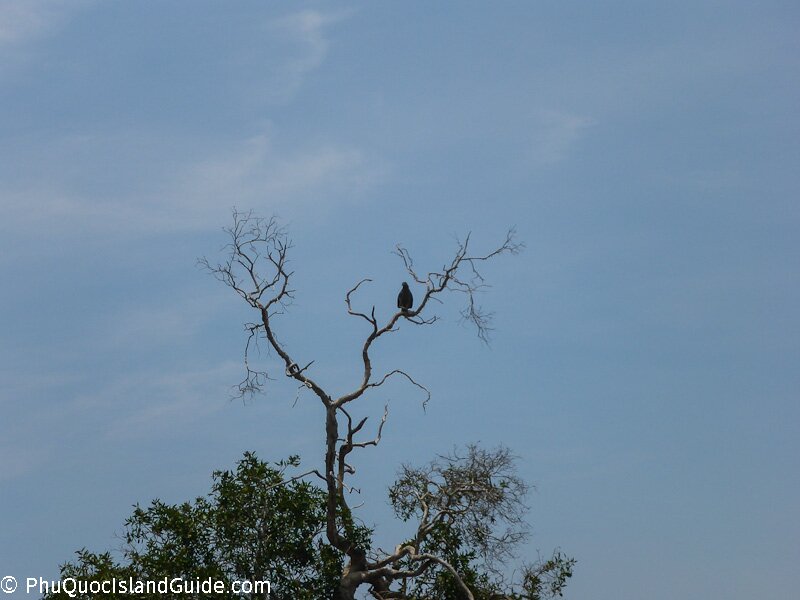 73. Visit Fingernail Island

Gorgeous Fingernail Island (Đảo Móng Tay) is located in the An Thoi archipelago.  This gorgeous idyllic island, which shares the same name of a similar island found in the north,  has a beautiful bay with a beach that has pure white sand. It's a popular spot with many tourists visiting this island daily for swimming, fishing, relaxing, and for taking island pictures.

74. Observe Seahorses In A Tank
An unusual and unfortunate sight on Phu Quoc is observing live seahorses for sale.  Vietnam is a major supplier of seahorses, which are consumed throughout Asia for their "health benefits".  You can observe both live and dead (dried) versions in Hàm Ninh fishing village.

75. Fish For Baby Octopus At Sunset
The long ocean jetty at Ham Ninh village is a great spot to fish for baby octopus, especially at sunset.  Join the locals at the end of the pier, grab a free drinks from the few vendors that are there, and cast a line!  If fishing is not your thing, then watch how the local kids pull these baby octopus from the sea, it is quite entertaining.

76. Visit A Bee Farm On Phu Quoc

There are two bee farms on Phu Quoc Island, one located in the interior of Cầu Cửa and the other located closer to Duong Dong Town in Dương Tơ village. The bee farm that is more popular with tourists is called the Phu Quoc Bee Farm and it is a for-profit ecotourism destination on Phu Quoc that sells honey and bee wine.  Guests can tour the small compound free of charge to learn how bee's are raisedon the island.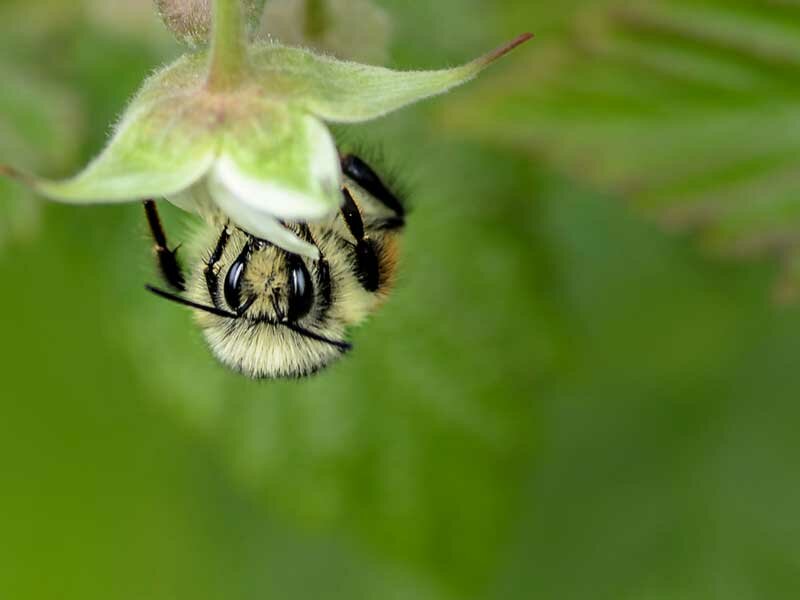 77. Cua Can Sand Bar
The Cửa Cạn sand bar is a unique natural sight found along the coast of Cửa Cạn village where the island's river empties into the sea.  Come here during the early morning to observe the numerous waterfowl congregating next to the small pools of water found at the base of the sand bar.
78. Explore An Island Shaped Like A Mouse
Mouse Island, or  Hòn Thầy Bói in Vietnamese, is a tiny speck of an island that literally resembles a mouse.  The uninhabited island is known for its large population of seabirds and it is surrounded by a small coral reef.  Getting here can be difficult as the island is located close to the Cambodian maritime border.

79. Search for starfish
Starfish, or sea stars, use to be abundant on Phu Quoc until the locals started to collect them in order to resell them to tourists.  You can still find wild starfish along the northern coast of Phú Quốc as well as in various sections of the Phú Quốc marine park.  The best place to find the dark red starfish, as seen below, is in Rạch Vẹm Village.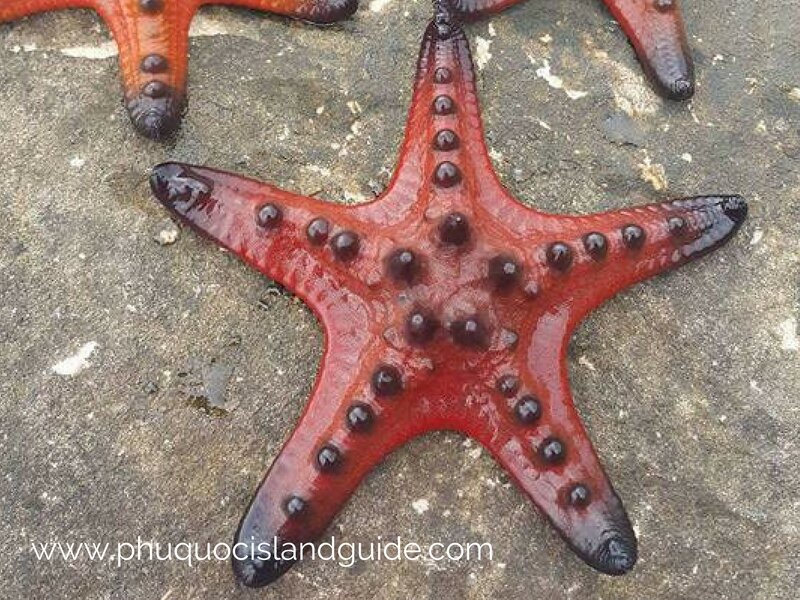 80. Find Your Own Beach

Phu Quoc has 150 kilometers of coast line lined with vast stretches of beaches that are mostly abandoned – no people, no hotels, no construction, and no noise.  Find and enjoy your very own beach!  You can discover desolate beaches in the Vung Bau, Ganh Dau, Ham Ninh, Bai Thom, and Rach Tram areas.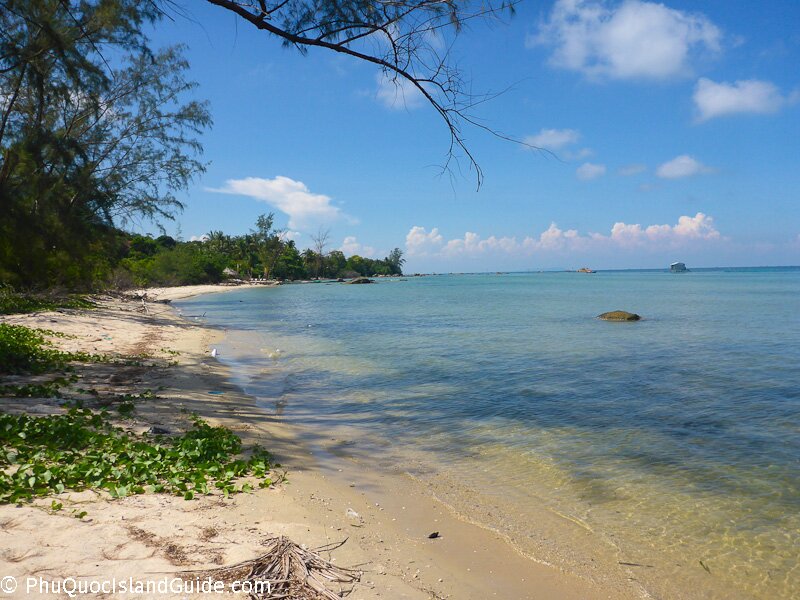 81. Discover The Phu Quoc National Park

Over 50% of Phu Quoc Island is classified as a national park however the core of the park is located in the Bai Thom area and closed to the public.  Tourists can still experience the beauty of the national park by riding a motorbike up the Duong Dong – Bai Thom highway, a stretch of road that cuts through the park, or by organizing a special private tour.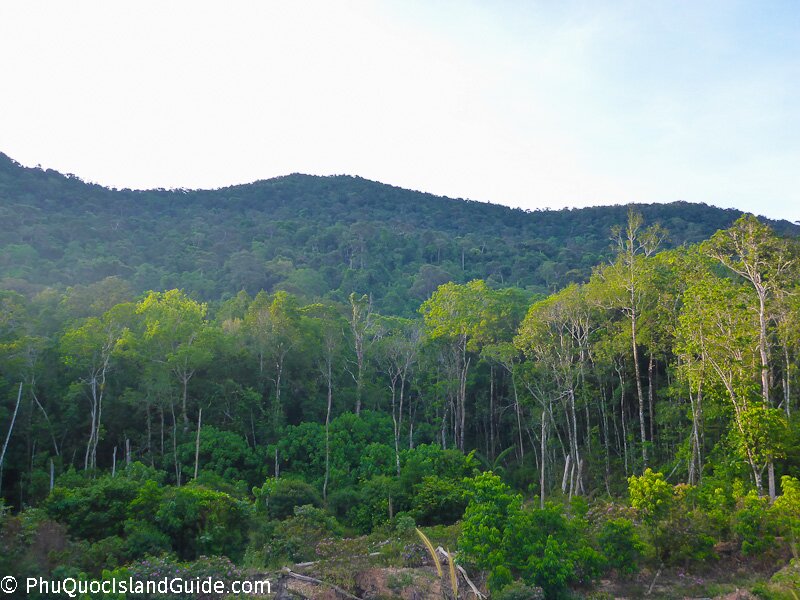 82. Try Sea Snails
Have you ever wanted to try eating sea snails? Although they look intimidating at first they are actually quite tasty and have the texture of cooked clams. Half the effort lies in getting them out of their shell.  The best place to try snails, or "Oc", is at the few seaside restaurants located in Ham Ninh.

83. Tour A Pearl Farm

Phú Quốc is often referred to as "pearl island" because the island produces some of the world's highest quality natural pearls.  There are a few pearl farms scattered throughout Phú Quốc district and some of these farms are opened to the public.  Guests can learn how pearls are cultivated and harvested via live demos and also purchase a variety of finished pearl products.

84. Shop Until You Drop On Phu Quoc

On Phu Quoc Island you can buy premium quality goods such as pearls or simple souvenirs such as the popular non la, a traditional Vietnamese conical hat made out of bamboo.  Phu Quoc's shopping area is located mainly along Tran Hung Dao street and around the Phu Quoc Night Market where you can find both local and international items.  There are a lot of fake products on the island, so be careful!


85. Spot Giant Snails After A Rain Shower
Search for giant snails that normally appear after it has rained on the island. They are harmless and very intriguing and can be found climbing up walls and along pathways.

86. Eat Raw Sea Urchin
If you take a trip down to the An Thoi islands you will have an opportunity to try raw sea urchin, also known as uni or nhum.  Eating live urchin is dramatic. It's cracked open for you and in some cases the spines are still moving about as you eat it.  What you are actually eating are the sea urchins sexual organs (gonads) which are often orange in color and tastes like the sea without being fishy, a similar experience to eating caviar or briny oysters.  It's definitely an experience to be had while on Phu Quoc!

87. Watch The Sunset At The Duong Dong Marina
The Duong Dong Marina becomes alive during the sunset hours.  Fishing boats dock to unload their daily haul, night squid fishing boats get ready to head out, street vendors set up popup restaurants, and then of course there is that beautiful Phu Quoc sunset:

88. Have Your Dream Wedding On Phu Quoc
Having your honeymoon or getting married on Phu Quoc is becoming more common now and rightfully so.  The island has numerous luxury resorts that offer this service and there are many spots on the island that provide a perfect backdrop for wedding pictures.  Learn more.

89. Pub Crawl Phu Quoc

Want to try something different? How about participating in the Phu Quoc Pub Crawl! Our version is for all ages and all audiences, and best of all it's free.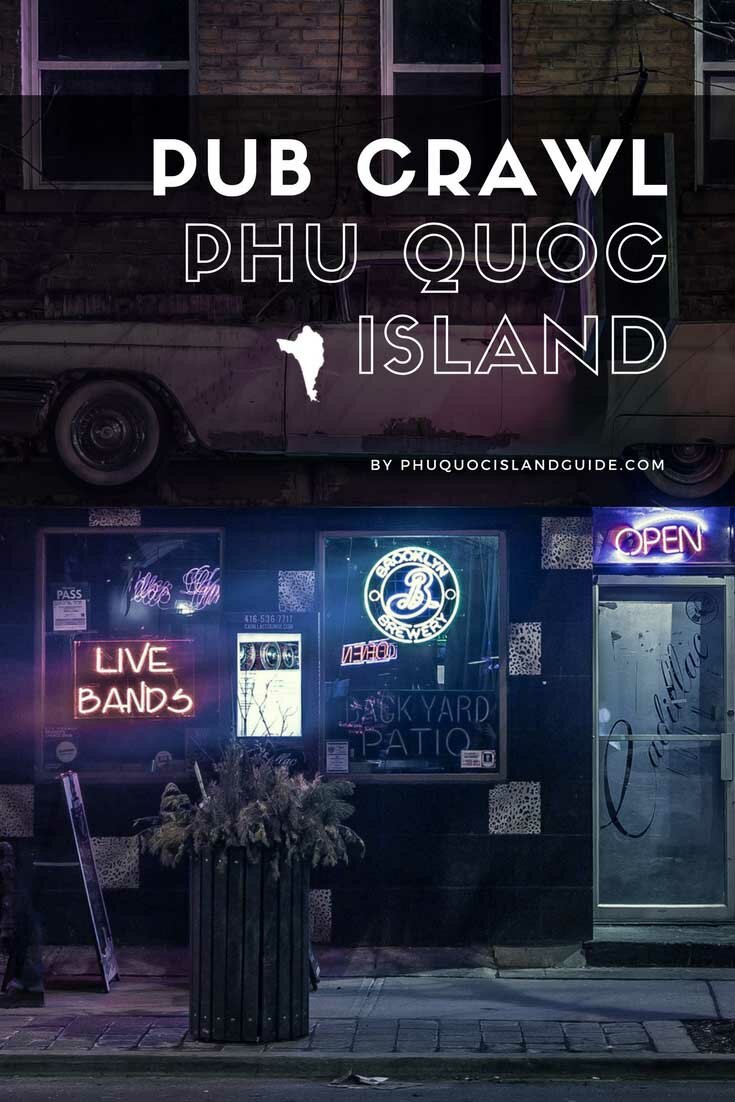 90. Ride The Cable Car From An Thoi Town To Pineapple Island
Phu Quoc has the longest overseas cable car in the world that connects the main island of Phu Quoc with the second largest island in the archipelago, Hon Thom (Pineapple Island).   Learn more about this engineering marvel.

91. Visit An Offshore Fish Farm
Phu Quoc's offshore fish farms are quite unique. Offshore aquaculture, also known as open ocean aquaculture, is where marine life, mainly fish, are raised in an open ocean environment and are quite popular in Vietnam. You can visit these fish farms off the coast of Rạch Vẹm, Rạch Tràm, and An Thoi.

92.  Phu Quoc National Park Hiking

If you want to hike the core section of Phu Quoc National Park, there are some trails located next to the main road that connects Bai Thom Village with Duong Dong Town.  These trails are not well kept and truly are wild so make sure that you wear proper shoes and long sleeve pants and shirts.  Learn more about hiking on Phu Quoc.
93. Try Ice Cream Rolls At The Night Market
Popular in Thailand and now available on Phu Quoc, ice cream rolls are a big hit with locals and tourists alike.  They are not only a delicious treat to eat but also fun to watch how they are prepared.

94. Explore Phu Quoc's Mangrove Forest
Phu Quoc's mangrove forests are located mainly in between the coastal villages of Rach Vem and Rach Tram and they provide visitors a unique glimpse into a very important ecosystem. Mangroves are trees and shrubs that grow in saline coastal habitats and protect tropical coastal areas from erosion. The massive root system of a mangrove forest dissipates wave energy, especially from those arising during the monsoon season. Learn more about Phu Quoc's unique ecosystems.
95. Gamble At The Phu Quoc Casino
Phu Quoc will soon earn the title of Vietnam's "Las Vegas" as the casino resort found here is not only open to foreigners but also locals, who were once banned from gambling. The Vinpearl Phu Quoc Casino Resort is located adjacent to the mega resort complexes of Vinpearl Resort and the Grand World Resort found in the Bãi Dài area, which is extravagantly bedecked with dazzling chandeliers, luxurious gaming rooms and first-class facilities. The tables include roulette, blackjack and poker; of course there are the ever popular slot-machines as well. Learn more about the Phú Quốc casinos.

96. Make Your Way To The Fairy Stream
The Fairy Stream (Suối Tiên Tại Phú Quốc) is a picturesque small stream located near the Ham Ninh Fishing Village and often mistake for the Da Ban stream found in xã Dương Tơ. Most people who seek this stream, which is quite difficult to find, do so because they like to explore the islands various ecosystems. The real attraction here is finding your way to the stream as it involves asking locals for direction, crossing logs and shifty homemade bamboo bridges, and navigating through dirt roads. Your effort will be rewarded with a cool slow running stream which you will have all to yourself.

97. Go Clamming
Do you want to forage for your own food and try to live off the land? Phu Quoc is perfect for that, especially for finding and digging your own clams.  The entire north eastern section of Phu Quoc is affected by a diurnal tide, with  one high and low tide each day.  During low tide, which usually occurs in the mornings, you can walk out on the beach and dig for clams.  Many locals forage for clams and you can join them.  A good spot for clam digging on Phu Quoc is in the Bai Thom village area:
98. Visit The Technicolor Island of Hon Gam Ghi
Ultra gorgeous Gam Ghi Island (Hòn Gầm Ghì) defines paradise.  With its electric blue and turquoise sea, soft sand beach, majestic rock formations, and swaying palm trees, this island is a must visit if you plan on exploring the Phu Quoc Marine Park, and it is located to another gorgeous island we mentioned above, Fingernail Island aka Robinson Island.

99. Discover Long Beach
Last but not least is Long Beach (Bãi Trướng), Phu Quoc's most popular beach.  You didn't think we would forget about the most talked about beach on Phú Quốc did you? Long Beach is ground zero for all tourist related activities.  Here you will find basic hostels to posh five star beach resorts, a backpackers village, bars, clubs, restaurants, tour agencies, and much much more.  The beach itself is approximately 20km in lenght hence the name "Long Beach".  If you are new to Vietnam, and are looking for a comfortable area to stay and relax, then this is it.

One thing we particularly like about the Long Beach area are its new sky bars and rooftop lounges which provide a perfect vantage point to observe the Gulf of Thailand in a clean and upscale environment. Head to any one of the restaurants found here to watch the sunset. If you are lucky you may be able to see the "green flash" phenomenon as the sun hits the horizon, which makes it one of the best places to go to watch the sunset.
Well there you go, an exhaustive list of 99 awesome things to see, do, and experience on Phu Quoc.  Did we miss anything or do you think that something should be on the list that we forget? Tell us by joining the largest Phu Quoc Facebook Group Here.
To conclude we want to remind you that Phu Quoc is an ecologically sensitive place.  The island district is undergoing a transformational change and as such there is a lot of pressure on the various ecosystems found here.  If you are on the island, please remember to be an eco-concious traveler and throw rubbish/garbage in the appropriate bins and to refrain from using paper maps or paper guidebooks found throughout the island as they are not only extremely biased that support only wealthy businesses found on Phu Quoc but also contribute to the pollution issue found on Phu Quoc.
Phu Quoc has widespread Wifi, 4G/LTE, and reliable electricity to charge your devices.  Here are a few resources to help you reduce your carbon footprint while vacation on Phú Quốc: