Con Dao Islands Prison's
Con Dao's largest island Con Son Island (Côn Sơn) was once called the "Devil's Island" for its role as a brutal political prison under the French who ruled Indochina from 1862 until 1954. The term was borrowed from France's other penal colony, the Devil's Island of French Guiana. The Americans took over Con Dao's prison in 1955, built additional jail systems, and then left after the American-Vietnam war concluded. Together with Phu Quoc prison, Con Dao is one of the places of detention and torture of communist fighter in Vietnam. As a penal institution for more than a century, the Con Dao archipelago avoided development, bomb attacks, and chemical attacks and as such Con Dao has a vast old-growth forests and pristine coral reefs.
Today most of these prisons are still intact and you can freely visit them from 7:00am to 11.30am & 1:00pm to 5:00pm on your own or you can visit the Con Dao Museum and hire a private tour guide familiar with the islands dark history. The following section describes the prison complexes and other historical sites that can be found around Con Son Island.
Prisons In Con Dao – A Complete Guide

The Con Dao Island prison historical complex consists of 15 sites: Phu Hai Prison, Phu Son Prison, Phu Tuong Camp, French Tiger Cages, Phu Tho Camp, Phu Phong,  Phu An Camp, Phu Hung Camp, Phu Binh Camp & American Tiger Cages, Separated Cow Shed, Ma Thien Lanh Bridge, 914 Wharf, French Governor's residence, So Lo Voi, and the Hang Duong Cemetery.
Phu Hai Prison
Noteworthy: Largest best preserved prison on Con Dao.
Address: Le Van Viet Street, Con Son Island, Con Dao, Vietnam – behind the Saigon Con Dao Hotel.
Dating from 1862, the Phu Hai Prison (Trại Phú Hải), also known as "Bagne I", "No.1 Prison", "Cong Hoa", "No.2 Prison", is the largest of the 11 jails found in Con Dao. Thousands of political and criminal prisoners were held here usually chained up and naked. Today you can "visualize" how life was like at the Phu Hai Prison via the many life like mannequins on display reenacting scenes from years gone by. Here you will find group jail cells as well as solitary confinement jail cells which usually housed the most dangerous inmates. At the center of the complex there is also a small prison church.  The best time to visit the Phu Hai Prison is in the early morning, just before the tour groups arrive.



Phu Son Prison
Noteworthy: Prisoners here became the future leaders of communist Vietnam.
Address: Le Van Viet Street, Con Son Island, Con Dao, Vietnam
Next to the Phu Hai Prison you will find the ruins of the Phu Son Prison (Trại Phú Sơn), also known as Phu Son Camp. What differentiates Phu Son Prison from the other prisons is that it was "training ground" for Vietnam's future presidents, prime ministers and leading lights in communist Vietnam. Most of the leaders who waged war against the French and then the American backed South Vietnamese regimes spent long periods in these cell.  Built by the French colonists in 1908 and completed in 1916, the Phu Son Prison had 13 detention places and 14 jail cells and was the place of incarceration of many of Vietnam's most celebrated communist leaders such as Nguyen Van Cu, Le Duan, Pham Van Dong, Hoang Quoc Viet, Le Thanh Nghi, Ha Huy Giap, Ton Duc Thang, and others.   The Phu Son Prison is not as well preserved like the Phu Hai Prison and it is often closed to the public.




Phu Tuong Camp
Noteworthy: Site of the infamous French Tiger Cages
Address: Nguyen Van Cu Street, Con Son Island, Con Dao Vietnam – Just east of the Con Dao museum, across from Lo Vai Beach.
Built in 1940 by the French, Phu Tuong Camp (Trại Phú Tường), also known as "Phu Tuong Prison", "sub-Bagne 3" and "Prison 4" is one of the most popular and most significant prisons on Con Dao. This prison has 120 chambers and it is famous for having the brutal French Tiger Cages, where prisoners were tortured. Usually free to visit however sometimes you will have to pay a fee of 20,000VND at the ticket booth near the entrance before entering.




French Tiger Cages At Phu Tuong Prison Camp:
The first Tiger Cages (Chuồng Cọp Pháp) were constructed by the French and had an area of 5,475 square meters. They were used to torture prisoners. There are 120 solitary cells divided into two rows and 60 cells without roofs called "sunbathing rooms". At the Phu Tuong Tiger Cage site today, you will see several plaster mannequins reenacting the atrocities that occurred here in the past. "Tiger Cages" get its name from the concrete cages that were used to hold tigers.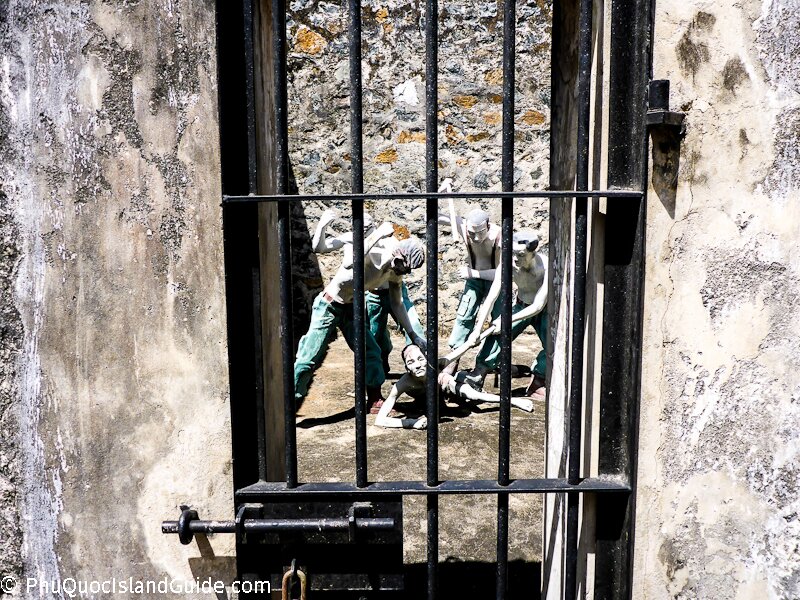 Discovery Of The Tiger Cages:
The tiger cages of Con Dao were discovered in 1970 by Tony Harkin, Augustus Hawkins, and William Anderson who visited Con Son accompanied by a guide. They had a map to the location of these cages, drawn out by a former prisoner.


Phu Tho Camp
Noteworthy: Usually closed.
Address: Next to Phu Tuong Camp
Built in 1928 Phu Tho Camp (Trại Phú Thọ), also known as "Prison 3" or "Bagne 3", is a small prison complex consisting of three jail blocks.


Phu Phong
Noteworthy: Women's prison.
Address: Next to Phu Tuong Prison
Phu Phong Prison (Trại Phú Phong) is also known as "Camp 5" was operational from 1962 till 1973. The Phu Phong Prison was first used to house military criminals and POWs, it later became a prison for women. At the time of liberation in 1975, Con Dao Island had 494 female prisoners.

Female Prisoners At Con Dao:

Phu An Camp
Noteworthy:  Built by the Americans
Address: End of Nguyen Van Cu Road across from Lo Voi Beach.
Phu An Camp (Trại Phú An) was built in 1968 and from 1968 to 1973 it was referred to as "Camp 6".  Phu An Camp was built by the Americans and it has 2 rows of 10 chambers and 4 cells with a total area of 42, 140 square meters.


Phu Hung Camp
Noteworthy: Built by the Americas, now abandoned.
Address: Nguyen Van Cu Street.  Located in the same complex as Phu An camp.
Phu Hung Camp (Trại Phú Hưng) was a prison system in Con Dao built by the Americans in 1971.  This Con Dao prison complex has a total area of 26,200 square meters, consists of 20 rooms which are divided into 2 areas.  The Phu Hung Camp once held up to 1,500 prisoners.  Today this prison is partly abandoned.


Phu Binh Camp
Noteworthy: Famous for its American Tiger Cages.  Watch out for the bats.
Address: Nguyen Van Cu Street.  Same location as Phu An Camp and Phu Hung Camp.
The Phu Binh Camp (Trại Phú Bình), also known as "Camp 7", is a newer prison system built in 1971 by the Americans. It has a total area of 25,788 square meters with 384 jail cells and divided into 8 zones from A to H. Each zone comprises of 48 rooms for prisoners. Phu Binh Camp is famous for its' American style tiger cages.



Separated Cow Shed
Noteworthy: The ruins are now occupied by locals.
Address: On Vo Thi Sau Street leading north out of Con Dao Town
The Separated Cow Shed was built by the French in 1930 and has a total area of 4,100 square meters, 35 chambers, and separated into 3 sections where inmates were treated like animals. Across the road from the Cow Shed lies a mass grave site that was also the first cemetery of the Con Dao Prison. At this site the 20 prisoners were forced to dig a mass grave for the dead, and then they were buried alive.



Ma Thien Lanh Bridge
Noteworthy: A ruin.
Address: Located near Chua Mountain (Núi Chúa)on the way to Con Dao National Park across and directly across from the ranger check point.
Ma Thien Lanh Bridge (Cầu Ma Thiên Lãnh) was built in 1930 by prisoners under French occupation. Prisoners were forced to carry rock to build this bridge from Núi Chúa mountain. 356 prisoners had lost their lives during the bridges construction, mainly due to lack of food, severe climate, and the brutality of their supervisors. The bridge was never completed.


914 Wharf
Noteworthy: Wharf located by the seaside.
Address: In front of Con Son Cafe in Con Son Town Center
The 914 Wharf is a pier named after the 914 people who died constructing it.


French Governor's Residence
Noteworthy: Now an art gallery.
Address: By the seaside promenade in Con Son Town on Ton Duc Tang Street, close to Con Dao Cafe .
The former French Governor's residence (Dinh Chúa Đảo), which is a mansion, is now an art gallery/museum. Admission fee is 30,000VND.




So Lo Voi
Noteworthy: Ruins
Address: Located at the edge of town near Lo Voi Beach.
So Lo Voi was a place where prisoners manufactured  lime for construction.  It remains a ruin now.




Hang Duong Cemetery
Noteworthy: Site of Vo Thi Sau's grave.
Address: Located at Luu Chi Hieu Street at the edge of Con Son Town Center.
Hàng Dương Cemetery is located on Con Son Island and it is a memorial cemetery in with the remains of independence fighters and prisoners who died at the Con Dao Prisons. Many of the graves are unmarked but marked and numbered notable graves include those of Le Hong Phong, Nguyen An Ninh and Vo Thi Sau.




Vo Thi Sau
During France's reign of terror, they only incarcerated one female prisoner, Vo Thi Sau, who was 17 at the time of her arrest and 19 at the time of her execution. Vo Thi Sau is a national martyr and role model for all anti-colonial patriots. As she was being led to her execution, written records indicate she was loudly singing songs about flowers in bloom. Today "Biet on Vo Thi Sau" is a memorial song dedicated to her honor. She shared a common belief that suffering and blood sacrifices would one day purify the soil from foreign domination.