Discovering Nam Du Islands
Nam Du Island – Our personal journey.
Day 1 – Rach Gia To Nam Du's Hon Lon Island
We arrived at Hon Lon Island in Nam Du at 8:35am after leaving Rach Gia port at 6:15am. The sea was relatively calm but a lot of people became seasick. Since we didn't book any accommodation we thought we can simply just show up and easily find something. Boy were we wrong. Although there are a lot of guesthouse and motels on Hon Lon Island, almost all we're completely booked for the weekend. This is because the Nam Du Islands is marketed to packaged group tours and it is a popular destination during the high season. We did manage to find a place for 300,000vnd per night, and it was our only option. The 3 of us shared 1 bed. We also thought this was a bit overpriced considering what we read online but as demand has increased so has the prices. Once we found a place, we all took a quick nap and then we got a bite to eat at of the two soup places in town. We were lucky to even be served as they told us that their priority is to serve package tour guests first as they have an agreement with them.
Motorbike to Nam Du Lighthouse
So after our soup, which only cost 20,000vnd per bowl for bahn canh, we rented a motorbike. The motorbike was 130,000vnd which we negotiated down. Our first stop was the Nam Du lighthouse. When you google "nam du", you always see this beautiful aerial picture taken from the lighthouse but what most people do not know, and what we found out later is that the lighthouse is a restricted military zone. The path to the lighthouse is extremely steep. We made it to the lighthouse and then went up right to the top, and it was without a doubt one of the most picturesque scenery we have ever seen in Vietnam.
[responsive]

[/responsive]
---
After about 5 minutes of taking a few pictures and enjoying the moment, a military officer came by, yelled and scolded at us, and we had to leave immediately. Apparently a lot of tourists are coming here now and the military is being less lenient. They will even confiscate your camera. If you are a foreigner we recommend you find a local person and "tip him" to come to the lighthouse. If not, half way to the lighthouse there is a public spot that is equally beautiful and perfect for sunrise
0r sunset.
Motorbiking Around Nam Du
After the lighthouse, we went around the island on its relatively new paved road. The road circles Hon Lon and it's about 10km in length. Our first stop was Bai Dat Do beach. This is a nice little bay that is a perfect place to stop for a drink and enjoy the scenery. The road leading down to this beach is pretty steep so be careful.
[responsive]
[/responsive]
---
Next stop was Bai Ngu beach. This is not really a beach but a seaside community. We stopped here to explore but there really is nothing here. If you've never been to Vietnam you can visit this place to see how the "locals live".  After Bai Ngu, we continued our journey around the coastal road, one of the best coastal roads in Vietnam – a bit like the famous Hai Van Pass in Danang. The seaside scenery is gorgeous.
[responsive]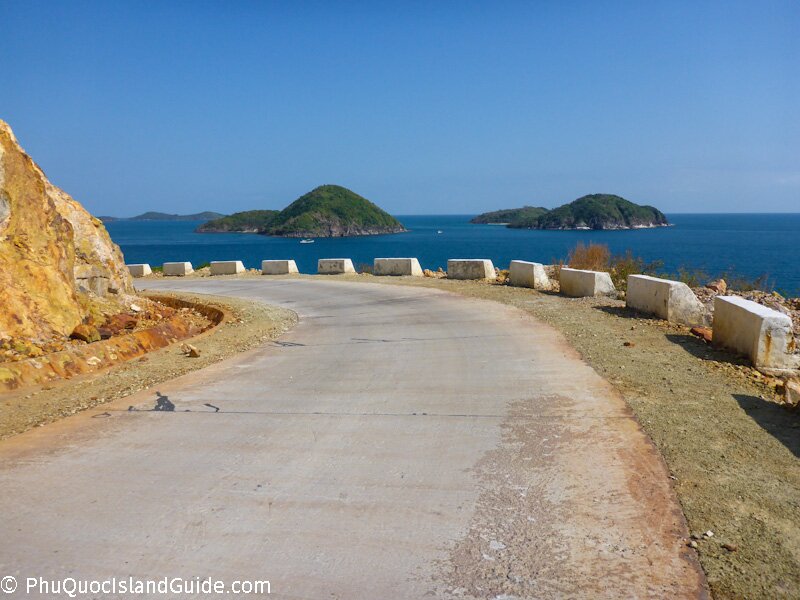 [/responsive]
---
Our next stop was Bai Men beach, the best beach in Nam Du by far. It's a simple beach perfect for lounging, swimming, and relaxing.
[responsive]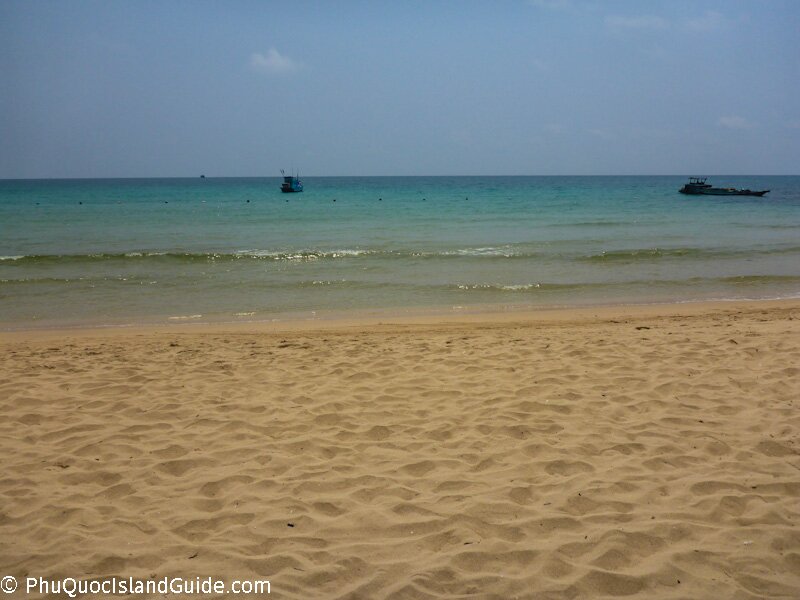 [/responsive]
---
After enjoying this beach, we continued our motorbike trip around the island and stopping at various spots to take pictures. The next spot was Bai Co, another small community of people with no real beach, and finally back to our starting point, Bai Tret. We went back to our spot close to
The light house to watch the sunset here. At night we went to pier to look for something to eat, but most of the places were packed with packages tourists so we opted to eat street BBQ chicken wings and feet. The chicken wings were only 20,000vnd and the feet were 5,000. The chicken wing was one of the tastiest I've ever had!
[hr style="2″ margin="20px 0px 20px 0px"] Day 2 On Nam Du
For breakfast we went to a popular soup place located on the main strip. We then joined a half day island snorkeling tour. For 200,000vnd you are taken to the most popular places in Nam Du.
[responsive]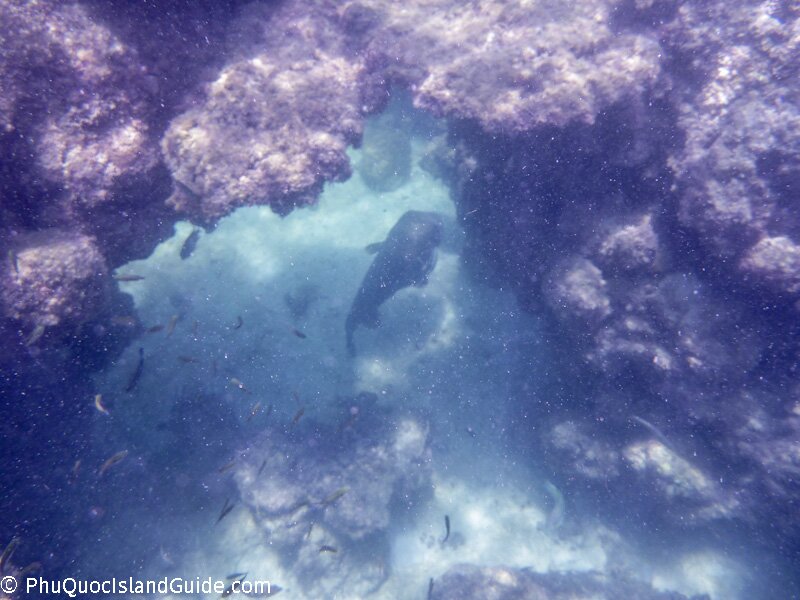 [/responsive]
---
After the tour, we all went back and took a nap and then just walked around town taking in the atmosphere. We asked the locals what the island specialty was and it was dried noodle fish seasoned with chili. [responsive]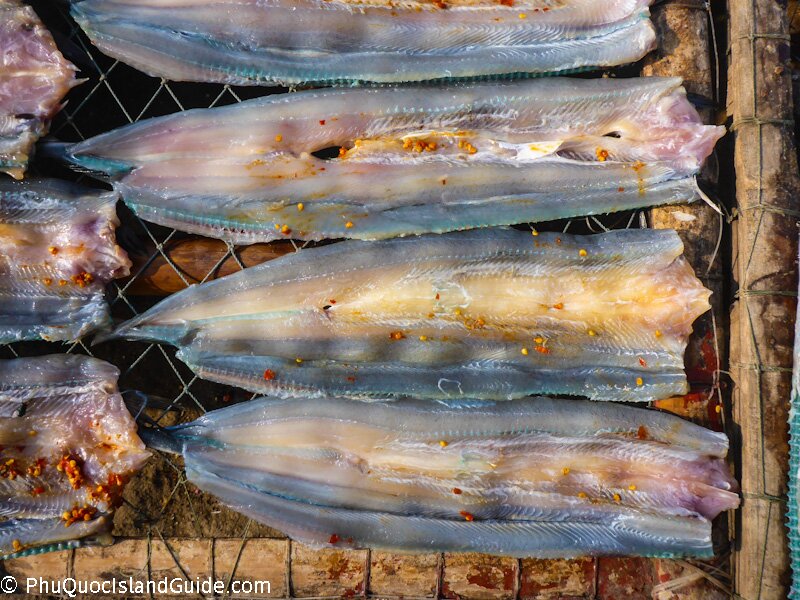 [/responsive]
---
After a quick bite we went to watch the sunset at spot closer to town since we didn't rent motorbikes on this day. We went to a spot we call "dinosaur bay" because of the shape of the land looks like a sleeping brontosaurus, or even Loch Ness. It's a short hike from town and the view was incredible.
[responsive]

[/responsive]
---
After sunset we stuck around to watch the squid boats roll in. This marks the end of day 2.
[hr style="2″ margin="20px 0px 20px 0px"]
Day 3 On Nam Du Island
We woke up to catch the sunrise, but the clouds were against us. We then had breakfast, soup again, at a small street side vendor (bun rieu) and then went to  explore a new beach called Bai Nhum (urchin beach), which a local told us about. To get there we had to hike for about 35 minutes on a makeshift trail located behind the towns fresh water source. Once we arrived at "Bai Nhum", we were disappointed in not seeing a sandy coastline.
[responsive]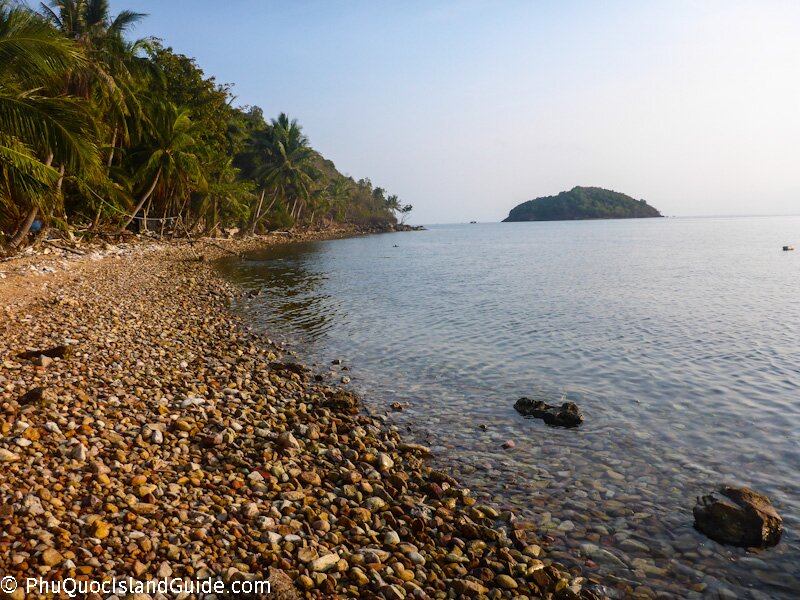 [/responsive]
---
The view and trek to this beach were nonetheless quite fun and adventurous. We then went back to our motel, Nhung Nam, and checked out. We decided to find a new place because of the attitude of the owner was ridiculous. She even asked us to check out earlier because new guests were bound to show up. After leaving this motel we headed to Thuỷ Kiep Motel, just a few meters away. Thankfully they had a room available, and it was much nicer than Nhung Nam. They had a proper washroom with a sink and shower head. We then rented a motorbike from them for 130,000vnd and went to Bai Men beach again as it is a very nice beach! We stayed here for a bit, and continued our motorbike journey again around this beautiful coastline. We eventually ended up at a new beach called Bai Cay Mam, owned by a young Saigon guy. The beach is not sandy but the sea was nice. We swam and snorkeled here and then had a quick BBQ on the beach by grilling some local oysters we bought from a fisherman for 10,000vnd each.  After our beach BBQ he headed back to our motel and called it a night.
[responsive]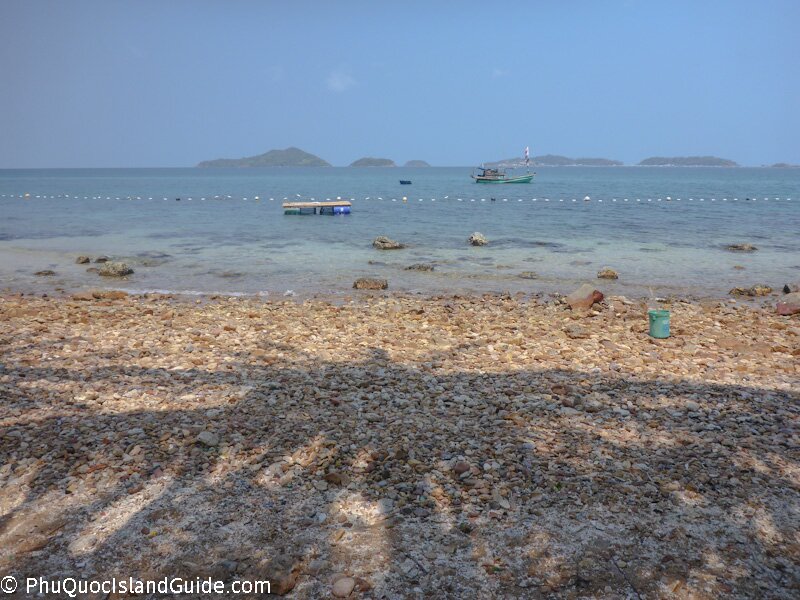 [/responsive]
---
[hr style="2″ margin="20px 0px 20px 0px"]
DAY 4 On Nam Du
We woke up at 5:30am to catch the sunrise, and finally there were no clouds!
[responsive]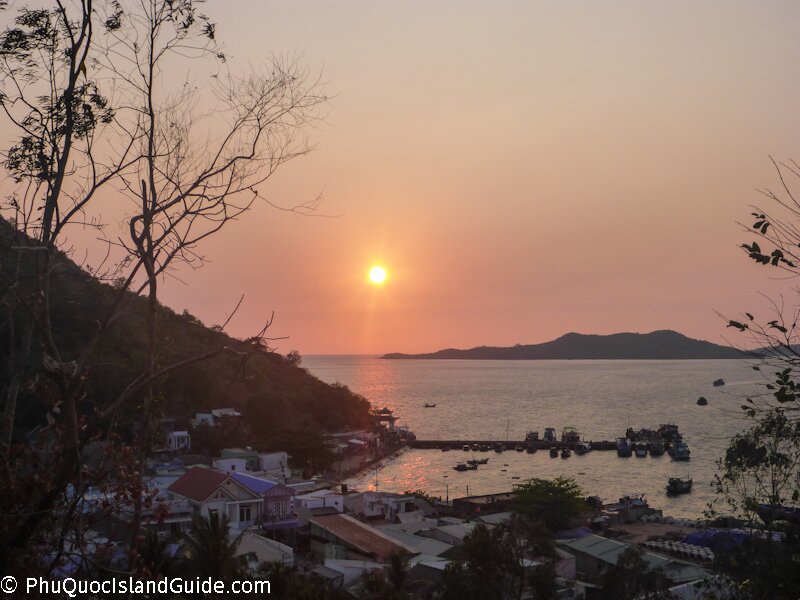 [/responsive]
---
After watching the sunrise we went back into town for breakfast (com tam for 20,000vnd). We then went back to the our motel, packed, and left Nam Du via  Superdong Ferry.  Nam Du is definitely one of the most beautiful places we have seen in Vietnam.
[hr style="1″ margin="20px 0px 20px 0px"]
Nam Du Island Tour Overview
The following is an overview of the Nam Du islands tour we were part of.
Hon Dau – stop here for snorkeling. No real beach here.
Hon Mau – first enter through Nam Beach where all the boats are station. That area is also great for snorkeling. You can either snorkel here or walk to the other side to Chuong beach, one of the most popular beaches in all of Nam Du. The sand here is white and the sea here is turquoise and very shallow, quite similar to Phu Quoc's Sao beach. If you are coming here by tour, it's really busy here. There is even 1 hotel. The other beaches on this island are rocky shoals and not really worth mentioning.
Locals call Bai Chuong beach "Bai Chuoi". This is the only white sand beach in Nam Du. To get to the beach from the tour boat you can either swim or take a shuttle boat for 10,000vnd round-trip. Nam beach has best snorkeling!
You then leave for Hai Ba Dab for last minute snorkeling. This island is surround by coral but most of it is bleached. In high tide Hai Bai Dab appears to be 2 islands but in low tide, there is a small land bridge connecting the two.
After Hai Ba Dap you are taken back to Hon Lon Island.