FINGERNAIL ISLAND IN PHU QUOC
The famous Fingernail Island (Hon Mong Tay or "Hòn Móng Tay") in Phu Quoc is located in the An Thoi archipelago and is part of the Phu Quoc Marine Park.  Not to be confused with the northern Fingernail Island located off the coast of Vung Bau, the fingernail island located in An Thoi is your typical idyllic "Robinson Crusoe" like island – so much in fact that the locals even call it "Hon Robinson" (Hon means island in Vietnamese).
---
[box style="1″]Distance from Duong Dong Harbour: 40 km
Distance from An Thoi Port: 15 km
Recommended time spent: 1.5 – 2 hours[/box] [responsive]

[/responsive] [hr style="1″ margin="40px 0px 40px 0px"]
MAP OF FINGERNAIL ISLAND


---
[section][/section] [hr style="1″ margin="40px 0px 40px 0px"]
Why is it called Fingernail Island?
Fingernail Island gets its name from its shape, as it looks like a fingernail literally (see video below):
---
[su_vimeo url="https://vimeo.com/203359328″ autoplay="no"]
[hr style="2″ margin="40px 0px 40px 0px"]
How to get to Fingernail Island?
The southern Fingernail Island in Phú Quốc is now on the tourist map and most tour agencies offer trips here at various prices.  You can catch tour boats from Duong Dong Harbor or you can just go to An Thoi Port yourself and commission a local fishing to take you there.  You can either just visit this particular island or combine with an island tour. [See: Phu Quoc Marine Park].
---
[su_youtube_advanced url="https://www.youtube.com/watch?v=52tUPSu4kt4″ controls="no" showinfo="no" rel="no"]
---
There are also tour boats available from Sao Beach to Fingernail Island as well, called "Cano".
The cost of a round-trip fare to Fingernail Island in the south varies, but it is roughly between 600,000VND or $30.00USD to 1,500,000VND or $75.00USD for the entire boat.  Not all boats are the same, some are smaller and can hold up to 4 people while the longer boats can accommodate up to 10 people.  Prices are negotiable and you can include a BBQ seafood lunch as part of the package.
[responsive]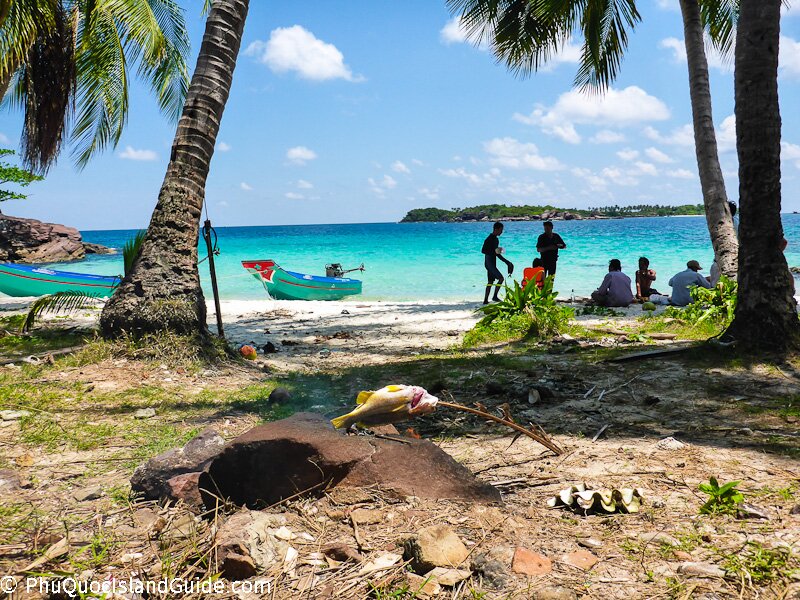 [/responsive]
---
The trip from An Thoi Port to Hon Mong Tay (Fingernail) takes about 40 minutes. The duration is up to you and we suggest that you slow the trip down to enjoy the scenery in this area as it is stunning.  The giant concrete towers you see are part of the Hon Thom – Phu Quoc cable car, one of the largest overseas cable car in the world.
[responsive]

[/responsive]
[hr style="2″ margin="40px 0px 40px 0px"]
What Is There To Do At Fingernail Island (Hon Mong Tay)?
Besides lounging on the beach and enjoying one of Phu Quoc's best view, assuming you arrived before all the tourist boats come in, you can also swim.
[responsive]

[/responsive]
---
The coral here is dead for the most part so we don't recommend snorkeling.  There is a small jungle in the back , however we we do not recommend exploring it as their are poisonous insects here. Drinks and snacks are available on Fingernail Island and you can rent a shaded beach lounger.
[hr style="2″ margin="40px 0px 40px 0px"]
Best Time To Come To Hòn Móng Tay, Fingernail Island South?
The ideal time to visit Hon Mong Tay is during the dry season, between November to March, when the seas are more calm.  The best time of day to head out to Hòn Móng Tay is early in the morning, before 7 am as this island gets crowded fast.  If you arrive on Hòn Móng Tay  before 7 am, you will have the island to yourself and you can enjoy serenity for a couple of hours.  Due to the popularity of Hòn Móng Tay via social media, there are now 4 day 3 night package tour groups coming to Phu Quoc from specifically to see Fingernail Island.
[responsive]

[/responsive]
---
Here is how the island once look when we visited a few years ago (see below).  As you can see this tiny island has developed very fast!
[su_youtube url="https://www.youtube.com/watch?v=V6rRUAZdlfE"]
Summary
Article Name
Visiting Fingernail Island in southern Phu Quoc
Description
A detailed look at the the idyllic Fingernail Island located in Phu Quoc. This island has gone through a lot of changes since we last visited and it has become a tourist hot spot.
Author