Ganh Dau Trail
The Ganh Dau Trail is an extremely popular and easily accessible hiking trail on Phu Quoc Island. At the Ganh Dau Trail visitors can walk, run, and even mountain bike through the lush green Phu Quoc forest. Besides the plenty of flowers, ferns, mushrooms, and other interesting flora the can be found here, the star attraction at the Ganh Dau hiking trail is the "Ancient Tree".
Location:
Ganh Dau (Gành Dầu)
Trail Rating:
Easy
Distance:
500m
Map | GPS:
10.35528, 103.87758
Best months:
October to May
Cost/Fee:
No cost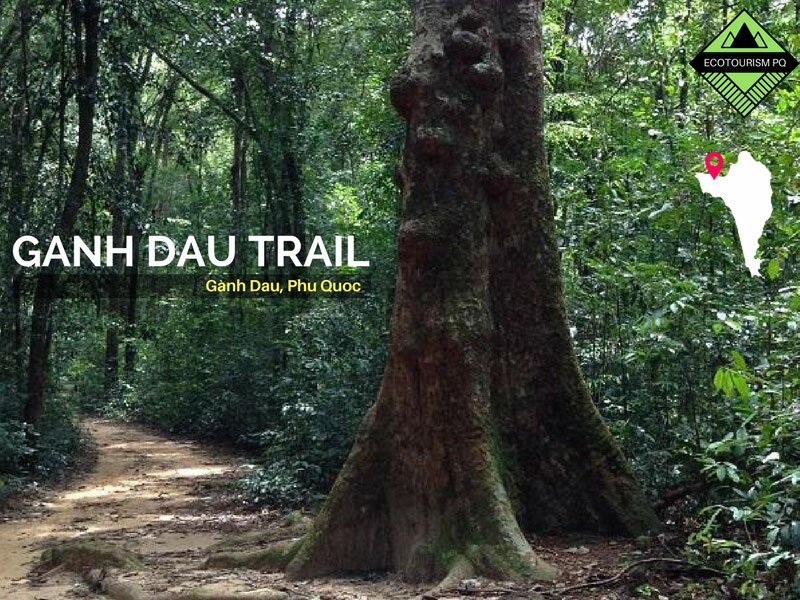 Location of the Ganh Dau Trail



The Ganh Dau Trail is located near Ganh Dau Village off Suoi Cai Road, a red dirt road that takes you to Rach Vem Village and eventually to the Bai Thom Highway. The trail entrance is clearly marked and you can park your motorbike or bicycle next to the Phu Quoc National Park sign.

Walk, Run, or Mountain Bike In Phu Quoc
The Ganh Dau Trail can be explored by foot, mountain bike, or motorbike. The trails terrain is mostly flat and consists of a mixture of dirt and gravel. The total length of the trail is 5km's but the core section is only 500m.  It is a one way trail (not looped), which means you have to come back the same way you came in.

Trail Markers
Currently the forest trail is not maintained nor is it monitored.  Also there are no trail markers here but it is almost impossible to get lost if you just follow the dirt path. If you do get lost, it is likely that you will end up at a Phu Quoc pepper farm. You know when you have reached the end of the trail when the wide main trail breaks off into smaller trails.


What You May See At The Ganh Dau Trail:
The Ganh Dau trail is best experienced at at dawn just before sunrise as this is when the wildlife in the area is more active, however there are not a lot of large animals in this section of the forest.   If you are lucky you may hear cicadas and/or see Rhesus macaque (monkey), some reptiles, and maybe even a giant black squirrel while hiking this trail but it is highly unlikely. The star attraction here is this Ancient Tree:

Ancient Tree
The Ancient Tree can be found close to the parks entrance and it is a popular spot for taking pictures, selfies, and wedding photos.
Phu Quoc Hiking Tours



The easiest way to discover the Ganh Dau Trail is by joining a tour.  However you can also go here independently by motorbike, bicycle, or by car/jeep. Alternatively can hire a taxi or a Motorbike Taxi (Xe Om). If you want a motorbike driver for the day, it will cost you about 300,000VND to 500,000VND for a round trip ride depending on where you are. The motorbike taxi driver will take you to the entrance and wait for you until you are finished exploring.
* This trail is very popular with packaged tour groups and with tour agencies selling Phu Quoc ecotourism tours and as such the trail can get crowded at times.

Getting There

From The West Coast: Duong Dong Town → Cua Can → Ganh Dau → Suoi Cai Road → Ganh Dau Trail

To get to the Ganh Dau Trail head up to Ganh Dau Village. The road from Duong Dong Town to Ganh Dau Village is paved and it is an easy ride either by bicycle, motorbike, or car. From Ganh Dauh Village, follow the paved road until you reach a side dirt road (Suoi Cai Road) that takes you to the Petrolinx gas station. This is the road that will take you not only to the Ganh Dau Trail, but also Rach Vem Village and eventually Thom Village. This road is visible on Google Maps making it easy to find.  Follow the road for about 6kms and you will see a large green sign and a path marking to entrance to the Ganh Dau trail.



From The East Coast: Duong Dong Town → Bai Thom → Suoi Cai Road → Ganh Dau Trail

Alternatively, you can head north from Duong Dong Town to Bai Thom Village along the Duong Dong – Bai Thom Highway to reach Suoi Cai Road.
Tips
If you are planning on trekking/cycling/motorbiking the Ganh Dau Hiking Trail on your own, please let your hotel/resort know just in case something happens.
The Suoi Cai Road is long unpaved red dirt road.
Bring enough water with you and fuel up your motorbike before you embark on your adventure. You can do this at Ganh Dau Village.
The best time to see wildlife is at dawn and if you are planning on coming up here this early please make sure you bring mosquito/insect repellent with you.
During the peak season, you will notice a lot of trash all over the place and this can be quite disconcerting.
As always, leave only footprints and take only pictures.