Ham Ninh Phu Quoc
Ham Ninh Village is a rather large and picturesque fishing village located on the east coast of Phu Quoc Island and about 15kms away from Duong Dong Town. The village is next to a stunning turquoise sea and surrounded by a rather large mountainous forest which is part of the Ham Ninh mountain range that runs for about 30kms and sits at the border of the Phu Quoc National Park. The sea at Ham Ninh is quite shallow and contains the largest concentration of seaweed beds on Phu Quoc and was once home to now possibly extinct dugong, or sea cow.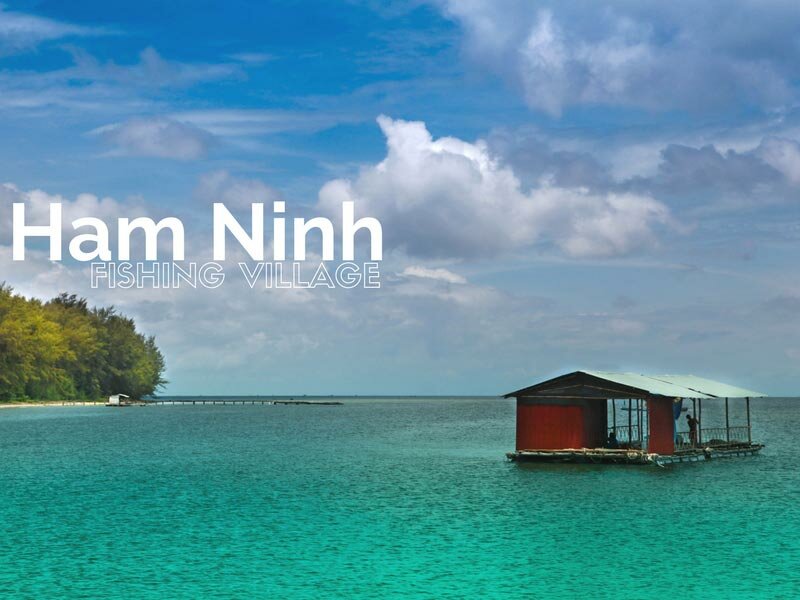 Discover Ham Ninh Fishing Village – Home of the best crab on the island
Ham Ninh has emerged as a top tourist destination on Phu Quoc Island because of its famous ocean jetty, cheap crab and seafood dishes, and its numerous floating seafood restaurants.




The History of Ham Ninh Fishing Village
In the past Ham Ninh Village was a place where many fishermen went to seek shelter from the storms.  Slowly a community was established that centered around fishing and diving for pearls.  The inhabitants lived in either thatched bamboo huts or on their boats and led a simple life. Today Ham Ninh Village is a village in transition.  With the influx of tourists and the development of the islands infrastructure and power grid, Ham Ninh has seen a sizable growth.  There are more restaurants, hotels, shops, and even a few gas stations now than 10 years ago.  The main economy here is still based on fishing however a lot of locals are transitioning to servicing the booming tourist industry.  Rustic bamboo thatched homes still do exist however they are slowly being replaced by the concrete variety.

What To See In Ham Ninh Fishing Village
The Ham Ninh Pier: the pier juts out far into the ocean where you can enjoy a panoramic view of the Ham Ninh mountain range and the coastline.  At the end of the pier there are usually a few colorful fishing boats unloading their daily catch.

Ham Ninh Beach – The beach has yellow soft sand however there is a lot of rubbish near the town.  If you want to enjoy the beach here, walk 10minutes north along the coast.
High Tide

High Tide

Low Tide

Low Tide

Hai Tac Archipelago: You can see small islands in the distance while standing at the pier or on the beach.  These islands area also known as the "Pirate Islands".  These islands are currently not accessible unless you are a fishermen or part of the Vietnam military/navy.  South East of the Pirate Islands you will see Nghe Island.
Ham Ninh Floating Restaurants: There are numerous floating restaurants lined next to Ham Ninh pier.
Ham Ninh Market: There is a small market here where you can buy fresh seafood, fruits, and vegetables.

Cock Fighting: If you are lucky, you may be able to witness a cock fight in town.

What To Do In Ham Nin
Swim: You can swim at Ham Ninh beach, just be aware that the sea has a lot of seagrass as well as a variety of floating debris.
Fishing: You can fish off the Ham Ninh pier with the locals and catch baby octopus.

Seahorses: Ham Ninh is a place where you can buy fresh or dried seahorses.  You can see the live seahorses still swimming in the tanks.

Photography: The village, the mountains, the sea, the small canal, etc all make great subjects for the serious photographer.
Hiking: Climb to the top of Mount Ham Ninh for a nice view of Phu Quoc Island.
Where To Eat In Ham Ninh
Seafood: Crab is the specialty here in Ham Ninh Town and you can find restaurants and street side eateries serving crab as well as other seafood near the pier.  The price of crab in Ham Ninh is by far the cheapest on the island.  Crab in Ham Ninh is usually steamed and enjoyed with a dipping sauce made out of lime juice , salt, and pepper.  The other specialty here is sea cucumber soup – a unique Phu Quoc dish.  If you do not care for crab or sea cucumber, then there are a lot of other seafood and traditional Vietnamese dishes you can try.

Medicinal Drinks: At Ham Ninh you can try a variety of "medicinal drinks" made from seaweed, ginseng, and even sea horse which has been soaked in rice wine.
What To Buy In Ham Ninh Fishing Village
Shellfish: At the pier you can buy a variety of shells, starfish, dried fish dried seahorse, and a variety of natural traditional medicine harvested from the surrounding forests.  However we are strongly against this.

Where To Stay In Ham Ninh
There are a few small hotels and guest houses in Ham Ninh Village (see below) along the main road. The rooms are basic but clean and offer great value.
Huu Thuy Guest House

Details
Price: $7.00USD – $16.00USD
Tel: 0773973232 | 09770420149 | 0124442337
Vinh Lan Guesthouse

Details
Price: $7.00USD- $14.00USD
Tel: 0773849974
Hai Anh Guesthouse

Details
Price: $7.00USD – $15.00USD
Tel: 0773849947 | 0914641434 | 0918753574
My Xuyen Guesthouse

Details
Price: $5.00USD – $10.00USD
Tel:01288815789
How To Get To Ham Ninh Village
From Duong Dong Town head north on Tran Hung Dao Street and make a right at the intersection on 30 Thang 4 Street.  Head east until you reach the end of the street as well as the city limits.


This road is now known as National Highway 47 and you can follow it all the way to Ham Ninh Village.  The following is a video of how to get to Ham Ninh by motorbike: