Phu Quoc Itinerary
Follow our Itineraries and hit the ground running upon your arrival on Phu Quoc Island.

Phu Quoc Island Itineraries – What to do on Phu Quoc Island
Most people who visit the island are here for a maximum of 2- 3 days and although that is not enough time to experience what this island is all about by following our itinerary you will make the most of those days. You will see the highlights, including the rugged north, the white sand beaches in the south, and all the cultural activities found in the heart of Duong Dong Town. You can then modify this trip and tailor it to your wishes. If you're on honeymoon, look for romantic beaches and lovely scenery. Budget travelers head to Long Beach Village to enjoy budget lodging, sightseeing and delicious local food. Make sure to add a visit to a Fish Sauce Factory to your itinerary because the island is famous for it's fish sauce.
» What To Do On Phu Quoc Island In One Day
» What To Do On Phu Quoc Island In Two Days
» What To Do On Phu Quoc Island In Three Days
What To Do On Phu Quoc Island In One Day
What You Will See
See Long Beach
Visit Coi Nguon museum
Birds Eye view of Long Beach
Tour Pepper plantations
Visit a Fish Sauce Factory
View Duong Dong Harbor
See Cao Dai Temple
See Dinh Cau Temple
See Dinh Cau Beach
Watch a Long Beach Sunset
Experience the Dinh Cau Night Market
Our day one itinerary (see map below) is based on the assumption that you will be arriving in the morning at Phu Quoc either by plane or by ferry.  Start by make your way to Long Beach and checking in at your hotel or resort.  Once you have settled in, go to Long Beach and enjoy the sand and calm blue sea.

Next visit the Coi Nguon Museum nearby and learn more about the island. This museum is quite small and you should not spend more than 30-45 minutes here.  At the top of this museum you will have access to a terrace which provides you with great view of Long Beach and Duong Dong Town.  This is a great spot to take pictures and/or selfies.

After the museum fatigue has set in, head to Duong Dong Town and visit the Pepper Plantations and tour the Khai Hoan Fish Sauce Factory.  Both of these places are free and should not take too much time to visit. Please note that the pepper plantations in Duong Dong Town operate on a smaller scale than the ones located up north in an area known as Khu Tuong.


Next up are two temples located by the Duong Dong Harbor.  First is the Cao Dai Temple. Quickly walk through this unique temple, see the main colorful alter, and then work your way up to the very top where you will have access to another great terrace.  The terrace here at the Cao Dai Temple is a great place to see Duong Dong Town, River, and Harbor from a birds' eye view.

After visiting the Cao Dai Temple you will then make your way to the famous Dinh Cau Temple and Lighthouse, which is located next to the pier.  Re-energize yourself at the base of the temple with a glass of fresh sugarcane juice called "nuoc mia", which only costs 10,000VND or $0.50USD.

After you have finished exploring the Dinh Cau Temple and Lighthouse you now have two choices: 1) Go back to your resort and watch the infamous Long Beach sunset or 2) Watch the sunset at Dinh Cau Beach, the small beach located next to the Dinh Cau Temple, for the local experience. Regardless of your choice, both are equally beautiful.

After the sun has set make your way to the Dinh Cauh Night Market and explore the various seafood dishes on offer. Once you have had your fill on seafood head back to your hotel or resort.  You can now either spend the rest of your evening relaxing or enjoy the nightlife (See our Phu Quoc Nightlife Guide).  This is the end of day 1.
One Day Itinerary Map:
What To Do On Phu Quoc Island In Two Days
What You Will See In Two Days
The Northern Route
Coastal Cua Can Village
Unique Cua Can Beach
Gorgeous Ganh Dauh Beach
Local Life At Ganh Dau Village
Experience The Phu Quoc National Park Trail
See The Phu Quoc National Forest
Visit Thom Village
See Wild Thom Beach
The Southern Route
Tranh Stream
Tranh Waterfall
An Thoi Town
Sao Beach.
Coconut Tree Prison
On the second day you have a few options: 1) You can join one the many land, snorkeling, or diving tours found on the island, 2) Stay at your resort and relax, or 3) Explore the North or the South of Phu Quoc.  In this section we will focus on the latter.
Day 2 Option – The Northern Route: Itinerary for Exploring the North of Phu Quoc Island.
After breakfast head across the Duong Dong River and onto Cua Can Road.  From Cua Can Road head to Cua Can Village.
Explore the village and its picturesque small wooden bridges.

After, make your way to Chez Carole Restaurant to have view of the famed Cua Can Beach.

Next get back on Cua Can Road and head north.  The Cua Can road will take you all the way up to Ganh Dau Village. Alternatively you can take the scenic coastal road, the same road that will take you to Chez Carole Restaurant, but we do not recommend it because there is just too much construction going on along the northern section of this road. Once you reach Ganh Dau, park your motorbike behind Ganh Dau Beach and enjoy the powdery sand and turquoise water.  Here you can swim in the sea and/or hire a fisherman to take you on a mini 1hr long snorkeling at sight-seeing tour of Ganh Dau Cape (Read Snorkeling in Ganh Dau). There are a few sea side restaurants here as well.


Next visit Nguyen Trung Truc temple and pay tribute to the local hero.  You will see a lot of tree bark laid out in the sun here and this bark has medicinal properties.  You can take a handful of the bark with you if you want and it's free.


After the temple, drive to Ganh Dau Village and do a quick tour of this picturesque seaside commune to see how the locals live.


After seeing the village head east along a Suoi Cai Road, which is a red dirt road, and make your way to the Phu Quoc National Park Trail. There is a Petrolimex gas station along this road in case you need to fuel up. You know when you have reached the Phu Quoc National Park Trail (aka Ganh Dau Trail) when you see a giant green sign marking the entrance. Explore the trail for an hour and then start heading east again.  Keep an eye out for wildlife while you drive as you may see silver langurs, macaques, or even a hornbill in this area.


Head east until you reach a paved road called Nguyen Trung Truc road. Make a left on this road and head north towards Thom Village.  Admire the picturesque scenery along the way as this is the most lush section of the Phu Quoc National Park. Mount Chua, the islands highest point, is on your right.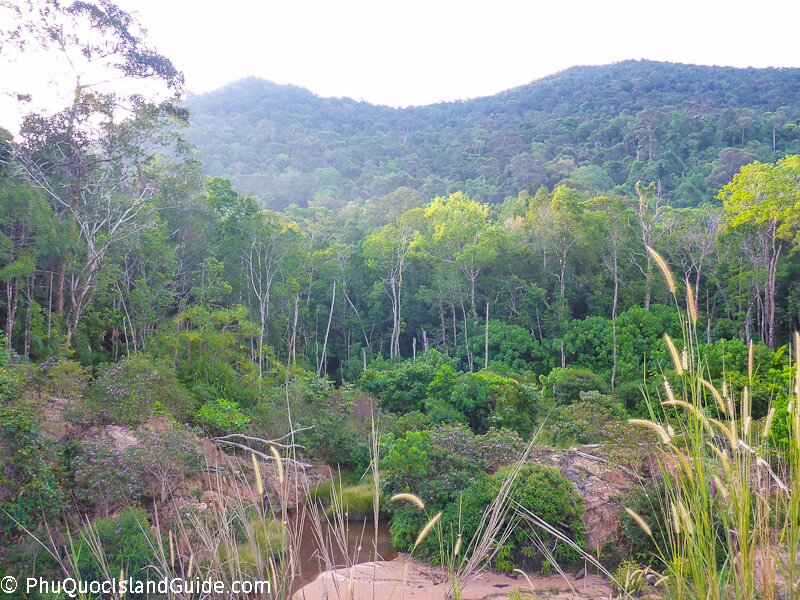 Once you have reached Thom village, explore the wild beach and if you have time you can visit nearby Mot Island, snorkel from shore, or even visit a crocodile farm here.

Finally go back on Nguyen Trung Truc Road and head south towards Duong Dong Town and back to your resort. This is the end of day 2.
Day 2 Option – The Southern Route: Itinerary for Exploring the South of Phu Quoc Island.
After breakfast, head east towards the Tranh Stream and explore the Tran Waterfall before the crowds come in.  The best time to see the waterfall is during the rainy season.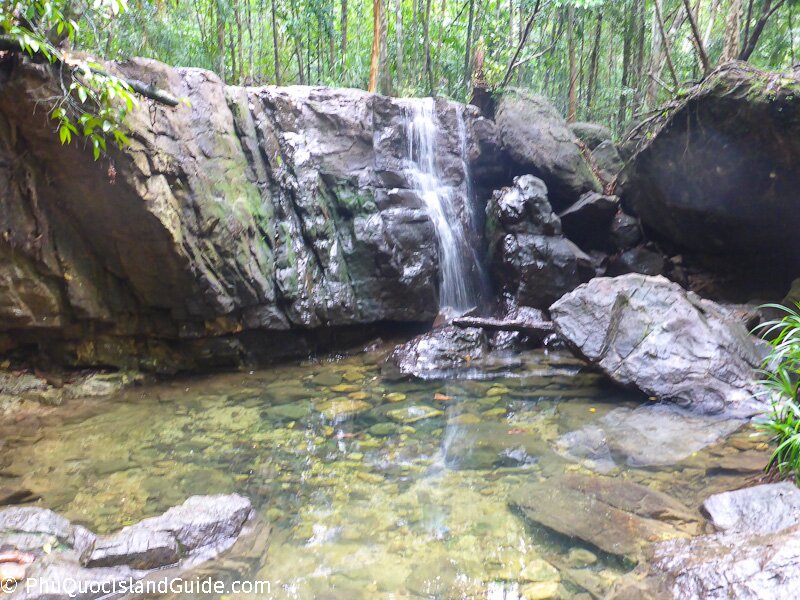 After the waterfall, head south to An Thoi Town and explore the second largest town on Phu Quoc Island. Here you will find a vibrant port with colorful boats, a beautiful view of the An Thoi Archipelago, and also see how fresh seafood gets processed.

Have a seafood lunch here and then head back up north and visit the historic Coconut Tree Prison.

After the prison, head north towards Sao Beach, Vietnam's best white sand beach.  Go to Paradiso Restaurant (formerly known as "Không Sao Beach Bar"), buy a drink, and sit down on a lounge chair by the beach and relax and take in the scenery.  At Sao Beach you can swim, explore the area, and/or rent a kayak or jet ski.  You can stay here until sunset or head back to your resort at Long Beach.  This is the end of day 2.


What To Do On Phu Quoc Island In Three Days
Day 1: Please refer to our "What To Do On Phu Quoc Island In One Day" for our day one itinerary. 
Day 2: Please refer to our "What To Do On Phu Quoc Island In Two Days" for our day one itinerary. [/section]
Day 3 is a free for all day.  You can either join a tour and explore another part of the island by land or sea (which is what most tourists do), stay at your resort and relax all day, or explore a few more beaches, check out the pearl farms, catch a Phu Quoc dog race, or go on a foodie adventure.   So the itinerary here is up to you.  Explore our website, find what you are interested in, and go do it 🙂