Phu Quoc Island In Vietnam
Introduction | Phu Quoc Beaches | Weather | Getting There | Where To Stay | Phu Quoc Visa Exemption
Phu Quoc is your dream vacation destination. Once a secret backpacker retreat the paradise islands of Phú Quốc have evolved to become one of Asia's premiere vacation destination and a top tier digitally connected smart city of the future. Now on Phu Quoc you will find 5 star luxury beach resorts, casino and golf, an international airport, WHO standard international hospital, and even a zoo! The Vietnamese government has big plans to transform Phú Quốc to become the next Phuket and they are not holding back. As of 2017, direct international flights from Russia, Sweden, Denmark, China, UK and Korea started to arrive, cruise ships are on their way, and soon the island district will have the longest oversea cable car in the world!
Regardless of the islands ambitious development plans, it still remains a wild tropical island. Over 50% of the island is designated as a National Park! What does this all mean to you? Well, it means that the island caters to everyone's needs – if you are looking for a raw island, beautiful abandoned beaches, and you want to forage for your own food in the forest or sea, you can still do that here. On the other hand, if you want to stay at a luxury 5 star beach resort, hangout with celebrities while sipping on margaritas by the infinity pool, you can also do that here as well. Phu Quoc really does have something for everybody.

Turquoise seas, spectacular sunsets, and lush rainforests await you at Asia's emerging tropical island destination. This heart shaped island provides an unbeatable combination of perfect silky soft white sand beaches, superb hospitality and great value accommodation. Plan your visit to Phu Quoc Island by exploring our comprehensive travel platform and discover the beauty of Vietnam's "paradise" island.




We are Phu Quoc's #1 travel platform.  Our diverse team is united by a single mission: to help travelers easily discover, book, and enjoy Phu Quoc Islands best places to stay, eat, explore, and experience.  We work hard to make your vacation on Vietnam's paradise island a memorable one.
RECOMMENDED LUXURY RESORTS
Surrender To Indulgence.
Why Phu Quoc?
Just the name Phú Quốc looks and sounds exotic (pronounced "foo-quack"). And it is – what makes Phu Quoc Island rank among the "must-sees" of South East Asia is the fact that mixed in with all that exotic ambiance are a range of familiar activities popular with a wide array of travelers.   From foodies and sun worshipers to photography and culture enthusiasts and adventure seekers, Phu Quoc has something to offer everyone. However the real treasures of this tiny idyllic island are its people.  Vietnam is known as the land of smiles and Phu Quoc is no exception.  Everywhere you go, you will be welcomed by smiles and kind help from the locals whether you know Vietnamese or not.   Phú Quốc has a good mix of ethnicities – Vietnamese, Cambodian, Indian, Filipino, Chinese, and even a few westerners all of whom have made the island their home.
Phu Quoc has also been designated as a "Special Economic Zone", which basically means the business and immigration rules on Phú Quốc are a bit different than the rest of the country. If you are visiting from abroad and plan on only visiting Phu Quoc Island in Vietnam, then you do not need to obtain a pricey Vietnam Visa as you will receive a free 30 day visa exemption upon arrival.
Area: 593 km²
Population: 108,000 (2016)
Province: Kiên Giang Province
More information: History | Key Facts | Flora & Fauna

When to come?
The dry season lasts from November to April, with the peak tourist season occurring between December to March, which are also the best months to come to Phu Quoc due to the numerous events that occur during this time (Tet, beach music festivals, pageants, golf tournaments, marathons, etc.) The rainy season lasts from May to October, when you can expect rough seas, high humidity, regular downpours, and less activities.
Đảo Phú Quốc is the largest island in the Gulf of Thailand
About Phu Quoc
Phu Quoc (Vietnamese: Phú Quốc, Russian: Фукуо́к) is an "Island District" of Kien Giang Province that is situated in the Gulf of Thailand 45 kilometers from the southern tip of mainland Vietnam and only 4 kilometers from nearby Cambodia. It is part of the Kien Giang Biosphere Conservation Area which in 2006 was recognized by UNESCO as a World Biosphere Reserve. The entire "Island District" consists of 28 islands which has a total area of 593 square kilometers with Phu Quoc Island being the largest at 574 square kilometers.

Phu Quoc travel activities are abundant ranging from land, ocean and aerial tours to hiking, scuba diving, fishing, bird watching, trekking and snorkeling. On Phu Quoc Island you will find a large amusement park, safari zoo, and world class golf courses. Shopping is plentiful and there are limitless options to enjoy the finest cuisines from around Vietnam and the world. Visit Vietnam's most beautiful beach, tour historic prisons, discover sacred temples, trek through a National Park, or simply enjoy the ocean sunset. With its beauty and tranquility, Phu Quoc is undeniably one of the most attractive destinations in Vietnam if not the world.
Phu Quoc Holidays: January 27th – February 5th (Tet – Vietnamese New Year), April 6th – 9th (Hung King festival), April 29th – May 2nd, September 2nd – 4th (Independence Day), December 20 – January 4 (Christmas & New Year's Eve)
Phu Quoc Is A Snorkeler's Heaven
Snorkeling is the ultimate tropical vacation activity. It's cheap, low impact, family friendly and educational. The Phu Quoc Islands are a snorkeler's paradise and Vietnam's best snorkeling destination. The surrounding waters are warm all year long, and they're full of bustling reef ecosystems to explore.

Our 5 best things to do list take you straight to the "can't miss" natural and cultural treasures found all around the beautiful island of Phu Quoc. This narrow list of choices will get you discovering the best of what Phu Quoc has to offer whether you are here on the island for 1 day or 1 week. From scenic beaches to culinary delights, there is something for everyone.
1. Take in a gorgeous sunset
Phu Quoc is known for its spectacular ocean sunsets, so make sure to catch at least one while you are there. Our favorite evening lookout spots are anywhere along Long Beach, cliff side by the Dinh Cau Temple, and on a boat in the middle of the ocean prior to fishing for squid at night.
After the sun has set, visit the lively Phu Quoc Night Market and feast on your favorite seafood fare all night long. The Bach Dang Night Market is a popular place for shopping, drinks and for fresh seafood. It is also a hot spot for domestic and foreign tourists to congregate at night. Don't miss tucking into mouthwatering local favorites like grilled oysters, scallop kebabs, and our favorite, steamed lemongrass crab.
Phu Quoc is famous for its' fish sauce and a visit to the island would be not be complete without touring one of the many fish sauce factory's. This unique aromatic sauce has even been granted the status of Protected Designation of Origin (PDO) in the European Union!
White sand, warm turquoise water, and a gentle breeze blowing on your neck. Yes a place like this does exist in Vietnam and can only be found on Phu Quoc Island. Sao Beach is possibly Vietnam's best beach, but don't take our word for it, discover it yourself… and you better hurry as this tranquil beach will not remain Vietnam's best kept secret for too long as big business has plans on developing the area into a concrete wonderland.
5. Motorbike around the island
Phu Quoc is best discovered on a motorbike. The roads are well paved and there is hardly any traffic. Discover the unique ecosystem, find an abandoned beach, see wild monkeys jumping from tree to tree, visit a local village… the possibilities are endless. Create your own unique adventure and memory on the island! Don't know where to start? No worries… we have all the maps, routes, itineraries, and more right here on our website.
There are so many things to do on Phu Quoc but unfortunately most people do not have the time to see and do everything. One of our favorite things to do on Phu Quoc is, well… nothing at all. Just sitting back and enjoying the beach, warm weather, gorgeous sunset, while reading a good book is heaven for us. For those of you who cannot sit still we have created 1, 2, and 3 day classic itineraries that most people follow.
EXPLORE LOCAL FAVORITES



Find the best things to do based on your interests

Best Phú Quốc Beaches
Conjure up an image of the best Vietnam beach and you'll find Phú Quốc's generous shoreline fits the description perfectly: stretches of soft powdery sand often freckled with both shady palm and casuarina trees – and limpid, aquamarine seas. The island districts main tourism draw are its spectacular beaches and with 150 kilometers of coastline there are beaches to suit all needs: great swathes of yellow and white sand groomed by resorts promise days on end of utter luxury, offshore islands act as jumping off points for exploring a wealth of coral reefs, while hidden down jungle-choked dirt tracks are sandy slices of undiscovered paradise.

There's an endless array of tranquil and desolate beaches to choose from, so it can be hard to select which ones to see if you've got limited time. To make things a bit easier for you here's a list of the best Phu Quoc Beaches found on the island.
Getting To Phu Quoc And Moving Around The Island
As you already may know, flying or taking a ferry is the only way to travel to Phú Quốc. Vietnam Airlines, Vietjet, and Jetstar are the airlines that currently fly to the island and during the high season there are direct flights from
Ho Chi Minh City, Hanoi, Can Tho, Rach Gia, Dalat, Russia, South Korea, China, Sweden, Denmark, United Kingdom, and Australia
with more routes to be added shortly.
Tourists can also take a ferry from the Vietnamese port towns of Ha Tien or Rach Gia directly, and a special private tourism boat/junk from Ho Chi Minh City to the island as well.

VIETNAM CAMBODIA BORDER CROSSING
If you are traveling into Vietnam from Cambodia by land through the Prek Chak border and want to visit Phu Quoc, head over to the town of Ha Tien, which is only a few kilometers away. The ferries to Phu Quoc are located across the river that divides the town into two. Please note that you will need a valid Vietnam Visa in order to enter Vietnam if you plan on traveling by land. At the moment you cannot directly enter Phu Quoc from Cambodia by sea unless you are part of an authorized tour group.
Flights To Phu Quoc Island
All flights to the island land at the Phú Quốc International Airport (Sân bay quốc tế Phú Quốc) which is Vietnam's fifth largest airport and one that can handle an estimated seven million domestic and international passengers annually.

There are numerous domestic flights from most of the major Vietnamese cities daily (e.g. Ho Chi Minh City, Hanoi, Can Tho, Rach Gia, Da Nang, Hai Phong and Cam Ranh/Nha Trang), and most of these flights are competitively priced throughout the year. Actual airfares vary from airline to airline with Viet Jet Air, the country's leading discount carrier, being the cheapest while Vietnam Airlines, the country's national airline, being the most expensive. As mentioned above, there are also many international routes that fly to and from Phu Quoc and more routes are being added annually. During Christmas, New Years, and Tet Lunar New Year (Chinese New Year), expect the prices to be at their peaks and seat availability to be limited so plan accordingly.
GETTING TO YOUR HOTEL OR RESORT FROM THE PHU QUOC AIRPORT:
Once you have landed at the airport and picked up your luggage you have 4 transportation options available to you in order for you to reach your hotel/resort destination:
Prearranged transportation. Most of the top tier resorts offer airport pickups – some are complimentary and others are not.
Taxi: there are 4 taxi companies that serve the island and fares ($/per kilometer) vary based on the size of the vehicle you hire. The smallest vehicle and lowest fare taxi company is known as Phú Quốc Taxi. Please note that if you take a taxi to and from the airport you are also responsible for the airport toll fee.
Shuttle bus: For 50,000VND per person an airport shuttle will drop you off at the end of Long Beach in Duong Dong Town. This is a great option if you are staying in and around the city center and are carrying a few pieces of luggage.
Xe Om. A Xe Om (pronounced "say ohm") is a motorbike taxi that is a cheap alternative to a regular taxi and a good option for those solo travelers with just a small piece of luggage/backpack and are looking to leave the airport right away. To find a Xe Om at the airport, look for men wearing blue shirts near the entrance of the arrivals section.
Ferry To Phu Quoc
You can also take a boat to Phu Quoc by catching either a fast or slow ferry from the southern Mekong Delta town of Ha Tien or Rach Gia City. The fast ferry (1.5hrs to Phú Quốc) is operated by a company called SuperDong and departs from both Ha Tien Town and Rach Gia City and docks at Bai Vong Port on the eastern coast of Phú Quốc near Ham Ninh Village. For a small fee you can even bring a motorbike/motorcycle on board.

The slow ferry (2.5hrs to Phú Quốc) is operated by company called Thanh Thoi and is only available in Ha Tien Town. The slow ferry will dock at the north eastern part of Phú Quốc at Da Chong Port and people normally take this ferry if: a) they plan on bringing a vehicle (car, truck, or motorbike) to the island, b) staying in the northern region of Phú Quốc (e.g. Bai Thom, Rach Tram, Rach Vem, etc.), or they cannot get a ticket for the fast ferry.
Although there are daily ferry departures to and from Phu Quoc, service is limited during the wet season due to rough seas and low tourist demand while during the dry peak season service is at its peak and tickets are sometimes sold out. Learn more about the Phu Quoc Ferry.
Getting Around Phú Quốc
Traveling around the island can be done by either bicycle, motorbike, car, jeep, or by taking a taxi. Taxis can be used for short trips or you can hire them for a day to take you and your group around the island. If you stay in the Long Beach Area you can easily visit the beach, discover great local and international restaurants, and explore few of the major landmarks all by foot.

Key things you should know:
Tran Hung Dao Street is the main tourist street where you will find most of the bars, hotels, restaurants, shops, etc.
It is illegal to ride a motorcycle/motorbike in Vietnam without a Vietnamese driver's license yet most motorbike rental places on Phu Quoc will rent you a motorbike. Please refer to our motorbike guide for more details.

Duong Dong is the main and biggest town on the island. An Thoi Town, which is located at the southern tip, is the island second largest town and the gateway to the Phu Quoc Marine Park.
If you want to visit either the safari or amusement park in the north, there are free shuttle buses that are available in the Long Beach Area (Dương Tô , Dương Đông, Cửa Lấp, Bà Kèo)
Beware of snatchers! Be cognizant of your environment in and around the Duong Dong/Long Beach area, especially when using your smartphone.
Where To Stay On Phu Quoc Island
There are now over 180 accommodation options available on the island with more being developed as we speak. At Phu Quoc you have the option of staying at a Luxury Resort, a Mid Range Resort, a Budget Place, and finally a Cheap Backpacker Place. The most popular areas to stay on the island are as follows:
Long Beach
It's all about the sunsets here on Long Beach (Bai Truong), a 20km stretch of beach located along Phu Quoc's western coast. Long Beach lies adjacent to Tran Hung Dao Street, the street that begins near the airport and ends at Duong Dong Town. Here you will find a variety of accommodation options from simple backpacker bungalows to luxurious 5 star beach resorts. Long Beach is the epicenter of all tourist related activities on Phu Quoc.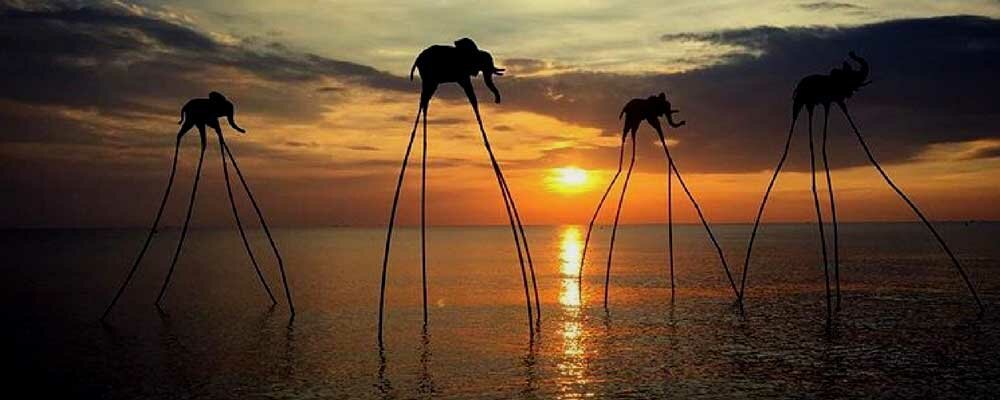 Long Beach Village
Long Beach Village is an area located within Long Beach and has evolved into becoming Phu Quoc's very own backpacker area – like Bangkok's "Koh San Road", Hanoi's "Old Quarter District" or Saigon's "Pham Ngu Lao" area. Here you can find great places to stay at all price points and a variety of places to rent a motorbike, eat, drink and party.

Backpackers Press This Button!
Duong Dong Town
If you want to stay closer to the economic capital of Phu Quoc District, where accommodations are much more affordable than those found along the beach, then staying in the Duong Dong Town area may be perfect for you. Here you will find some great hotels, hillside resorts, as well as private villa's for rent and you will also be close to some of the major landmarks found on the island.

Ong Lang Beach
If you want to escape the hustle and bustle of Long Beach and you are looking for some privacy then head on over to Ong Lang Beach. There are few great resorts here and you are only a stones throw away from all the major tourist attractions. Ong Lang Beach is about 45 minutes away from the airport via taxi.

Vung Bau
If you are looking for solitude, long stretches of clean beach, and being one with nature then the Vung Bau Beach area is perfect for you. Here you will find a variety of beach side resorts overlooking the beautiful Gulf of Thailand. Wake up early and look above as you may see a hornbill flying above you.

Ganh Dau
Ganh Dau is home to the mega Vinpearl Phu Quoc Resort, the Vinpearl Premium complex, Crowne Plaza Phu Quoc Starbay Resort, Vinpearl Land amusement park, Vinpearl Safari Zoo, Vinmec International Hospital, and a world class 27 hole golf course. Stay here for an upscale tropical island experience.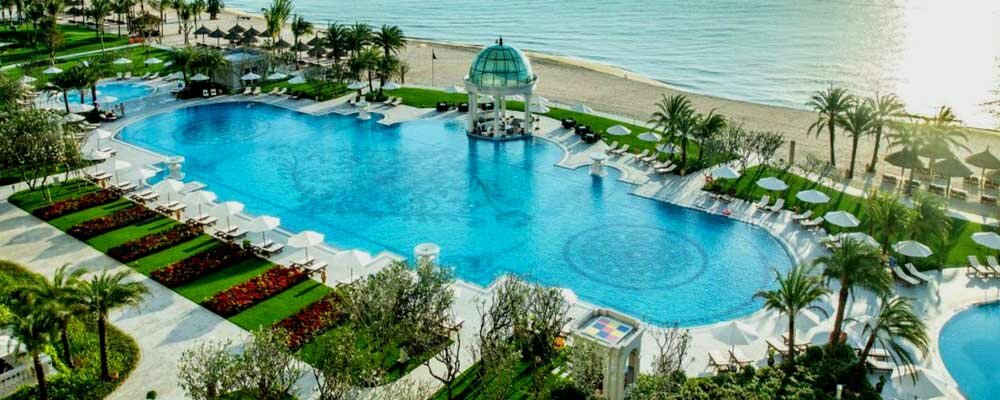 Exquisite cuisines
"The food, culture, landscape and smell; they're all inseparable. It just seemed like another planet; a delicious one that sort of sucked me in and never let go." – Anthony Bourdain
PHU QUOC VISA & IMMIGRATION
Policy & Procedures Demystified, Updated for 2017
30 Day Exemption Policy
Phu Quoc Island is designated as a special economic zone and it is the only place in Vietnam where foreigners and Vietnamese with foreign passports are eligible for a 30 day visa exemption upon arrival (entry, exit, and transit). In order to be eligible for the exemption, all visitors must hold a valid passport that will not expire within the next 45 days, depart from an international country, arrive directly or indirectly (via transit) to Phú Quốc, and they must depart Phú Quốc, either directly or indirectly (via transit), to an international destination. Under this visa exemption policy, visitors can stay on Phu Quoc for a duration not exceeding 30 days and are not permitted to enter mainland Vietnam nor any islands that are outside Phú Quốc District, a 28 island archipelago.
Cruise Ships Visiting Phu Quoc
The 30 day visa exemption also applies to passengers aboard international cruise ships that will dock at either the international cruise ship terminal in Duong Dong Town or at An Thoi Port. Currently there are two international cruise ship operators that visit Phu Quoc: The Costa Victoria, operated by Italy's Costa Crociere and Jupiter Cruises, operated by Hong Kong's Royal Group.
Crossing From Thailand Or Cambodia To Phu Quoc, Vietnam
Unless you are part of an authorized tour group you will not receive a Phu Quoc visa exemption if you travel by land (Ha Tien / Kep via Prek Chak – Xa Xia border crossing) or by boat via Cambodia (Sihanoukville) or Thailand (Koh Chang). You must obtain a Vietnam visa in advance prior to arriving to Phu Quoc. There are exceptions to this policy as there are certain number of nations that are eligible for a Vietnam visa exemption (see below).
Visa Exemptions For All of Vietnam:
As of 2017 visitors from the following countries do not may not need to obtain a visa to Vietnam, which includes Phu Quoc and all other parts of Vietnam:
Western Nations
Norway – less than 15 days
Sweden – less than 15 days
Finland – less than 15 days
Denmark – less than 15 days
Germany – less than 15 days
France – less than 15 days
Spain – less than 15 days
Italy – less than 15 days
United Kingdom – less than 15 days
South East Asia
Singapore – less than 30 days
Thailand – less than 30 days
Malaysia – less than 30 days
Laos – less than 30 days
Asia
Indonesia – less than 30 days
Japan – less than 15 days
South Korea – less than 15 days
Philippines – less than 21 days
* Phu Quoc has 3 international border gates: Phu Quoc International Airport, Phu Quoc International Passenger Port in Duong Dong Town, and the An Thoi International Seaport in An Thoi Town.
NOT ELIGIBLE FOR AN EXEMPTION BUT WANT TO EXPLORE VIETNAM?

Vietnam
E-visa
service will come soon but until then you must obtain a special pre-approval letter and visa which can be easily and securely obtained by clicking on the image here >>

Travel + Technology. PhuQuocIslandGuide.com is Phu Quoc's first technology travel platform that provides on-demand travel services through web and mobile and is part of the "Smart City" initiative based on the Vietnamese governments 2020 vision of Phu Quoc being Asia's first "integrated island on the cloud". We provide high quality digital tools & in-depth tourism information while connecting tourists with great local businesses. In short, we take care of your every travel need so that you have the most enjoyable experience while vacationing on Asia's premiere island destination.