Rach Vem Beach
Discover Rach Vem Beach on Phu Quoc Island, a urban beach located in the northern part of the island
Rach Vem Beach Phu Quoc
Rach Vem Beach (Bai Rach Vem) is a rural beach located on the northern coast of Phu Quoc and it is part of Ganh Dau commune.  The beach consists of white sand and turquoise water however this is not your typical beach as it is a "working" beach where fishermen and their families reside so do not expect to find a clean beaches or an ocean here.  Rach Vem is however beautiful in its own way.  The shore line is dotted with fishing nets and traps and has become a parking lot for the numerous fishing boats in the area. Rach Vem Beach and illage is a great place to absorb local life and it is well worth a visit, mainly for the cultural experience.
Rach Vem Beach

Rach Vem Beach

Rach Vem Village
Rach Vem Village is a small fishing village (800 meters wide and 4 km long) and this is the place to experience traditional village life as not much has changed in the past 10 years.  There are about 160 household with approximately 1,000 people living here. The village is accessible by traveling down a relatively wide red dirt side road.  The village is located between the Nhum and Coc canals and faces the sea where Cambodia can be seen in the distance.  You can expect to see very basic houses built on stilts, chickens and ducks being farmed, stray dogs and cats running around, and children following you around.  The locals do not speak English but are very friendly and helpful.  The life here is simple and there is a certain charm that exists in the village.  Unfortunately this village is destined to be redeveloped into a resort area so see it in its natural state while you can.
Rach Vem Village By The Beach

Rach Vem Village

Rach Vem Village

Rach Vem Beach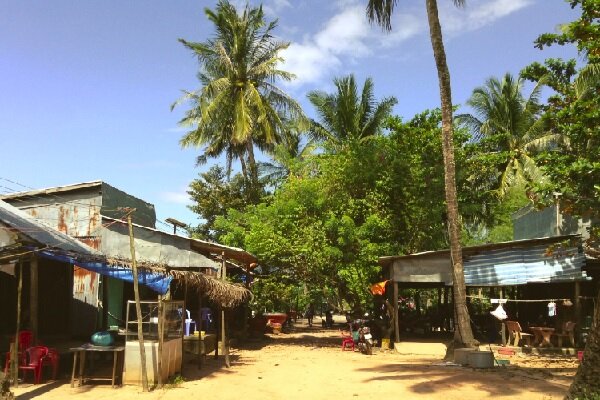 What to see
Khmer life: You can see how local Khmer communities live on the island. All the residents at Rach Vem Village are quite friendly and are more than willing to talk with you or pose for pictures.
Rach Vem Beach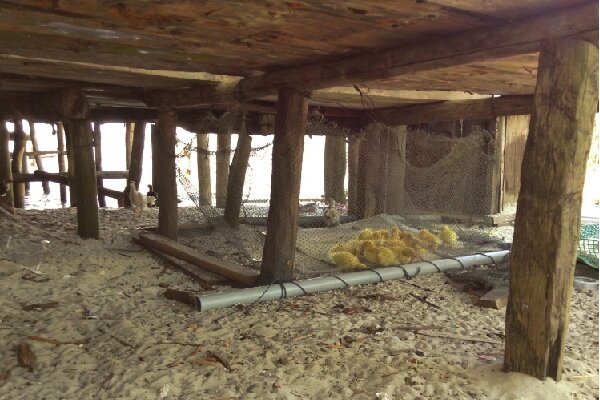 Rach Vem Beach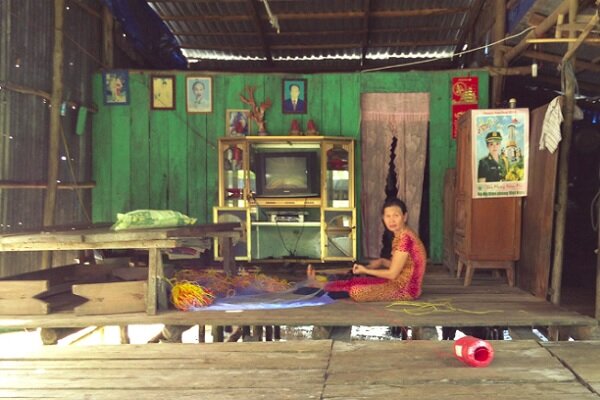 Note: When talking to the locals, please do not mention about the Cambodia-Vietnam war or about Pol Pot's regime as this is a sensitive issue up here.
What To Do
Fishing: Besides taking pictures you can also ask a local fisherman to take you out fishing for a small fee.
Where To Eat & Drink
You can purchase snacks and local dishes off the main road leading into Rach Vem Village:

Rach Vem Accommodations
If you do decide to stay in Rach Vem Beach, we recommend the following:
Phong Lan Villa Resort

Accommodation Details:
Price: 395,000VND for 1 double bed to 945,000VND for 6 double beds
Address: Phong Lan Villa Resort is located in Rach Vem village.
Amenities: A/C, swimming pool, WIFI, BBQ, kitchen, hot shower, washing machine, and laundry service
To book call: 33673420251 | +84903717270
Phong Lan Villa Resort Review: This resort is extremely isolated.  If that is something that you are after, then give them a call and make a reservation.  Electricity is not always stable but they do have generators.  Phong Lan Villa Resort in Rach Vem is perfect for the flashpacker-adventurer type, for couples who want to relax in the middle of no where, and for those who want to experience village life yet come back to a place that has modern amenities.  Prices quoted may change and are negotiable.
Need To Know
Rach Vem Eco Tourism Project
Rach Vem and Rach Tram are slated to be redeveloped for tourism.  The project is known as the "Rach Tram project" and will be an eco-tourism project that will incorporate the Phu Quoc National Forest and the north coastline. Tourist spots shall be located between Nhum and Coc canals, a community tourist center shall be located at the center of the beach, and the population quarter of the fishing village shall be located along Vem canal to the southwest of the beach.