Phu Quoc Accommodation Guide | Hotels & Resorts
All kinds of travelers visit Phu Quoc, and there's a place to stay for everyone. There are now numerous five star beach resorts on Phu Quoc that offer world class dining and facilities. Backpackers and adventurers are also well looked after, with a huge range of affordable beach bungalows, guesthouses, and hostels that offer comfortable accommodations or just a fun party atmosphere. You can even try a village home stay to experience how the locals live. Whether you're a honeymooner, a family looking for a kid-friendly getaway, or a globe trotting budget conscious backpacker, you'll find the perfect place to stay on Phu Quoc by reading our hotels and accommodations guide. Enjoy!
Where should I stay on Phu Quoc?
To answer that question directly you need to first understand the make up of the island. At 574 square kilometers Phu Quoc Island is the largest island in the 28 island archipelago that makes up Phu Quoc District.  Phu Quoc Island is the center of all tourist related activities and it is here where you will find 99% of all the accommodation options that are available. At first glance Phu Quoc seems overwhelming, especially considering the large quantity of hotels, resorts, beach areas, and distances between towns but we have broken the island down into manageable chunks to help you make the right decision when choosing where to stay on Phu Quoc, whether it is a hotel or a beach resort.
Where To Stay On Phu Quoc By Area: Ganh Dau | Long Beach | Ong Lang | Vung Bau | Sao Beach | Emerald Bay
Where To Stay On Phu Quoc By Category: Luxury Beach Resorts | Budget/Backpacker | Off The Beaten Track
Map of all the major accommodation areas on Phu Quoc:

Below you will find the main areas where you can stay on Phu Quoc:
Ganh Dau

Ganh Dau is located in the north western section of Phu Quoc Island. It is best known for Dai Beach, one of the most beautiful beaches on Phu Quoc. Dai Beach is Phu Quoc's upmarket beach resort area, where you will find luxury five star resorts, secluded villas, the Phu Quoc Casino, a upscale shopping district, an amusement and safari park, as well as a 27 hole world class golf course. T TNorth of Dai Beach is another more urban beach called Ganh Dau Beach. Here you will find a few Vietnamese resorts, a few low to mid tier hotels and resorts, and the famous Nguyen Tran Truc Temple, a local hero.
Who is it for:
Middle class to upper middle class couples and families who are looking for that "all inclusive" style vacation at a upscale resort that is in an area that offers numerous activity excursions, in case you get bored lying on a beach all day.
Those who prefer to stay at luxurious resorts, a not so crowded beach.
Families with kids
The good:
Besides the luxurious resorts, the activities here are amazing. There are a few offshore islets that offer amazing snorkeling, an amusement park with a large Ferris wheel with a view of the ocean, and nearby cultural excursions located in Ganh Dau Town itself. For nature lovers, the famous Ganh Dau Trail and Phu Quoc National Park is nearby.
The island's first and only WHO recognized international hospital is also located here.
Ocean sunsets with a view of nearby Cambodia.
The bad:
Ganh Dau is located 45 minutes north of the Airport, which can seem like an eternity.
There is no nightlife and in the evenings you are normally confined to your resort, which is not necessarily a bad thing.
Big resorts also mean a lot of people.
Long Beach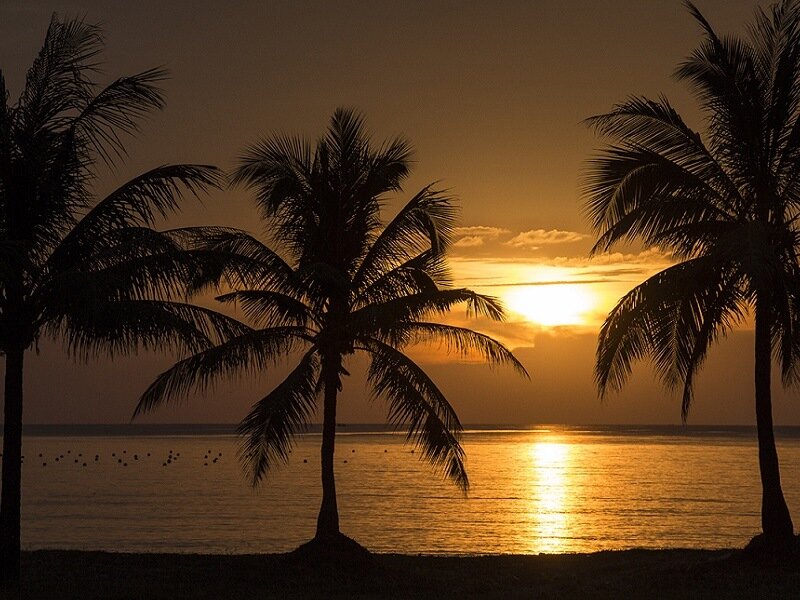 Long Beach is the most popular beach on Phu Quoc Island and it is located along the western coast within a vast township called "Dương Tố". The aptly named beach stretches for almost 20 km, is classified as a "yellow sand beach", and it is one of the best places to watch the famed Phu Quoc ocean sunsets. Packed with beach resorts, hotels, restaurants, and temples it is mere minutes from the Phu Quoc International Airport as well as Duong Dong Town, the economic capital of Phu Quoc District. Most of the island's best restaurants are found in this area, and most happen to be on a single popular street known as Tran Hung Dao. Long Beach can be further divided into 3 sections: The North, The South, and Long Beach Village
THE NORTH
The northern section of Long Beach is the area north of the Phu Quoc International Airport. This is the older and more densely packed area of Long Beach and where most visitors stay. It is here where you will find a wide range of resorts, hotels, nightlife, shopping etc. Stay here if you want to be in the heart of all the action.
Who is it For:
People who want to be in the heart of the action, close to a wide assortment of foreign and local restaurants, and those who like arts, culture and historical places.
The good:
Ocean sunsets, the nearby temples, and the markets.
The bad:
Very busy area especially during the sunset hours. Hotel/resort standards also vary.
THE SOUTH
The southern section of long beach is the area south of "Cửa Lấp" commune and the Phu Quoc International Airport. It is Phu Quoc's newly developed area and consists of a few high end luxurious beach resorts and vacation rentals. It's much more quiet, luxurious, and relaxing.
Who's it for:
Luxury resort travelers, newlyweds, trendsetters.
The good:
The resorts here are brand new, have the best swimming pools on the island, and sunsets are amazing. Being close to the airport, only 10 to 15 minutes drive south, adds to the convenience.
The bad:
Some of the resorts import white sand for their "beach".
LONG BEACH VILLAGE
Long Beach Village (aka "LBV") is a densely packed area located within the northern section of Long Beach in the "Bà Kèo" commune. It is Phu Quoc's backpacker district, similar to the old quarter area in Hanoi and the Bui Vien/Pham Ngu Lao area in Saigon. Here you will find a variety of accommodations, small bars and restaurants, laundry shops, motorbike rentals, etc.
Who's it for:
Backpackers, budget conscious travelers.
The good:
A community within a community. It's a great place to meet new people and get things done like arrange for tours, laundry, etc.
Being close to the airport, only 10 minutes' drive north, adds to the convenience.
Wide range of hotel prices
The bad:
More crowded and there is only one public beach access area.
Ong Lang

Ong Lang is located north of Duong Dong Town across the Duong Dong River and it is an alternative to the crowded beach scene offered at Long Beach. Ong Lang Beach, the main beach here, is spread out and broken up by patches of rocks. Here you will find a wide assortment of resorts, both on the beach and in the interior. A collection of a few luxury retreats define a stay at Ong Lang, some offering magnificent spas and wellness programs to suit. There are some good restaurants and cafes near by and if you do get bored you are only just a stones throw away from the hustle and bustle found at Long Beach. There is absolutely no nightlife scene whatsoever except for what you can find at your resort or hotel.
Who's it for:
Couples, flash-packers, people who prefer to stay away from the action but close enough to seek it when needed.
The good:
It's quiet and the sunsets or gorgeous.
The newer "off-the-beach" resort villas are absolutely stunning.
The bad:
Cow's roaming on the beach and the scattered public picnic areas.
Vung Bau

Sandwiched right between Ganh Dau and Ong Lang offers a mix of these two famous beach resort areas. Affordable beachfront resorts and hotels present quiet spaces to relax, while the areas natural surroundings is a welcome peace. Vung Bau Beach has soft powdery yellow sand and just a few km from shore lies Fingernail Island, a snorkelers haven. Vung Bau is the last great semi-wild beach location left on Phu Quoc Island and it is developing at a much slower pace than Phu Quoc's other beaches.
Who is it For:
Budget travelers, couples, and young families.
Those looking for a quieter pace of life surrounded by nature.
The good:
Nature, calm bay, wildlife.
Lesser crowd than the other areas.
The bad:
Far removed from the rest of Phu Quoc and the roads are not paved.
Sao Beach

With it's white powdery sandy beach lined with palm trees overlooking a turquoise sea, Sao Beach is vastly considered the best beach on Phu Quoc. Sao Beach is a popular destination for day trippers and in the evening the area is slow paced and laid back. Most of the hotels here are of the boutique beach resort type and are relatively old, although most have upgraded their amenities. Dining options are also limited as you are confined to your hotel or small canteens along the beach.
Who is it for:
People who want to stay on a white sandy beach and are not interested in night time activities.
People who prefer direct beachfront access
Families with young kids who want to play in the sea, as the sea is relatively shallow here.
The good:
Best beach on the island and one of the best beaches in Vietnam.
Snorkeling is good here.
A lot of water sport activities are here.
The bad:
Far away from most sightseeing spots. Remote and widely spaced; not for those wishing to explore far outside their resort very often.
No nightlife.
Far from the airport.
Kem Beach/ Emerald Bay

Phu Quoc's most exclusive beachfront resort enclave; virtually all hotels in Emerald Bay are international five-star resorts. These line the gorgeous white sand southeastern coast beach known as Kem Beach. Quality dining options are within respective resorts and nightlife consists of mostly of the refined bar scene at the resorts.
Who is it for:
Wealthy travelers, families and honeymooners.
People looking for a private beachfront resort all inclusive style and do not want to explore outside of their hotels.
The good:
Gorgeous white sand beach, amazing sunrise view.
Secure and secluded complex of luxury resorts.
The bad:
Remote location with a slight sense of disconnect to the local culture.
Phu Quoc Accommodations Menu:







MyPQ Hotel Comparison App *New for 2017*
MyPQ Hotels

is a one-stop shopping comparison engine for hotel pricing, amenities and availability – specializing in providing travelers to Phu Quoc with the best accommodations and deals by getting all the major ebooking platforms (e.g. Booking.com, Expedia, Hotels.com, Agoda, etc) to compete with each other. Click on the laptop below to find resorts for up to 90% off!

Summary
Article Name
Where to stay on Phu Quoc Island
Description
A breakdown of all the areas, hotels, and resorts to stay while on Phu Quoc Island in Vietnam.
Author