Phu Quoc Trip Planning Guide
Jump To: Where Is Phu Quoc | When To Go | Where To Stay | Location | Accommodation | Getting Around | Banking & Money | Food | Getting Away
Why Phu Quoc?
If you are looking to be pampered at a 5 star resort or live like Robinson Crusoe, this island is for you and it has something for everyone and for all age groups. Here on Phu Quoc Island you can visit beautiful white powdery sand beaches, snorkel and dive and discover the exotic Gulf of Thailand marine life, shop for pearls, try the world famous fish sauce, kayak to small islets, hike through a National Park and watch monkeys jump from tree to tree, swim in natural pools created by spectacular waterfalls, go on a deep sea fishing excursion or fish from shore, play golf at a world class golf course, or just watch one of the most beautiful sunsets you will ever see. This island will not disappoint you, and to prove it just watch the video below:
The following page contains detailed information needed in order to plan the perfect trip to Phu Quoc, Vietnam's paradise island.
Where Is Phu Quoc Island Located?
Phu Quoc Island is located approximately 45km off the coast of Vietnam and 4kms from the Cambodia-Vietnam boundary. The island is situated in the Gulf of Thailand and it falls under the administration of the Kien Giang government with the capital, Rach Gia, being 115kms away. The closest Vietnamese town is known as Ha Tien which is about 45kms from the island and it takes 2 hours to reach Ha Tien from Phu Quoc by ferry. Phu Quoc is much closer to Cambodia's Kampot Province which is just 18kms away. The GPS coordinates of Phu Quoc are: 10.2289° north latitude and 103.9572° east longitude.

The maritime zone situated between the coast of Phu Quoc Island of Vietnam on the one side, and the coast of Kampot Province and the Poulo Wai group of islands of Cambodia on the other, encompasses waters which are of great importance for the national defense and the economy of both countries.
Proximity To Major Asian Hubs:
Phu Quoc Island is also located relatively close to all the major Asians cities such as Bangkok, Singapore, Kuala Lumpur, Phenom Penh, Siem Reap, Ho Chi Minh City, Hanoi, Hainan, South Korea, and even Hong Kong.
When To Go To Phu Quoc

Dry Season (November to March)
The best time to visit Phu Quoc is during the dry season because the weather is less unpredictable, it is less humid, you can watch more sunrises and sunsets, the sea is calm and clear, and the island restaurants, resorts/hotels, and tour operators are 100% in service as it is peak tourist season. However there are also more visitors to the island, prices are at there peaks, and some of the waterfalls have dried up due to the lack of rain.
Wet Season (April to October)
During the wet season, prices are very low, you can book a last minute flight to the island at a very good rate, and the waterfalls are gorgeous. However it does rain a lot and once the rain starts, it sometimes feels like it will never end. If you here in July and if you are lucky you may even see a water spout!
The two annual monsoons that affect Phú Quốc:
Winds on Phu Quoc have two directions: the northeasterly winds ("northeastern monsoon") which last from November to March and the southwesterly winds ("southwestern monsoon") which last from April to October. The northeasterly winds coincide with the dry season and mainly affect Phú Quốc's eastern coast resulting in the sea there to be more rough and garbage to be blown in from mainland Vietnam. Some of Phú Quốc's best beaches, e.g. Sao Beach & Kem Beach, are located along the eastern coastline and are dramatically affected by the northeasterly monsoonal winds while the west coast beaches (e.g. Long Beach & Ong Lang Beach) remain relatively unaffected.
On the contrary, the southwesterly winds coincide with the wet season and the devastating monsoon which is typical of this geographical area. It is during this time that most of the rain falls down on the island. The southwesterly winds mainly affect the sea located on the west coast of Phú Quốc while the sea surrounding the eastern coastline remains calm. Most tourists who are frightened off by the southwestern monsoon are unaware that the winds are far from constant, and that sunny or partially sunny days outnumber the rainy days during this time. Most of the torrential downpours are quite short with some coming as a refreshing cure to the searing heat of the summer.
Currents
One important warning—the southwesterly winds bring large waves and dangerous undercurrents to Phú Quốc's western beaches. If you do plan on swimming, do not swim too far from the shoreline and always obey the beach flags. The wet season (summer time) is the best season to visit and discover the beauty of the beaches dotting the eastern coastline.

Where To Stay On Phu Quoc

Before choosing a resort, get familiar with the different beach locations found throughout the island. The following is a brief description of each beach so that you can choose one that is right for you and your family: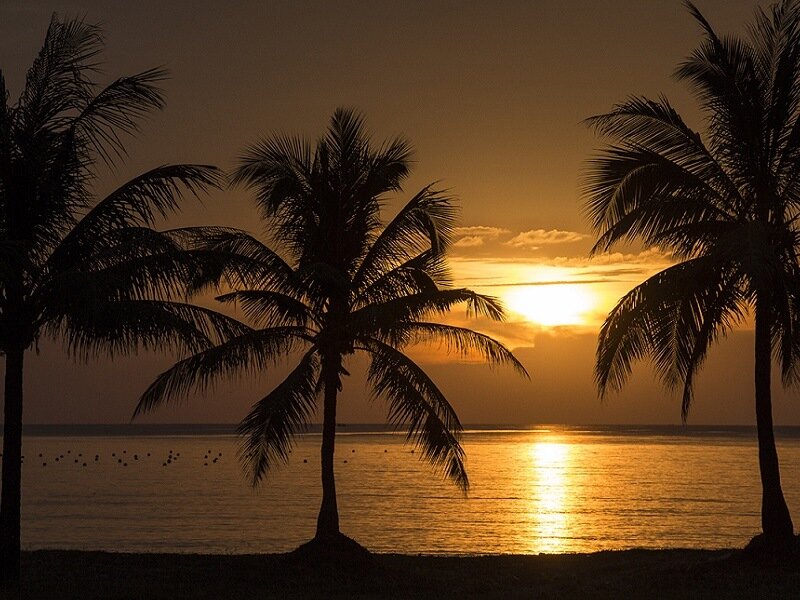 Long Beach is located on the west side of Phu Quoc Island and close to the Phu Quoc International Airport. A small canal divides Long Beach into two sections, the south and the north. The southern section of Long Beach, or South Long Beach, is where the luxurious resorts and villas are located and it is more quieter and isolated here. In contrast, the northern section of Long Beach, or North Long Beach, is the busiest area on the island and the center of all tourist related activity. Here you will find all the western restaurants, bars, nightlife, tour booking offices, etc. Both south and north Long Beach are famous for its gorgeous ocean sunsets and accommodations that are offered at all price points. Located approximately 10-15 minutes from the airport.

Up in the north west section of Phu Quoc Island near the town of Ganh Dau you will find a slew of mega resorts that mainly cater to families. These resorts offer all amenities typical of a 5 star resort and are close to child friendly attractions such as water parks, zoo, amusement park, and an aquarium. The hotels & resorts are located right on Dai Beach, once rated by CNN as being one of the top beaches in Asia. Staying on Dai Beach is perfect for the family unit who wants to enjoy a relaxing luxurious holiday and do not want to leave their resort. Located approximately 45 minutes from the airport.

Vung Bau Beach is located north of Cua Can Village on the north western side of Phu Quoc Island, just south of Ganh Dau. There are some boutique resorts here and most people who choose to stay on Vung Bau Beach do so in order to have a "off the beaten track" holiday experience and to enjoy water sports. Located approximately 40 minutes from the airport.
Kem Beach (Bai Kem) & Sao Beach (Bai Sao)


On the southern east coast you will find Phu Quoc's two most beautiful postcard perfect white sand beaches which are lined with swaying palm trees overlooking a gorgeous turquoise sea: Kem Beach and Sao Beach. The resorts here are ultra luxurious and most people who stay here rarely venture to other parts of the island, unless it is via an organized tour. These are the only two beaches that have true white powdery sand on Phu Quoc Island. Located approximately 60 minutes from the airport.

Located across the Duong Dong River on the western coast lies Ong Lang Beach, which is basically a quieter version of Long Beach. Here you will find mainly boutique resorts spread out on a rocky coastline. Stay here if you want to avoid the crowds at Long Beach yet be close to town. Located approximately 25 minutes from the airport.
Overview of the best beaches on Phu Quoc [Infographic]
*Some of the beaches that are listed below are nice to visit but are not an ideal place to stay mainly due to the lack of infrastructure and basic amenities.

Now that you are familiar with the beach locations, it's time to choose a resort that is perfect for you and your family.
Which Hotel on Phu Quoc Island Should I Book?
The most popular question asked by most travelers planning a trip to Phu Quoc is which hotels they should book while vacationing on the island. In the past, there were limited accommodation options and most hotels and resorts were booked months in advance. Today Phu Quoc now has over 180 hotels & resorts!
It can be a daunting task and a bit overwhelming at times trying to figure out where to stay on the island and you can spend hours online conducting hotel research and reading reviews. Luckily we did the research for you. We read the reviews, visited the hotels, stayed in most of them, and compiled our Top Ten list:
Can I Camp on Phu Quoc?
Camping on a tropical island sounds like fun but unfortunately in Vietnam foreigners are not allowed to camp on their own. They must be registered with the local police. Hotels, resorts and tour agencies do this on your behalf, even though you may not know it, which is why some of them keep your passport while you stay with them. You can however camp via a camping tour.  If you plan on camping on Phu Quoc on your own, you do so at your own risk.
Language on Phu Quoc

Most hotel staff speak at least some English, French, Russian, and Vietnamese. Outside of the tourist area only Vietnamese is spoken. Hand signals and pointing at your map and where you want to go work well for directions. For prices, always ask sellers to write it down or show you the price via calculator. Having a smartphone comes in handy on this island.
Safety
Phu Quoc has fresh air, clean water, friendly people, a very low crime rate, and best of all… a lot of sunshine and powdery beaches.The island is extremely safe at the moment, but like with all major tourist destinations this is bound to change. There is a greater chance of you being robbed by your fellow traveler than a local as the punishment for petty theft here is quite extreme. For added security, leave all your precious belongings at your hotel.
What To Pack?
Ok, so you've found you your perfect beach and have chosen a hotel, now you are ready to pack. Here are a  list of items you should consider packing:
Light breathable clothes, swimming wear, and a rain coat
If you plan on snorkeling, bring your snorkeling gear
Swimming goggles, sun tan or sun block lotion
Mosquito repellent
Running shoes or hiking shoes if you plan on trekking in the National Park
Camera, phone,  laptop – the island has fast WIFI
A simple first aid kit
If you forget any of the above items, you can always purchase them here at Phu Quoc.  There are a lot of shops selling western size clothing, sun block, etc.
Tip:
Forget the beach towel.
  There should be towels where you are staying, if not you can buy one here really cheap.  A beach towel takes up so much room and there is no need to waste all that space and weight in your luggage. If you really want to take one, invest in a small, light microfiber towel.
Pack less to save more:  If you are only going to Phu Quoc for a short period of time, and you think you can manage with a carry on luggage only, some airlines, e.g. VietJetAir, offer cheaper airfares for carry on only. Do keep in mind how much you intend to bring back, to see if this option works for you.
Getting Around Phu Quoc Island
Jump to: Bus | Bicycle | Motorbike | Motorbike Taxi | Taxi | Private Car | Jeep
So you've finally arrived on Phu Quoc Island, congratulations! Now how do you move about on this 574 km island? Well we will tell you. The good news is that all the national roads are now paved making it easy for you to travel to all the major towns and tourist attractions. There are even dedicated pedestrian walkways in all of the major tourist areas. Here are some options on how you can get around Phu Quoc:
By Bus
Public transportation does exist on the island, however the schedules are unpredictable and this mode of transport is not recommended for tourists. "Public" transportation on Phu Quoc is basically shared minivans which travel up and down the major cities and used mostly by locals.
By Bicycle
A bicycle hire is a great eco-friendly way to go if you don't mind peddling through the heat. Bicycle rentals are widely available and cost anywhere from 20,000 to 50,000VND per day. If you are staying at a higher end resort, they will have bicycles available for you. If not, then head to any motorbike rental place or a hotel/resort that has them and rent from them directly. The rental terms are usually per 12 hour periods.
By Motorbike
Hiring a motorbike is a popular way to both get around town and see the island. With a motorbike you can easily visit all the major sites on the island. Helmets are the law here in Phu Quoc Island and the speed limit within the cities are a maximum of 40km/hr. Gas stations and mechanics are widely available as well. Motorbike rentals cost anywhere between 100,000VND to 200,000VND per day including helmets. Make sure you keep a copy of the rental agencies business card with you just in case you get lost or your motorbike breaks down. The rental terms for a motorbike is usually for a 12 hour period. If this is something you want to do, make sure you read our comprehensive motorbike guide found here.
Tip 1: Rent a motorbike from your hotel/resort if they offer it.
Tip 2: Always test ride your motorbike up and down the street to make sure it is safe and before any long distance travel. Test both front and back brakes, make sure are the turn signals work, make sure your headlight and brake lights work, and make sure your bike does not feel "wobbly" or make any strange sounds while riding. If it does, go back to the place where you rented the motorbike from and they will gladly repair or replace the motorbike for you.
Tip 3: Opt for a full face helmet. There are a lot of rocks on the road and the last thing you want is to be hit by one.
Tip 4: Go to one of the pharmacies and buy a surgical mask. Use this mask while riding. The mask will help keep your lungs clear of any dust and debris found on the island.
*Note: A "motorbike" is a gasoline powered 2 wheeled vehicle that is either automatic or semi automatic and does not require the use of a hand clutch like those seen on motorcycles.
By Motorbike Taxi
There are a few motorbike taxis available on the island and the price for their service varies depending on location. A short trip around town costs about 20,000VND to 30,000VND. Longer trips will obviously cost more money so make sure you agree on the price first. Most Xe Om drivers on Phu Quoc are honest and reliable.

By Taxi
There are plenty of taxis available all over the island. You will find them parked at the side of the road or cruising around for customers. They are reliable and safe and use a pricing meter to charge for fares. You can also negotiate a fixed price if you are planning on a long distance trip.

By Private Car
If you have a large group of people, you may be better off by renting a private car and driver. Prices start around $30 to 50USD per day, depending on the type of car. Sasco, the taxi company, also rents out their cars and drivers.
By Jeep
You can also rent a Jeep and driver for around $50USD per day but since all the roads now paved a Jeep rental is not necessary.
Banking, Money, Currency Exchange
All transactions on Phu Quoc are done in Vietnamese Dong (VND) so you need to exchange your money.  There are a lot of ATM's and Banks on the island. The majority of the ATM machines can be found around Tran Hung Dao street and in the Long Beach Village area.  The most comprehensive full service bank on Phu Quoc is the Sacombank and the BIDV Bank. There main branches are located in Duong Dong Town at 20, 30 Thang 4 Street.  Here you can cash travelers checks, withdraw money, exchange currencies, use their local and international ATM's.  Both are open from 7am to 11pm and 1pm to 4pm Monday to Saturday.

Other banks on the island include Agribank, Vietcomb, and Kien Long Bank.
Western Union on Phu Quoc Island Vietnam
There is a Western Union located inside the Agribank on 2 Tran Hung Dao Street in Duong Dong Town in case you need to transfer or receive funds.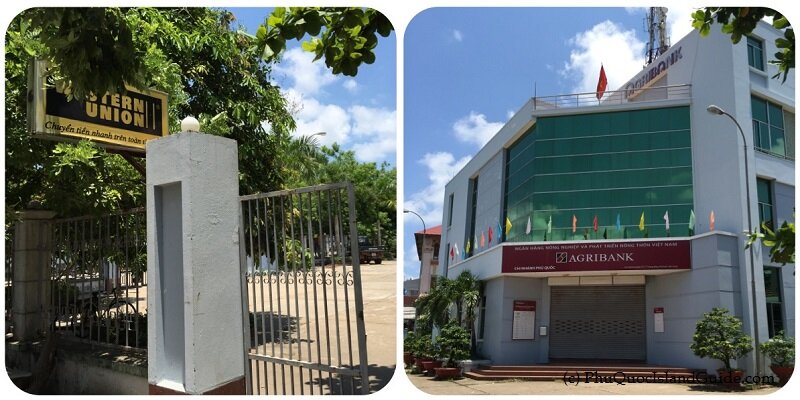 Where To Eat and Drink On Phu Quoc Island
There are many places to eat and drink on the island from your local street side restaurants serving traditional Vietnamese fast food like beef soup (Pho), baguette sandwiches (Bahn mi), and broken rice with pork or chicken (com tam) to fine dining options and everything in between. Prices start from 10,000VND and up.

Eating at resorts, beach front restaurants, or at your hotel will be much more expensive than eating in town.  There's plenty of food to try from all over the world.   Of course, being an island, seafood is the favorite dish here in Phu Quoc. Learn more about the various food options by reading our Phu Quoc Island Food Guide.
Getting Away
If you get bored of Phu Quoc Island you can always take a ferry to the mainland and visit the nearby port cities such as Ha Tien, Rach Gia, and even Cau Mau. You can also take a ferry and bus combination and head into Cambodia and/or Thailand. The following are the 2016  – 2017ferry and bus schedules to take you away from Phu Quoc Island:
Phu Quoc to Saigon by Bus & Ferry – Schedules & Fares
** All prices include: Pickup, ferry fare, bus fare.
Summary
Article Name
Phu Quoc Island Vacation &Trip Planning
Description
Everything you need to know about planning your trip to Phu Quoc Island in Vietnam.
Author