Phu Quoc is much bigger and more complicated than most people imagine and the name "Phu Quoc" represents a 28 island district spanning over 593 square kilometers.  At 574 square kilometers, "Phu Quoc Island" is the largest island in the district and the center of all tourism related activities.
FAST FACTS:
Province:

Kien Giang

Population:

~110,000 (2017)

Area:

594 square kilometers

Largest Island:

Phu Quoc Island, 574 square kilometers.

Capital:

Duong Dong

Highest Point:

603 meters, Mount Chua

Time Zone:

UTC+7, Indochina Time

Language:

Mainly Vietnamese and some Cambodian. Lots of local dialects. Within tourist areas: English, French, Russian

Local Government:

People's Committee of Kien Giang

Currency:

Vietnamese Dong. $1 U.S. = 20,000VND.

Electricity:

220 volts

Area code:

+84

Visa:

30 day visa exemption for all nationalities
The district currently consists of 2 major towns: Duong Dong & An Thoi, and the archipelago is further divided into the following 8 communes: Duong To, Cua Duong, Cua Can, Ganh Dau, Bai Thom, Ham Ninh, Hon Thom, and Tho Chu. In the future, a 3rd major town will be located in Cua Can.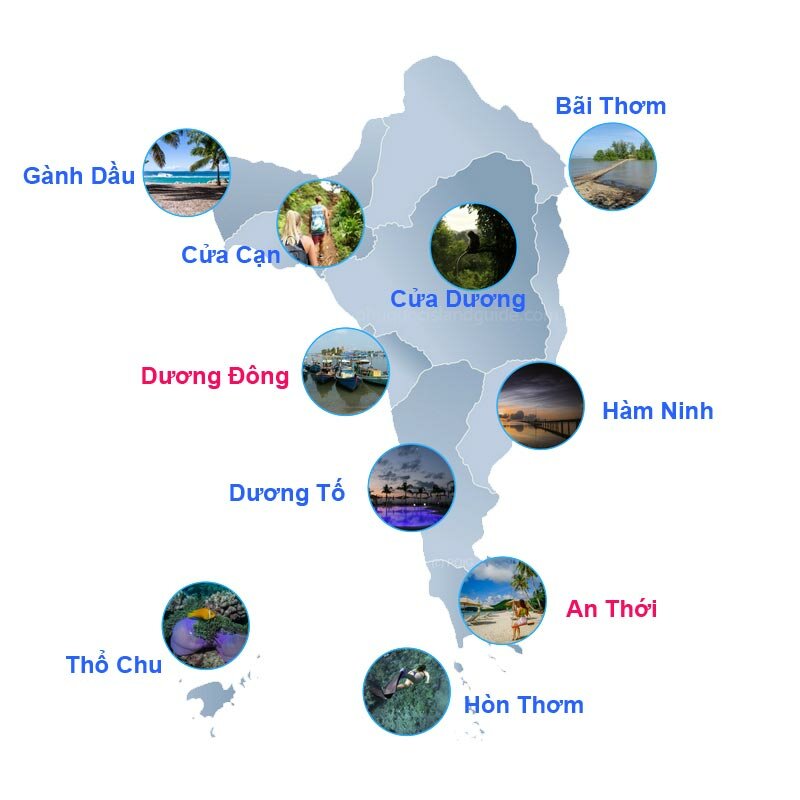 The terrain and vegetation changes dramatically as you wander from commune to commune.  So does the pace and ambiance of each area.  Duong Dong is a busy and culturally diverse city and the island districts economic capital.  Coastal resorts and villas ooze luxury, while the small towns and fishing villages scattered throughout the district mark the islands history and culture.  The remote north east coast, with its lush jungles and mountains is where you will find the core Phu Quoc National Park, a protected UNESCO site. The north west is where you will find large family friend mega resorts dominated by the Vinpearl brand.  The central region is home to a fantastic country side dotted with pepper plantations and jungle retreats.  And along the south is where you will find over a dozen idyllic islands blessed with white sand beaches and surrounded by coral reefs.  Discover the beauty of Phu Quoc by exploring its regions and plan your trip accordingly.
Phu Quoc – more than just another island beach destination.