Phu Quoc with Kids: Complete Guide for a Phu Quoc Family Holiday

Looking for a destination for your next family trip? Phu Quoc is an excellent choice. We loved our family holiday in Phu Quoc Island – so much so that we just returned for the third time. From beautiful beaches to the beautiful temples around Duong Dong Town to the culture to the purpose built attractions in Phu Quoc for kids, there is plenty here to entertain the whole family.
Phu Quoc family holidays are so easy. There is a crazy amount of Phu Quoc family accommodation which can make stays very easy. The Vietnamese are very welcoming of kids, and there is plenty of western style food for fussier palates. There is also plenty of Phú Quốc information for kids – such as this guide – to help make your visit a success.
The other big plus is that Phu Quoc is incredibly good value. For a few dollars you can easily find something to eat, have a beer or a massage. The Phu Quoc family resorts are also great value. Below, you will find our complete guide to Phú Quốc family holidays from our holiday blog including everything you need to know to make your Phu Quoc family vacation a success!
When to go
Phú Quốc has two seasons – a wet and a dry. The dry season runs mid November – April and is the best time to visit weather wise. The wet season is May – October. In the wet season, there is generally just a huge downpour every day, but it can also day for days on end especially during the late summer early fall months. The first time we visited in the wet season, we generally saw rain early in the morning. The second time, it rained all day everyday. Also, there are far more bugs around in the wet season and this can be annoying.
The busiest times in Phu Quoc are during the Christmas and New Year holidays, TET holiday, and Vietnamese Victory Day. The busiest month is January, however even at busy times, there is plenty of room for everyone and there is plenty to do in Phú Quốc for families at any time of year.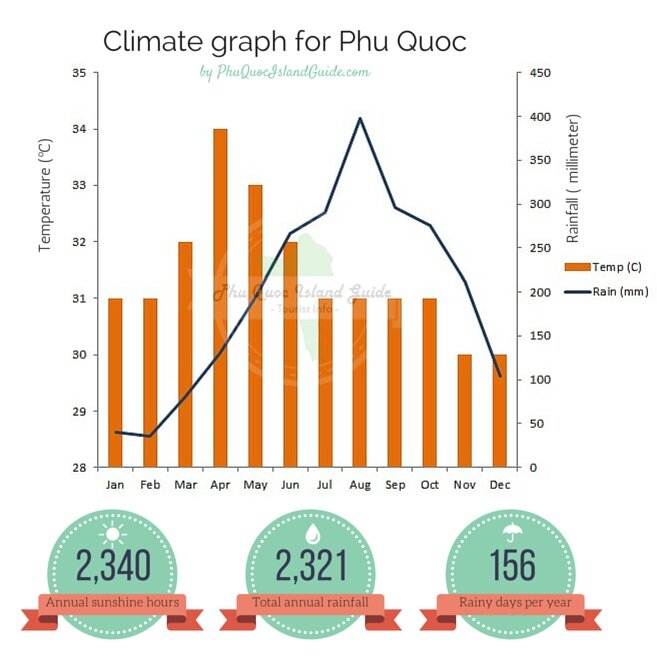 Getting to Phu Quoc
Phú Quốc is a popular destination and as such there are plenty of flights into Phu Quoc, particularly from China, Russia, Korea, and the rest of South East Asia. People coming from further afield may need to connect somewhere else in Asia, such as in Singapore or Hong Kong. If you are on a budget, there are some great budget airline choices from Singapore (TigerAirways), Hong Kong (Air Asia or Jetstar), and withing Vietnam there is VietJetAir. The departure tax is included in your ticket. There are ATMs at the airport if you are running low on Vietnamese Dongs or US dollars.

You can also arrive to Phu Quoc by a ferry from mainland Vietnam and or by cruise ship. The ferry departs from either Ha Tien Town or Rach Gia Town. Please click HERE for more information about the Phu Quoc Ferry.
Visas
Phú Quốc is Vietnam's only special economic zone and all international visitors who will vacation only in Phu Quoc will receive a 30 visa exemption, to learn more click HERE, If you plan on visiting the rest of Vietnam then unfortunately you will require to purchase a Vietnam Tourist Visa. You can arrange for this by clicking HERE. The visa on arrival process is very straight forward. You will hit the desks before immigration and you cannot miss them.
Phu Quoc Family Accommodation
Family accommodation in Phu Quoc is plentiful. You will have no problems finding something perfect for your needs. There are three main options you will probably look at – Phu Quoc family resorts, family hotels in Phu Quoc and family villas.

Hotels tend to be the cheaper option with rooms and not much else (although resorts do sometimes call themselves hotels). Family resorts in Phu Quoc tend to have multiple pools and restaurants, kids club, gym and many other facilities and may include activities and the option of an all inclusive stay (which means that meals, drinks and other items may be included).  Family villas in Phu Quoc can be an excellent option for Phu Quoc holidays with kids. This generally means an entire house with a private yard which often includes a private pool. Some even come with staff.
For bookings, we recommend using Agoda, the trusted leaders in South East Asia when it comes to resort bookings and deals.
Best family Accommodation In Phu Quoc
The following are our pick for the best family hotels in Phu Quoc along with resorts and villas from our personal experiences, online reviews and from people we know.
Ganh Dau
Ganh Dau is famous in Phu Quoc for being the area that is targeted towards vacationing families. Here you will find amusement parks with the islands largest Ferris wheel that overlooks the ocean, Vietnam's first open air safari park, an aquarium, a water park, shopping and food courts, a professional golf course, and of course a nice beach. This area is made for families and you will be surrounded by families such as yourself.
Vinpearl Phu Quoc Resort

The Vinpearl Phu Quoc Resort is one the first five star, yet affordable, family friendly resort on Phu Quoc. It is directly located on Dai Beach, one of Phu Quoc's best beaches, and there is easy access to shops, restaurants, and things to do for kids. This is a great pick of the Phu Quoc family resorts. The Vinpearl Phu Quoc Resort has everything you need in Phu Quoc Island for children.
Click here for the latest prices and more information.
Duong Dong
Duong Dong Town is the tourist capital of Phu Quoc and this is where most of the action takes part in Phu Quoc. It is also where much of the budget accommodation choices live as well as some of the biggest hotels. If you want something a little bit quieter but still close to the action, neighboring Ong Lang can be a good choice.
Richis Resort

This resort in Duong Dong is a top choice if you want something budget friendly in a prime location by the beach. It has all the facilities of top Phu Quoc accommodation for families with multiple pools, restaurants, bars, a playground, kids playroom and many other facilities. The location is fabulous as the beach (Long Beach) is right in front and there are many restaurants, massage places, shops etc nearby. There are hotel rooms and villas on offer making this a good family accommodation in Phu Quoc especially at these cheap prices.
Click here to see the latest prices or for more information.
Salinda Resort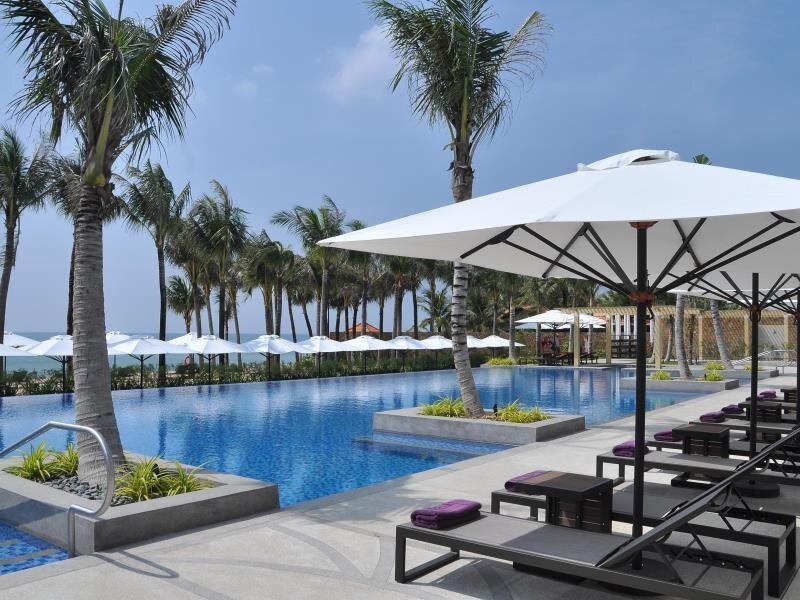 The Salinda Resort is one of the top Phu Quoc family hotels. This is because it has just amazing facilities for kids.  On top of the beach side pool there is an amazing restaurant serving international food that will satisfy the fussiest of taste buds. Even more exciting for little ones is the water playground and water fun zone. There is also a kids club with an outdoor playground. There are lots of room types including ones made especially for families.
Click here for the latest prices and more details.
South Long Beach
South Long Beach in Duong To commune is an increasingly popular beach area to stay just south of the Phu Quoc International Airport. It is known for being a bit fancier (and pricier) and is a great option if you are looking for the best beachfront family villas in Phu Quoc – many of these are here.   It's a nice area. We found everything a fair bit nicer than in Duong Dong with less hassle. Food is generally more expensive but we found it better quality and better value too. We are big fans of South Long Beach.
Novotel Phu Quoc Resort
This fabulous beach front Phu Quoc family accommodation offers a range of options from massive suites to pool villas. For a family, it is hard to look past the beautiful one or two bedroom pool villas. With one of these, you will have your own oasis in Phu Quoc with a private pool. The resort also has two amazing pools, including a kids pool, very cool restaurants and bars and organized kids activities.
Click here for the latest prices and more information.
The Intercontinental Phu Quoc Resort

This is another great choice for families looking for private pool villas by the beach. The beautiful one bedroom pool villas are perfect for a small family. The villas are spacious and include extras such as Jacuzzi bath tubs. Additionally the resort has other pools, restaurants and bars. The rates include breakfast and an afternoon tea that you can eat from the comfort of your villa.
Click here for the latest prices and more information.
Getting Around Phu Quoc Island
It is easy to get around Phu Quoc, especially if you are staying in the Duong Dong/Long Beach area. If you want to venture further out then there are several main options: hire a car and driver, take a taxi or use a shuttle bus. There are also some public bus which we found useful for getting to Ganh Dau, Sao Beach, and An Thoi Town but they generally do not suit tourists needs. You can also rent a motorbike but you must have a valid international motorcycle license in order to legally ride in Vietnam.
Hiring a car and driver
This is a cheap and easy option and you should have no problems finding someone. You can hire a private car and driver or a taxi for about $30US per day. You can then plan your own itinerary and go where you want or follow their recommended itinerary.
Taxis in Phu Quoc
In the main beach areas there are no shortage of taxis. Look out for Phu Quoc Taxi taxis which are the cheapest. They should use their meter which will be better value than bargaining for a price with someone else. This is the best option for quick air condition trips.

Shuttle buses
There are shuttle buses (usually vans) that will take you between the main tourist areas. These don't generally work out to be good value for a family and you are usually better off taking a taxi or hiring a driver and car.
Car seats
Car seats for your kids are not readily available. You will need to bring one from home if this is important to you. Most children sit on their parents laps.
Getting from the airport
From the Phu Quoc International airport you can reach your resort either by taking a taxi, jumping on a shuttle bus, or your resort will have a car and driver waiting for you. There is also a public bus that will drop you off at Duong Dong Town.

Top 21 things to do in Phu Quoc with kids
If you are wondering what to do in with kids in Phu Quoc, don't worry! You will not be short of kid friendly activities. There are a crazy amount of things to do with kids on the island and the island feels like it has been developed for the family unit. The following is a list of Phu Quoc attractions for kids along with the best kids' activities in Phu Quoc. Phu Quoc is a relatively small place so all these attractions can be visited from the areas mentioned above in a half or full day trip.
1. Have fun at Vinpearl Land.

Vinpearl Land Phu Quoc is the island's first full amusement park that has roller coasters, bumper cars, water park, swings, and a giant castle. It is like the island's own version of Disney Land.
2. Discover wild animals at the Phu Quoc Safari Park

There are many things to do here from going on a safari to cultural shows to a petting zoo and fun zone. Good for all ages.
3. Get up close to monkeys at Phu Quoc National Park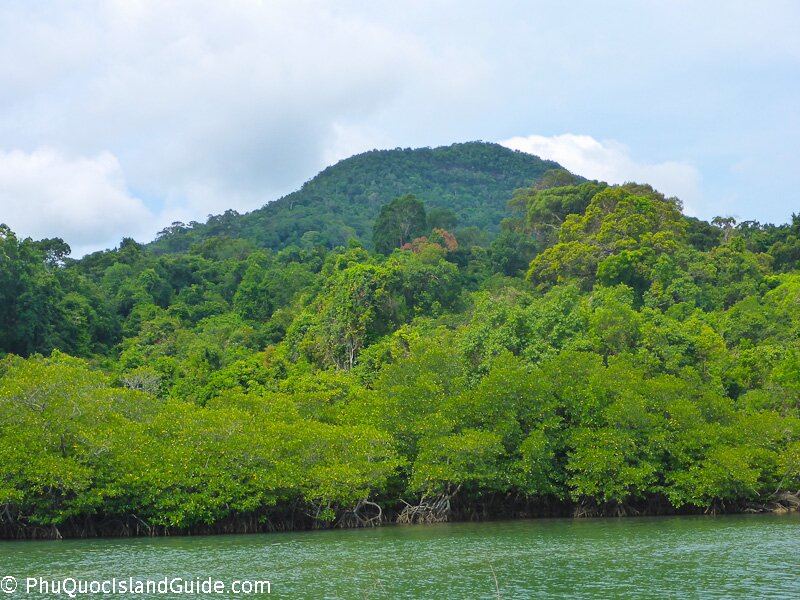 Although there is no access to the heart of the Phu Quoc National Park at the moment, you can still see monkey from the side of the main road that runs next to the park. These monkeys are not use to seeing humans so please do not feed them nor attempt to touch them.
4. Go jet skiing
If your family loves the water, this can be lots of fun even with little kids. There are lots of places to do this although at Sao Beach it is probably the easiest.
5. Have a manicure/pedicure/massage
These are readily available and cheap, your young daughters will love being pampered.
6. Cook up a storm at a Phu Quoc cooking class.
Kids generally love cooking so a cooking class can be a great thing to do in Phu Quoc with family. A cooking class is a great Phu Quoc family activity.
7. Check out the Phu Quoc Waterfall
There is a great waterfall on the island that has a well built trail system. Learn more about this here.
8. Play on the beach

There are many beaches in Phu Quoc and it is not hard to find one. Bai Sao is particularly recommended for a family friendly beach.
9. Take advantage of a kids club
If you are staying in a resort with a kids club – use it! Don't feel bad. Your kids will no doubt love it and it will give you some lovely alone time.
10. Go snorkeling

There are many places that are good for a family snorkeling trip in Phu Quoc, in fact Phu Quoc is the best snorkeling destination in all of Vietnam. You can either snorkel from shore or join a tour and snorkel around various islands. The An Thoi islands is particularly recommended because of its numerous snorkeling spots, calm waters, sandy bottom and coral reef.
11. Eat a seafood in Ham Ninh
There is something magical about eating next to the ocean, and Ham Ninh Village is the place. Here you will find a wide variety of seafood restaurants on offer and it is the best place to try sea crab.as the sun sets. It is just perfect for kids since they can run and play while you wait.
12. Visit a Phu Quoc pepper farm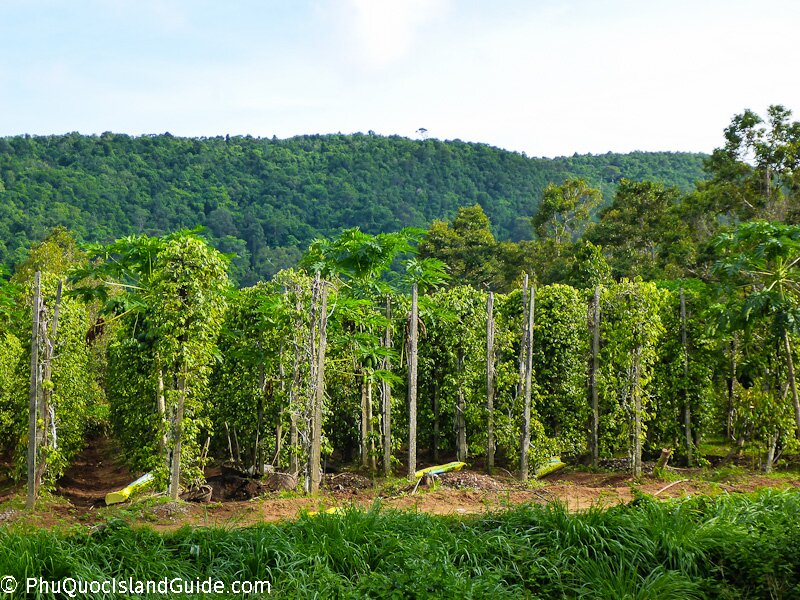 This can be lots of fun for kids who get to see and learn more about the famous Phu Quoc pepper, one of the best peppers in the world.
13. Play volleyball on the beach
Plenty of makeshift volleyball games start on the beach in the evening. Join a local game or start your own.
14. Visit a temple

There are temples everywhere in Phu Quoc, so it is not hard to find one. The most interesting one is the Dinh Cau Temple in Duong Dong Town which also doubles as a lighthouse.
15. Take an island hopping tour
Many options exist for this and they are not hard to find. Visit a tour agency or go to An Thoi port and commission your own boat.
16. Visit the Phu Quoc Museum
The Phu Quoc museum in Duong Dong Town is a great place to learn about the islands history, its flora fauna, and to also get oriented.
17. Go fishing

There are lots of tours where you can go fishing or in smaller towns, you may be able to connect with a local small boat to take you out cheaply and easily. Fishing from shore is also possible. You can also join a sunset squid fishing tour, which most kids enjoy.
18. Go shopping
There are a crazy amount of shops in Phu Quoc. We found giving the kids a small amount of money to pick their own souvenirs was lots of fun. For older kids, you could teach them the art of bartering.
19. Hang out in your hotel pool

This might seem like you are not taking advantage of your time in Phu Quoc but with kids it's important to have some down time. There are some beautiful hotel pools in Phu Quoc, and here are our 10 best pools list.
20. Visit a crocodile sanctuary

Just a few kilometers north of Ham Ninh village there is a small crocodile sanctuary/farm that has a sizable collection of small and large crocodiles. Our kids loved visiting this place, and we are sure your kids will too!
21. Hiking the Ganh Dau Trail

Up in Ganh Dau and just north east of Vinpearl Land there is a great trail known as the Ganh Dau Trail that goes into the heart of the Phu Quoc National Forest. It is an easy trail that will only take 30 minutes to visit and fun for the entire family.
Eating in Phu Quoc
In all the main tourist areas in Phu Quoc you will have no problem finding a variety of food including both Asian and Western types. This means that if you have fussy kids who are picky eaters then there is no need to worry. You will be able to find something for them.  There are great pizzerias, sushi, taco, hamburger, pho, ice cream shops, heck even a Burger King!  Learn more about the food found on Phu Quoc by clicking here.
Christmas in Phu Quoc
We spent a fabulous Christmas in Phu Quoc in 2015. We chose Phu Quoc because Phu Quoc is the best snorkeling destination in Vietnam and our kids love to snorkel. We were surprised how Christmas-sy everything was. We didn't feel like we missed out at all by having Christmas in Phu Quoc. We chose to spend it in Ganh Dau as we wanted to stay at Vinpearl Resort which is close to Vinpearl Land, which had Santa and clowns to entertain the kids. We were very happy
Doctor in Phu Quoc
Unfortunately, on our latest visit we needed to visit a doctor as we hurt our ear while scuba diving. There is an international standard hospital on Phu Quoc called Vinmec Phu Quoc. The Vinmec is located in Ganh Dau. There is also a local but very good hospital in Duong Dong Town. If you need standard medicine you can purchase it without a prescription at the many pharmacies found throughout the island.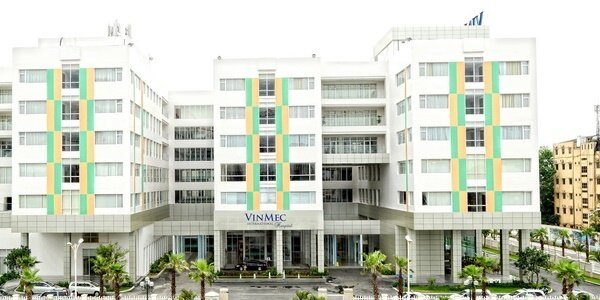 What to pack for Phu Quoc?
A packing list for Phu Quoc is quite straight forward, primarily because Phu Quoc always has hot weather. There is no need to bring winter clothing to Phu Quoc regardless of the time of year you travel. If you are wondering what to wear in Phu Quoc then most things are fine and less is best. Casual wear is what you will see most other tourists wearing. For kids, lightweight clothes that give good coverage for sun protection are the best idea.
Phu Quoc Packing List
3-5 lightweight, hot weather outfits for all members of the family
hats, sunglasses, sunscreen
bathers/swim suits/togs/bikinis/whatever you call them
beach towels (if staying at a hotel where these are not supplied). They can be heavy and you can buy them on the island.
basic toiletries (toothbrush, razor, etc.)
nightwear
sunscreen
mosquito repellent and anti-itch cream
mosquito net – most places provide this, but some cheap hotels do not.
flip flops/sandals
sturdy shoes if you want to go hiking or trekking in Phu Quoc
passports
motorcycle license if you have one
credit cards and some cash just in case. There are a lot of international ATMs found on the island.
travel insurance details
medicine/first aid kit
laptops and chargers
phones, tablet computers
toys
drawing books, exercise books, crayons, pencils
other reading material, especially for those rainy days
Mosquito protection
Depending on the season, there can be a lot of mosquitoes in Phu Quoc. We recommend taking some good quality insect repellent. If you are like us and don't want to use DEET on young children, you can try some safer alternatives or a lot of parents have reported success using Simba Natural Mosquito Repellent Sticker on their kids. For babies, you could look into KidzStuff insect repellent clothes.
Items for babies and toddlers
Deciding what things to pack for Phu Quoc for little ones can be very tough. The following is our thoughts about particular baby and toddler stuff to consider bringing with you. If you plan on sight seeing then we particularly love traveling with the Ergobaby Carrier.
Carriers
Strollers can come in handy if you are visiting the Phu Quoc Safari Park, Vinpearl Land, or walking up and down Long Beach Village as these have walk ways which are fine with a strollers. For longer outings such as this, I find a stroller so much easier than a carrier. It gets hot carrying around a baby/toddler. Plus, the young ones can usually nap more easily in a stroller.
We particularly recommend the UPPAbaby G-Lite Stroller or the UPPAbaby G-Luxe Stroller (if you need one that reclines) as they are super lightweight and easy to carry around at times when you don't use them.
Travel cots/cribs
Most hotels and resorts on Phu Quoc will be able to supply baby cots. However, keep in mind that this can never be guaranteed and often do not conform to safety regulations that we might be used to. For this reason, we always traveled with our own travel cot. These are lightweight, easy to fold away cots that can fit in your luggage.  We prefer the KidCo Peapod Plus which is like a fold out tent that should last your child a long time.
Diapers
You should have no problems buying regular diapers in Phu Quoc.  The islands major grocery store, Co-op Mart, carries all your favorite brands.
Formula and bottles
These are also available in Phu Quoc but we recommend that you bring your own formula from home. This way your baby has the formula they are use to and there is no stress about trying to find a new formula that your child is happy with.
Mosquito nets
At the very least, we recommend a mosquito net for your stroller so your child is safe when you are out. The best ones to buy will vary based on your stroller. There are many options here.
PHU QUOC REGIONS
Scroll down to explore the 10 regions that make up Phu Quoc District.
1. Duong Dong Town
Duong Dong is Phu Quoc's largest town and it is located along on the western coast of Phu Quoc island. Duong Dong is famous for its mighty river that bears the same name, temples, fish sauce factories, pepper farms, and of course the plentiful accommodation options available at all price points.  Duong Dong is a busy urban place but there is electricity in the air.  The town comes alive after the sun has set.
2. An Thoi Town
Located at the southern tip of Phu Quoc Island is An Thoi, the island districts crown jewel and the town that makes Phu Quoc competitive with similar international vacation destinations such as Phuket, Bali, Maldives, and Fiji. An Thoi is: the second largest urban area on Phu Quoc Island, the gateway to the Phu Quoc Marine Park, has two beautiful white sand beaches and home tothe world's largest over sea cable car.
3. Duong To Commune
Nested in between Phu Quoc's two major towns (Duong Dong and An Thoi) lies Duong To, a vast central area that is home to the Bai Truong Tourist Complex, Phu Quoc's main tourist area.  The Bai Truong Tourist Complex is often referred to as just "Long Beach", the literal translation of the Vietnamese words in English.
Duong To is a hip modern commune with posh bars and restaurants, luxury beach resorts, and home to the Phu Quoc International Airport.
4. Cua Duong Commune
Cửa Dương is the heart of Phu Quoc... literally. This area represents the interior of the island.  Clean mountain water awaits you in the few rivers, waterfalls, lakes, and swimming holes found in the area.  Some of the islands most famous resorts occupy the western beachfront areas of Bai Ong Lang as does the Phu Quoc's National Park.  The area's accommodations are destinations in themselves, and are also used as bases for forays into the north and south.
5. Cua Can Commune
If you are looking for solitude, long stretches of clean beach, and ecotourism water-sport activities like kayaking and beach snorkeling, then the Cua Can area is perfect for you.  Cua Can (Vietnamese: Cửa Cạn) is located in the north western section of Phu Quoc and consists of Vung Bau Beach, Cua Can Beach, Cua Can Village and the Cua Can River. Cua Can Village is famous for having the highest concentration of rustic wooden bridges in Phu Quoc District.
6. Ganh Dau
Ganh Dau is located in the Northwestern part of the island and the area is slowly becoming the "Las Vegas" of Phu Quoc. Here you will find "V
inpearl Phu Quoc
", a vast multipurpose complex that consists of the luxurious
Vinpearl Phu
Quoc Resort, Vinpearl Phu Quoc Villas, an amusement park, safari zoo & animal research center,
casino
, 27 hole golf course, and southern Vietnam's only WHO recognized international hospital.  On-the-ocean seafood restaurants and Phu Quoc's most popular hiking trail— Ganh Dau Trail, are both also found in the area. Ganh Dau burst onto the tourist scene after hosting the Miss Vietnam pageant, with American idol Kelly Clarkson singing in the finale. Today, Ganh Dau is Phu Quoc's upscale resort area that 's a destination for thrills and vistas, casino and amusement parks, with a significant selection of exquisite resorts and restaurants. Much of the area northwest of Ganh Dau is located in a critical wildlife corridor which hosts hornbills and langurs, as they move between dwindling habitats. A series of hiking and walking paths traverse this area with the most famous one being the Ganh Dau Trail.
7. Bai Thom
Wild Bai Thom Commune located up in Phu Quoc's northeast corner, is known for lush mountains, rain forests, mangroves, cashews, the northern port and remote beaches. Bai Thom is an 1 hour drive north of Duong Dong Town, Bai Thom was once a restricted military zone due to its proximity to Cambodia as both of these countries were essentially at war with each other, but those days are long gone.  Thom Village is now a peaceful place and its inhabitants are mainly fishermen and their families.  The village is slowly preparing itself for mass tourism as the entire village will be redeveloped by 2030 into a eco-tourism hub.
8. Ham Ninh
The long and slender Xa Hàm Ninh is Phu Quoc's coastal commune known for having unique seafood restaurants, treks through the jungle, and a few hidden beaches.
9. Hon Thom
Phu Quoc's archipelago commune.
10. Tho Chu
Tho Chu Commune consists of multiple islands and is considered a military zone.