VIETNAM E-VISA

E-Visa Process Overview | E-Visa Details | Eligible Countries | E-Visa Application
This page explains how you can can successfully and
independently

obtain a Vietnam E-Visa online, as the process and information available on other websites is ambiguous and confusing. We've gone through the e-visa application process, and although there are bugs, it does work. Airlines and tour agencies can also apply online on behalf of their clients using the same portal. The following is a detailed account of what the E-Visa is, who is eligible, how to obtain one, and what international ports in Vietnam process the visa once you have landed.
New e-Visa for Vietnam: Beginning February 2017 foreign tourists can apply for Vietnam e-visa's (electronic visas). Under the e-visa program, tourists can apply over the internet for 30-day, single entry electronic visas by paying a non-refundable application fee online. E-visa applicants will no longer need an invitation letter from Vietnam. The aim of the new online e-visa Vietnam program is to reduce the barriers in processing visa's, increase tourism to the country, and to compete with neighboring countries.  The new evisa, unlike the Phu Quoc Visa Exemption, will allow you to travel anywhere within Vietnam.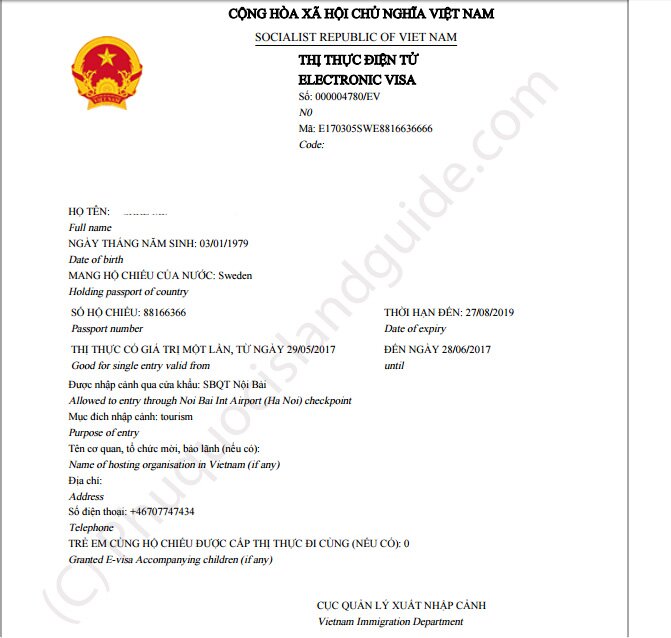 Vietnam has seen a surge in foreign tourists over the past 5 years with a growth rate of 46% and this trend is expected to continue as the country aims to be Asia's leading tourist destination by 2030.  In 2016, China was the country's largest foreign market market with 2.2MN visitors, followed by South Korea at 1.2MN and Japan at 0.6MN.
VOA or E-Visa? Which one should you get?
E-VISA:
Staying for less than 30 days;
Will not leave Vietnam (single entry);
No third party agency.
VIETNAM VOA:
Staying for more than 30 days;
Plan to stay in Vietnam (single entry) or leave Vietnam and re-enter (multiple entry);
Need third party agency to procure invitation letter.
Current Vietnam Visa Exempt Nations:

Vietnam currently has a visa waiver program for citizens from 21 countries and territories (see table below) and it is expected that additional nations will be added shortly. Chinese travelers traveling in organized tour groups can visit the border city of Mong Cai in Quang Ninh Province for up to 3 days without applying for a tourist visa as well.
VIETNAM VISA EXEMPT NATIONS (AS OF 2017):
Western Nations
Norway – less than 15 days
Sweden – less than 15 days
Finland – less than 15 days
Denmark – less than 15 days
Germany – less than 15 days
France – less than 15 days
Spain – less than 15 days
Italy – less than 15 days
United Kingdom – less than 15 days
South East Asia
Singapore – less than 30 days
Thailand – less than 30 days
Malaysia – less than 30 days
Laos – less than 30 days
Asia
Indonesia – less than 30 days
Japan – less than 15 days
South Korea – less than 15 days
Philippines – less than 21 days
Vietnam E-Visa Process – High Level Overview:
Make sure your country of origin / nationality is eligible for the E-Visa (see below);
Go to the official government websites to apply for the E-Visa (see below);
Upload your document images are in .JPG (photo and passport information page);
Follow the steps on each screen;
A registration code will be displayed prior to payment.  Make sure you copy this code down.
Make payment.  The Vietnam E-Visa total cost is $26.00USD ( $26.00USD for e-visa + $1.00USD credit card processing fee); You can use debit or credit.
Wait business 3 days while your e-visa application is being processed;
After business 3 days, check your email or go back to website with your registration code and check your status. If your e-visa has been approved you will find links which you can click on to download the e-visa.  Sometimes you will receive a notification in your email and sometimes you won't, so if you haven't received anything within 3 days, check for yourself manually.
Print the e-visa;
Enter Vietnam via one of the ports listed below.
Before 30 days, exit Vietnam via one of the ports listed below.
Please note we wrote this e-visa resource page for  those who are considering visiting Vietnam and or Phu Quoc.  If you are aware of any errors, please let us know and we will fix it. If you do not want to read the rest of this page and immediately apply for an E-Visa then click following button:
Vietnam e-Visa Application Website
Vietnam E-Visa Details:
Under Decree No. 07/2017 / ND-CP, Vietnam will launch a new online visa processing platform on 2017-02-01 that will allow overseas visitors to apply for a thirty day single-entry Vietnam Visa.  Initially this service will be available for the following 40 nations (see below) but more will be added in the near future.  The total fee for Vietnam e-Visa is $26.00 US Dollars. This fee is non-refundable under any circumstances.
Countries eligible for Vietnam's E-Visa:
1. Azerbaijan
2. Argentina
3. Armenia
4. Ireland
5. Poland
6. Belarus
7. Bulgaria
8. Brunei
9. South Korea
10. Germany
11. Chile
12. Colombia
13. Czech Republic
14. Cuba
15. Denmark
16. Timor Leste
17. United States of America
18. Hungary
19. Greece
20. Italy
21. Kazakhstan
22. Russia
23. United Kingdom
24. Luxembourg
25. Myanmar
26. Mongolia
27. Japan
28. Panama
29. Peru
30. Finland
31. France
32. The Philippines
33. Romania
34. Spain
35. Sweden
36. China (not applicable to Chinese e-passport holders)
37. Uruguay
38. Venezuela
39. Norway
40. Slovakia
Vietnam Ports Of Entry / Exit For E-Visa Applicants:
Once successfully processed, visitors can enter Vietnam at any one of the following international ports:
AIRPORTS:
Cam Ranh International Airport
Can Tho International Airport
Cat Bi International Airport
Da Nang International Airport
Noi Bai International Airport
Phu Bai International Airport
Tan Son Nhat International Airport
LANDPORTS:
Bo Y Landport
Cau Tre Landport
Cha Lo Landport
Cha Lo Landport
Ha Tien Landport
Huu Nghi Landport
Lao Bao Landport
Lao Cai Landport
Moc Bai Landport
Mong Cai Landport
Nam Can Landport
Song Tien Landport
Tinh Bien Landport
Xa Mat Landport
SEAPORTS:
Da Nang Seaport
Hai Phong Seaport
Ho Chi Minh City Seaport
Hon Gai Seaport
Nha Trang Seaport
Quy Nhon Seaport
Vung Tau Seaport
E-Visa Requirements

Before applying for the E-Visa (button below), please read the information below as it is OUR CHECKLIST for you to submit your application successfully.  The e-visa system is not perfect but you can improve your odds and save time bey carefully reading the instructions outlined below:
E-Visa is only available for foreigners outside of Vietnam.
International traveler's visiting Vietnam must hold a valid ticket for a return journey to country of origin or next country of destination and a passport valid for a period of at least six (6) months beyond the stay in Vietnam.
You are not eligible if you are banned from entry – No. 24/2000/PL-UBTVQH10 & Article 21.  Full details here.
Carefully review your information before submitting it it (pressing submit button).
The e-Visa for Vietnam confirmation is issued within 3 (three) business days through email.
The $26.00USD the total fee for the e-Visa can be paid for online using all major credit cards and debit.
Debit cards have a higher success rate than credit cars.
.JPG is the image file format you should use when saving your passport photo and passport data and then re-uploading them onto the Vietnam's government e-visa website.
Google's Chrome browser works best when applying for a E-Visa.  Firefox is the second best internet browser to use. Desktop/laptops over mobile devices.
Visa extensions are available if your initial 30 day E-visa is expiring.  This cannot be done online.
Apply for you Vietnam e-Visa today, but be patient as the system is not without faults.  The process is simple, easy, cheap, and all done online. You can get the electronic visa for Vietnam in in just 3 steps (apply online, pay and download e-Visa approval) via the Government Portal.  Visitor's vacationing on Phu Quoc, and only Phu Quoc, do not need to apply for an e-visa as Phu Quoc Island is classified as a special economic zone and all visitors to Phu Quoc will receive a 30 visa exemption.  Learn more about the Phu Quoc Visa Exemption Policy.
Vietnam Visa For Stays

Greater Than

30 Days
If you plan on staying in Vietnam for greater than 30 days OR you need a multiple entry visa, then you cannot apply for the E-Visa.  You will need a Vietnam visa issued by Vietnam's embassy. There are two ways to obtain this visa:
Visit your nearest Vietnam Embassy or Consulate: You can apply for and obtain a visa to Vietnam directly from your country's Vietnam Embassy. Most embassies have expedited Vietnam visa issuance service.
Visa on Arrival (VOA): The VOA is an alternative way to obtain a visa to Vietnam and it only applies to those who arrive to Vietnam by plane. To obtain a VOA you must first obtain a "visitor approval" letter before arriving at any international Vietnamese airport. This letter can be purchased online and the issuing agency will email the document to you. Fees for the VOA vary depending on if you want single entry or multiple entry to the country. Once you have received this letter, print it and present it to the Vietnam visa immigration office once you arrive in Vietnam. An additional stamping fee will also be charged once you arrive in Vietnam. The stamping fee must be paid in US Cash Dollars – $25.00US for single entry, $50.00US for multiple entry. You will also need 2 passport size photos as well. *Fees may change at any time, let us know if they do.
You can obtain the Vietnam Invitation Letter

here.
Summary

Article Name
Vietnam E-Visa Demystified
Description
Clear information on how to obtain an E-visa to Vietnam.
Author