Phu Quoc Maps
Do you need a Phu Quoc Map to discover Vietnam's largest island? Well we have that and more all on this page. Phu Quoc Districts main island, known simply as "Phu Quoc", is approximately 574 square kilometers in size. All the best beaches and attractions can be found here and the islands has paved roads making navigating the island a breeze.
Save trees by using our 2017 digital tourist Phu Quoc maps found below. All of these maps are tablet and smartphone friendly.
Click Here For Full Screen Phu Quoc Map on Google
Phu Quoc Island Maps – All The Island Maps You Need
Tourist Map Of Duong Dong Town
The following is self guided tourist map of Duong Dong Town highlighting most of the major sights.

Legend:
* In 2015 the Nguyen Trung Truc bridge has been replaced by a more modern bridge.
Tourist Map The Long Beach Strip
The following map highlights the major sights along Long Beach:

Legend:
Beginning of South Long Beach
Entrance to Long Beach Village
Mermaid Statue
Co-op Mart
End of Long Beach
Long Beach Village Map
The following is a map of "Long Beach Village", an area off Tran Hung Dao Street that is slowly becoming the tourist center of Phu Quoc. At Long Beach Village you will find many bars, restaurants, spas, salons (hair, nail, wax), convenience stores, beer & liquor shops, beach ware shops, a billiards hall, laundry service, tour agents, motorbike rentals, and a plethora of accommodation options.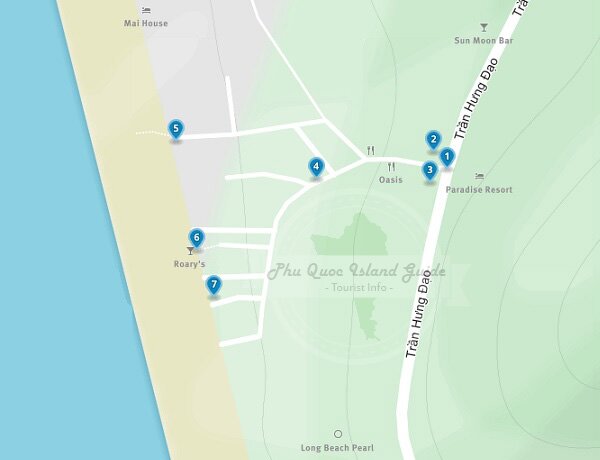 Legend:
Entrance to Long Beach Village
Pirates Cave bar
ATM machines
Motorbike rentals
Public beach access
Rory's beach bar
Beach Spa & massage
Tourist Map Of Southern Phu Quoc – An Thoi

Free Travel eBook with Maps on Phu Quoc: