Introduction | Overview | Beaches | Getting There | What To See & Do | Where To Stay | Food
The Nam Du Islands archipelago consists of 21 islands located off the southern coast of Vietnam's Kien Giang Province in the Gulf of Thailand. Nam Du (area ~40 square/km) is part of Kien Hai District, a district that consists 73 islands with Hon Tre Island, the districts administrative capital, being approximately 25km away. Nam Du is 83km (52 miles) west of Rach Gia City, the capital of Kien Giang Province, and 40km south of Phu Quoc District, the more famous island archipelago in Vietnam. The terrain on Nam Du is mountainous and very rugged, formed as result of seismic activity in the area, with the highest point at 309 meters above sea level.
Nam Du Permits For Foreigners:
Please note that as of January 27, 2017 that Nam Du remains off-limit to foreigners. We've heard that foreigners are requested to obtain permission/permit to enter the islands, which they can obtain in Rach Gia, but it seems as if this permit does not exist. Nam Du is off limits to foreigners because Nam Du businesses cater to mainly "package tourists and tour groups" and the island has reached capacity. Nam Du ferry tickets are sold out because they have been either reserved or per-purchased in advanced. The island cannot handle its new found popularity and restricts foreigners and most independent travelers who just show up to Rach Gia Port. It is possible to buy "scalped" tickets, but we do not recommend it as once you arrive on Nam Du there is a good chance you will not find any accommodation options. We will update this information as we learn more, and you will see why the island archipelago is one the most in-demand tourist destinations in Vietnam by reading the following sections.

Introduction
As Phú Quốc is quickly becoming Asia's next top luxury vacation destination, Nam Du remains its sleepy underdeveloped cousin and more frequented by Vietnam's growing backpacking community as well as package tourists. While Phú Quốc has better beaches, Con Dao has better diving, and Nha Trang has better nightlife what they do not have are Nam Du's breath taking views which is why some people often call it Vietnam's "mini Halong Bay".

The People Of Nam Du
Nam Du's inhabitants are simple people who live and die by the sea. There are roughly 11,000 people who live in one of 2 communes found in the area: An Son Commune or Nam Du Commune. Their main source of income comes from the fishing industry and the average income of someone living in Nam Du is 20,000,000VND per year. Some are now transitioning from the labor intensive fishing industry to the more lucrative travel and tourism industry (accommodations, food and drink, motorbike rentals, tours, and ticketing). Most of the people are ethnically of Kinh origins with a small population being Khmer (Cambodians).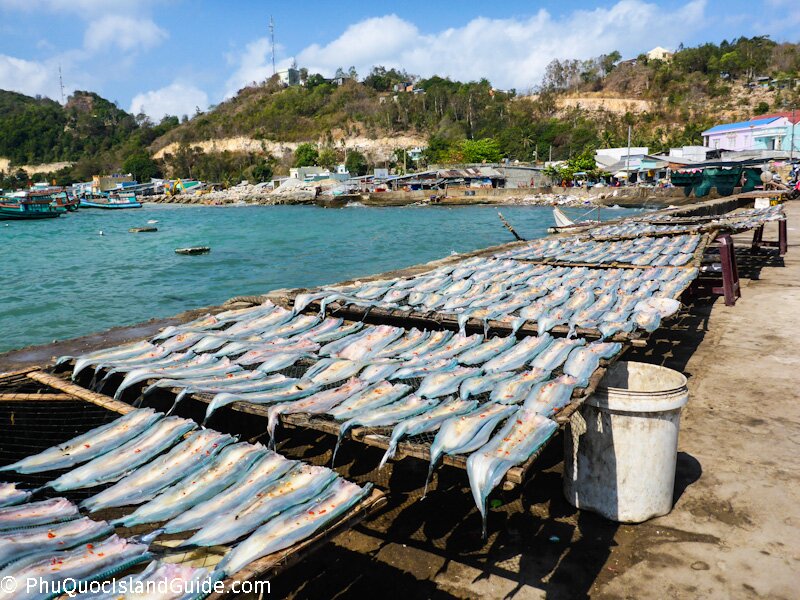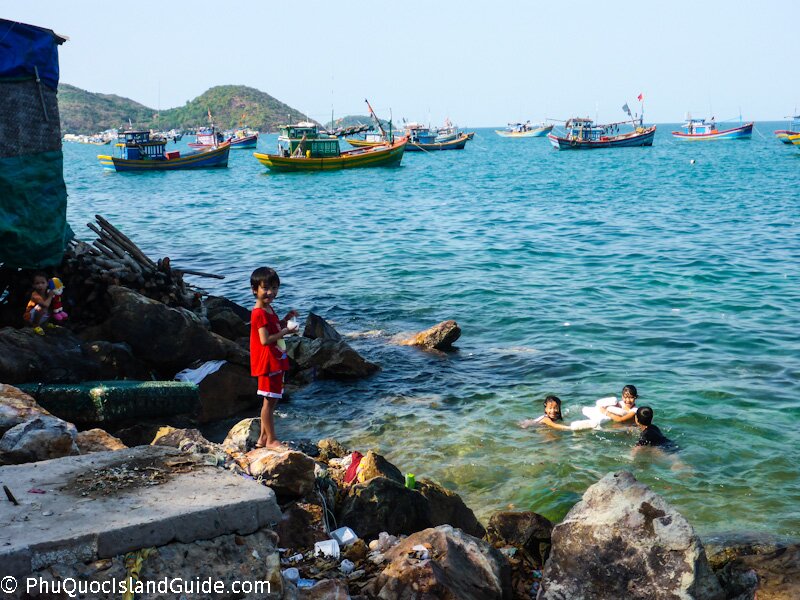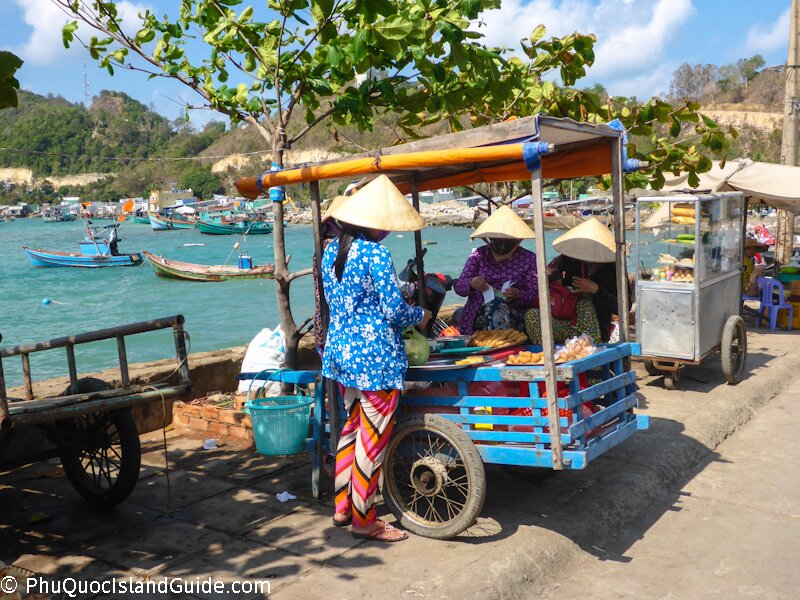 Nam Du is not connected to Vietnam's power grid and its main electricity source is via fuel generators. Also, there are no major hotels or resorts found on the islands as of 2016, but the local government plans to change that in the near future. The largest island and the center of all economic activity is called Hon Lon, or "Big Island", which is part of An Son Commune. The major town of Hon Lon is known as Cu Tron (Ấp Củ Tròn) with Bai Tret (Bãi Trệt) being the small, but growing, seaside community where you will find the main ferry port, accommodations, restaurants, and more.
Nam Du Island Beaches
Most people who come to Nam Du expect to find island upon island of pristine white sandy beaches, much like those seen on nearby Phu Quoc. However this is not the case. There are only 3 real beaches (see below) in Nam Du, and only one real white sand beach.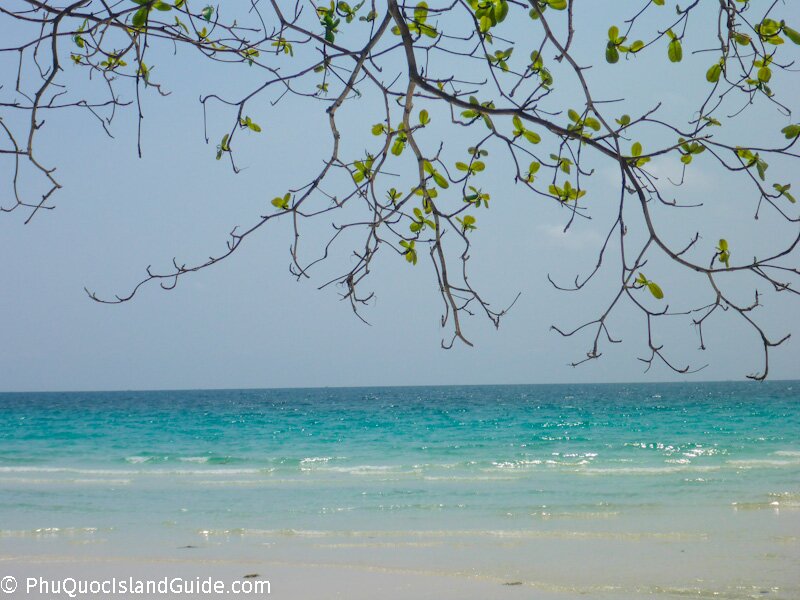 The Best Time To Visit Nam Du
The Nam Du archipelago is affected by the same monsoonal weather as Phu Quoc and thus has only 2 real seasons, a dry season from November to May and a wet season from mid May to mid October. The best time to travel to Nam Du is from December to March, as the seas are calm, the weather is consistent, and the temperature is comfortable. There are also more ferry's running during this time period. The only way to reach Nam Du is by ferry, as the archipelago's rough mountainous terrain is too rugged for an airport strip.
[separator headline="h3" title="Nam Du Travel Guide"]We were disappointed to find very limited and inaccurate information about Nam Du while conducting our own research and travel planning and thus after our trip to the Nam Du Islands we created this resource for the benefit of the local and global travel community. In the following sections you will find the
worlds most comprehensive travel guide on Nam Du
, the
first
of its kind. Please like and share this page if you found this information beneficial to your travel planning while in Vietnam.[/box]
How To Get To Nam Du
In order to get to Nam Du you must take a combination of a vehicle (bus, car, motorbike) and ferry or plane (fly to Rach Gia), vehicle(bus, taxi) and ferry.
Bus from Saigon to Rach Gia Port
From Saigon, go to Mien Tay Coach Station in Binh Tan and catch a Futa bus, aka Phuong Trang bus, to Rach Gia City, Kien Giang Province. The journey only takes about 6 hours and a one way ticket costs 135,000VND for a sleeper bus. There are other bus companies that go to Rach Gia but we highly recommend Futa/Phuong Trang bus line. Once you arrive at Rach Soi Bus Station in Rach Gia, there will be a free shuttle bus available to take you to the Rach Gia Port. From the Rach Gia Port, you can purchase your ferry to Nam Du tickets.
By Plane
You can take a flight from Saigon or Phu Quoc to Rach Gia Airport (Sân bay Rạch Giá) and then take a bus or taxi from the airport to Rach Gia Port in order to catch a ferry to Nam Du.
Ferry To Nam Du Islands
At the Rach Gia Port you can take either a fast(2:30hrs to Nam Du) or slow(3:30hrs to Nam Du) via two ferry operators: Ngoc Thanh or Superdong. If tickets are sold out, you can talk with one of the few Xe Om Taxi drivers lurking there and buy a scalped ticket for a premium price (100,000VND+ premium).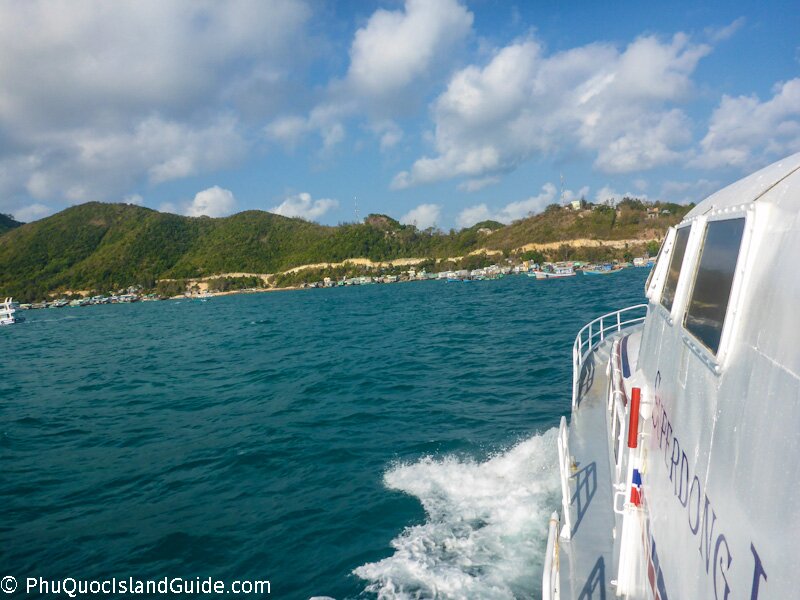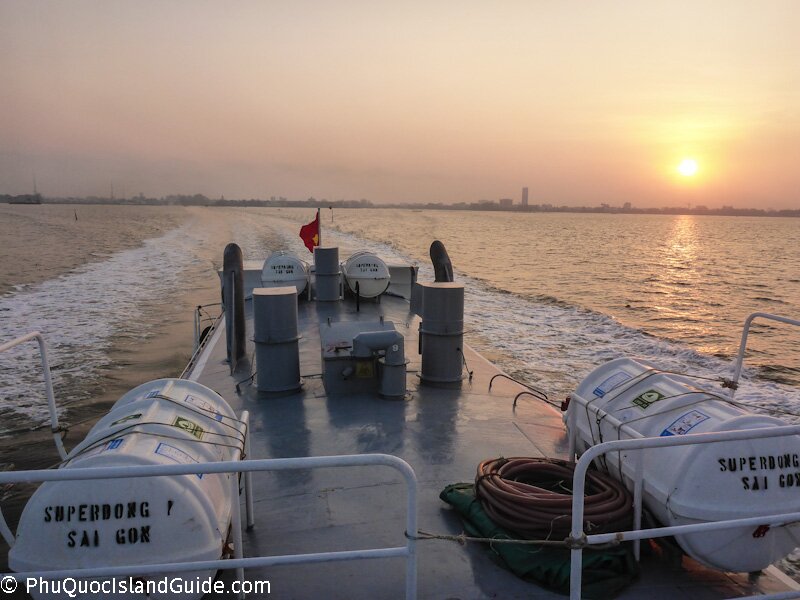 [separator headline="h3" title="Rach Gia Nam Du Ferry Schedule& Prices:"]
Rach Gia To Nam Du(Hon Lon Island):
SuperDong Ferry - Fare: 210,000VND Adult | 150,000VND Child. Departs Rach Gia @ 6:15am & 7:20am
Ngoc Thanh Ferry - Fare: 205,000 Adult. Departs Rach Gia @ 8:05am
Nam Du (Hon Lon Island) to Rach Gia:
SuperDong Ferry - Fare: 210,000VND Adult | 150,000VND Child. Departs Nam Du @ 10:15am
Ngoc Thanh Ferry - Fare: 205,000 Adult. Departs Nam Du @ 12:00pm[/box]
If you arrived early to the Rach Gia Port you can walk to and visit the Nguyen Trung Truc Temple, which is only 300 meters from the port. Just follow the road and you will see it. Admission is free.
Phu Quoc to Nam Du Islands
From Phu Quoc you can charter a private boat or join a private tour. See a list here>> tour.
Get Oriented
Once you arrive at Nam Du's Hon Lon pier located on Hon Lon Island, you will end up on Duong Ngang Dao Street, the only street, in Bai Tret (the name of the coastal village). Touts will immediately approach you at the pier to see if you need a place or not. You will also pass by a few vendors selling fresh seafood. After that there will be a few sugar cane juice stops and cafes, then a a couple of restaurants, followed by a market, and then some motels & guest houses. To get your bearings upon arrival to Nam Du, please watch the video below. This video shows you what to expect and provides a walk through of Bai Tret and Cu Tron Town:
https://www.youtube.com/watch?v=dAOAQeLb45I
Getting Around Nam Du
By Boat: To explore the surrounding islands you can commission a private boat or join a group. Find a boat at the main pier on Hon Lon Island.
Motorbike: The main road on Hon Lon Island is paved and you can rent a motorbike from your motel/guesthouse for about 130,000VND (half day) to 230,000VND (full day). The prices vary considerably and you have to return the motorbike by 7pm on that very same day. All motorbike rental prices include fuel.
Motorbike Taxi: You can also hire a motorbike taxi driver ("Xe Om") to visit some of the popular sites on Hon Lon. Prices vary.
Nam Du: Overview of the islands
Nam Du Islands ( Đảo Nam Du) consist of twenty one big and small islands that collectively are known as the Nam Du Archipelago. There are 4 big islands that have relatively decent infrastructure that makes exploration a bit easier. They are: Hon Lon, Hon Dau, Hon Ngang, and Hon Mau. You can commission a boat from local people and travel to these islands.
Nam Du Island Map: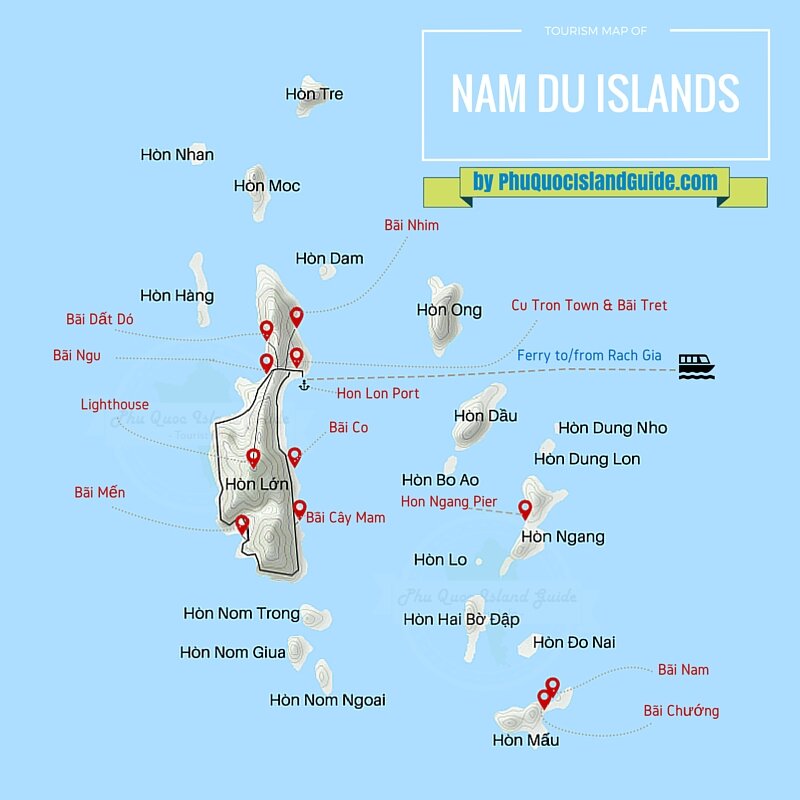 In the following section, we highlight what you will see at Nam Du's most interesting and popular islands.
Ho Lon Island
Hon Lon (Hòn Lớn), also known as "Big Island", "Nam Du Island" and sometimes erroneously referred to as Củ Tron Island (Ấp Củ Tròn) is Nam Du's largest island at 9 square km. Hon Lon, which is part of An Son Commune, is the epicenter of all tourist activity in Nam Du and it is here where you will find he majority of accommodations, restaurants, and the ferry dock where you can catch a ferry to and from Rach Gia.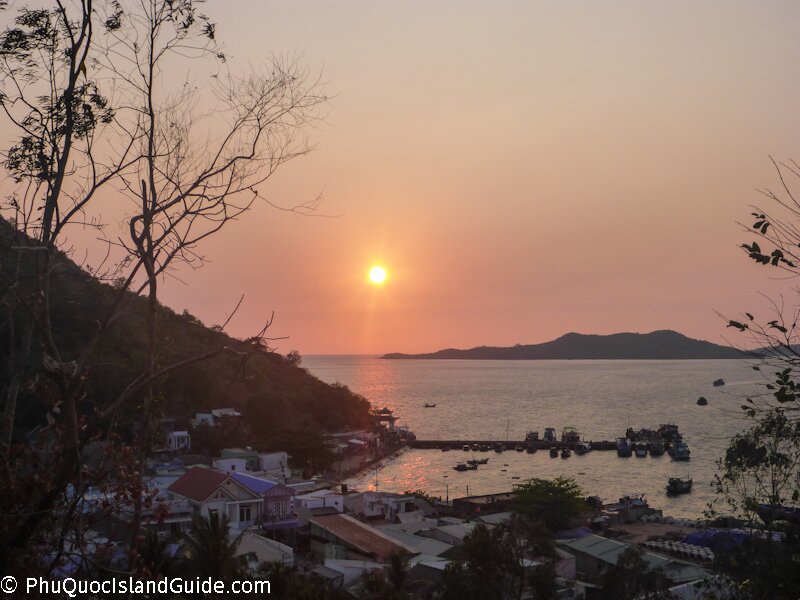 Hon Lon Islands main town is called Cu Tron and the island also has 3 small coastal communities: 1)Tret Beach (Bãi Thệt) - the community around the pier, 2)Ngu Beach (Bãi Ngự) - the coastal community located at km 1 and about 4km from the pier on the other side of the island, and 3) Co Beach (BãiCo) - a coastal community 2km south of Tret Beach. Apart from "seeing how the locals live" there isn't much to see and do at these coastal communities. These small coastal communities also do not have a beach.
Hon Lon Island is famous for its lighthouse (Hải đăng Nam Du), a restricted military zone and for a having a few beaches: Dat Do Beach, Nhun Beach, Men Beach, and Mam Beach. Only Dat Do Beach and Men Beach are beaches that have actual sand. The rest are rocky shoals.
Nam Du Lighthouse
Nam Du Islands lighthouse is the most famous site in Hon Lon Island if not Nam Du, not for the actual lighthouse, which is a bit disappointing compared to other lighthouses, but rather for the view from the lighthouse. The Nam Du Lighthouse is located 300 meters above sea level and it is one of the highest lighthouses in all of Vietnam. Today the Nam Du lighthouse is classified as a restrictive military zone and tourists are strictly forbidden. The military has even place a barrier on the road hoping to deter tourists. You can, however, still visit the lighthouse by"tipping" someone. Ask around the market in Bai Tret town for more details.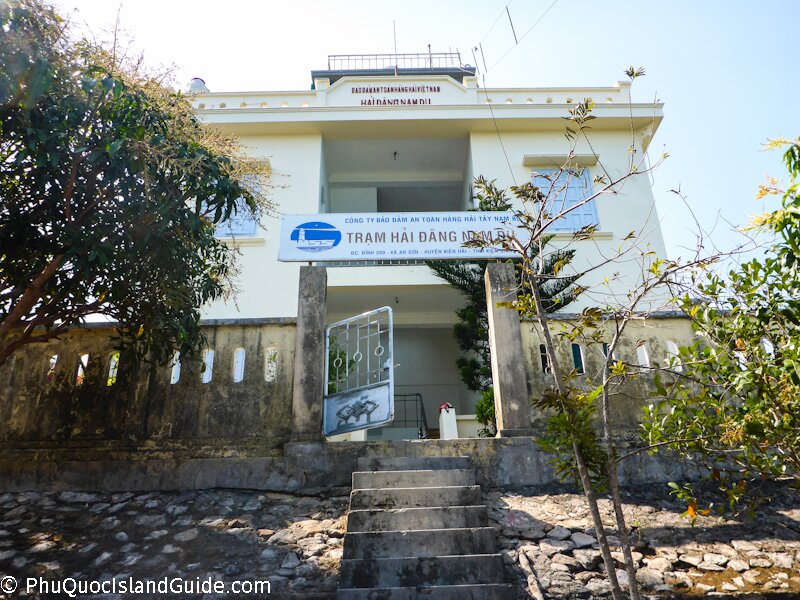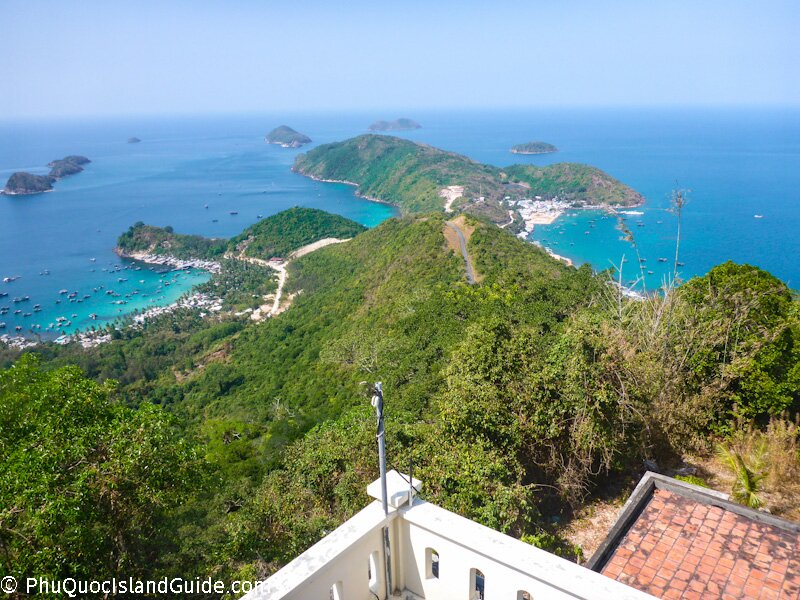 Dat Do Beach
Dat Do Beach (Bãi Dất Dó) is a small beach located on a quiet bay just before Bai Ngu. It is a perfect spot for drinks and here you find a great view of Hon Hang Island (Hòn Hàng). The narrow beach here has yellow sand and the sea is turquoise in color. Dat Do Beach is the closest beach to Cu Tron Town.
To get there you must travel down a steep paved road. Those who are not comfortable riding a motorbike up and down steep paths should either walk to Dat Do Beach, get dropped off via a Motorbike Taxi, or simply avoid it altogether.
Nhum Beach
Nhum Beach is a small beach located on the northern side of Hon Long Island. It's located behind the island's fresh water source and it is a bit difficult to reach as you need to hike through a small trail. The beach itself consists of rocks and there is a family living nearby.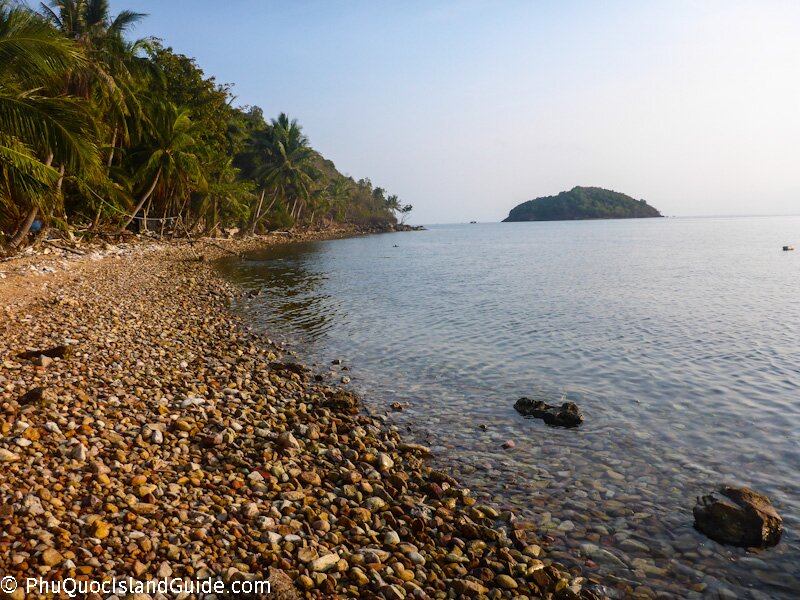 Men Beach



At just 600 square meters, Men Beach (Bãi Mến) is the best beach on Hon Lon Island and the second best beach in all of Nam Du.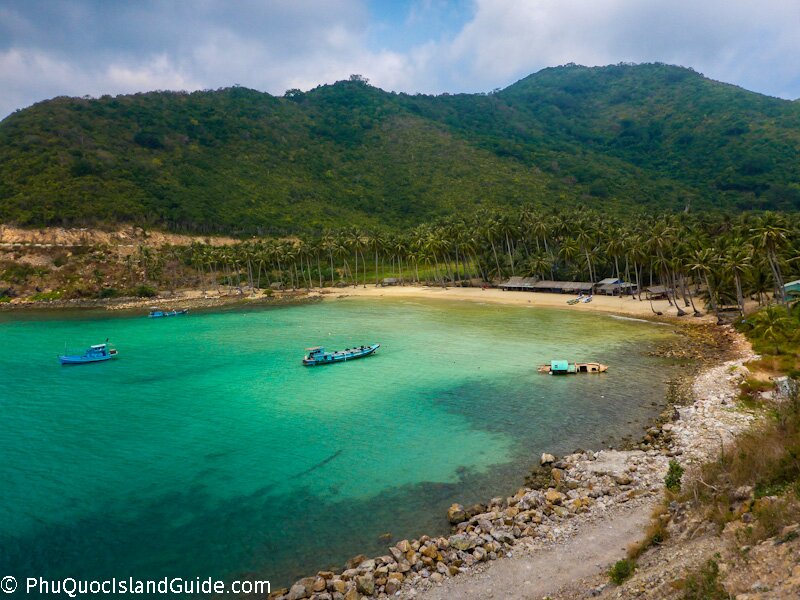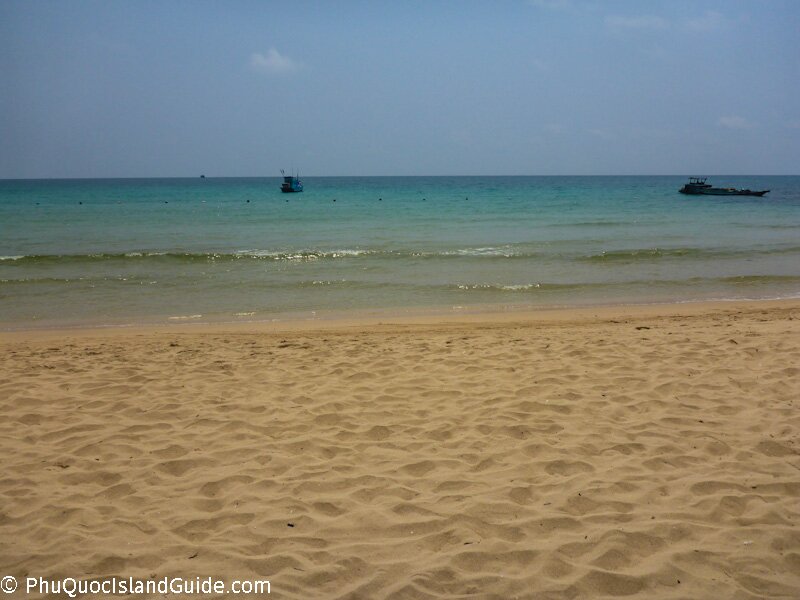 The yellow sand here is soft, the sea is turquoise and green in color, and the banks are inundated with coconut palm trees. There is even some coral at the far edge of the beach. You can have drinks and food here, rent jet skis, and even stay here with a family that keeps this beach clean. There is some development happening here at the moment and we suspect a small resort will be constructed. Bai Men Beach is located the 4km mark.
Mam Beach
Mam Beach (Bãi Cây Mam) is a new beach owned by a very friendly Saigon-ite, which he recently acquired. The beach is currently rocky but he told us he will clean it up. The water is calm and you can snorkel and have a beach BBQ here. He also arranges nightly baby octopus fishing trips. Located at km 7.3 km from Bai Tret.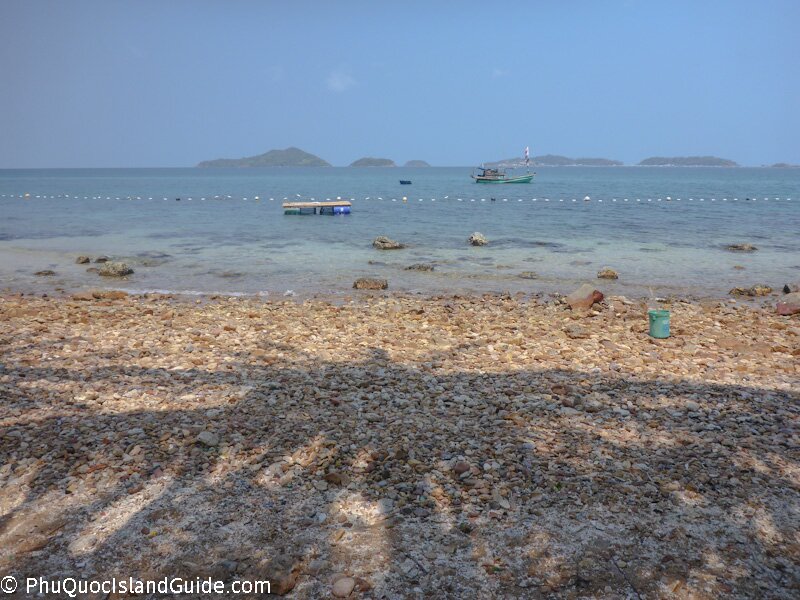 Hon Dau Island

Hon Dau Island (Đảo Hòn Dầu) is located directly east of Hon Lon Island and this island is famous for its old growth forest, simple yellow sand beach, and a coconut tree that bends towards the ocean, which has become a popular spot for selfies among tourists who visit here.
The sea surrounding Hon Dau also has some coral reefs, but they are not as healthy as the reefs found around the other Nam Du Islands.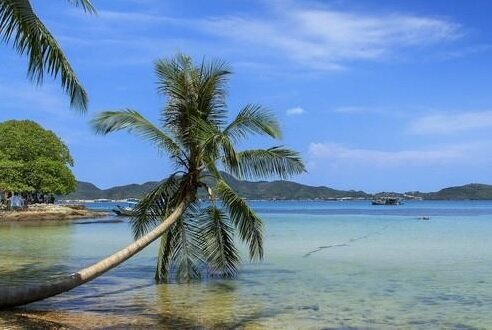 Hon Ngang
Hon Ngang Island (Hòn Ngang) consists of two towns (An Binh town and An Phu town) that fall under Nam Du commune. It is where most of Nam Du's fishermen live. There are no decent beaches here and not much to do other than visiting the pier to see a sea inundated with fishing boats and fish farms for a photo opportunity.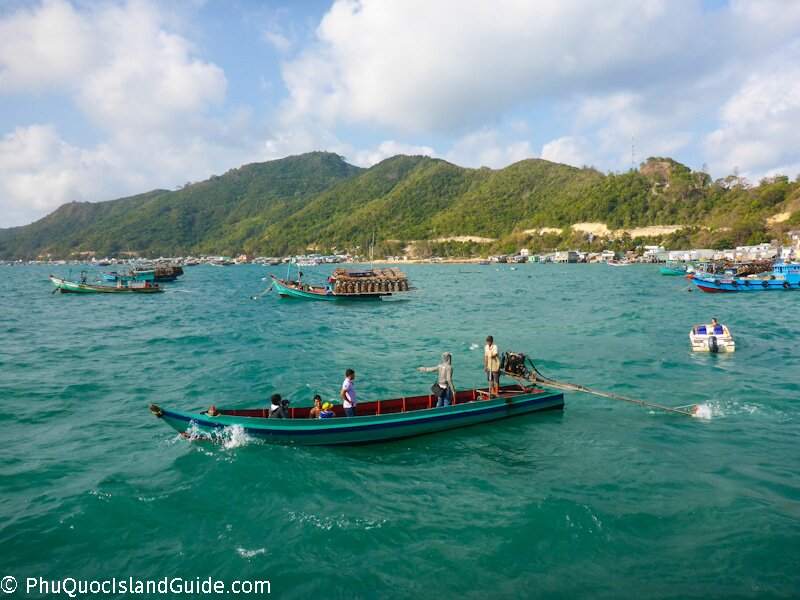 Hon Mau
Hon Mau Island (Hòn Mấu) is a small island (~200 hectares) of about 600 people, most of whom make their living off the bounty found in the sea as well as catering to tourists.
https://www.youtube.com/watch?v=hha4Jlp0tSE
Hon Mau has five beaches, and the best is Chuong beach (Bãi Chướng) which is Nam Du's only real white sand beach. The other beaches are Nam Beach, Nom Beach, Da Den Beach, and Da Trang Beach. Out of the 5 beaches found on Hon Mau, only Choung Beach and Nam Beach are worth visiting as the other 3 beaches consists of a variety of rocky shoreline. Hon Mau is rapidly expanding to accommodate the tourist surge and there is now a sizable community found on the island that cater to the growing tourism sector.
Chuong Beach
Chuong Beach (Bãi Chướng) is arguably the most beautiful beach in all of Nam Du. The sand is blindingly white and the shallow turquoise sea is extremely beautiful.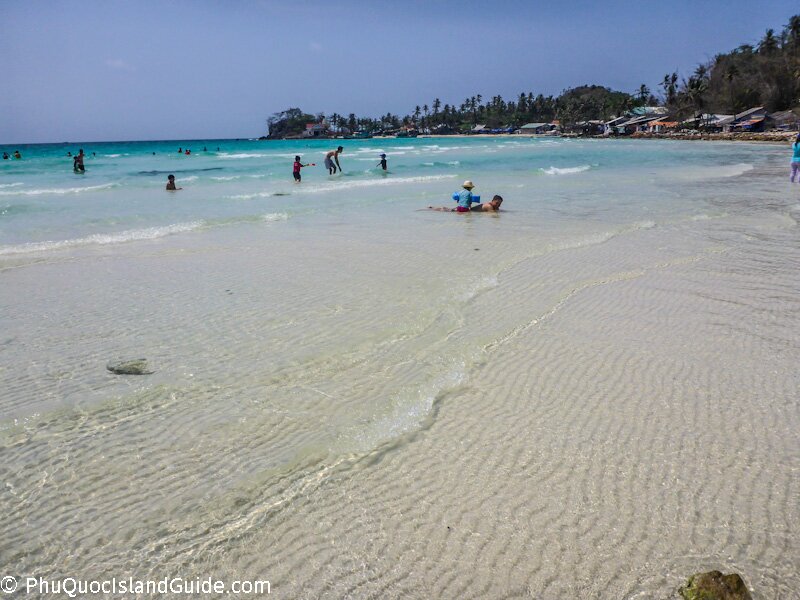 Nam Beach:
Nam Beach is a yellow sandy beach where all the boats that visit Hon Mau dock. The sea is very clean and it is one of the best snorkeling spots in all of Nam Du. Most tourists do not spend too much time at Nam Beach as they are all eager to visit Chuong Beach, however if you plan on coming to Hon Mau, spend some time exploring the beautiful coastline found here.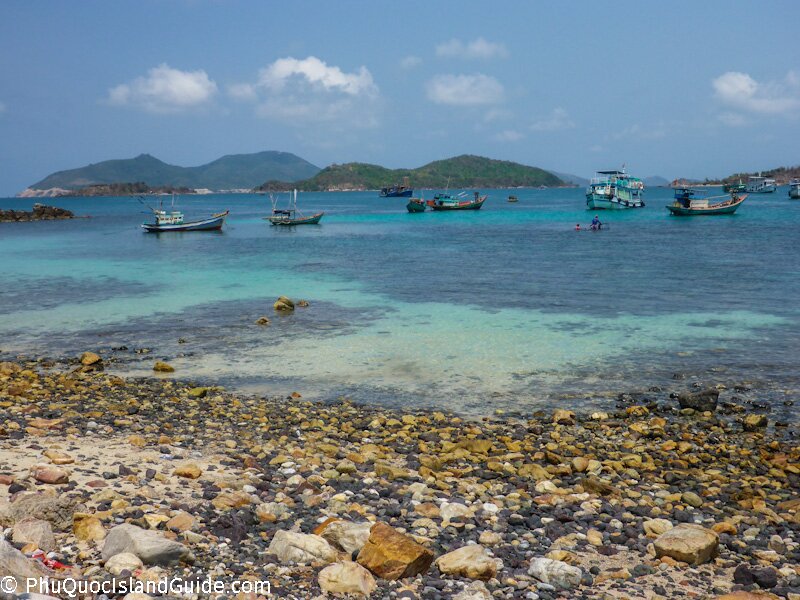 Da Den Beach:
Da Den Beach (Bãi Ðá Ðen) is a rocky beach that consists of mainly black rocks of various sizes. There is nothing else here but rocks and most tour operators who take you here do so to fill up their daily activity itinerary. If you do come to Da Den Beach, be careful with your footing as it is easy to twist your ankle due to the uneven terrain.
Da Trang Beach:
Da Trang Beach (Bãi Ðá Trắng) is another rocky beach that consists of lighter colored eroded rocks. If you like to look at rocks, then you may enjoy this beach.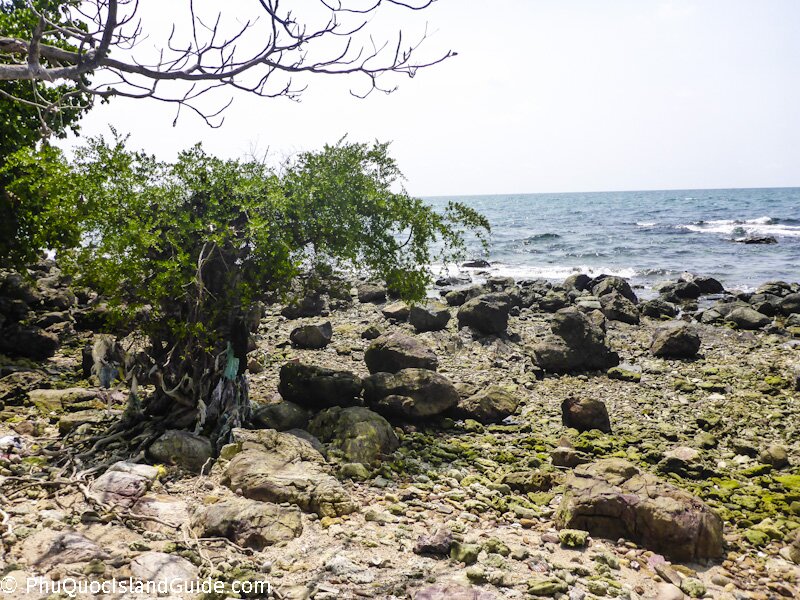 Hai Bo Dap Island
Hai Bo Dap Island (Hòn Hai Bờ Đập) is a uninhabited island that is surrounded by coral. Most island hopping tours stop here so their guests can swim and snorkel. One of the unique features of this island is its natural bridge that connects two islands together to form Hai Bo Dap. This natural sea bridge can only be seen at low tide.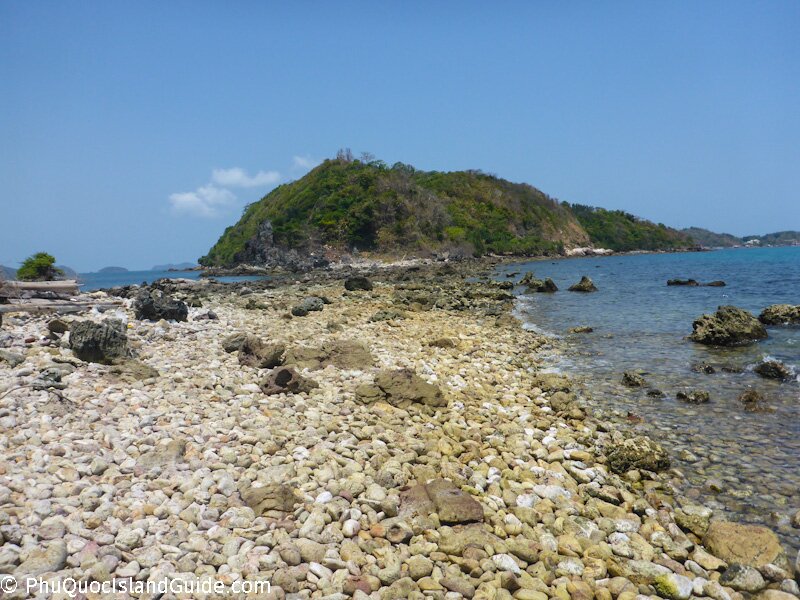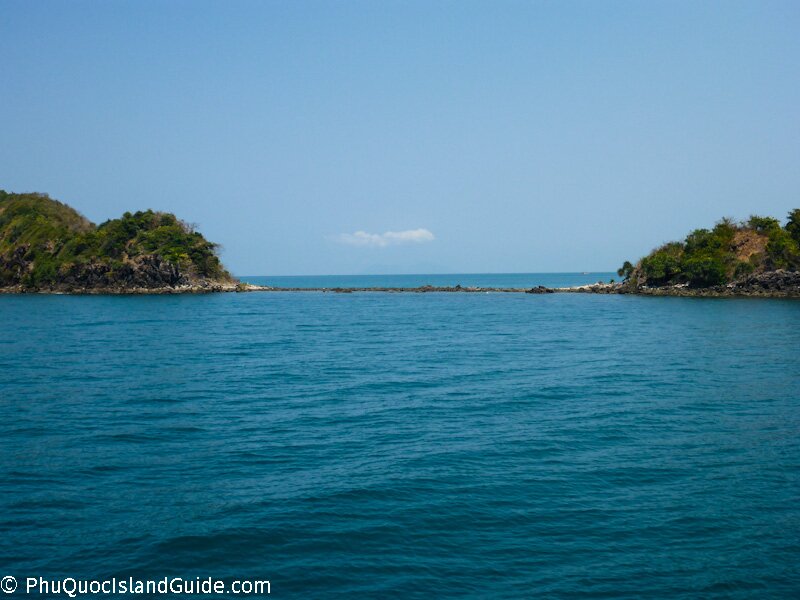 Hon Lo Island
Hon Lo Island (Hòn Lò) is a very small islands which is only 200 meters square in size. It is surrounded by coral and most snorkeling and island hopping tours stop here.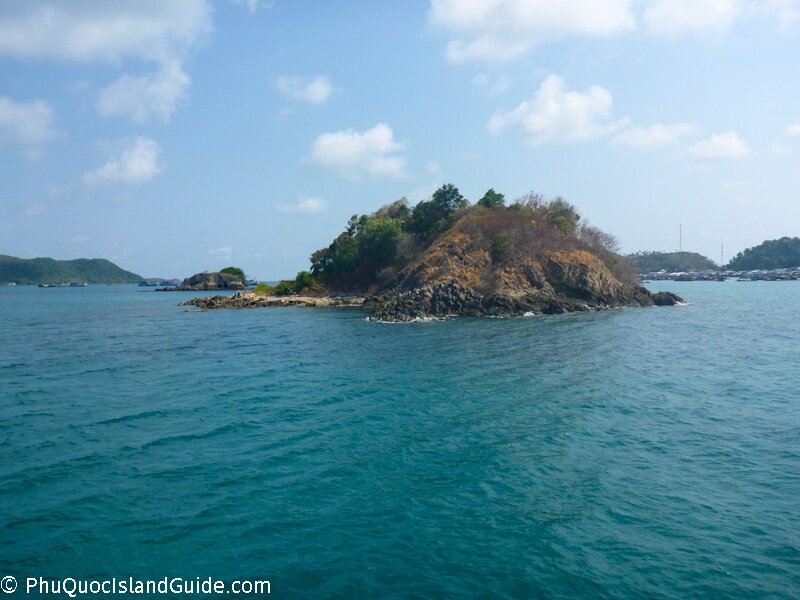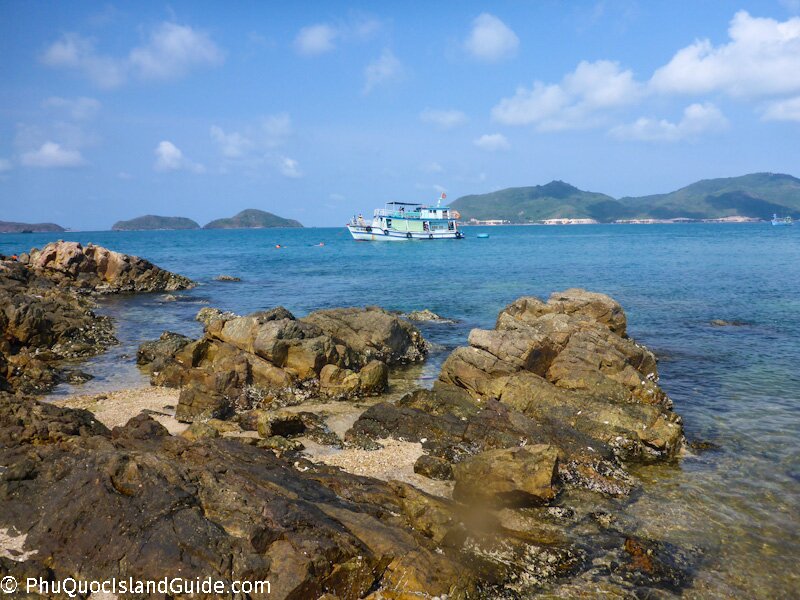 What To See And Do On Nam Du Island
Nam Du is blessed with natural beauty and this is the real draw of this tiny archipelago. The following are some of the things you can see and do in Nam Du:
Nam Du Island Discovery Tour
Discover the Nam Du archipelago by joining a full or half day tour of the Nam Du Islands. The itinerary for these tours consists of visiting the popular islands, swimming at calm bays, snorkeling in areas that have good coral, and visiting Nam Du's best beaches. There are 2 tours available, a full day tour or half day tour. The full day tour begins at 7am and ends at 6pm and includes 1 meal. This tour visits more islands and you will have more opportunities to swim and snorkel. The half day tour has two start times one being in the morning from 7am to 1pm and the other being in the afternoon starting at 1pm and ending at 6pm. The half day tours visits Hon Lo island for snorkeling and fishing, then Hon Mau Island to discover the beaches and for lunch, and finally Hai Bo Dap for more snorkeling. Life jackets and googles are included. If you do plan on participating in one of these island tours, make sure you bring plenty of sunscreen and drinking plenty of fluids.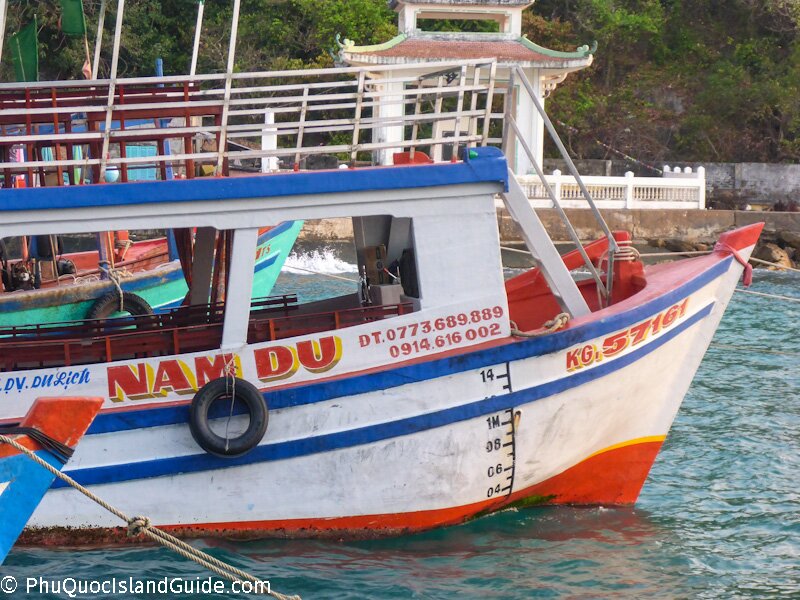 Tour Operators:
Sau Co - Tel: 0773690225 or 0907172656 *Recommended; they are located near the pier.
Duy Tan - Tel: 093 918 281 or 0944899 122
Huynh Hua - Tel: 0919115543
**Private chartered boats start at 3,000,000VND[/box]
Hon Lon Island Discovery
If you want to see all the major sites of Hon Lon Island without renting a motorbike or via motorbike taxi then you can hop on a tourist shuttle bus and join a morning or evening island tour. The tourist shuttle bus can be found near the Hon Lon island market and a trip around the island costs 40,000VND per person.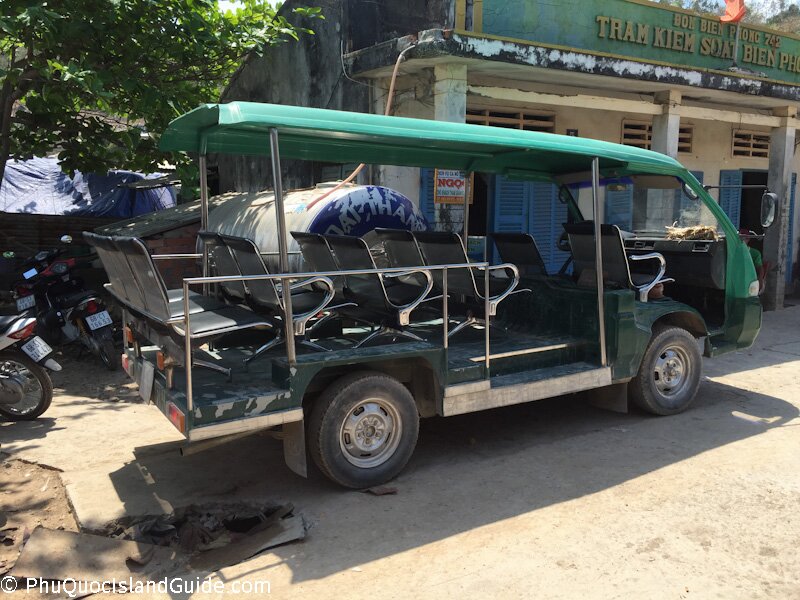 Temples & Pagodas
There are two colorful and interesting temples found on Hon Lon Island, one near Bai Tret and the other near Bai Ngu. The temple near Bai Tret, called Miếu Bà Chúa Xứ, has a beautiful statue of Ba and it is the center of the Ba Chua Xu religion on Nam Du. The other temple near Bai Ngu, called Ngu Thanh Mieu, worships whales and you can see their bones on display.
Bà Chúa Xứ Temple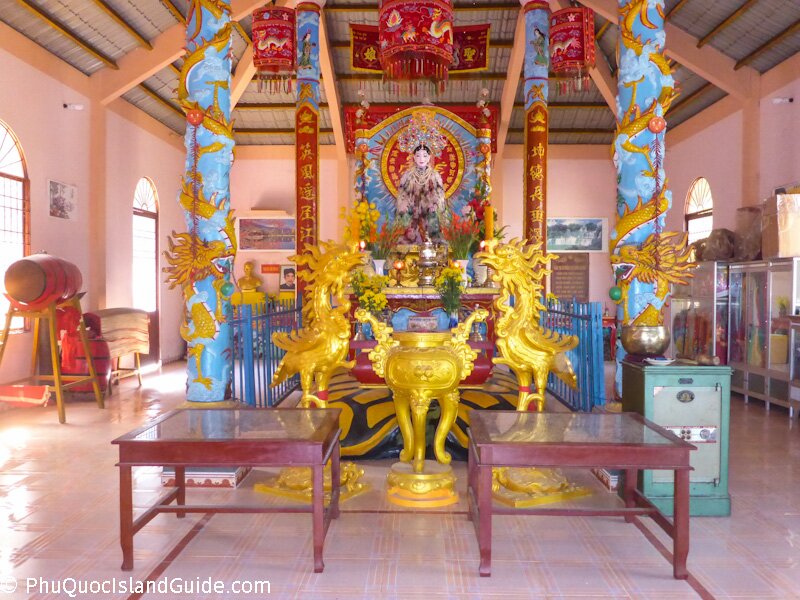 Ngu Thanh Mieu Temple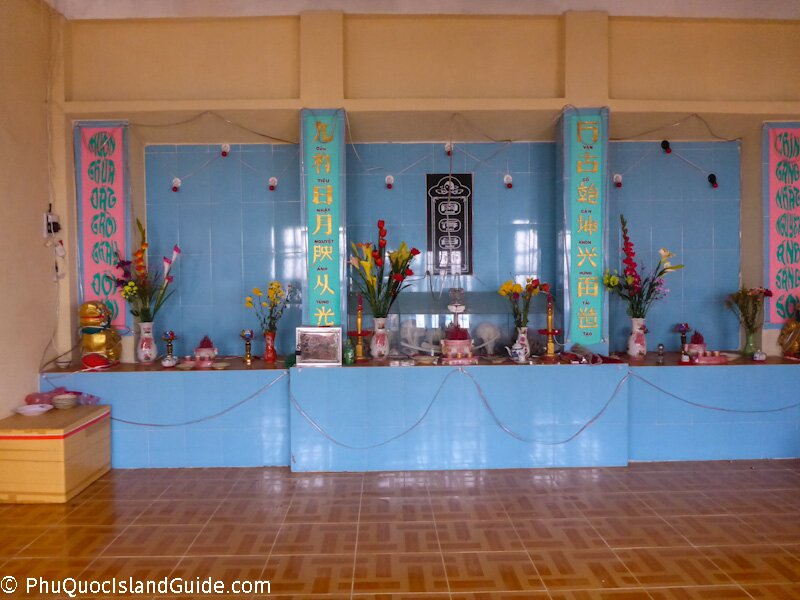 Motorbike Around Hon Lon Island's Coast
Hon Lon Island has a beautiful cost and the road is well paved. One of the most memorable things to do in Nam Du is to ride around the coast at sunset. The scenery is stunning and ocean sunset is absolutely gorgeous.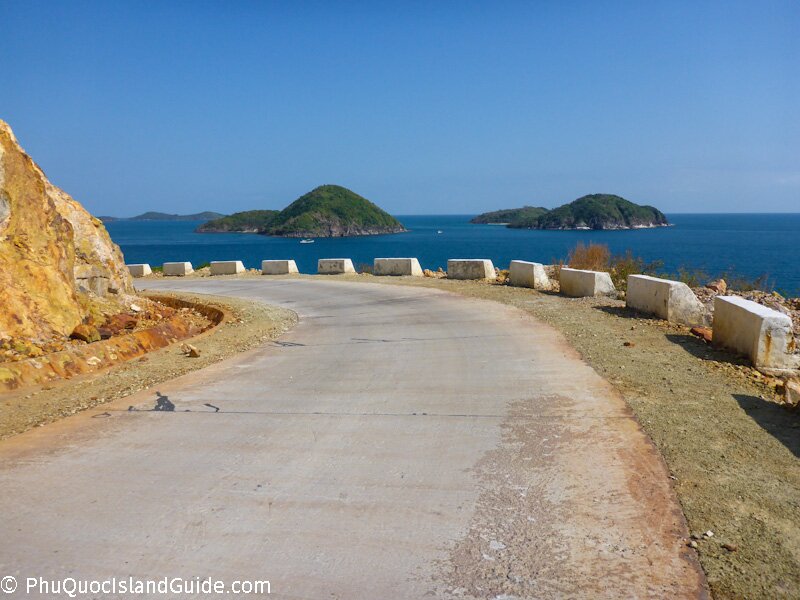 Fishing & Foraging On Nam Du
The fishing is great on Nam Du. You can either fish from the main pier, commission a small boat, or rent a boat. There are also night squid and baby octopus fishing excursions that may be of interest to you. You can also forage for your own food as all the Nam Du Islands are blessed with many wild edibles and seafood such as sea snails, oysters, clams, and sea urchins.
Watch Sunrises & Sunsets
Nam Du's ocean sunrises and sunsets are some of the best you will ever see in Vietnam and since the island is so small you can actually watch both from a single location. Watch our Nam Du sunrise and sunset collection video below for inspiration:
https://www.youtube.com/watch?v=616lgdXv9kA
Snorkeling
The Nam Du archipelago is blessed with abundant marine life and coral reefs. You can snorkel from shore, join a tour, or charter your own boat. Currently there is no scuba diving at the moment but that will change shortly.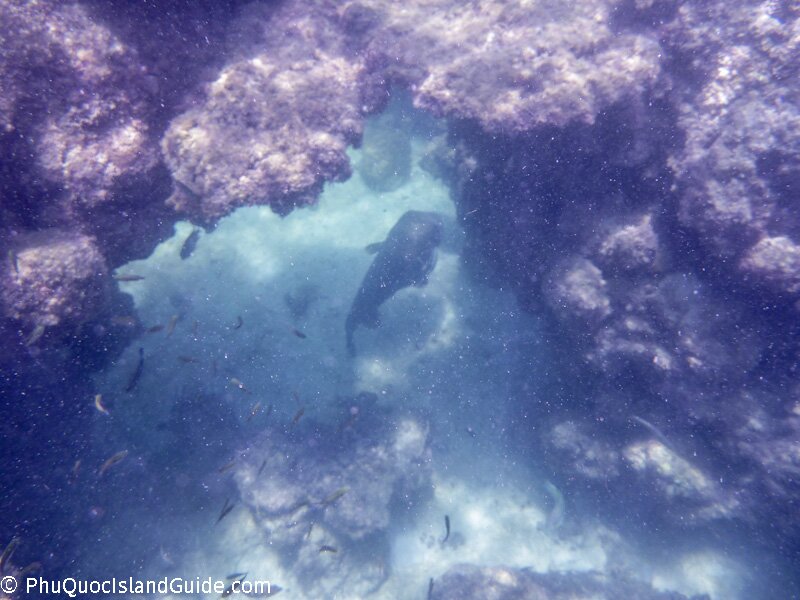 https://www.youtube.com/watch?v=DZYVUoYHug0
Trekking & Hiking
There are no real trails to be found on any of the Nam Du Islands, but the trail that takes you to Bai Nhum Beach on Hon Long Island is pretty decent. In order to reach Bai Nhum Beach you need to hike along a small trail, pass the towns fresh water supply source, and down through a densely forested area teeming with wildlife, particularly birds and squirrels. The trail eventually leads to a rocky beach and the best time to hike this trail is before sunrise.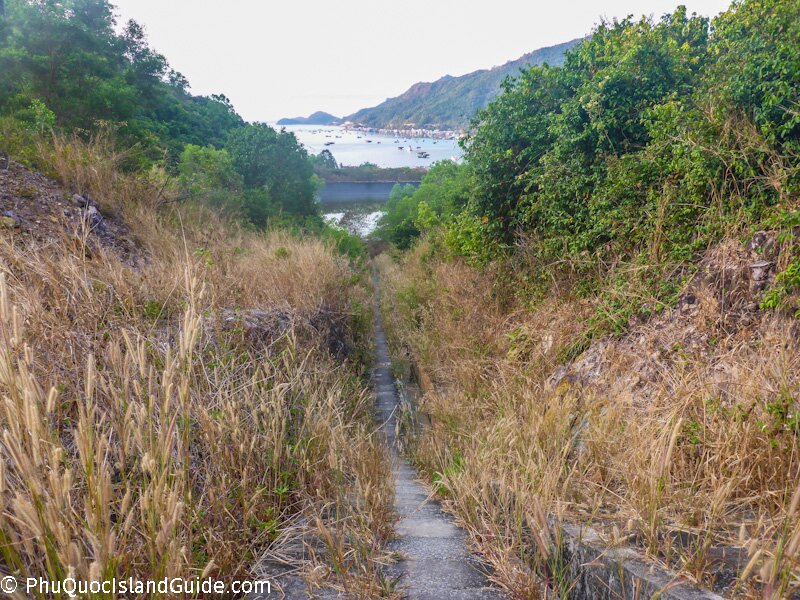 Nam Du Island Accommodations
The majority of the accommodation options in Nam Du are available on Hon Lon Island. They range from simple guesthouses to motels and prices vary from 100,000VND to 500,000VND per night. Prices also tend to go up during the weekends and it is advised that you book a room in advanced prior to coming to Nam Du as most motels and guesthouses will be at maximum capacity.
Nam Du Accommodation Average Room Rates:
Single room for up to 2 people at a guesthouse ~150,000VND per night
Single room for up to 2 people at a motel ~200,000VND to 300,000VND per night.
Double room at a motel ~300,000VND to 400,000VND per night
Triple room at a motel ~350,000VND to 500,000VND per
Fan rooms are cheaper than rooms that have air conditioning.
You can also find accommodation at Ngang Island and Mau Island.[/box]
Accommodation in Cu Tron Town on Hon Lon Island:
Motels (Nha Nghi):
Thuỷ Kiep

- Tel: 0773830853 or 0914499863. Seems like the newest most modern place, located just past the market. Rates start at 250,000VND+ per night depending on which room you get (single, double or triple rooms). Strongest WiFi on the island. They also have a guesthouse located directly across the street. We highly recommend this place.

Huỳnh Hua

- Tel:0773830709. A newer building just past the market. Popular with package tourists. Has in house restaurant.

Trung Ngan

- Tel: 0773830707 or 0915855283. Rooms start at 300,000VND. Newer building, convenience store below.

Hai Thuỷ

- Tel: 0773 830710 or 01258177709. Has shop below. Room rates start at 250,000VND with a/c. Decent WiFi.

Nhung nam

- Tel: 0773830800 250,000VND for fan room, 300,000VND for room with a/c. Motorbike here 230,000vnd per day. Has small restaurant and in the heart of the pier action. We do not recommend this place as the owner has a bad attitude and tries to gouge foreigners. They also have a guesthouse. This complex is a mix between a motel and guesthouse. Choose as a last minute option only.

An Son Guesthouse

- Tel: 0773830882 or 091870812. Near the school past the market. Simple place that has WiFi. Rooms start at 200,000VND per night

Nam Du Motel

- Tel: 0773689889. a newer place located in a small road across from the market. Rooms start at 150,000VND per night.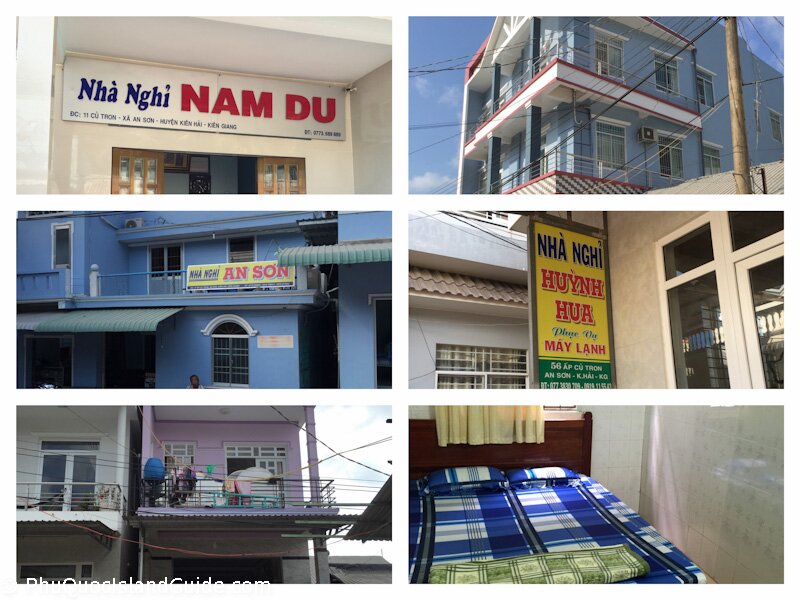 Guesthouses (Nha tro):
Duy Long

- Tel: 0773690185 or 0914035339. Located past the market next to Thu kiep Motel. 350,000VND for single room 400,000VND for Double room.

Quang Nhi

- Tel: 01282982982 or 01646982982. Located next to the market and it is popular with young package tour groups. Has in-house restaurant. 80,000VND per person, mass dormitory style hostel.

Kim Yen

- Tel: 0939486262. Located next to the market, a bit older, has WiFi. Single fan room is 150,000VND, 220,000VND for A/C room. The rooms here do not have a standard toilet. The owner here, however is extremely friendly. *We recommend this place for backpackers, but book in advance as they fill up quick.

Khai Nguyen

- Tel: 0949497733. 160,000VND to -180,000VND for fan rooms, has WiFi.

Huỳnh Cong Homestay

- Tel: 0972777616. A newer place located in a small alley across from the market.

Quang Nhi

- Tel: 01282982982. Located in a small alley across from the market. Older place and rooms start at 150,000VND.

Dong Hong

- Tel: 0773690610. This simple guesthouse is located up the hill past Bai Tret. Nice quite place with rooms starting at 200,000VND per night.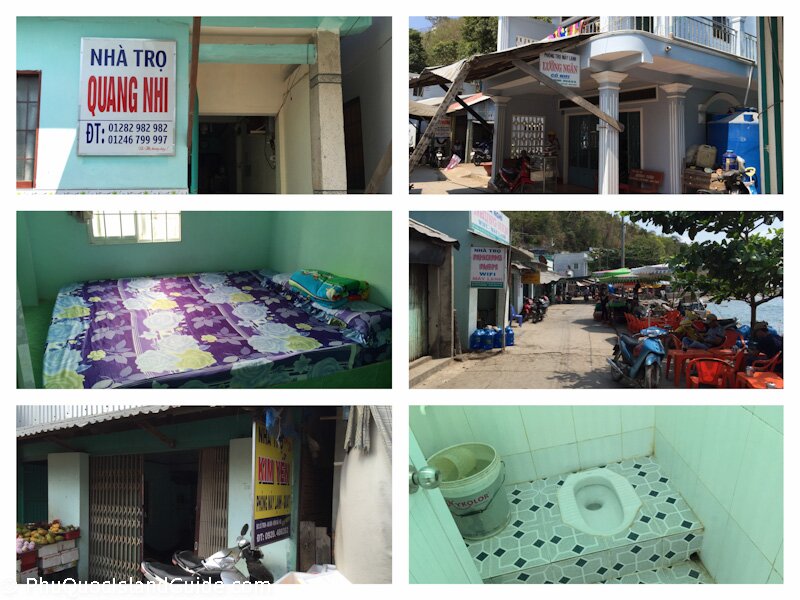 Accommodation Outside of Cu Tron Town:
Phuong Vu - Tel: 0773604142 or 0919138369. Just outside of Bai Tret lies Phương Vu hotel, which is located ocean side. Rooms are only 200,000VND to 300,000 and all of the rooms have an ocean view. This is a hidden gem on Hon Lon and we are sorry that we didn't discover it earlier ourselves. To get there take a motorbike taxi or your motorbike and head towards Bai Co village.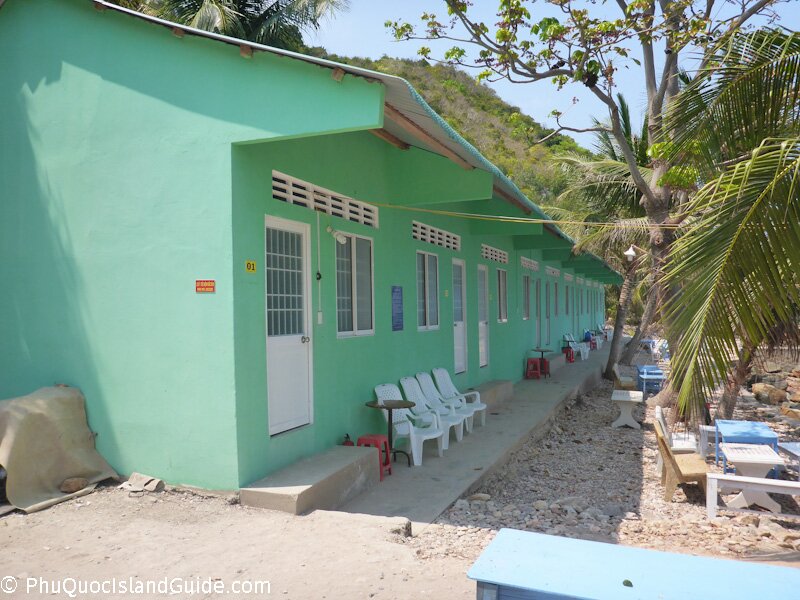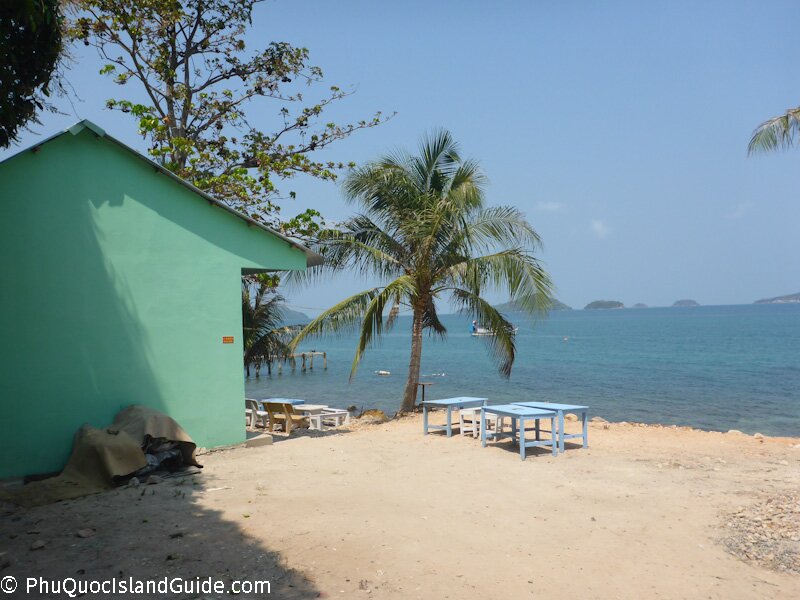 Camping on Nam Du Island
There are plenty of camping opportunities at Nam Du and you do not even need to have your own tent as they are available for rent. The most popular camping spot is at Hon Dau Island, due to the long stretch of beach. To pitch your own tent will set you back 40,000VND and if you need to rent a tent the cost is an additional 30,000VND per night.
Where To Eat
As of 2016 there are only two real restaurants on Hon Lon Island, namely Quan An Nam Nuong and Hoa Hoang, both of which can be found near the pier. However both of these restaurants cater to package tourists first and during breakfast, lunch, and dinner find a seat as an independent traveler can be quite difficult. For breakfast they both serve soup (Bun Moc, Banh Canh) and for dinner they serve seafood meals. Besides these two restaurants there are many street food vendors selling soup, banh mi, fried chicken, BBQ bacon kebabs, etc. There are also many Nuoc Mia (sugar cane juice) and cafes in Cu Tron Town.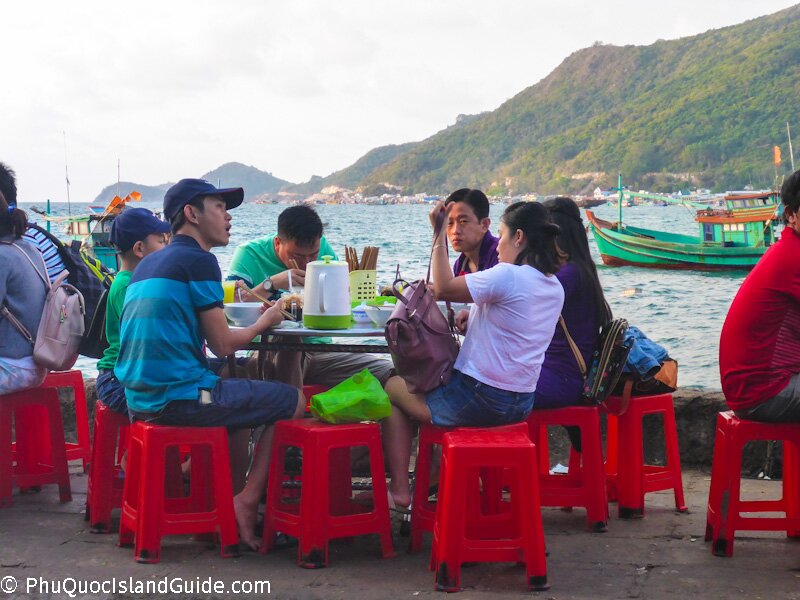 Nam Du Specialty
Nam Du Islands specialty dish is needle fish, or Xuong xanh, as this green colored fish is quite abundant in and around the Gulf of Thailand. It is of served grilled or a dried version is fried.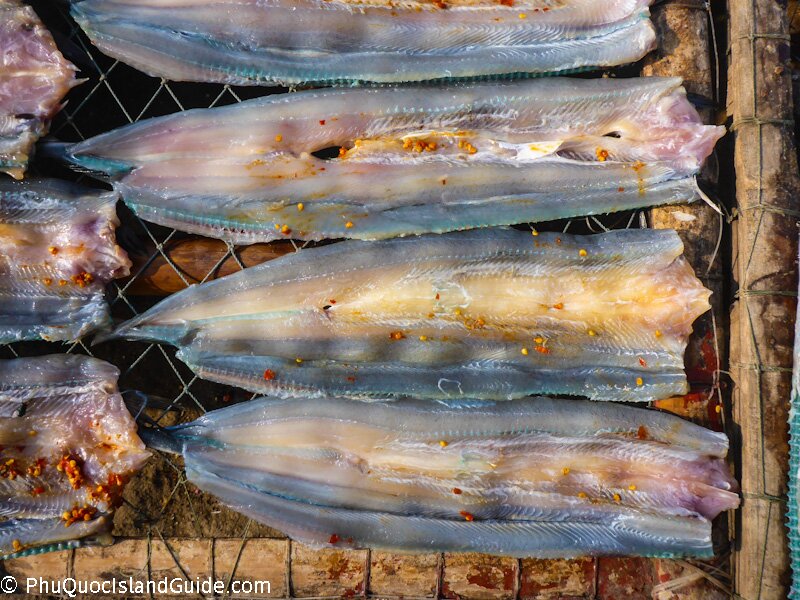 Nam Du Today
Thanks to the increasing media coverage about the various Kien Giang Islands, shared photos on social media sites like Facebook, and videos posted on Youtube, more and more holidaymakers are visiting Nam Du to relish the advertised charms for themselves and tourism authorities are still struggling to cater to the burgeoning travel demand. During the weekends hordes of package tourists invade Hon Lon Island, Nam Du's most popular island, and the limited rooms that are available on the island are often booked in advance. However the island is rapidly developing and building the necessary infrastructure needed to cater to the new pent up demand. New accommodations are rapidly being built, there is electricity available 24 hours a day now, the main road is now paved, 3G connectivity is good and WiFi can be found at most motels. Also there are now 2 ferry companies that that depart for Nam Du from Rach Gia multiple times a day. In 2015 the Superdong Ferry Company launched a 165-passenger fast ferry service to Hon Lon Island, Nam Du reducing sea travel time from five hours to just a little over two hours. With all this new-found tourist interest, prices have also increased especially during the weekends.