Coconut Tree Prison Phu Quoc
Discover the dark side of Phu Quoc's history by visiting the Phu Quoc Prison aka The Coconut Tree Prison (Cay Dua Prison), a brutal prison complex built which is now a national heritage site.

Coconut Tree Prison On Phu Quoc Island – Overview:
The Coconut Tree Prison is located in An Thoi Town and was once an active prison built and used by the French and then later by the Americans.  It once housed more than 40,000 north Vietnamese soldiers who were beaten and tortured there during the American-Vietnam war.  Today the prison is a museum/historical site and recognized as special national heritage site in Vietnam which you can visit
Cay Dua Prison Video:
What to expect
Tourists who visit this museum will see a main building and an actual outdoor prison setup complete with barb wire, guard towers, tiger cages, mannequin guards and prisoners.  The main building contains all the historical artifacts and information about the prison and also honors those who lose their lives serving the country.  The outdoor prison is there to re-enact the war-like conditions in the Phu Quoc Prison.

Tourists are free to roam around the prison and will also get a chance to go through an underground escape tunnel. Admission is only 3,000VND per person and it will take you approximately 30-40minutes to tour the museum.
How to get there
The Coconut Tree Prison is located about 25 kilometers from Duong Dong Town and 5kms north of An Thoi Town.  It is located near both Sao Beach and Kem Beach off the main road TL46 also known as Nguyen Van Cu Road.  The road to the prison is freshly paved making it easy for you to travel by motorbike or bicycle.
Need to know
The prison complex has a gift shop and snack shop in case you want to buy something.
Across from the prison is a war memorial depicted by giant blue waves and a hollow human silhouette.
It will take you about 1 to 2 hours to thoroughly visit the Phu Quoc Prison Complex.
There are other prison complexes located along Nguyen Van Cu Road but they are not setup for tourism.
There is also a fish sauce factory close to the prison which you can visit.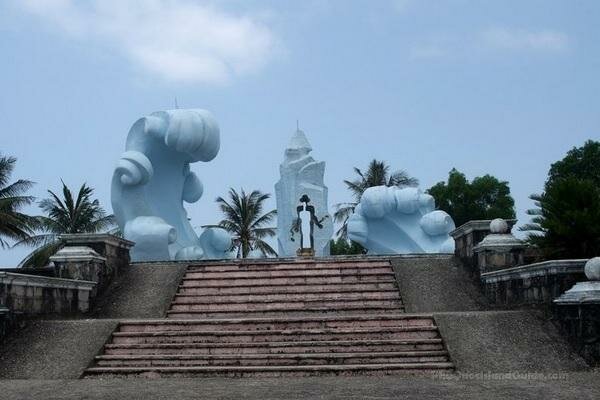 Most tour operators stop here on their "Land tour of the south".
There is a gift shop next to the museum that sells souvenirs as well as dried fish