Phu Quoc Beach Guide
Introduction | Best Phu Quoc Beaches | All Beaches | Map

Lying in the tranquil waters of the Gulf of Thailand, Phu Quoc is Vietnam's largest island and home to some of the country's best beaches. Here you can find white and yellow sand beaches, wild rocky beaches, and also beaches inhabited by local fishermen. Phu Quoc has 150km of coastline, and that means it has a lot of beaches for you to discover.
Introducing Phu Quoc's Beaches
Dreaming of a tropical vacation on Phu Quoc beaches? Imagine glimmering, turquoise water…for as far as your peripheral vision can see. Surround it with yellow & white sandy beaches, fringed by a ring of vivid green coconut palm trees. Turn around 180 degrees. More electric blue, glass like water, edged by powdery sand beaches. Phu Quoc is South East Asia's newest vacation destination and the best all around island getaway in Vietnam. The only other island archipelago in Vietnam that is comparable to Phu Quoc is Con Dao.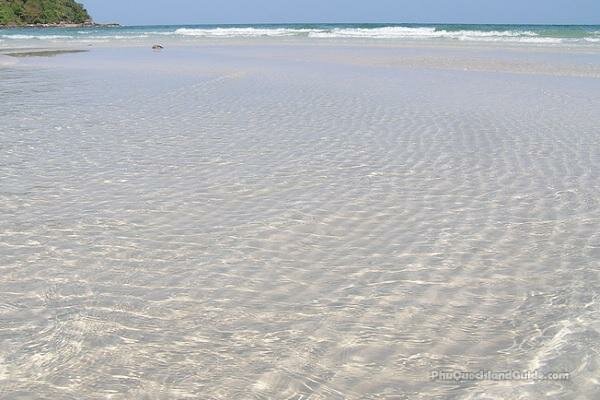 The above post card perfect pictures of Sao Beach is what lures most of us to Phú Quốc, but the island has a lot more beaches for you to discover.
Are the Phu Quoc Beach & Sea Colours REAL?
When we first showed the photos we took of the islands that make up the An Thoi archipelago (see below) in southern Phu Quoc, most people asked us a) is that really Phu Quoc or the Maldives or b) did you enhance the pictures. The answer is 'yes' it is Phu Quoc and no the pictures are not enhanced. The water really is that color, but much better in person. The vivid shades of emerald, turquoise, azure and royal blue are mesmerizing! Some of the beaches here are even more beautiful than pictures can convey.

10 Best Phu Quoc Beaches
The following is an informative graphic that provides you with an overview of the best beaches found on Phu Quoc Island.  Below the graphic you will find more details about these and other Phú Quốc beaches.  Thanks for reading!

All Phu Quoc Island Beaches
Generally east Phú Quốc is where the best beaches are, including the famous, popular stretches of Sao Beach, Kem Beach, as well as the less known but better beaches in the far southern islands.  Over-development  is a rampant cancer eating into traditional Vietnamese life and we fear for the future of this beautiful, peaceful culture.
Long Beach
Location: West coast, near the airport and south of Duong Dong Town | Vietnamese name: Bãi Trường | Rating: 3.5/5

Long Beach, like the name implies, is a very large (approximately 20KM's) stretch of beach that is located along most of the west coast of Phu Quoc's main island. The yellow sand beach here is famous for its ocean sunset and it is the most popular beach in all of Phú Quốc.  Here on Long Beach you will find both 5 star luxury beach front resorts to simple rustic beach bungalows. The southern section of Long Beach, i.e. the area located south of the airport, has some of Vietnam's most luxurious resorts, condotels, and residences. Some of these world class resorts include the Sheraton Phu Quoc Resort, Sol Beach House Phu Quoc Resort, Novotel Phu Quoc Resort, Sunset Sonato, Sonasea Resort & Villa, and the Intercontinental Phu Quoc Resort. For backpackers and budget travelers there is Long Beach Village, Phu Quoc's very own backpacker district. Here you will find budget accommodations, bars, restaurants, street side eateries, motorbike rental places, and a public beach access area.
Sao Beach
Location: Eastern coast in An Thoi | Vietnamese name: Bãi Sao | Rating: 4/5

In An Thoi Town along the eastern coast of Phu Quoc lies a quiet jewel known as Sao Beach, which translates to "Starfish Beach" or "Star Beach". Soft powdery snow white sand, turquoise seas, and a beach lined with swaying palm trees, that's Sao Beach which is arguably the best beach on Phú Quốc. There are many restaurants on the beach, a few beach front resorts that will also rent you a canoe or jet-ski, and you can even arrange for island hopping tours here. Make sure you discover some of the underwater marine life found here by reading our snorkeling guide, which is an absolute must whilst on Phú Quốc. During the high season it can get a bit crowded, especially during midday so try to get here in the morning if you. If tranquility is your goal and you desire to be on a "postcard perfect" beach, then make sure you head to the Sao Beach area where you can relax in the sun and cool off in gentle ocean waves.
Dai Beach
Location: North-western coast | Vietnamese name: Bãi Dài | Rating: 4/5

Dai Beach is a long stretch of powdery yellow sand beach with turquoise-greenish water and lined with ultra luxurious hotels. It is also where the Phu Quoc Casino is located, the location of the new Bai Dai Walking street (shopping area), and nearby you will find the popular Vinpearl Land amusement park, Phu Quoc Safari Park, and a 27 hole professional golf course. The two famous 5 star resorts here are the Grand World Phu Quoc Resort and the Vinpearl Phu Quoc Resort. Not surprisingly, Dai Beach is also a popular vacation destination for rich and famous Vietnamese families. For eco-adventure tourists, head on over to nearby Turtle Island which is a stone's throw away from Dai Beach and a popular scuba diving location.
Ong Lang Beach
Location: Central-West Coast, North of Duong Dong Town | Vietnamese name: Bãi Ông Lang | Rating: 2.5/5

Just across the Duong Dong River lies several patches of dark yellowish sand collectively known as Ong Lang Beach. Not the most idyllic of spots but if you are looking to be in a more quieter area on Phu Quoc but near town, then this area may be perfect for you. You can expect to see more than just water and sand when you visit Ong Lang; the area has free roaming cows, a public beach and picnicking area, a temple, and some of the poshest beach resorts on the island e.g. The Shells Resort.
Cua Can Beach
Location: Central-West Coast, north of Cua Can River | Vietnamese name: Bãi Cửa Cạn | Rating: 2.5/5

Sit on warm yellow sand, shaded by tall casuarina trees and take in the view of the ocean at this picturesque beach area. Located approximately 8km's north of Duong Dong Town lies Cua Can Beach, which is a small arch shaped beach that can be split into 2 parts, i) the northern part being a proper beach and ii) the southern section being more like a sandbar. Cua Can Beach is not one of Phu Quoc's more popular beaches and the beach is not the cleanest either. Most people who come here do so after exploring Cua Can Village, a small fishing village, that has numerous picturesque wooden bridges. However there is one bright gem to be found here, namely the Chez Carole Resort, which not only is a great beach front resort but they also have an awesome restaurant with a spectacular view of the ocean. This is the only resort in town and they even have jet ski's which you can rent.
Ganh Dau Beach
Location: North west | Vietnamese name: Bãi Gành Dầu | Rating: 3/5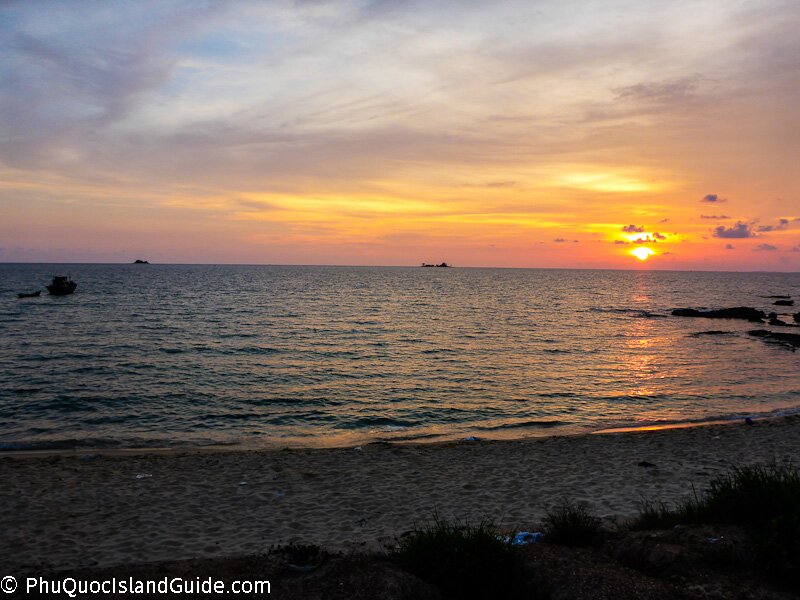 Located at the top north western section of the island is a beautiful beach. Ganh Dau Beach has a few resorts, restaurants, and also the famous Nguyen Trung Truc temple nearby. The Cambodian coast is only 4km's away.
Kem Beach
Location: South eastern coast, north of An Thoi Town | Vietnamese name: Bãi Kem | Rating: 4/5

Set amongst lush jungles, Kem Beach is one of Phu Quoc's best beach. Sugary white sand overlooks Emerald Bay, one of the most gorgeous bodies of water in all of Vietnam. Kem Beach offers abundant opportunities for kicking back, which is best done—if you have the bucks—at the super-luxe J.W. Marriott Phu Quoc Resort, a resort that enjoys a prime position on the water. And if you tire of relaxing, head to the nearby Ong Doi Cape for some amazing snorkeling.
Vong Beach
Location: Eastern cost by the Ferry Terminal | Vietnamese name: Bãi Vòng | Rating: 1/5

Located on the eastern coast just south of Ham Ninh Village and near the Vong Beach Port. The beach is narrow and not as clean as it used to be. There are a few restaurants and hotels near the beach.
Vung Bau Beach
Location: North western coast | Vietnamese name: Bãi Vũng Bầu | Rating: 3.5/5

Located on the north western coast 10kms from Duong Dong Town lies a beautiful half moon beach that is mostly uninhabited except for a few resorts and local houses at the northern end. You can rent a kayak and paddle your way to nearby Fingernail Island.
Dam Beach
Location: South east coast, across from the Ho Quoc Pagoda | Vietnamese name: Bãi Dam | Rating: 3.5/5
This is a "new" beach located directly in the south western coast across from the Ho Quoc Pagoda. It is very clean and wild and it is one of the best places to watch the sunrise.
Ganh Gio Beach
Location: West coast | Vietnamese name: Bãi Ganh Gio | Rating: 3.5/5

Located in front of The Shells resort, Ganh Gio Beach is somewhat of a semi private beach which is part of Ong Lang Beach. This beach is well maintained because it is managed by the resort.
Ham Ninh Beach
Location: East coast | Vietnamese name: Bãi Hàm Ninh | Rating: 1.5/5

Located in the east part of the island in Ham Ninh Village lies a large stretch of yellow sand. The sand near the pier is not as nice as the sand found further north.
Duong Dong Beach
Location: West coast | Vietnamese name: Bãi Dương Đông | Rating: 1.5/5

Located in the heart of Duong Dong Town likes this local urban beach.
Phu Quoc Island "Off The Beaten Track" Beaches
The following is a list of beaches on Phu Quoc that most tourists normally do not visit. The best way to see these beaches is either by joining a tour, renting a motorbiking, or hiring a private driver and just venture off!
Location Of Phu Quoc Islands' Beaches
The following is a mobile friendly map that marks the location of all the beaches on Phu Quoc: