Phu Quoc Motorbike Guide
Motorbike Law | Phu Quoc Motorbike Rental | Phu Quoc Motorbike Tours | Saigon To Phu Quoc By Motorbike
One of the most rewarding experiences on Phu Quoc Island in Vietnam is the opportunity to rent and ride a motorbike and discover the heart shaped island on your own. Not only is it incredibly affordable, costing as low as $8.00US per day, but renting a motorbike gives you ultimate freedom to see and do things independent of tour companies and taxis. Riding on a red dirt road lined with swaying palms on one side, a beach on the other, with no other soul around you… this is Phú Quốc and a quintessential Vietnamese experience!

On this page you will find everything you need to know about renting a motorbike on Phu Quoc, local motorbike laws, what to see and do while discovering Phu Quoc Island by motorbike, Phu Quoc maps, and a variety useful tips and tricks to make your time on Phú Quốc a memorable one. Enjoy!
Vietnam Motorbike License Law
First and foremost it is important to discuss the Vietnam law pertaining to motorbike licensing. A very common question asked is "What do I need to ride a motorbike in Phu Quoc?"
The advice in this article is given in good faith by PhuQuocIslandGuide.com to visitors unfamiliar with how to rent a motorbike both legally and safely in Phu Quoc. In order to legally ride a motorbike on Phu Quoc Island you will need to possess, at a bare minimum, an International Drivers Permit (IDP) / International Drivers License. This is easily obtained in your home country by paying a fee.  In other parts of Vietnam, your motorcycle license needs to be translated into Vietnamese and notarized (stamped),  but this is not necessary on Phu Quoc as the local police will accept a non-translated International Driving Permit (IDP) issued in your home country that specifies you are licensed to ride a scooter/moped/motorbike/motorcycle.  The reason that they gave us for this special "off-the-books" exemption is that Phu Quoc is a holiday destination and they are aware that most visitors to the island will not have a translated license or even a motorcycle license for that matter.  However it is important to note that their sentiment can change at any given time.

On Phu Quoc, most motorbike rental shops will rent you a motorbike, regardless if you have a license or not.  It is your responsibility, not the motorbike rental shop, to ensure that you are in compliance with the legal driving license requirements.  For travel health insurance purposes, assuming you have it, this is a different story as you must comply with Vietnamese Law, regardless of the situation on Phu Quoc.  Please contact your travel health insurance provider to understand their policies before arriving on Phu Quoc.
Phu Quoc Motorbike Riding Rules:
You must carry your license with you at all times.
Do not drive impaired, do not drink and ride.
Helmets are mandatory and you must wear one at all times while riding a motorbike. The definition of "helmet" is very relaxed, but in order to protect yourself please wear a proper helmet. Helmets are usually provided as part of the rental so choose one carefully, inspect it, and try to opt for a full head helmet with a visor if you can. If you are caught riding a motorbike on Phu Quoc without wearing a helmet you will be either fined or your motorbike will be impounded.
The motorbike you are riding must have proper registration plates and ownership. Motorbike rental places on Phu Quoc rarely give out the ownership and will tell you that if a police stops you and requests for it, you are advised to tell the police to call the motorbike rental place.
Obey all traffic rules and signs and use your turn signals. Failure to use turn signals is one of the main reasons why motorbike riders get stopped and fined by the police.
Do not drive over 40km/h.
Larger motorcycles, over 150CC, require a different license however finding a 150CC motorbike on Phu Quoc to rent is extremely rare.
Avoid trying to take "selfies" or videos while riding as this is another reason why most tourists get into accidents.  It is also against the law.
Generic Rules:
Drive defensively and be aware of your surroundings.
Ride on the far right side of the road.
If you have never ridden a motorbike in your home country, Phu Quoc is not the place to learn.
If you are stopped by the Phu Quoc Police for any reason, stay calm, and be respectful. If you have been obeying the rules, not intoxicated, and have proper documentation you will have no problem and will be sent on your way (usually). Some Vietnamese police are corrupt and will make a claim you did something wrong and insist you pay a fine. You can either pay the fine or stand your ground, it is up to you. It is best to avoid being stopped altogether!  We recommend you pay the fine, and then go back to enjoying the island.  Time is precious so don't get involved arguing with police officers.  That time should be spent exploring Phu Quoc on a motorbike!
Can I Rent A Motorbike On Phu Quoc If I Do Not Have A Motorbike License?
Yes you can rent a motorbike on Phu Quoc if you do not have a license, but you will be doing so illegally. Most motorbike rental places will not ask to see your license before handing you the keys. However please note that if you are involved in an accident, you are 100% liable for any damages that occur and for all medical expenses. Your health insurance will not cover any medical costs related to a motorbike injury if they know that you were riding illegally. If you get caught by the local police riding a motorbike without a license, they will normally fine you a small fee ($10US to $50US fine) or worse, the police will impound your motorbike. Interestingly enough, the majority of the locals (and even some expats) do not even have a proper license yet continue to ride on Phu Quoc!
Renting A Motorbike On Phu Quoc

The variety of motorbikes available for rent in Phu Quoc is fantastic. We've seen everything from scooters, automatic motorbikes, semi automatic motorbikes, and even the occasional motorcycle.
Road Conditions on Phu Quoc:
The road conditions on Phu Quoc have drastically changed due to development.  Majority of the roads are now well paved with asphalt.  You can circumnavigate the entire island of Phu Quoc on a well paved road very easily and comfortably.


There are, however, some red dirt roads left, which are drive-able during the dry season, but almost impossible to navigate on during the wet season.


The most exciting thing about riding a motorbike around Phu Quoc is to discover abandoned beaches located right next to red dirt paths:

Where Can You Rent A Motorbike On Phu Quoc?
Phu Quoc Motorbike rentals are available almost everywhere and you can rent one from either your hotel/resort, a dedicated motorbike rental shop, or directly from a local. You can even hire a motorcycle taxi, called a Xe Om, if you do not want to ride your own motorbike but want that experience.
The most popular place on Phu Quoc to find shops renting out motorbikes is at Long Beach Village, Phu Quoc's backpacking area, which the Ba Keo area right off the main tourist street of Tran Hung Dao (see map with purple motorbike markers below).

Phu Quoc Motorbike Rental Costs
The following are some typical motorbike rental costs on Phu Quoc:
Semi Automatic: 150,000VND to 200,00VND ($6.00US to $10.00US) per day.
Automatic: 180,000VND to 250,000VND ($8.00US to $13.00US) per day.
Motorbike rental per hour: roughly 30,000VND ($1.50US)
Motorbike rental per week: $45.00US to $65.00US *subject to your negotiating skills
Cost of a Xe Om: Short trips are around town cost 40,000VND.  For longer trips, negotiate with the driver.
Our expert advise: Try to rent a motorbike from your hotel or resort, especially if you plan on renting a motorbike for more than one day.  If your resort or hotel does not have motorbikes for rent, they will procure one for you.
Motorbike Rental Insurance: Majority of the motorbikes on Phu Quoc are not insured by the motorbike rental company. If you get into an accident, you have to pay all the fees for repair and/or the replacement cost of the motorbike.
What To Expect From Phu Quoc Motorbike Rental Shops:
Motorbike rentals are usually for the day (12hours). Ask the shop if they can rent you a motorbike for 24hrs, especially if you want to catch the sunrise somewhere.
Discounted rates are given for weekly and monthly rentals.
Basic helmets are provided (most often they are visor-less and not full-faced).
The shop will have a collection of old and new motorbikes. Try to pick a newer motorbike if you can.
2 types of bikes are available for rent: automatic and semi. Semi's are usually 50,000VND cheaper per day and consume less gas.  Automatics are easier to ride as you do not need to shift gears.
Normally there is no contract to sign. You pay the money, choose your helmet, and then you are ready to ride.
Do I have to surrender my passport to rent a motorbike on Phu Quoc?
If you want to rent a motorbike on Phu Quoc some rental businesses will ask you for your passport while others will only ask you where you are staying. We've noticed that shops that are located within Long Beach Village are more lenient than those located along Tran Hung Dao Street, the main touristy road. It seems as though the smaller businesses on the less popular side streets are more open to just holding a passport photocopy or a cash deposit instead.
Tip: We recommend that you do not hand over your passport, and if you are staying at a resort most likely your resort is holding your passport anyways. Some motorbike shops will ask to hold you passport for leverage in case something happens to the motorbike but legally they cannot withhold a passport from you. 
What to Bring to Rent a Motorbike in Phu Quoc:
Original passport.  The motorbike rental shop will make a copy.
Contact information, such as your telephone number or address, or your hotel.
Cash. Budget roughly 200,000VND ($5 to $15 USD) per day, depending on your motorbike preference.
Most motorbike rental businesses on Phu Quoc do not ask to see proof of a driver's license, and some don't even ask if you have ever ridden a motorbike before. As long as you can drive away from their shop without toppling over or crashing into something or someone, you're as free as a bird. Keep in mind, though, that you are driving at your own risk if you don't have much experience! Once you have successfully rented a motorbike, the next thing for you to do is to go to a gas station and fill up the tank. Normally there is just enough gas in the tank to take you to the nearest gas station only.
Tips & Trick Before Zooming Off
Inspect the motorbike thoroughly.  Also take pictures of the bike from every angle and of every little scratch and dent. If you see any damage, let the motorbike owner know.  If you have a smartphone with you, take a video of your bike with the shop in the background.  Finally take a picture of the speedometer, that is if it is working.
Record the contact details of the motorbike rental place.  They should have a business card.  Take a picture of the shop as well.
Do a quick test drive before committing to rent the motorbike.  Be aware of any unusual sounds and wobbling and let the owner know about it.  Switch bikes if necessary.
Get directions. Finally, ask the shop owner where the nearest gas/petrol station is.  They are found all over Phu Quoc now.
Phu Quoc Motorbike Safety

In order to not be another statistic, please read the following:
Always wear your helmet, not only is it the law but it will also save your life. Try to get a full faced hard-shell motorbike helmet if you can as most helmets are made of cheap plastic.
Where sunglasses while riding. If you cannot get a helmet with a visor, please wear glasses or sunglasses while you ride as there are a lot of flying particles in the air.
Wear shoes! Proper shoes will help with braking and protect your feet in case of an accident. Your motorbikes rear exhaust is quite hot and can cause burns if your feet get too close to it. Save the flip flops for the beach.
Wear jeans/long pants. Long pants and jeans offers some protection in case of an accident, but nothing compared to real motorcycle pants.
Wear sunscreen. You catch a lot of sun while riding!
Don't drink and ride. This one is quite obvious.
Don't speed.
Go to a local pharmacy purchase the following items to make your own motorbike first aid kit: Saline water, iodine, bandages, gauze, waterproof tape, and elastic wrap.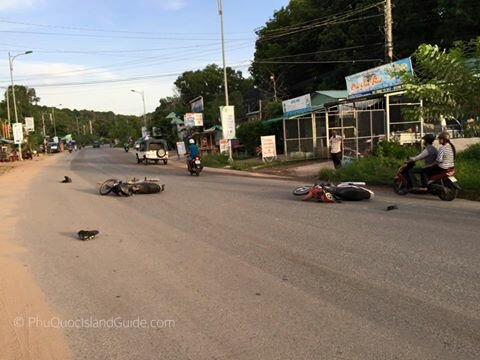 Phu Quoc Motorbike Tours
The following are Phu Quoc motorbike videos we shot while exploring the island.
Motorbike Tour of Duong Dong Town:
Motorbiking To Sao Beach (Bai Sao):
Long Beach Village Motorbike Tour:
Riding To Phu Quoc By Motorbike
The most popular way to reach Phu Quoc Island is by taking a flight.  Flying from Hanoi takes only 2hours while flying from Ho Chi Minh City will take approximately 45 minutes.  However if you want to ride your motorbike, usually from Saigon, to Phu Quoc Island it is do-able.  You will pass through the Mekong Delta and along the southern coast of Vietnam.  Since Phu Quoc is an Island, eventually you have to take a ferry.  There are 2 places where you catch a ferry to Phu Quoc: Ha Tien & Rach Gia (more about Phu Quoc Ferry's & Schedules here).
Rach Gia To Phu Quoc By Motorbike:
Rach Gia is the closest port to Ho Chi Minh City (~271 km).  It takes about 6 hours of straight riding to get to the port.  There is only a fast ferry available here and ferry's depart to Phu Quoc at 8:00am and 1:00pm daily.  The cost for the Rach Gia - Phu Quoc Ferry passenger ticket is  350,000VND and 250,000VND for your motorbike.  The cost for taking your motorbike on this ferry is high because the ferry is not constructed to carry vehicles.  The Rach Gia Ferry to Phu Quoc docks at Bai Vong Port on the eastern coast of Phu Quoc's main island.
Ha Tien To Phu Quoc By Motorbike: Ha Tien is the other city with port and it locate approximately 310 km from Saigon. It will take you roughly 8hours of straight riding to get here. There 2 ferry's to Phu Quoc to be found here i) The Slow Ferry, which is a large ferry capable of carrying vehicles and ii) The Fast Ferry. The Slow ferry departs Ha Tien at 5:00am, 6:00am, 9:00am, 11:00am, 12:00pm, and 3:30pm daily and arrives at Da Chong Port located in the north eastern section of Phu Quoc Island south of Bai Thom Village. The passenger ferry ticket costs 185,000VND and the motorbike fee is 80,000VND. The Fast Ferry departs Ha Tien at 7:30am, 8:00am, and 1:15pm, daily and arrives at Bai Vong Port located on the eastern cost of Phu Quoc. The passenger ferry ticket costs 230,000VND and normally you cannot take your motorbike on this ferry, but if they allow it the fee for the motorbike is roughly 200,000VND.