Phu Quoc Fish Sauce Factory
Introduction » Video » Tours
Phu Quoc's fish sauce production in Vietnam is equivalent to Italy's olive oil, France's champagne, and Mexico's tequila production— a artisanal and traditional product made with only natural ingredients sourced locally.  The fish sauce or "nước mắm" in Vietnamese, that is made on Phu Quoc Island is of such high standards that some local producers are even eligible for the elite "Geographical Indication" certificate and "Protected Designation of Origin (PDO)" certificate, distinguishing them from other brands.
On Phu Quoc Island, the largest island in Phu Quoc District, it is possible to explore the numerous fish sauce production factories (an ecotourism attraction) and learn how this pungent natural sauce is made.

Phu Quoc Fish Sauce Factory Overview
Phu Quoc Fish Sauce Factories: Khai Hoan | Hung Thanh | Phung Hung | Red Boat
There are four fish sauce factories on Phu Quoc Island that allow you to tour their facilities. Three of them are located in Duong Dong Town next to the Duong Dong river, and the third is located near An Thoi Town close to Sao Beach.  More fish sauce factories can be found in An Thoi Town, Phu Quoc's second largest town, as well as in Ham Ninh Fishing Village. Overall Phu Quoc has about 85 fish sauce producers, from small mom and pop style shops to large factories.  Other countries that also product fish sauce include Thailand, Myanmar, Malaysia, Cambodia, Korea, Japan, and China.



Phu Quoc Fish Sauce Factory Tour
Phu Quoc Fish Sauce Factory Tours consists of visiting warehouses where large wooden vats holding tons of anchovies are held, looking at the drainage pipe from the gigantic vats to the smaller plastic vats, and then visiting the gift shop. There is no admission charge to visit these factories and a guide is not needed as the process of making the sauce is very simple – put anchovies in a large vat, top off with salt, and then wait for a year. The following is our independent tour of inside the most popular fish sauce factory on Phu Quoc Island:
Visit A Phu Quoc Fish Sauce Factory

The following are a list of fish sauce factories that you can visit:
Khai Hoan Fish Sauce Factory



Address: 11 Hung Vuong Street, Duong Dong Town.
Description: Khai Hoan Phu Quoc Fish Sauce factory is located close to the tourist areas of Long Beach and Long Beach Village and it is the most popular factory to tour, either independently or with a tour group.  They have samples on site as well a souvenir shop.
Tel: 077 848 555


Hung Thanh
Address: Khu pho 3, Duong Dong Town
Description: Harder to find and located next to Duong Dong river.  The Hung Thanh Phu Quoc Fish Sauce Factory claims that they have been producing fish sauce on Phu Quoc since 1895.
Tel: 077 846 124


Phung Hung Fish Sauce
Nước Mắm Phụng Hưng
Address: 201 Nguyễn Văn Cừ, An Thới Town, directly across street (highway DT46) from the Phu Quoc Prison and near Sao Beach, An Thoi Town.
Description: The Phung Hung fish sauce factory is located on the eastern coast of Phu Quoc and close to the islands best white sand beaches and a variety of cultural attractions.  This is the only fish sauce factory on Phu Quoc, which you can visit that is not located next to the sea or by a river.  You can tour the facility,  sample and buy products, or even purchase  souvenirs here.
Tel: 077 844 003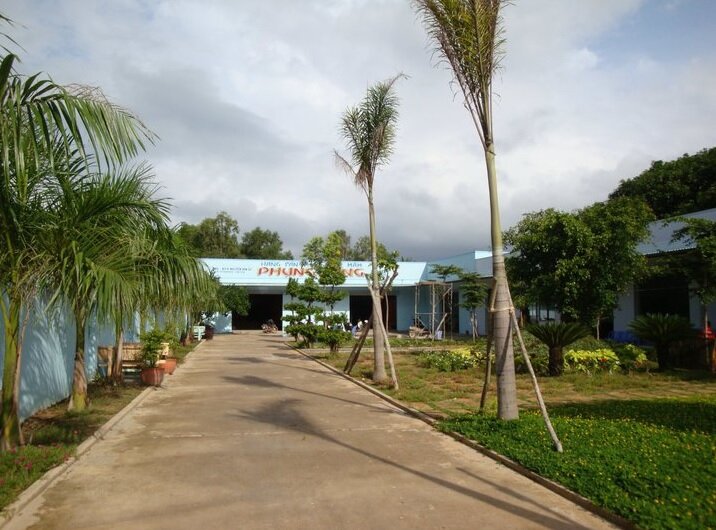 Red Boat Fish Sauce
Address: Số 8, đường Phan Nhung, khu phố 1, Dương Đông, Phú Quốc
Description: The Red Boat Fish Sauce brand produces some of the world's best fish sauce, a true artisanal product.  Finding the Red Boat Fish Sauce Factory on Phu Quoc  is a bit challenging as it is not opened for tourism as it is a real manufacturing plant located next to Duong Dong river.  One of the reasons why their fish sauce tastes great is that once the anchovies have been caught they are immediately salted and thus preserving its flavor.