Long Beach
At this time of year (dry season) the sea at Long Beach is absolutely stunning.


Unfortunately there is a lot of public works projects happening at the moment. The widening of Tran Hung Dao, the main street in the Long Beach Area, is affecting traffic, safety, and even local businesses:

Southern Long Beach Construction
South Long Beach is in the process of a 360 degree transformation. New mega hotels, villas, shopping plazas, and other facilities are in the process of being constructed. Unfortunately this has taken a large toll on the land:


Bai Sao Beach
Sao Beach still remains Phu Quoc's Best Beach, but as the winds have shifted the sea here has become rough and dirty. The best time to visit Sao Beach is during the wet season, as the sea is more calm here.




Construction has also began on
Bãi Sao
, albeit slowly.
Paradiso Restaurant
is undergoing a lot of construction and the road leading to the beach is being paved:


Cua Can River
There is development all around the
Cua Can River
and a lot of forest have been cleared to make way for new hotels, resorts, restaurants, and
Cua Can River Tour
ports.

Vung Bau Beach
Vung Bau Beach was once a gorgeous beach, however it is slowly eroding. With the development of a small port for heavy machinery to load and unload trucks, a lot of petrol is consumed and the fumes can be smelled from across the entire stretch of the beach. Also there is a lot more industrial truck traffic than before.


A new resort is being constructed right next to one of our favorite snorkeling spots,
Hon Mong Tay
Island:



Ganh Dau Beach
Fishing boats have invaded the beautiful bay of Ganh Dau…



…and a new boardwalk has been constructed on the rocks leading to a new restaurant, which will open later this year. It's also a good spot to fish from as well, as many locals have recently found out.

Cua Can to Ganh Dau Scenic Route
The coastal route from Cua Can Village to Ganh Dau Village no longer exists:





Vinpearl Land Phu Quoc
Vinpearl Land Phu Quoc, one of the more popular tourist destination,  is gearing up for Tet 2016 on the island:

Vinpearlland Ferris Wheel
Vinpearlland Phu Quoc recently erected a Ferris Wheel. Their large sign at the entrance of the park has become a popular "selfie" spot.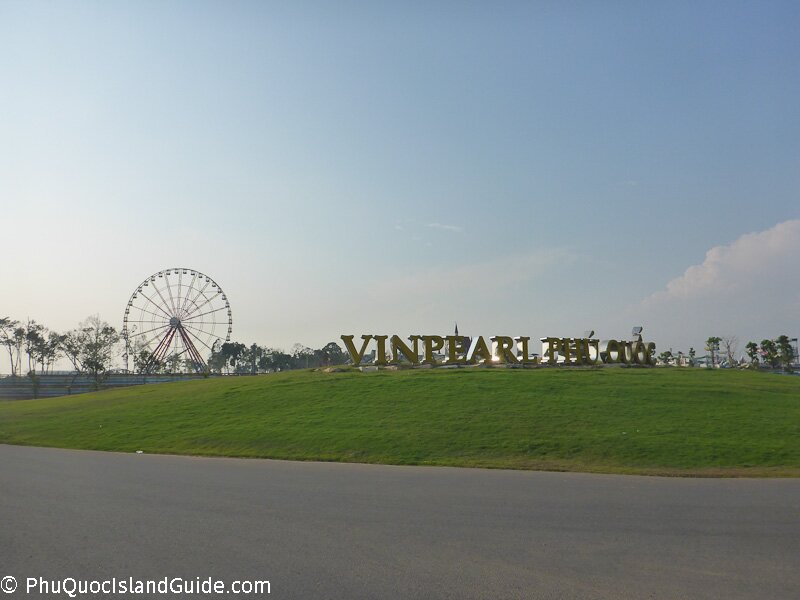 Vinpearl Safari
Vietnam's first safari park, called
Vinpearl Safari Phu Quoc
,  has opened up its doors and it is quite popular with both Vietnamese and International tourists:

An Thoi
An Thoi Town is also going through a heavy construction phase. Construction of the
An Thoi International Seaport
has commenced and now the construction of the longest
cable car
in the world and the
Hon Thom
ecological island has begun.


Wildlife
Despite all the construction we did see some wildlife. We saw the
Hornbill
in Ganh Dau, Vung Bau and in Bai Thom, the great eagle in Ganh Dau, and a kingfisher in Cua Can. Unfortunately we do not have any pictures. The best time to see wildlife is at 6am. Thanks for reading this lengthy report. We hope you found it useful and insightful. If you found this 2016 Phu Quoc Trip Report useful, please like this page.