Phu Quoc Waterfalls
Phu Quoc's lush forests and numerous waterfalls are one of the many reasons why the island is widely referred to as the "Emerald Island" or "Jade Island". While many tourists go to Phu Quoc as a way to beat the cold of winter or an escape from city life, it's the waterfalls that provide the adventure as sort of the yin to the yang of resorts, beaches, water sports, nightlife, etc. The following are a few waterfalls that you can visit while here on Phu Quoc.

Da Ban Waterfall (Suoi Da Ban)
The Da Ban Waterfall can be found 10 minutes north of Duong Dong Town and it is very close to Duong Dong Lake, which may also be worth a visit. The surrounding area has a lot of large beautiful flat boulders where you can either rest or have your lunch as the flat surface makes for a perfect table top. The Da Ban waterfall is less dramatic and less crowded than the Tranh Waterfall (see below).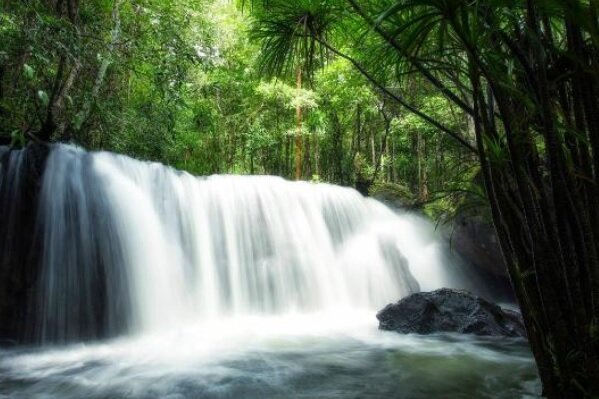 Trekking to the waterfall
The trail leading to the actual waterfall consists of a cobblestone like path which can be navigated with ease. You will see a lot of locals picnicking on top of the giant boulders in the area and unfortunately they leave all their garbage behind, so expect to see a lot of containers, plastic bags, bottles, food items scattered around. The actual waterfall site itself will be crowded with many locals and tourists enjoying a good soak so it is best to arrive early if you want the waterfall to yourself.
Tranh Waterfall (Suoi Tranh)
The Tranh Waterfall is not the biggest or the most dramatic of its kind, but it does have its own charms and the surrounding forest is quite peaceful. The trail leading to the waterfall consists of a series of smaller waterfalls and streams. Look into the stream and you will see small fish and freshwater shrimps. In the forested area you will also see wild orchids, exotic mushrooms, and a variety of moss & lichens.
If your time on the island is limited we recommend that you visit this waterfall as it is only 10 minutes away from Duong Dong Town and can be combined with a visit to the picturesque Ham Ninh Village which is near by. The road that takes you to Tranh Waterfall will also take you to Sao Beach, Kem Beach, Coconut Prison, and An Thoi Town. At Tranh Waterfall the adventurous can get off the beaten path and explore the diverse fauna and flora and even a cave system (Bat Cave) which is located further up from the waterfall site.
*Keep an eye out for your belongings if you plan on swimming in and around the waterfall.

Summary

Article Name
Phu Quoc Island Waterfalls
Description
A review of all the waterfalls on Phu Quoc Island, Vietnam
Author