Sim Wine
Learn about Sim Wine (Ruou Sim), a local wine made using the fruit from the myrtle tree.
Overview
Sim Wine (also known as Ruou Sim or Rose Myrtle wine) is a type of wine found on Phu Quoc Island and is made with local fruit from the Rose Myrtle tree (Rhodomyrtus tomentosa myrtaceae).  The recipe originated from various ethnic minority groups living in the central highlands. Most locals drink Sim Wine when they are eating seafood.


Rose Myrtle Tree

The rose myrtle tree grows wild in the forests of Phu Quoc Island and bear flower and fruit all year round however manufacturers claim that the Sim collected during the spring yields the sweetest fruit and provides the best raw materials for making Sim wine.  This plant is fire adapted and significantly re-sprouts after burning and herbicide application.  Rose Myrtle can tolerate some frosts and low salinity.  It flowers prolifically in spring, and regeneration occurs through seed drop but not vegetatively. The fruits are edible and seeds are therefore distributed by birds and animals.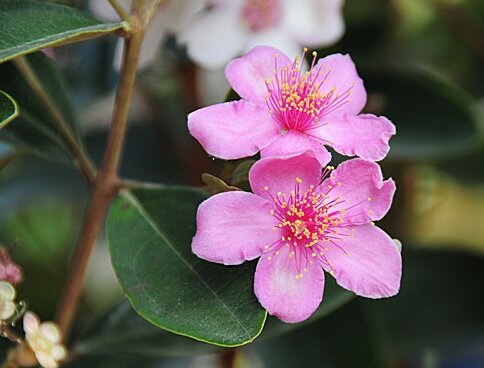 Healing Properties of Sim
According to locals, Sim Wine has natural healing properties. It can help with fatigue, aide digestion, and to reduce join pain.  However there has been no medical tests to verify these claims.
How does Sim Wine taste?
The "wine" tastes like a fermented blackcurrant alcoholic beverage with the scent of flowers. The alcohol content is 7.5% (15 proof).
Different brands of Sim Wine
Due to its popularity there are now many different brands of Sim Wine available.  Below are some of the brands you will find on Phu Quoc Island:



Where to buy Sim Wine?
Sim Wine costs anywhere from 100,000 to 200,000 VND ($5-$10.00USD) depending on the quality and brand. You can purchase the wine at many shops around Duong Dong town and a few specialty shops near long beach.  Some of these stores are:
BAY GAO STORE (original producer of this wine with Vietnam government seal of approval)

Address: 124  Duong 30/4, Duong Dong Town
Tel: 077.3847374
VUON TAO Restaurant (Also produces this wine)
Address: Cua Lap hamlet. Duy To commune.
Tel: 077.384 7008.
Hoa Sim
Address: 92 Tran Hung Street, Duong Dong Town (near long beach)
Tel: 0773.271.579
How to make Sim Wine yourself:
Ingredients:
Fruit from the rose myrtle
Sugar
Rice Wine
Step 1: First you have to cut the knob of each rose myrtle fruit.
Step 2: Then you was the fruits to remove any grit or insects that may be on them.
Step 3: Now grind the fruit and pound it down.
Step 4: Add sugar to the fruit slurry. The ratio is 4 oz of sugar to 1 kg of fruit. Adjust accordingly.
Step 5: Let the slurry sit in a cool dry place for a few days.
Step 6: Add rice wine to the slurry and let it soak for several days. The juice will come out in several days.
Step 7: Let the wine sit for 3 months
***In 2013, the Sim Wine from Phu Quoc Island was voted into the Top 10 most unique wines in Vietnam by the Vietnam Record Books.
Like Phu Quoc? Tell us! Your LIKE will help keep this place clean: