Where are you from? What do you do?
I am from South Korea and I am a distributor for Shark Brand SUP boards for Korea.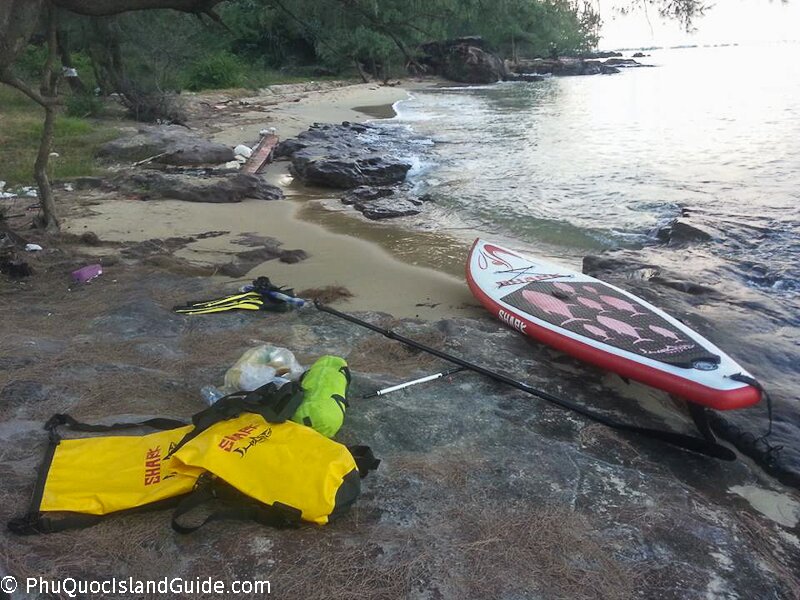 How did you get started in SUP and what do you like about it?
I have been kayaking since 2004. While kayaking, I got a chance to try stand up paddling in 2012. Standing on a SUP board is very exciting, and when you are standing up you can look down at the ocean.

Why did you come to Vietnam?

It's winter in South Korea and it is really cold so I decided to travel somewhere warm. I was first in the Philippines and went to numerous islands there, but I felt unsafe there so I decided to travel to Vietnam.
Why did you come to Phu Quoc?
When I was in Dak Lak, I was invited to visit Phu Quoc, so I went.
So you did not plan on going to Phu Quoc?
That's right. I just heard about it and made a plan to visit it.
Where did you stay?
I stayed on Ong Lang Beach, at Tim Nang Guesthouse. I also camped at Hon May Rut Island as well as Ong Lang Beach.

You camped on Hon May Rut? Tell us a bit more about that.
Sure. I was dropped off here by a tour boat operator and the country was celebrating TET. The family living on the island fed me well and permitted me to camp overnight on the island overnight. It was a great experience.

That's great! You are very lucky to experience Tet in Vietnam, especially on a small island.
Yes I know!
What do you enjoy most about Phu Quoc?
I like water sports and this island archipelago is a great place to do that. I explored islands, went snorkeling, free-diving, swimming, and of course SUP.

What do you least like about Phu Quoc?
The garbage on the island, the paper plastic. Everybody hates it I know that.
Was it easy meeting people and making friends on Phu Quoc?
Yes, I became friends with those who spoke English as it was easier to communicate. However I am learning the Vietnamese language. Once I learn the Vietnamese language I believe I will be able to meet more friends.
What is your favorite beach on Phu Quoc?
Ong Lang Beach, the beach I call home now.

What did you do on Ong Lang Beach besides SUP?
I went free-diving, enjoyed the beach, and had beach BBQ.

What is your favorite food and/or restaurant on Phu Quoc?
My favorite food is Pho. I did not try any restaurants as of yet because I stayed with local people.
What is your favorite sunset beach on Phu Quoc?
Long Beach, but I think anywhere on the west coast of the island is good.
Did you bring your own SUP board or did you rent one?
I brought my own inflatable SUP board as SUP is easy to carry. I travel with my SUP board on a motorbike. The model of my SUP board is Shark Wave.


What is Stand Up Paddle Boarding like on Phu Quoc?
It's great. The water is calm and there is very little wind.
Where did you SUP on Phu Quoc?
May Rut Island, Ong Lang Beach, Long Beach, and Cua Can River.

What is your favorite SUP spot on Phu Quoc and why?
Hon May Rut is my favorite spot. You can paddle around the island and see fish swimming around you. I even paddled with a sea turtle, which swam slowly around me.

You saw a sea turtle? Really?

Yes really.

What would you recommend to other visitors who are looking to try SUP on Phu Quoc?
For beginners I would recommend starting in Ong Lang Beach, as the gentle slope entry and sand make it easier for beginners. For advance users, be sure to go around the small islands in An Thoi.
Anything else you want to share about SUP'ing on Phu Quoc?
I dream of opening a SUP school here on Phu Quoc and teach others how to SUP the right way. I will also organize SUP tours.

That's great. If people want to get in touch with you and learn how to SUP how can they contact you?
They can message me on Facebook directly.
What are your future plans on Phu Quoc?
I will stay here for 6 months and maybe open Phu Quoc's first SUP school and training center.
That's awesome, you love Phu Quoc that much already?
It's a nice island.
Thank you for taking the time to answer these questions. Hopefully people reading this will try out SUP as well.
I hope so, it's a great sport!