Epizode Phu Quoc
The Epizode Festival on Phu Quoc Island in Vietnam is a bi-annual two week long event featuring live music, renowned international DJ's, art exhibit, food, drink, and in essence a celebration of life. It is held on Phú Quốc's (Фукуок) most popular beach, Long Beach (Bãi Trướng).  The debut event takes place from December 31 to January 14, 2017 at the beach which is part of the Sunset Sanato Resort.  The Phu Quoc Epizode Festival is the largest music festival in South East Asia and it is the first time such a premiere event has been held on Vietnam.
[responsive]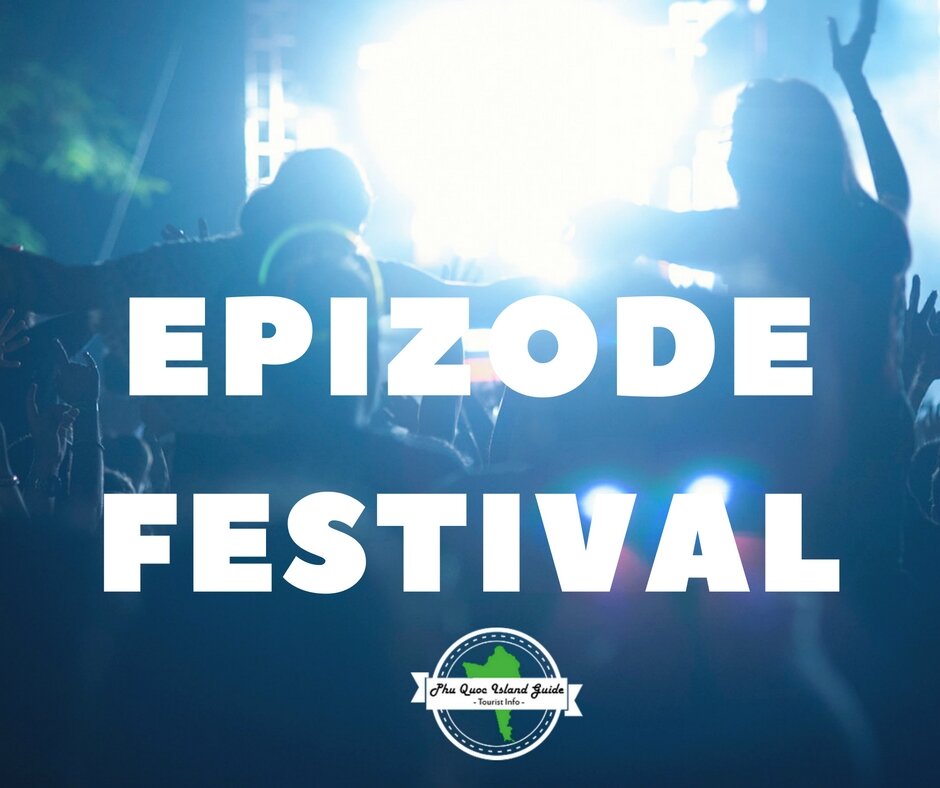 [/responsive]
[hr style="1″ margin="40px 0px 40px 0px"]
What is Epizode?
"Epizode" is a lifestyle festival organized by Epizode Sea Festival Corporation, a Russian entertainment company, along with local Vietnamese promoters, namely the Dong Do Show Company and 99 Mountains, as well as the Sunset Sanato Resort on Phú Quốc, the site of the event. The event incorporates Vietnamese iconic cultural elements, such as bamboo, and the theme of the Phu Quoc beach music festival is "… an episode of your life":
---
[responsive]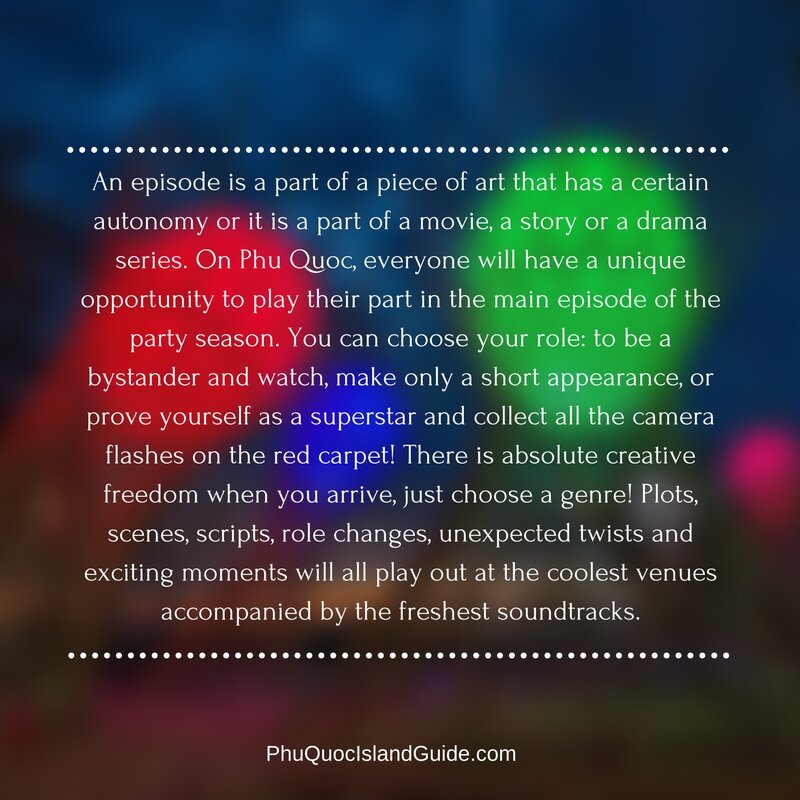 [/responsive]
---
Celebrate life, love, and music at Epizode:
---
[responsive]

[/responsive]
---
Epizode Festival Lineup:
Well recognized International acts like Alexid, Bushwacka and John 00 Flemming will appear at Epizode Phu Quoc, as well as some local artists such as Dan Buri, Sunju Hargun, Marco Loco and Nakadia. The entertainment lineup so far is as follows:
[box style="1″]ABELLE / ADAM ANTINE / Adamov / Agraba / Alex & Digby / Alexey Orlov / ALEXEY SONAR / Alexkid / Alina Kalinina / Anrilov / Anthea / Arkady Air / ARRAM MANTANA / ARTEM FINE / Asaga / BVoice / Bebadim / BOBROV / BOYM / Bronxy / Bushwacka! / CANCELLED / Cesar Merveille / Cesare vs Disorder / CHARLIE / DALI / Dan Buri / Dan Jamkinsun / Dasha Redkina / Datamode / Denis Kaznacheev / Denis Korablev / DOP'Q / EL / ERIC / Fairmont / FONAREV / Golikov / Hoopa / Ion Ludwig / Ivan Smagghe / JCB / JOHN 00 FLEMMING / Julia Govor / Julian Perez / Kamran Sadeghi / KOKSHAROV / Kolford / Konrad Black / KTO DJ? / Kuma / Lee Douglas / LENA POPOVA / LEXANI / Mandar / Marco Loco / Mashkov / Matt Tolfrey / MEUGENE / MICHAEL DEMOS / Miguel Matoz / Mike Shannon / Mike Spirit / Mikhail Kobzar / MISS YO-YO / Monkey Brothers / Monkey Fish / MR FINN / Nakadia / Nasonov / Olga Korol / ONNA SKAI / Oshana / OUTSELECT / PHUONG DAN / Pixelord / PROKHOROV / QUEST / RAINER / RANISHE NIYAAK / RAYO / Ron Morelli / Roustam / SANCHO / SANDER ZHUKOV / Sasha Kaktus / SECOND SINE / Sei A / Sergey Sanchez / Shutta / Silat Beksi / Sofia Rodina / Sunju Hargun / Ten Walls / The Mole / TOPPER / TYOMA / Valentino Kanzyani / Yasha F / Yate / youANDme / ZOK ZOKAN-I / And.Id / ANTONIQUE / Binh / CROSS / CYRK / DASSANA / Dave Vega / DAVID CHONG / Djuma Soundsystem / dOP / DR.SPY.DER / DUSTEE NGUYEN / Elekfantz / GET LOOZE / GEVORG SIMONYAN Gunjah / ICE D / Illsee / Jan Krueger / Kago Do / KATE ZUBOK / Le Loup / Lehar / Lee Van Dowski / LIST / Maayan Nidam / MAYANA / MELO / MINHTRI / Nicolas Lutz / NICONE / NILS / ODING S / OLESIA BOND / ORKIDEA / provoda / QUEST / Robin Ordell / ROMSTA / Sammy Dee / SCHARRE / Seuil / Silat Beksi / Smash TV / TAGIR / Tiefschwarz / Vetalz / WAYU / YELLOW CLAW / ZESKULLZ [/box]
---
Phu Quoc Green Festival
More than just a musical festival, Epizode Phu Quoc is also a cultural exchange and artistic gathering with an environmentally focused theme, which can be seen by the many natural art installations found throughout the beach.
[responsive]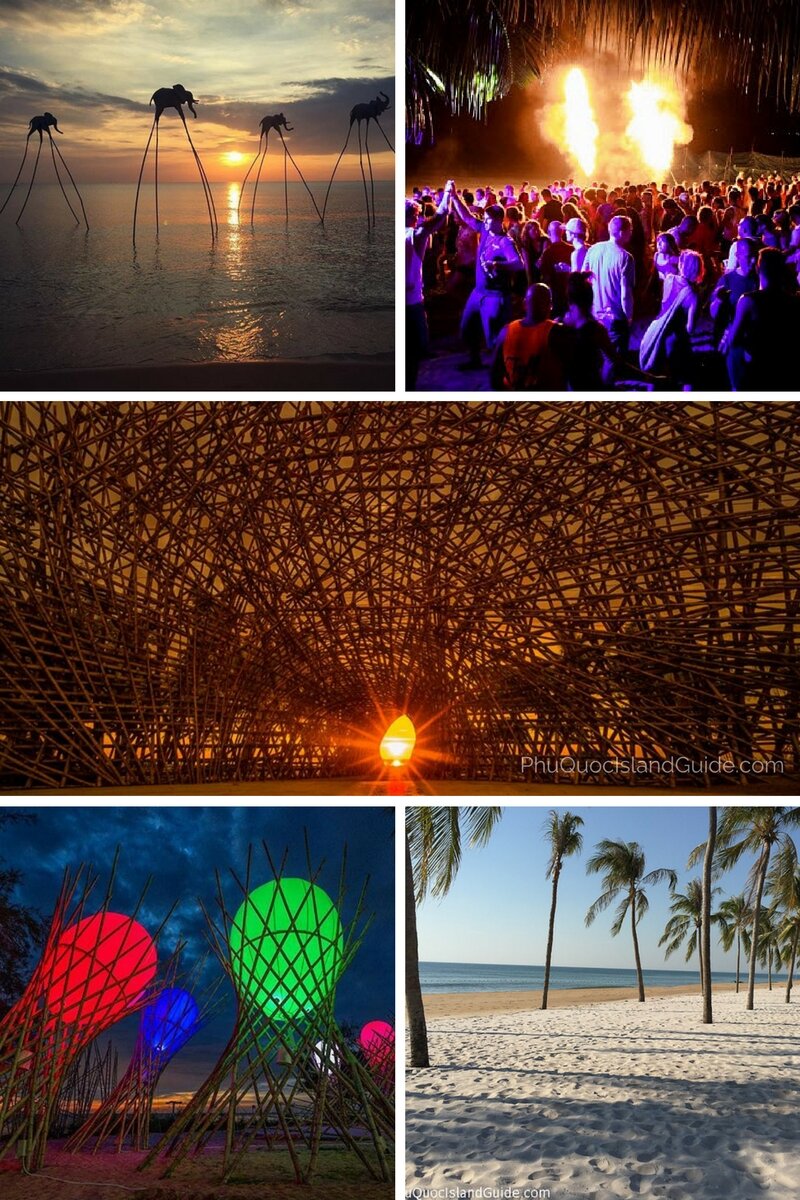 [/responsive]
[hr style="2″ margin="20px 0px 20px 0px"]
Where is the Epizode Festival on Phu Quoc Located?
The Epizode Festival is located on Long Beach at the Sunset Sanato Resort Complex (see map below), south of the Phu Quoc International Airport. This is a section of Phu Quoc where most of the upscale 5 star luxury beach resorts are located, such as the Novotel Phu Quoc Resort, Sol Beach House Phu Quoc Resort and the Intercontinental Phu Quoc Resort.
[hr style="2″ margin="20px 0px 20px 0px"]
How much are tickets to the Epizode Festival on Phu Quoc?
Tickets to the festival are priced in Russian Ruble currency by the organizer, but we have translated them to US dollars below.  All tickets include "in-and-out" privileges, so you do not need to stay at the festival all day long.
1 Day (24hrs): $82.50US | 5,000 RUB
3 Day (72hrs): $132.00US | 8,000 RUB
5 Day (120hrs): $157.00US | 9,500 RUB
All access (2 weeks): $214.00US | 13,000 RUB
---
Once you have paid, you will be issued a wrist band that will grant you all access privileges to the Epizode Music Festival site.
[responsive]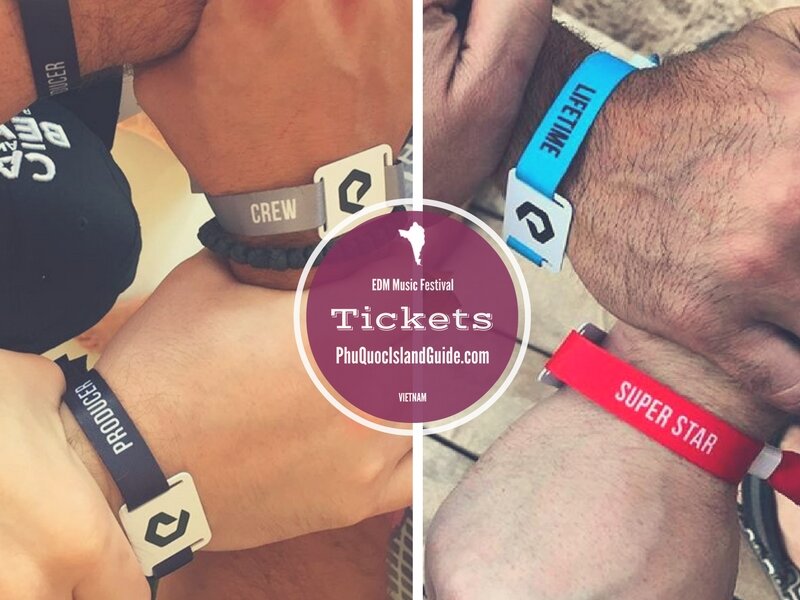 [/responsive] [hr style="2″ margin="20px 0px 20px 0px"]
What to expect at the Epizode Festival?
The Epizode Festival is a premium event backed by some of Vietnam's, as well as Russia's, influential companies.  The event is heavily marketed and will draw thousands of people to this idyllic island as well as attract the attention of variety of media outlets.   The international crowd will include many nationalities, celebrities, world class DJ's, and more.
[responsive]

[/responsive] [hr style="2″ margin="20px 0px 20px 0px"]
What else can I do on Phu Quoc besides party it up?
Besides visiting fish sauce factories, pepper farms, and temples, the number 1 activity on Phu Quoc during the dry season is snorkeling.  Phu Quoc is a district that consists of 28 islands all surrounded by coral reefs.  It is the best best independent beach snorkeling destination in Vietnam.  We wrote a guide on this that explains more, click here for the Phu Quoc Snorkeling Guide.
[hr style="2″ margin="20px 0px 20px 0px"]
I am a local business on Phu Quoc, how can I reach the international audience to help my business get noticed?
Local premium businesses are aligning with PhuQuocIslandGuide.com to help reach the large number of international tourists coming to Phu Quoc.  You can learn more by clicking here.
[hr style="2″ margin="20px 0px 20px 0px"]
Free Travel eBook
[responsive]

[/responsive]