Long Beach Phu Quoc
A trip to Phu Quoc would not be complete without a day lazing on the golden sands of its main beach Long Beach. Stretching over 20kms it is the epicenter of both local and tourist activity. Sunbathers and swimmers alike are welcomed by the cool breeze that rolls in off the ocean and the view here is spectacular, especially at sunset. Enjoy your stay here on Long Beach at Phu Quoc Island and please remember to click on the button below if you like turquoise seas, soft powdery sand, and gorgeous ocean sunsets. Surf's up!

Overview Of Long Beach on Phu Quoc
Long Beach, or Bai Truong, is the most popular beach located on the west coast of Phu Quoc's main island and just 10 minutes from the Phu Quoc International Airport. Clear and clean waters, wide golden sand beach, swaying coconut palms, and gorgeous sunsets make Long Beach a photographer's dream.



Long Beach is the epicenter of all tourist related activities on the island. Here you can swim, snorkel, kayak, jet ski, SUP (stand up paddle board), and more. If you want to relax and soak in the sun, all of the resorts found along the beach offer sun loungers or you can use one of the many found at a variety of beach front restaurants. For some relaxation, you can receive a lovely massage right on the beach for a couple of dollars provided by one of the seasoned masseuses. There are a lot of places to eat, drink, and party on or off the beach as well. It's an experience not to be missed. Due to its popularity and the rise of tourism in Phu Quoc, there is now a constant stream of beach vendors who patrol the sands peddling their wares and services. These include the sale of cold drinks, coconut juice, fresh fruit, and even seafood.

The infamous Long Beach sunset at Phu Quoc
Where is Long Beach Located On Phu Quoc?

The west coast stretching from just north of An Thoi Town to the Duong Dong River in Duong Dong Town is considered "Long Beach" but technically this is not true.  "Long Beach", which is approximately 20kms in length, is divided into two zones: North Long Beach and South Long Beach.
Geographic location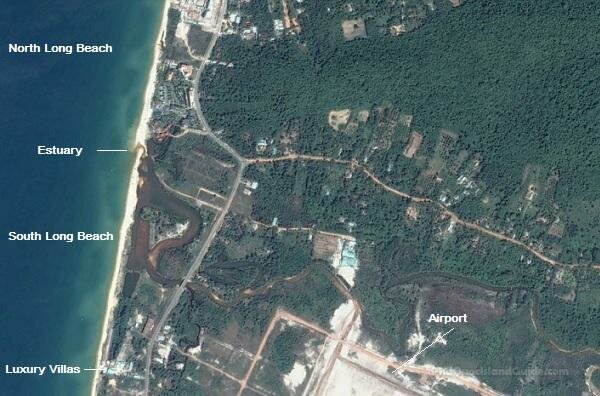 Beach View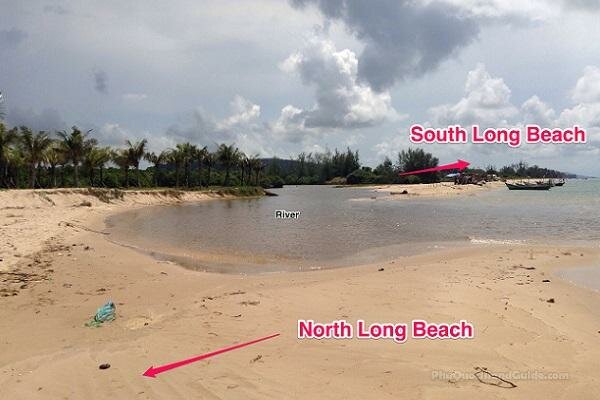 North Long Beach
North Long Beach in Duong Dong Town is approximately 5kms in length and officially starts at the beach located in front of the Eden Resort (close to the new airport) and ends in front of the Trang An Phu Quoc Hotel, where the beach meets the rocky coast.
Where North Long Beach begins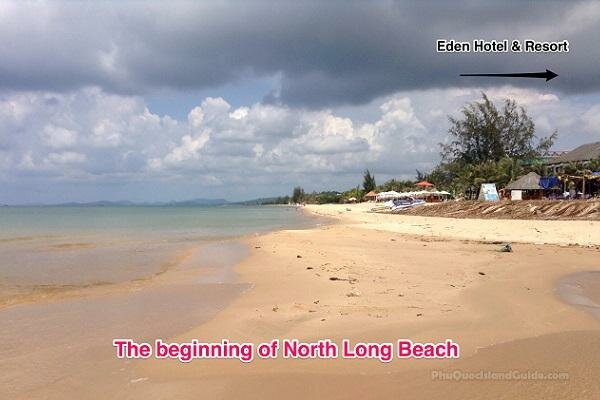 Where North Long Beach ends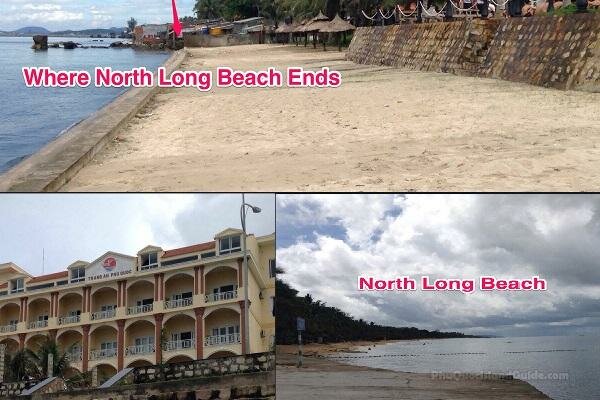 South Long Beach
South Long Beach is partly located in Duong Down Town, Duong To Village, and An Thoi Town along the west coast of the island and this section of the beach is approximately 15kms in length.  In An Thoi Town, certain sections that comprise of "South Long Beach" are known locally as Xep Beach, Dai Do Beach, Duong Co Beach, Duong Xanh Beach, and Vuon Dua Beach.  This long stretch of beach starts near An Thoi Town and ends by the estuary just south of the Eden Resort. While North Long Beach is known for being the epicenter of all tourist related activities, South Long Beach is mostly abandoned.  Apart from a few pearl farms, herds of cows, dilapidated fishing boats and makeshift ramshackle fishing villages, there is not much infrastructure present.  If you are looking for solitude and you do not want to escape the city limits, you can find it here.
South Long Beach view looking south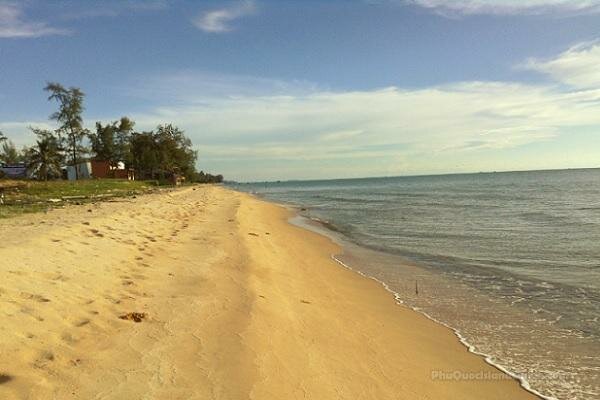 South Long Beach view looking north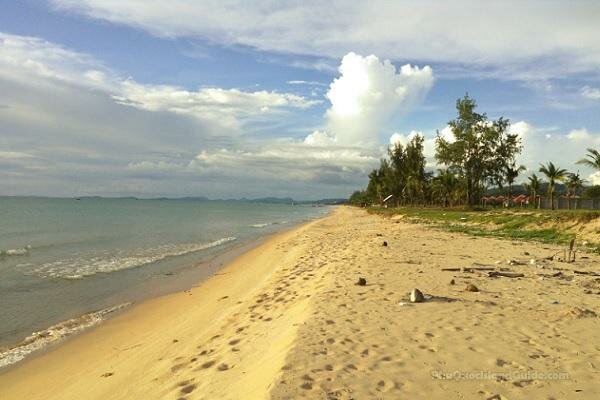 South Long Beach roads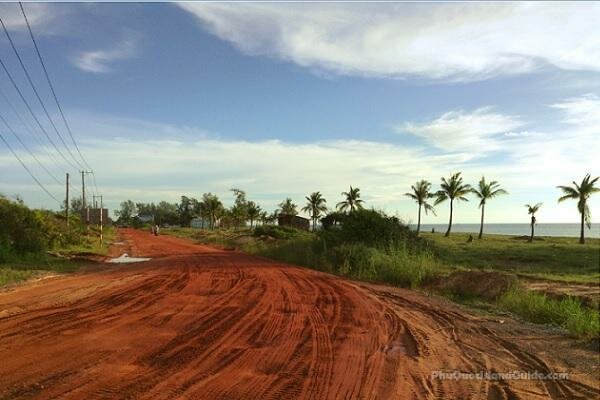 South Long Beach landscape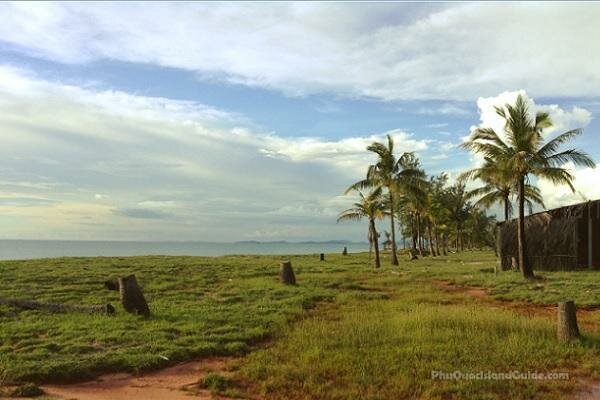 In the near future you will be able to buy villas and apartments here in South Long Beach as the whole area has been slated for redevelopment and construction has already begun.  Here is a rendering of what South Long Beach will look like by 2020:

Long Beach Village
Long Beach Village, or "LBV" for short, is a small hub catering to tourists and it is an area where most tourists usually end up staying, particularly the backpackers. The village is located off Tran Hung Dao Street in between the airport and Duong Dong Town proper. Here you will find a variety of beach front resorts (budget to luxury), garden resorts, restaurants, bars, tour agencies, and a few convenience shops.

Accommodations
A. Nhat Lan Resort – $$$
B. Viet Thanh Resort – $$
C. Phu Van Resort – $$$
D. Lien Hiep Resort – $$
E. Coral Bay Resort – $$$$
F. Kim Lien Resot – $
G. La Veranda Resort – $$$$$
H. Kim Hung Bungalow – $$
I. Palm Tree Guesthouse – $$
J. Terrace resort – $$$
K. Thanh Hai Bungalow – $$
L. Duong Hieu Guesthouse – $
M. Sim Hotel – $$$
N. Paradise Resort – $$$
O. Cast Away Resort – $$$
P. Bich Duyen Bungalow – $
Q. Sunshine Bungalow – $$
R. Thanh Kim Ngan Bungalow – $
S. La Mer Resort – $$$
T. Huong Giang Bungalow – $
U. Mai House – $$$$
V. Arcadia Resort – $$$$
W. Phuong Binh House – $$$
X. Kim Bungalow's – $$$
$ – From $10.00USD to $15.00USD
$$ – From $15.01USD to $25.00USD
$$$ – From $25.01USD to $60.00USD
$$$$ – From $60.01USD to $80.00USD
$$$$$ – From $80.01USD +
Food & Drink
1. Rory's Bar & Grill
2. Le Bar
3. Palm Tree Restaurant & Bar
4. Coco's Bar
5. Le Bistrot French Cuisine
6. Sim Restaurant (Local Food & Seafood)
7. Pirates Cave Bar & Nightclub
8. Seafood Restaurant
9. Pho Restaurant
Services

Getting to Long Beach Village
The following are some images of the Long Beach Village access point. If you are having trouble communicating with your taxi driver, just show them the following images and tell him that this is where you want to be dropped off. Long Beach Village is located directly across Johns Travel & Tour agency. The La Veranda hotel sign marks the entrance to the village.
Long Beach Village Access Point

Long Beach Village Access Road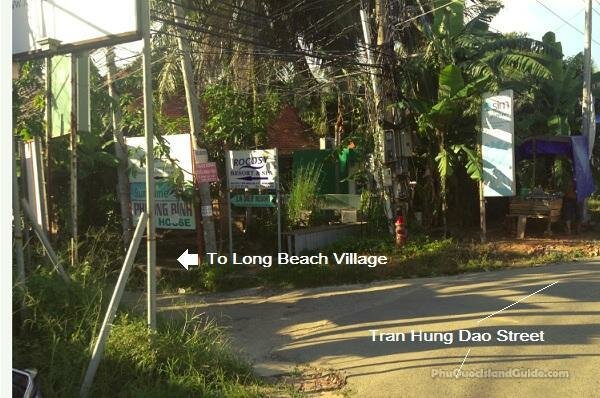 Long Beach Village Road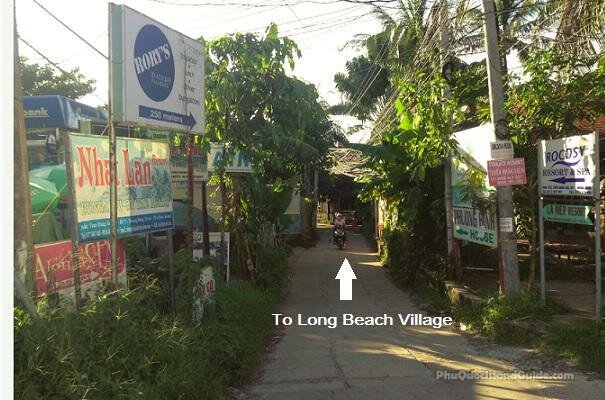 Long Beach Village

Also at Long Beach Village there is a public beach access path which you can use if you are not staying here:

Some of the things you can do at Long Beach Village are:
Rent a motorbike for a day or for a week;
Book land and ocean tours (snorkeling, squid fishing, hiking, etc);
Arrange for air and bus tickets within Vietnam and abroad;
Purchase alcoholic drinks (Liquor, beer, and wine) and non alcoholic drinks;
Get your clothes laundered;
You can buy fresh coconut and sugar cane juice (known as Nuoc Mia) for 10,000VND here;
Purchase cheap breakfast sandwiches –Banh Mi Op La for only 10,000VND (at the entrance to Long Beach Village);
Purchase fruit, sun tan lotion, bikini's, etc;
Have your hair and nails done and get waxed (men and women);
Play billiards
Karaoke
Tour of Long beach Village
Get a feel of what Long Beach Village looks like by watching this video:
Summary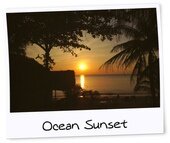 Article Name
Long Beach on Phu Quoc Island
Description
A detailed review of Long Beach on Phu Quoc Island, Vietnam.
Author