Long Beach Village Phu Quoc Island
Long Beach Village, or "LBV" for short, is a a thriving community that caters to the every need of most travelers to Phu Quoc Island in Vietnam. Here you will find all types of accommodations from backpacker hostels to the luxurious La Veranda Resort. You will also find great bars, restaurants, travel agencies, coffee and laundry shops, and most importantly access to the infamous Long Beach.
Discover Long Beach Village
Packed into a small commune consisting of several small streets adjacent to the infamous Long Beach, the villages namesake,  are countless budget guesthouses and mid-range hotels, motorbike rentals, travel and tour agencies,  cool bars and clubs, restaurants, massage parlous, dive shops, mini marts, beauty salons and much, much more. With its carefree, beach living vibe, it's quite unlike anywhere else in Phu Quoc.
Meet me at "LBV"…
Long Beach Village, or "LBV" for short, is Phu Quoc's version of Bangkok's "Koh San Road" or Saigon's "Pham Ngu Lao" area. It is located off Tran Hung Dao Street in between Duong Dong Town (the economic and tourist capital of Phu Quoc) and Duong To Town (where the Phu Quoc International Airport is located).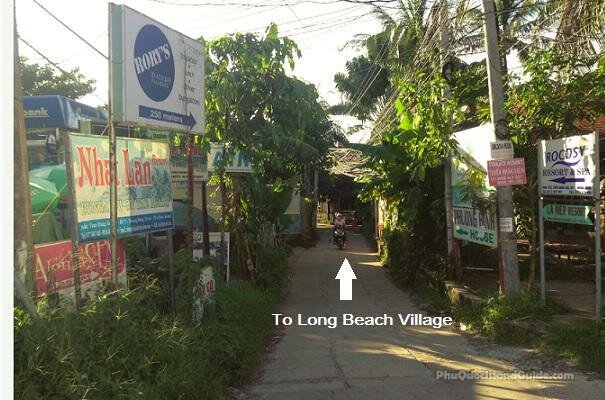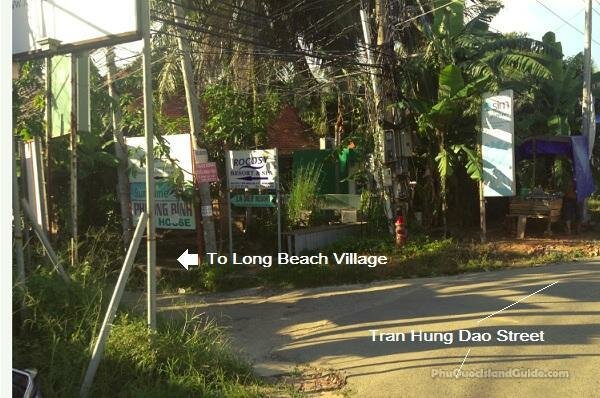 Backpackers and budget travelers are drawn here by some of the most economically priced garden and beachfront hotels and resorts found on the island as well as a vibrant nightlife scene.
Getting There
Whether you arrive by ferry or plane, getting to LBV is very easy as it has a few landmark sites such as the La Veranda Hotel, Rory's Beach Bar, and John's Tour Agency with the latter having offices at the entrance to LBV.  If you are taking a taxi from the port or from the airport, just tell the taxi driver to drop you off at the "Entrance to La Veranda Resort on Tran Hung Dao Street, Duong Dong".


Long Beach Village Guide

Accommodations
A. Nhat Lan Resort – $$$
B. Viet Thanh Resort – $$
C. Phu Van Resort – $$$
D. Lien Hiep Resort – $$
E. Coral Bay Resort – $$$$
F. Kim Lien Resot – $
G. La Veranda Resort – $$$$$
H. Kim Hung Bungalow – $$
I. Palm Tree Guesthouse – $$
J. Terrace resort – $$$
K. Thanh Hai Bungalow – $$
L. Duong Hieu Guesthouse – $
M. Sim Hotel – $$$
N. Paradise Resort – $$$
O. Cast Away Resort – $$$
P. Bich Duyen Bungalow – $
Q. Sunshine Bungalow – $$
R. Thanh Kim Ngan Bungalow – $
S. La Mer Resort – $$$
T. Huong Giang Bungalow – $
U. Mai House – $$$$
V. Arcadia Resort – $$$$
W. Phuong Binh House – $$$
X. Kim Bungalow's – $$$
$ – From $10.00USD to $15.00USD
$$ – From $15.01USD to $25.00USD
$$$ – From $25.01USD to $60.00USD
$$$$ – From $60.01USD to $80.00USD
$$$$$ – From $80.01USD +
Food & Drink
1. Rory's Bar & Grill
2. Le Bar
3. Palm Tree Restaurant & Bar
4. Coco's Bar
5. Le Bistrot French Cuisine
6. Sim Restaurant (Local Food & Seafood)
7. Pirates Cave Bar & Nightclub
8. Seafood Restaurant
9. Pho Restaurant
Services