Phu Quoc Marine Park
An Thoi Islands Self Guided Itinerary | An Thoi Seaport | Hon Thom Eco Marine Park | Hon May Rut Island
The Phu Quoc Marine Park lies off the southern tip of the island just off the coast of An Thoi Town, Phu Quoc Districts second largest town. It occupies an area of 38 square miles and consists of 15 islands. The most popular tourist activity are snorkeling, diving, and fishing.

Explore The Phu Quoc Marine Park
Discover the beautiful islands and beaches of the Phu Quoc National Marine Park:
An Thoi Islands Self Guided Itinerary
The southern An Thoi Islands can be explored independently but you need to arrange for a long tail boat and captain. This can be arranged by either getting someone at your hotel to arrange it for you or by you going down to An Thoi port and commissioning a boat yourself. The cost varies from $30.00US to $100.00US per boat depending on how much time you want to spend out at sea and how many people are going.
Below we have mapped out a sample An Thoi island hopping itinerary that allows you to discover the best islands in the area. You can show this itinerary to your captain via your smartphone and he will follow it.
Click Here For Full Screen Map
The itinerary is as follows:
First you will commission a boat from An Thoi Port. Make sure you purchase drinks and snack at An Thoi Port before starting your journey.
You will then go to the snorkeling spot located just north of Hon Thom Island. This is where all the snorkeling tours take there guest.
You will then take a break at Pineapple Beach, a gorgeous white sand beach on Hon Thom Island. We are recommending that you skip a visit the small village located on this island as there is not much to see. If are interested in knowing what the village looks like, scroll below to the next section.
Next you will head toward Fingernail Island, one of the most picturesque islands in Vietnam. Here you can relax on the beach, fish, or go for a swim.
After Fingernail Island, you will next visit nearby Hon Gam Ghi. This island will be developed into a private resort soon so see it while you can. There is not much to do here besides walking along the white sandy beach and taking selfies.
Next you will visit a small family located on Hon May Rut. They have a small restaurant here where you can buy a drink and then use their hammocks to relax. The beach here is also quite nice.
Next up is Hon Vong Island, another island that is absolutely breathtaking. Enjoy the beach and surf here as this is the last island you will visit.
Finally you will make your way back to An Thoi Port passing by some small islands and islets.
*Remember to take only photos and leave only footprints.
An Thoi International Seaport
An Thoi Port in southern Kien Giang's Phu Quoc Island District is an international seaport with the capacity to handle 500,000 to 700,000 tonnes and 360,000 passengers annually.

It has two quays: one that can berth ships up to 3,000 tonnes and one that can handle larger ships of up to 30,000 tonnes.

The An Thoi Port's lower floors sells ferry and sightseeing tickets, souvenirs, and there is also a nice coffee shop with an outdoor patio located next to the sea.


What To Do At The An Thoi International Seaport In Phu Quoc
Rooftop Scenery:
Climb the stairs and head to the rooftop for an amazing view of the An Thoi Archipelago.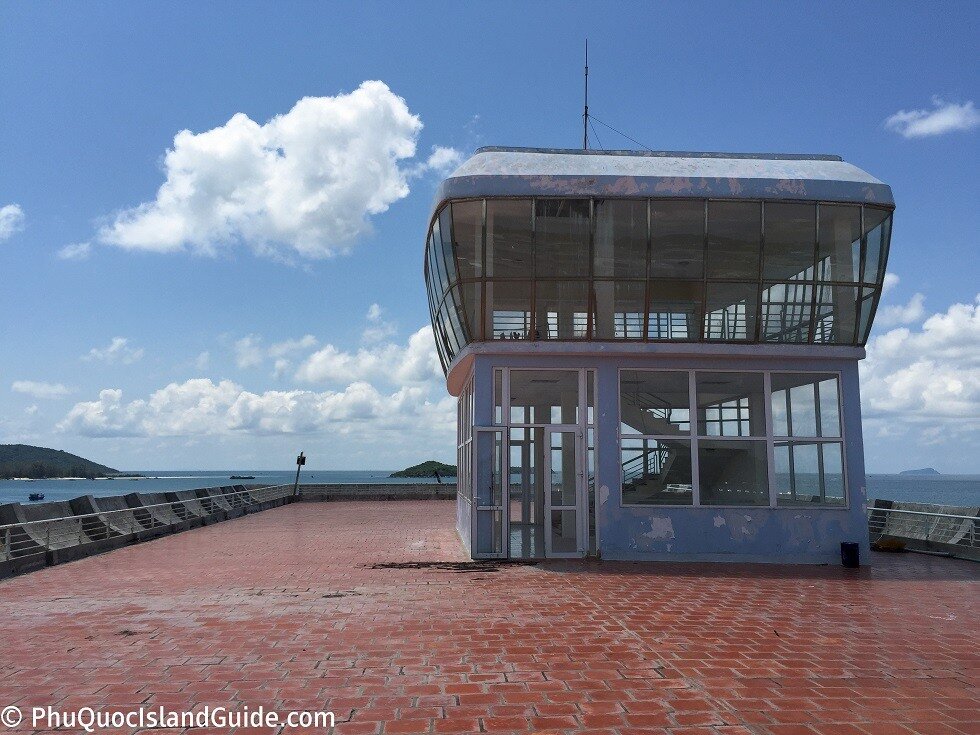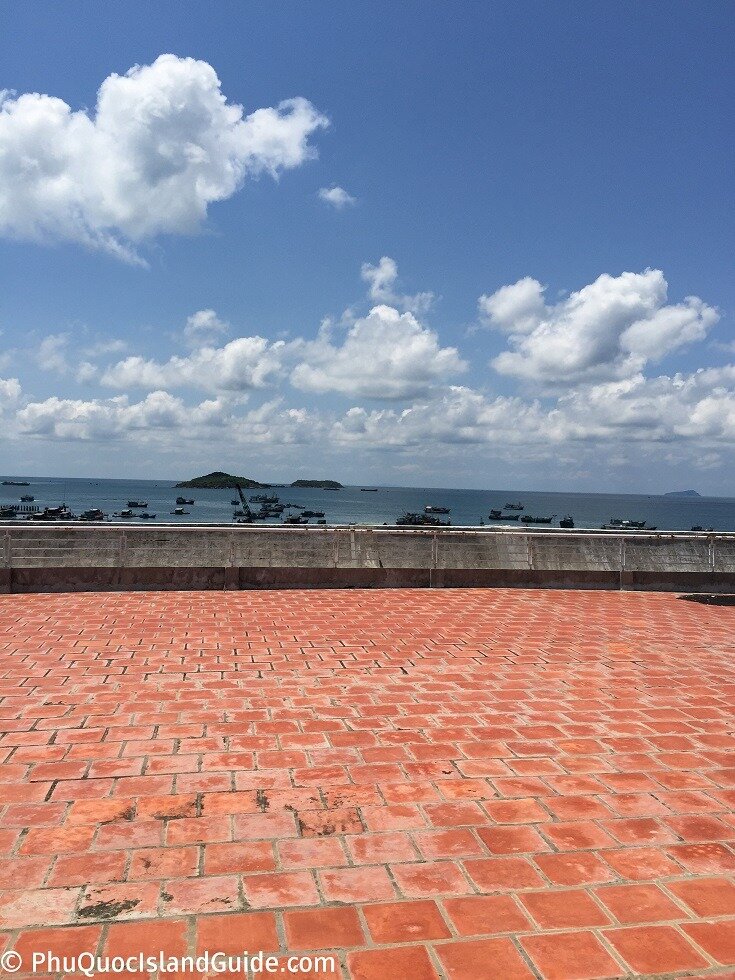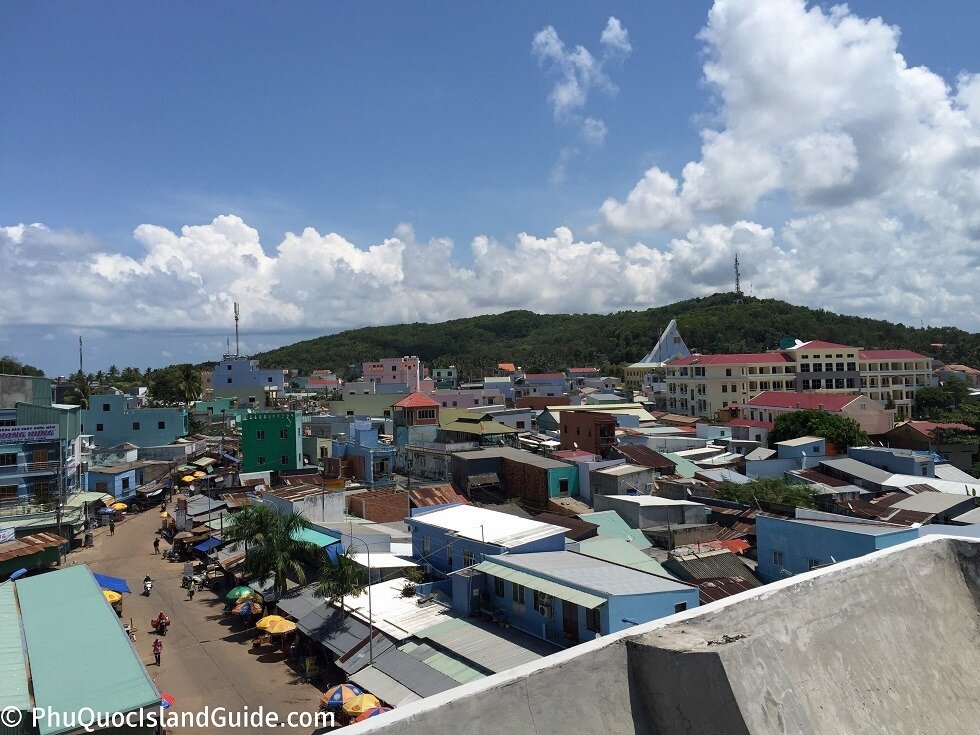 Marina Cafe
You can also grab a coffee at their new Marina Cafe:


Phu Quoc Cable Car
Nearby, you can take the Cable Car to Hon Thom Island

Hon Thom Island Eco Marine Park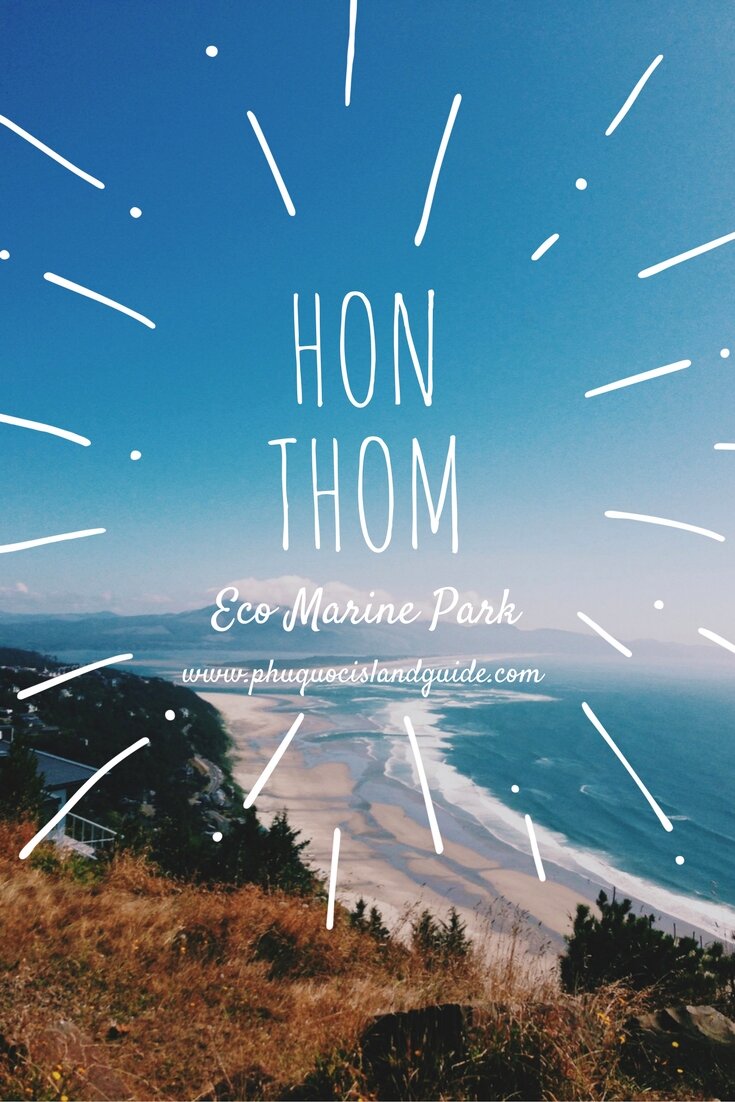 Phu Quoc's second largest island after Phu Quoc Island is called Hon Thom Island (Hòn Thơm), which in English means "Pineapple Island". Hon Thom Island is connected to Phu Quoc Island via the The Hon Thom-Phu Quoc cable car, the world's largest oversea cable car. The total distance between the two islands is approximately 8 kilometers. You can also travel to Hon Thom from Phu Quoc Island by either taking a local ferry or by joining a tour.

Besides being the terminal station for the Phu Quoc Cable Car, on Hon Thom Island you will also find the Hon Thom Eco Marine Park, which consists of various seaside entertainment and sport, tourism and eco resort services. Some of the things you can do on Hon Thom are snorkeling, scuba diving, hiking, mountain climbing, yacht tours island the An Thoi archipelago, and aerial tours around Phu Quoc. There are a few eco resorts found on Hon Thom as well, in case you decide that you want to stay here.
Remembering Hon Thom Island
Prior to Hon Thom Island transforming into a marine park it was once home to the 2nd largest community in Phu Quoc. The island had no electricity, no schools, and crumbling infrastructure. The commune slowly developed and transformed itself into a thriving fishing community. The following are some pictures of Hon Thom that show how far the island has evolved: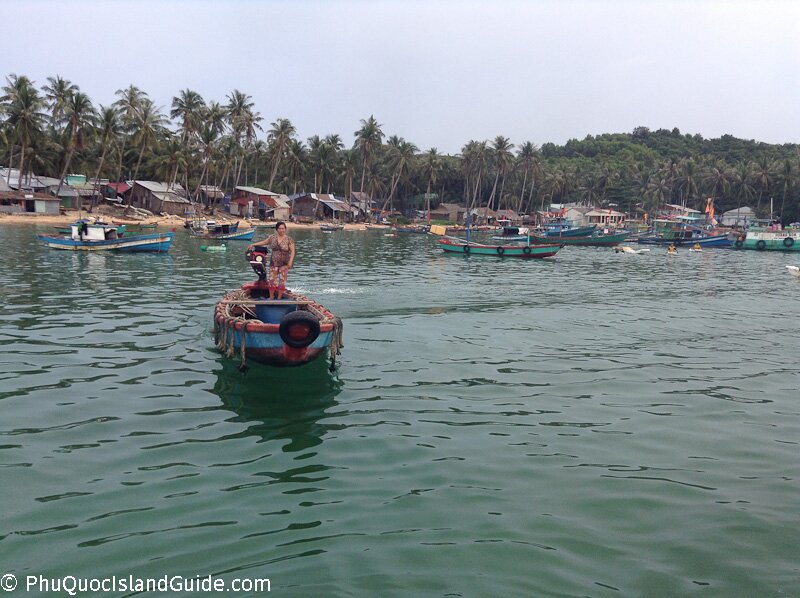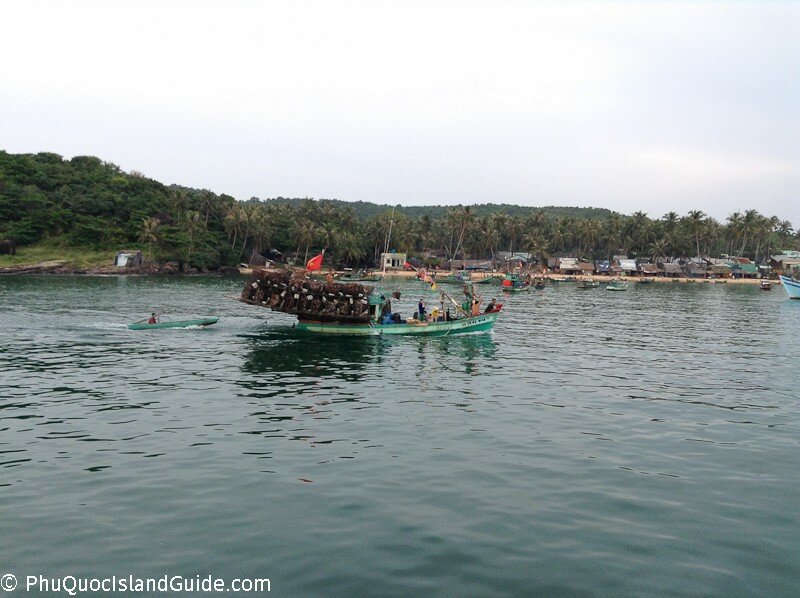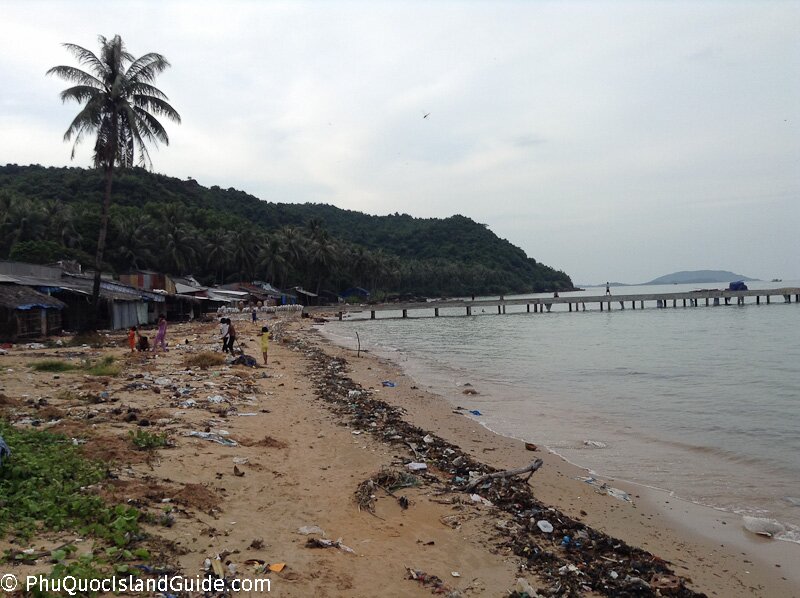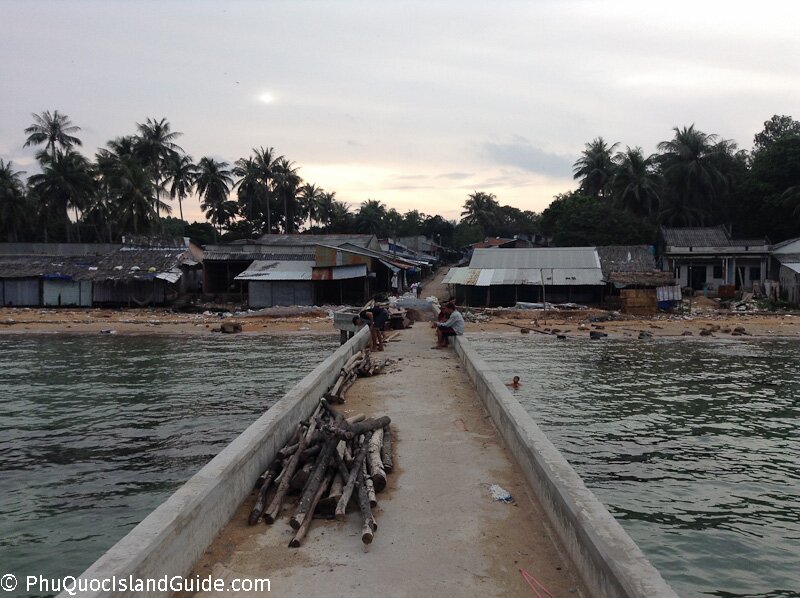 Hon May Rut
Hon May Rut (Hòn Mây Rút) or May Rut island is small island located in the An Thoi archipelago. It is owned by a single family who lives there. This family has built a home on the island and have cleared some of the land for tourism purposes e.g. picnicking area complete with picnic tables, a dozen or so hammocks facing the sea, and there are also washrooms here. The family will also allow you to camp/homestay on May Rut Island for a small fee.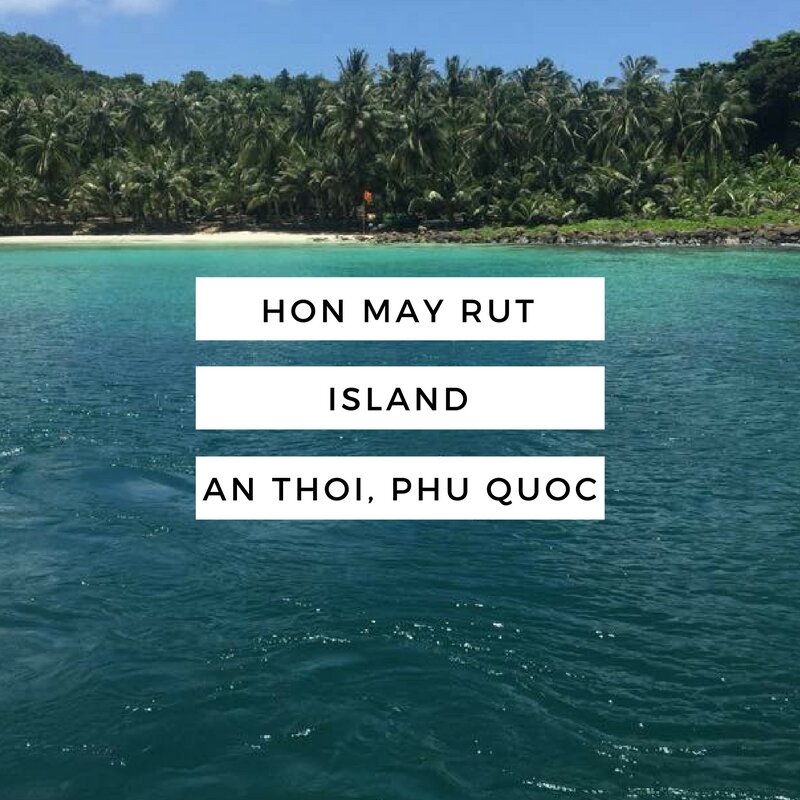 What to See and Do
Like the other An thoi Islands you can snorkel here, swim, spearfish, or simply relax in one of the seaside hammocks found here.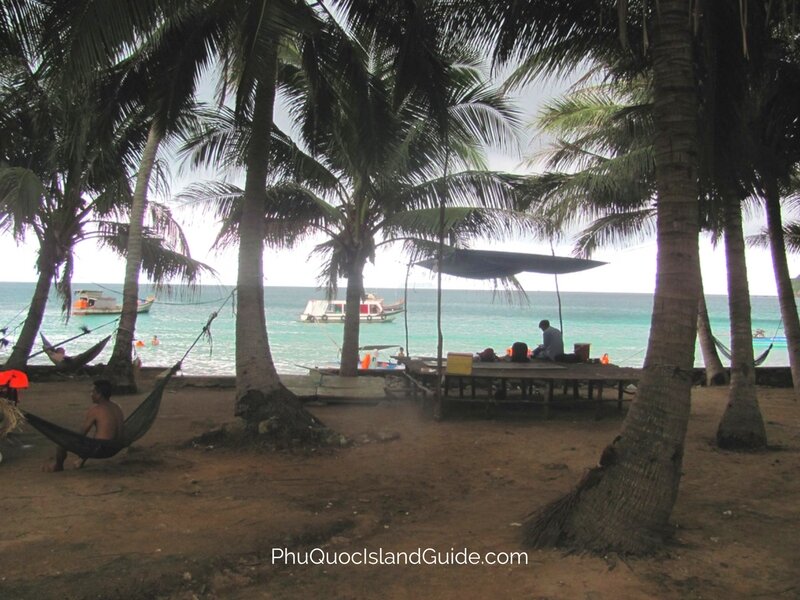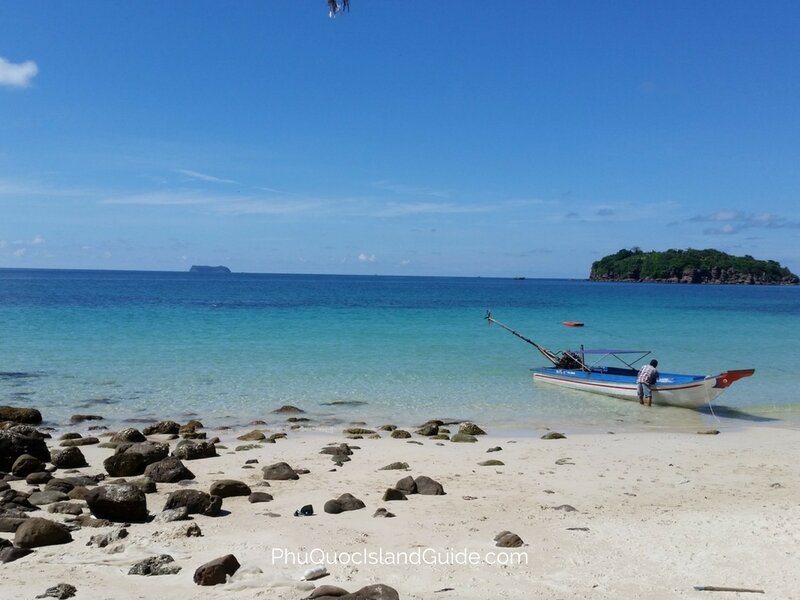 What to Eat
The family that lives on the island has its own fish farm. You can pick fish or crabs and they will cook it for you for a small fee. Prices for fish and crab start at 200,000VND per kg and up. You can also buy sea urchin, which costs 20,000VND each (cleaned), abalone porridge, and even giant clam. They also have cold drinks, water, and beer for sale in case you are thirsty.

How To Get There
To get to Hon May Rut Island you can either join a tour or commission a boat from An Thoi Port.