Phu Quoc Pub Crawl
About Phu Quoc Pub Crawl | Route | Itinerary | Where to stay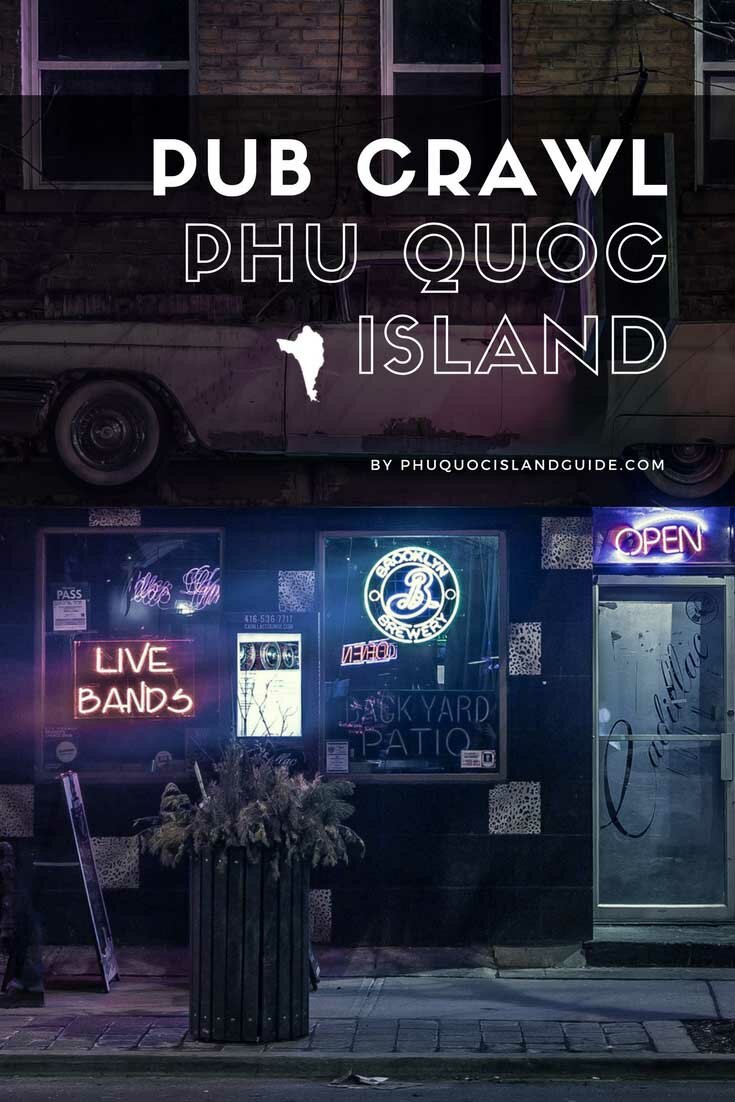 Discover The Best Bars & Pubs On Phu Quoc
Our one-of-a-kind unique Phu Quoc Pub Crawl & Bar Hop Guide is written for everyone – young or old, families couples or individuals, business or budget travelers, introverts or extroverts, as well as for those who do not drink alcoholic beverages.  There is no fee to participate and the purpose of our self organized "Phu Quoc Pub Crawl" tour is to provide visitors a clear roadmap of some of Phu Quoc's best spots specifically in the popular Long Beach/Duong Dong area and to distribute tourism spend equally among local and non-local businesses alike.  By participating in our authentic Phu Quoc Pub Crawl experience everybody wins and you will leave the island with great memories and experiences, but hopefully not a hangover!
Our awesome Phu Quoc Pub Crawl and Bar Hop Guide, found below, starts at sunset and ends just after midnight. Enjoy and remember to drink responsibly!
PHU QUOC PUB CRAWL ROUTE




Phu Quoc Pub Crawl Tour:
Event: Phu Quoc Pub Crawl & Bar Hop Experience
Goal: To discover the best of Phu Quoc's nightlife scene and sample a variety of Vietnamese beers in one evening.
Duration: ~8 hours, but varies depending on you.
Route: START → Dinh Cau (sunset) → Night Market → Saigon Hub → Microbrewery → Local Beer Garden → Nightclub → END
VIETNAMESE BEERS TO SAMPLE:
@Dinh Cau: 333 Beer, a generic mass produced beer in Vietnam – try it over ice.
@Night Market: Saigon Red, Saigon Green, Bia Saigon Special or Bia Hà Nội – try it over ice.
@Saigon Hub: Phu Quoc Pepper Shot and/or your beer of choice.
@Microbrewery: Pale or Dark draught beer or both – no ice.
@Local Beer Garden: Pale or Dark draught beer, or both – no ice
Phu Quoc Pub Crawl Itinerary:

5 p.m. Sunset at Long beach
The Phu Quoc Pub Crawl and Bar Hop itinerary begins when the sun starts to set. You can either stay at your resort or choose the cultural route, which we recommend and it is our starting point for this Phu Quoc bar experience. Head over to the Dinh Cau Temple area in Duong Dong. At the Dinh Cau Temple not only will you witness an amazing sunset with a temple backdrop, but the ambiance here is electric – fishermen are unloading their daily haul, street vendors are setting up shop and hawking a variety of sweet and salty snacks, and both tourists and locals alike are intermingling. Install yourself in a tiny plastic chair, order a drink, get lost in the moment, and watch one of Asia's most beautiful sun sets. This is the real Phu Quoc experience.
Recommended first beer to try: 333 or "Ba Ba Ba", cost ~$0.50US – $0.70US or 10,000VND to 14,000VND
Alternative drink: Fresh pressed sugar cane juice or Nuoc Mia (pronounced "Nuke Mee-Ah") without ice.
Venue: Any street side eatery.  Alternatively you can go to the Pho Bien Cafe just across from the Dinh Cau Temple.

7 p.m. Phu Quoc Night Market
After you have finished watching the famous Phu Quoc sunset, walk over to one of Phu Quoc's most popular attraction – the Phu Quoc Night Market. Located next to the Duong Dong river on Bach Dang Street, the night market is lit up at night and its where most tourists congregate. Spend about half an hour to an hour here walking down Bach Dang Street while sampling on some delicious street food or even getting a bite to eat. We recommend that you try the ice cream rolls, coconut string candy, and/or deep fried banana fritter. In terms of meals, the night market is famous for seafood, so pick something from one the tanks and devour some of the freshest seafood you will find this side of Vietnam – we recommend the squid. Alternatively you can just perch yourself at one of the many street-side restaurants, order a drink, and people watch for a while.
Recommended beers to try: Saigon Red, Saigon Green, Saigon Special or Bia Hanoi, cost ~$0.50US – $0.70US or 10,000VND – 20,000VND.
Alternative drink: Bubble tea, sugar cane juice, soda pop.
Venue:  Food carts, street food eateries, and/or any restaurant located next to the river.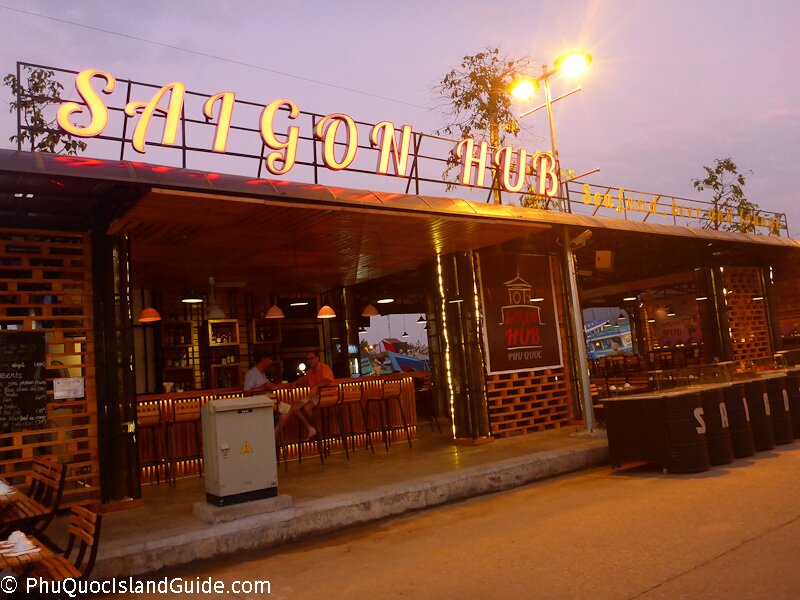 8:00 p.m. Saigon Hub
Work your way to Saigon Hub Bar & Lounge, which is located within the Phu Quoc Night Market. This is a great clean riverside establishment that has a good local and overseas crowd as well as numerous bar games (darts, arcade, etc). Head directly to the central bar, sit in one of their many bar stools and order a "Phu Quoc Pepper Shot", a unique shot found on Phu Quoc. Savor the dynamic surrounds and then move on. If you are with a couple of friends, you may want to order a Beer Tower, which is always a fun experience.
Recommended beer to try: Free for all – anything you want here.  Tiger Towers for groups.
Alternative drink: Spritzers, soda's, juice
Venue:  Hub restaurant.

9:00 p.m. Phu Quoc Craft Beer Sampling
Next visit a microbrewery called "Bia Tuoi Tiep Phu Gia Restaurant", which is a multi-story restaurant that uses imported Czechoslovakian brewing technology to brew their own beer in-house. Their golden malt is quite delicious and it is one of the best beers we've had in Vietnam, but you can be the judge of that for yourself. They also have a darker ale as well and all beers are served with free peanuts. If you are still hungry we highly recommend the salmon sashimi.
Recommended beer to try:
Blonde or Dark craft beer, we like the blonde.
Alternative drink:
Juice or soda pop.
Venue:
Phu Quoc microbrewery
.

10:30 p.m. Local Beer Sampling
After you have tried a great craft beer made using foreign technology, it's time to compare and contrast that with the less expensive locally brewed variety. Visit the DP Beer Garden, which is more of a local style open air "pub", and try their two beers on tap, both of which are produced up north in Cua Can Village. The service here can be slow at times so try to order everything all in one go.
Recommended beer to try: Local draught beer – blonde or dark, we like the blonde
Alternative drink: Juice or soda pop.
Venue:  Beer garden.

12 a.m. Phu Quoc Nightclub (optional)
After you have had your fill of beer, its time to dance those calories away at the uber-hip Boba Beer Club. The Boba Beer Club morphs from a restaurant to a full blown nightclub as the night goes on, but you can retreat to the outdoor patio if the crowd becomes too much. DJ's, go-go dancers, flashy lights, dance floor and even more alcoholic beverages, await you at Boba, Phu Quoc's only real nightclub. It's a hit or miss type of place when it comes to the crowds, regardless, it is still worth experiencing what a "typical Vietnamese nightclub" is like, regardless of how old or young you are. Stay here for as little or as long as you like.
Recommended beer to try:
Free for all – anything you want.
Alternative drink:
Juice, soda pop
Venue:
Phu Quoc Nightclub
That's it! Remember to take pictures with your smartphone and post selfies on social media with the following hashtags: #phuquocpubcrawl #phuquoc #vietnam | Also join us on Facebook

Need a place to stay at the heart of Phu Quoc's nightlife district? See below:

Summary
Reviewer
Review Date
Reviewed Item
Author Rating