In order to be eligible for the 30 day visa exemption for Phu Quoc Island or Vietnam, you must meet the following requirements:
Your passport must be valid for more than 6 months in order to take advantage of Phu Quoc's Visa exemption and Vietnam's new e-visa.
You must have a round trip air ticket to and from Phu Quoc / Vietnam.
Your stay on Phu Quoc island or Vietnam must be for less than 30 days.
Frequently Asked Questions About The Phu Quoc Visa Exemption:
Do I need a Vietnam Visa to visit Phu Quoc Island?
If you are planning on visiting Phu Quoc directly, either by boat (ferry or cruise ship) or airplane, from a country other than Vietnam (e.g. Singapore, Cambodia, Russia, etc) then you DO NOT need a Vietnam Visa.  You must provide proof (return airplane ticket, cruise ship departure date, etc) that you will be leaving Phu Quoc Island within 30 days in order to be granted a "Visa Exemption Stamp".
You do not need a Vietnam Visa and will be granted a Phu Quoc 30 day visa exemption if:
You fly from an international country to Phu Quoc via the Phu Quoc International Airport. This applies to direct, indirect and layover flights, where your final destination along the route is Phu Quoc.
You take a ferry from Kep or Kampot to Phu Quoc Island directly by sea and skip the Vietnam-Cambodia border crossing (Prek Chak/Xa Xia).  This option is only available by joining an organized tour.  As of 2015, there are only a few tours that organize trips from Kep & Kampot to Phu Quoc.  There is a new international seaport that is being constructed in Sihanoukville and Kampt that will offer international ferry/cruise trips to Phu Quoc.  Construction and operation of this new port will commence next year (2018).
You arrive by cruise ship from an international country and dock on Phu Quoc's international seaport, either the one located in An Thoi (An Thoi International Seaport) or Duong Dong (Cruise Ship Passenger Terminal).
You are part of an organized tour group that will visit Phu Quoc.  Your tour operator/agency has already arranged a Visa exemption for you.
You need a Vietnam Visa if:

You are traveling independently, with stop overs in other parts of Vietnam, and want to visit Phu Quoc.  In this case, which normally applies to travelers coming from Cambodia, Thailand, or Laos,  you will be required to cross into Vietnam via a border crossing and the immigration officers will not allow you to enter Vietnam without a valid Vietnam Visa.  You simply cannot say "I am visiting Phu Quoc Island and there is a 30 day exemption rule in effect".  Since you will be entering another part of Vietnam, which is not designated as a "special economic zone", you will need a proper Vietnam Visa or E-Visa.
I already have my Visa for Vietnam, do I need an additional Visa for Phu Quoc ?
No you do not, UNLESS your Vietnam Visa is about to expire.  If your Visa is about to expire, you may experience difficulty at the port cities of Rach Gia & Ha Tien but this is very rare and sometime resolved with some "Thank you" money.
What does a Phu Quoc Visa Exemption look like?
The 30 Phu Quoc visa exemption is a stamp that will appear on your passport: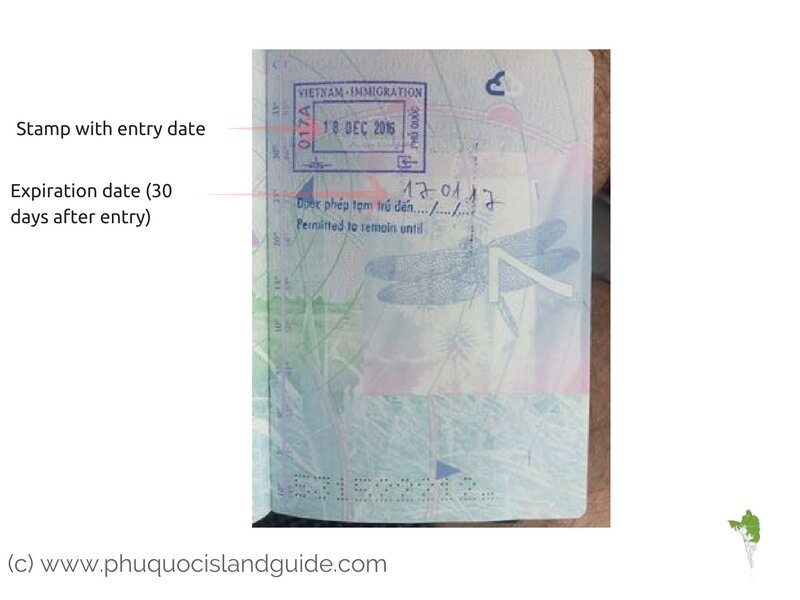 Can I leave Phu Quoc Island even if I don't have a Vietnam Visa?
Yes, technically (and unlawfully) you can leave the island by ferry and go to Ha Tien or Rach Gia City located on the mainland however most hotels will require that you have a valid Visa in order for you to stay with them. By law all hotels need to register their foreign guests/customers with the police.  Failure to do so may result in the hotel being heavily fined and/or losing their business license.  It is in the hotels best interest to only accept guests who have a valid Vietnam Visa.
I have a Phu Quoc Visa Exemption, landed on Phu Quoc and want to visit other parts of Vietnam, what are my options?
You cannot apply for an E-visa, since that visa option is available for those who are outside of Vietnam.
You can visit the Department of Immigration in Duong Dong, Phu Quoc and ask for assistance.  Speak with the "Chief Immigration Officer".
You can also speak with a tour agent who can arrange this.  Normally they will send your passport to Ho Chi Minh City for the stamping and the process takes a few days. Tour agents are found all along Tran Hung Dao street in the Long Beach Village and Long Beach area.
General Vietnam Visa Exempt Nations List
The following countries are allowed to visit Vietnam for up to 15 days without obtaining a Visa:
Singapore (less than 30 days)
Malaysia (less than 30 days)
Laos (less than 30 days)
Thailand (less than 30 days)
Indonesia (less than 30 days)
Philippines (less than 21 days)
Japan (less than 15 days)
Korea (less than 15 days)
Norway (less than 15 days)
Denmark (less than 15 days)
Finland (less than 15 days)
Sweden (less than 15 days)
Germany (less than 15 days)
France (less than 15 days)
Spain (less than 15 days)
Italy (less than 15 days)
United Kingdom (less than 15 days)

However once nationals from these countries have left Vietnam, they must wait 30 days in order to re-enter the country to be eligible again for the 15 day Visa exemption.
Vietnam Visa Updates:
New 30 day single entry Vietnam E-Visa is available of February 1, 2017
As of December 24, 2015 you do not need to fly directly to Phu Quoc in order to be eligible for a 30 day visa exemption.  You can transit through one of Vietnam's international airports enroute to Phu Quoc provided that Phu Quoc is your end destination and that you have a ticket leaving the island to an international destination within 30days.
As of January 1, 2015 Vietnam will begin issuing five year visas and resident cards to foreign investors. In the past, foreign investors could only obtain one year visas and residency cards that lasted three years.
If you arrive in Vietnam on a specific Visa (e.g. tourist, business, etc), you cannot apply for a different type of Visa while you are in the country.  You must exit the country in order to be considered for a different type of Visa.
Foreigners visiting economic zone along the border and special administration and economic zones will no longer require a visa.
People from countries that enjoy a unilateral visa exemption can visit Vietnam an unlimited number of times. However, they can only visit the country at least 30 days after the preceding visit.
Vietnamese immigration officers at border gates will be able to issue visas to citizens of countries that lack a Vietnamese consular presence, those traveling the region, those who have booked tours with international tourism agencies and those entering Vietnam to visit seriously ill relatives or attend a family funeral.
It is now possible for foreigners to be granted permanent residency which will be granted by the Minister of Public Security.
The procedures for issuing temporary residency cards have been simplified and extended the permission from three to five years.
Visa exemption considerations:
The Ministry of Culture, Sports and Tourism and the Ministry of Transport have proposed that the central government waive tourist visa requirements for France, Germany, the UK, Spain, Italy, Australia, New Zealand, India and Canada in a bid to pull in more visitors from those markets.  The proposal was made in 2014 and is still under review.  We will update this page if progress has been made regarding this proposal.
Visa Extensions In Phu Quoc
If you are on Phu Quoc Island and need to extend your Vietnam Visa, most of the travel agencies will do this for you for a fee and the process will take approximately 12 business days. The process takes a long time because your passport needs to be taken to Ho Chi Minh City in order for it to be processed accordingly. It has become more difficult to extend you Visa in Phu Quoc and Vietnam as a whole due to all the new changes in Vietnam's immigration and tourism policies that became effective as of January 1, 2015 (see below) but it is not impossible and can be done for a fee.
The following travel agency located just of Tran Hung Dao Street in Long Beach Village can help with Visa extensions:
GREEN TRAVEL - Travel & Tour Agency
Address: 143 Tran Hung Dao, Duong Dong Town
Tel: 0773996642
If you find the fees too high then you can also air ship your passport (2-3 day duration) to the following Travel Agent in Ho Chi Minh City and they can process your visa renewal within 5 business days:
NAMMY TRAVEL
70 Bui Vien Street, Pham Ngu Lao, District 1
Contact Name: Uyen
Tel: 0909398630 or 905801329
Once your visa has been processed you can then either a)pick up the passport in Ho Chi Minh City, but you must travel there via ferry & bus or b)get the travel agent to ship it back to you to Phu Quoc.
Border Crossing Into Cambodia For Vietnam Visa Extension
An alternative option to renew/extend your Vietnam Visa would be to travel to Sihanoukville. There is a Vietnam Embassy that can process your Visa within a few hours. There address is as follows:

VIETNAM CONSULATE IN CAMBODIA
310, Ekareach Boulevard
Khan Mittapheap
Sihanoukville, Cambodia
Business Permits, Work Permits & Business Visa Extensions/Renewals On Phu Quoc
If you hold a valid non tourist Vietnam visa and need to renew it you can do so at the Department of Immigration Phu Quoc Office located in Duong Dong Town:
DEPARTMENT OF IMMIGRATION PHU QUOC LOCATION:

Address: 30 Thang 4 Street ( at the corner of Mai Thi Hong Hanh & 30 Thang 4) next to the police station
Hours of operation: 9:00am to 11:30pm and 1:30pm to 4:00pm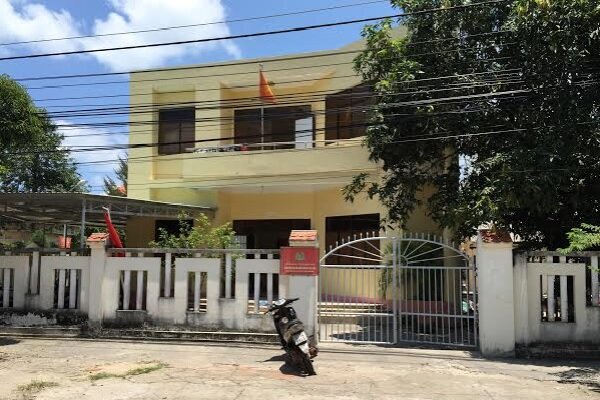 Cambodia Vietnam Border Crossing
This most southern border crossing (Prek Chak – Cambodian side, Xa xia Vietnam Side) has been opened since May 2007.  Once over the border and in Vietnam, Ha Tien is the nearest coastal town and from here you can get a ferry to Phu Quoc Island or connect to Saigon and beyond.  To get to the border from Kep travel north and join Route 33.  From here, travel east to Kampong Trach, and then  south on Route 31.  Road #31 is now widened and either paved or upgraded to very decent red dirt track.  The border is 30km from Kep, 42km from Kampot. If you are planning on heading to Cambodia from Phu Quoc, just visit a travel agency who will organize your  travel and this option is much more cheaper than trying to travel on your own to Vietnam.