An Thoi Archipelago
The An Thoi Archipelago off the southern tip of Phu Quoc Island consist 15 different islands that are part of the Phu Quoc Marine Park. The An Thoi Islands are also part of the Kien Giang Biosphere Reserve, a UNESCO designated area. The best way to explore the wonders of these islands is by boat – either through a private charter or part of an organized tour.

Map of An Thoi Islands

The following is a simple map of the An Thoi Island archipelago highlighting all the islands:

The most popular islands in the An Thoi archipelago to visit are:
Hon Thom (Pineapple Island): The largest of the An Thoi islands with a total of 4,000 inhabitants. You can reach here by taking a ferry from An Thoi port, cable car or by joining a tour.
Hon Dua (Coconut Island): The closest island to An Thoi Town and where most of the ocean fish farms are located. Hon Dua is also the site where new coral is being planted in hopes of rejuvenating the reef system found in the area.
Hon Roi (Lamp Island): A great spot for squid fishing at night.
Hon Vong (Echo Island): There is a nice white sand beach here.
Hon May Rut (Cold Cloud Island): There is a small family who inhabits the island and you can visit their local restaurant. The islands also has a nice white sand beach, it's a great place to freedive, and also camp.
Hon Dam Ngoai (Shadow Island): A uninhabited island.
Hon Kim Qui (Yellow Tortoise): Yellow Tortoise island is a great place to freedive and snorkel as well as spearfish.
Hon Mong Tay (Fingernail Island): This Fingernail Island has one of the most beautiful beaches in all of Vietnam.
An Thoi Islands Photo Tour
The following is a photo tour of all the islands that make up the An Thoi Islands:
Hon Dua

Hon Roi

Hon Thom
Hon Thom, or "Pineapple Island" will be renamed to Hon Thom Eco Marine Park and will be the center of An Thoi's "eco tourism" activities e.g. scuba dive center, aqua sports, etc.

Hon Vang

Hon Xuong

Hon Mong Tay

Hon Anh Dong

Hon Anh Tay

Hon Gam Ghi

Hon Vong

Hon May Rut
A small privately owned island which you can visit. This island has a nice small white sand beach and there is a home-stay available here as well. Stop by for drinks or a snack and rest up on a hammock.

Hon Trang
Hon Kim Quy

Hon Kho

Hon Dam Ngoai
Hon Dam Trong

An Thoi Islets Topography & Hydrology
An Thoi Island Topography:
The mountainous An Thoi Islands are situated in the eastern part of the Gulf of Thailand. The island topography is represented by relatively high plateaus bordered by steep slopes. The rocky terrain consists mainly of sandstone and conglomerates occurring within a flat dipping complex and partially covered by quaternary sediment. A characteristic feature of the islands is the steepness of its slopes, which is well pronounced in the coastal zone and on submarine slopes.
An Thoi Hydrology
The An Thoi Islands are located in turbid and nutrient rich waters which is why the area is teeming with macro and micro life. There is also a large concentration of dissolved suspended matter (more than 100 mg/L) which makes the water less visible than other locations along the Gulf. Also, there are constant currents usually running in the same direction (clockwise in the rainy season and counter clockwise in the dry season) which can make diving difficult at depths greater than 15 meters.
What to see
Tour the islands – you can charter a boat from An Thoi Port or join a tour group and spend the day touring the An Thoi Islands.
Visit Hon Thom Island – This island has a sizable population consisting of fishermen and their families. The beach here is not the cleanest however there are quite a few colorful fishing boats that dot the shore and make for a great photo op. There is a small market here that sells local fruit and fresh fish at affordable prices. The Phu Quoc Cable Car is located here.
Pearl farming – On Hon Rut Island you can see how pearls are farmed.
Sunset – The sunset out at sea is gorgeous.

What to do
Snorkeling – Scattered around the various islets are coral reefs which you can discover by chartering a boat from An Thoi Port or joining a snorkeling tour from Duong Dong Town or one organized by your hotel/resort.
Diving – The snorkeling is better than the diving here but if you are inclined to dive you will probably be scuba diving in this area. Read our ultimate guide on scuba diving Phu Quoc here.
Kayaking – If you join an organized tour then these companies will provide kayaks for you to explore the islands.
Sun bathe – Find yourself a small patch of white sand on a secluded beach and catch some rays.
Climbing – It is possible to climb some of the sandstone cliffs, but this a sport that is mainly organized by private groups.
Fishing – You can fish on your own or you can ask one of the islanders to take you squid fishing at night for a fee. Just ask around. Prices start at 500,000VND. Read our fishing guide found here.

*Note: Hiring a private charter boat can be done in two ways: i) commissioning a boat and captain from your agency on the island or ii) asking a fisherman to ride you around. The latter is by far the cheaper option.
Where to eat and drink
At Hon Thom Island you will find a few restaurants and snack bars close to the main beach. Expect simple Vietnamese dishes such as various flavored noodle soup and fried fish.
You can also purchase fresh fish from the numerous fish farms scattered around Hon Dua, find a beach, and have yourself a shore lunch.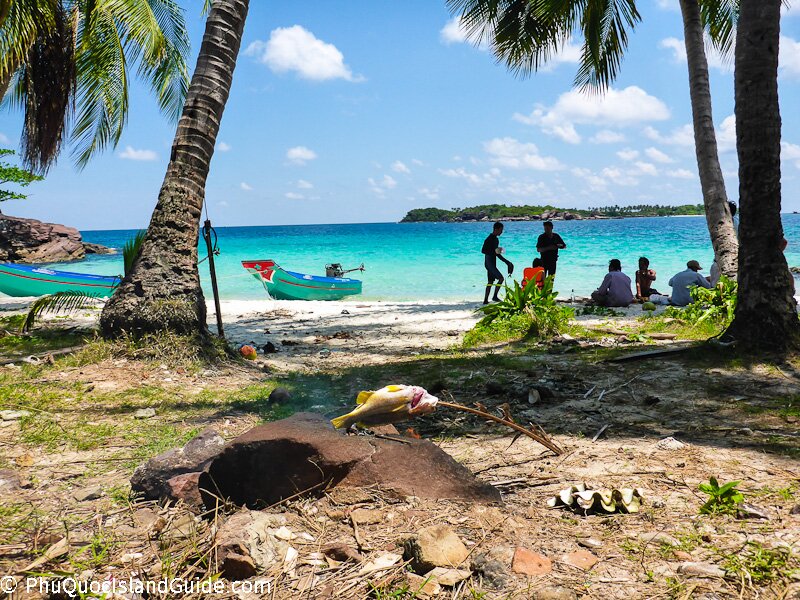 Where to stay
There are no real hotels on any of these islands yet however you can arrange to stay with a local family on Hon Thom for a small fee. Ask one of the fisherman in the area. It helps if you know how to speak Vietnamese.
Hon Gam Ghi is slated to have a resort very soon and Hon Thom will also have a few villas once it transforms into an eco marine park.
Need to know
There are many coral reefs along the An Thoi Archipelago however most tour agencies will not mention them because they have already established a fixed snorkeling route. If you want to snorkel the best spots and save time get our snorkeling guide.
The coral reefs here are not comparable to those that are typically seen in Indonesia, Philippines, Malaysia, and other parts of the world. If you are a well traveled snorkeler and join an organized snorkeling tour, you may be disappointed to see a lot of the reef being dead. The water here is nutrient rich causing algae to blossom and consuming a lot of oxygen, which results in the delicate corals being crowded out.
Snorkeling tours include a lunch however if you want to try Sea Urchin, then you have to pay an additional fee.

Snorkeling An Thoi Islands
Although it is not part of the An Thoi Islands, some tour operators mislead tourists and take them to Ong Doi Cape for a quick snorkeling excursion and tell them they are visiting the archipelago. Ong Doi Cape (Mui Ong Doi) is located at the very southern tip of Phu Quoc Island. This area has historical significance as the Emperor Gia Long's boat got stuck in the corals found here while he was fleeing the Tay Son army and a local islander rescued him. The coral reef here is not as spectacular as those found elsewhere on Phu Quoc which is why we highly recommend our snorkeling guide.