Bai Dai Beach On Phu Quoc Island
Lying in the tranquil waters of the Gulf of Thailand, Phu Quoc is Vietnam's largest island and home to some of the country's best beaches. Here you can find white and yellow sand beaches, wild rocky beaches, and also beaches inhabited by local fishermen. Phu Quoc has 150km of coastline, and that means it has a lot of beaches for you to discover. Bai Dai (Bãi Dài) or Dai Beach located in Ganh Dau is widely considered to be one of Phu Quoc's premiere beaches and it is home to a slew of 5 star resorts, casinos, golf courses, amusement parks, and even a safari park. Most of Bai Dai Beach is only accessible if you are a guest at one of these resorts but there are some public beaches still available.

Bai Dai Beach Overview
Dai Beach ("Bai Dai" or Long Beach") is a beach located on the north west coast of Phu Quoc Island.  It is situated in between Vung Bau Beach and Ganh Dauh Village and faces the Gulf of Thailand. Dai Beach was once considered one of the most pristine wild beaches in the world however that has changed now as luxury resorts have moved in. Regardless you can still find beautiful remote sections of the beach and have it all to yourself.



The Beach
For the most part, the beach is very clean and the sand is yellow and fine here at Dai Beach, however due to the ongoing construction of a few big resorts and the makeshift camps that have been setup, there is a lot more trash on the beach and in the ocean.  If you are looking for a tranquil abandoned stretch of beach, like the ones written in the guidebooks, you can still find it here.  These idyllic stretches of beach can be found closer to Vung Bau Beach to the south just past Cape Mong Tay.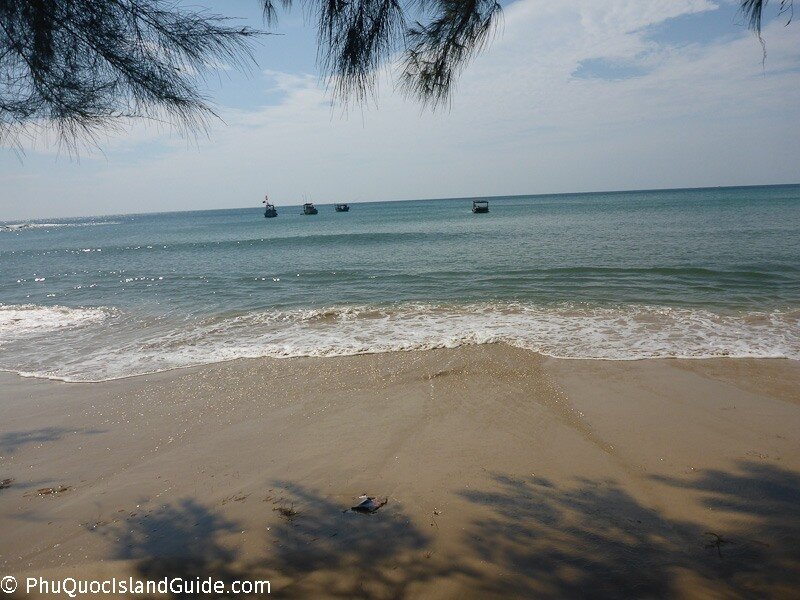 You can also see Turtle Island (Hon Doi Moi Island) from the beach here, which has known to be a good diving and snorkeling destination.

The Ocean
The sea here is warm and the color of the water consists of various shades of blue and green.  The slope into the ocean is also low making the sea easy to access for kids and non swimmers a like.  There is little to no current in the waters surrounding Dai Beach.

What To See
Sunsets – Like with all Phu Quoc beaches facing the west coast, the sunsets are spectacular here.

Vinpearl Land Phu Quoc – You can visit this colossal theme park.

Vinpearl Safari – A outdoor safari park and zoo.
Bai Dai Walking Street – An outdoor market and restaurant hub.
What To Do
Kayak, Snorkel, Dive – You can snorkel, dive, or kayak to Hon Doi Moi Island, also known as Turtle Island, which is teeming with underwater wildlife and a variety of coral species.
Golf – At the Vinpearl Phu Quoc resort, you can golf at a world class golf course.

Where To Eat & Drink
There are a lot of small restaurants in nearby Ganh Dau Village and along the beach near Grand World Hotel and Vinpearl Resort.
Vinpearl land – outside of Vinpearl Land you can find a food truck that serves hamburgers and hotdogs.
How To Get To Dai Beach
From Duong Dong Town there are two ways to get to Dai Beach and it all depends on where you want to go and how adventurous you are. Both of these routes involve crossing the Duong Dong River and reaching Cua Can Road. The Cua Can Road is a well paved road complete with street lights that will take you all the way to Ganh Dau Village in the far north. From Cua Can Road you can access: Cua Can Village, Cua Can Beach, Ong Lang Beach, Vung Bau Beach, and Dai Beach.
The following are driving instructions on how to get to Cua Can Road from Duong Dong Town:


Head north along Tran Hung Dao Street. Pass the roundabout and soon you will reach an intersection with traffic lights. The road perpendicular to Tran Hung Dao Street at the intersection is called 30 Thang 4 Street.
At the traffic lights you can either go left, for the more adventurous route, or make a right for the safe city route. Taking the city route will save you time. If you take the adventurous route you will see a variety of small markets, pass through Duong Dong's rural area, and you will also have to navigate through very narrow alleyways. Only Motorbikes and Bicycles can take this route.

City Route:

If you take the city route, turn right on 30 Thang 4 Street and head east for a few minutes until you reach the next set of traffic lights. At the traffic light, the street perpendicular to 30 Thang 4 Street is known as Hung Vuong Street. Make a left on Hung Vuong Street and then continue north. You will cross a large bridge over Duong Dong River. Once you pass the river you can either continue straight and cut through the old airport to reach Cua Can Road, or you can make a right on Nguyen Trung Truc Street and follow it around the old airport to reach Cua Can Road. We recommend that you cut through the old airport as this is what all the locals do. Just follow the traffic flow.

Adventurous Route: Back at the Tran Hung Dao & 30 Thang 4 intersection, make a left onto 30 Thang 4 Street and head north on it until you reach Bach Dang Street, which is located by the riverside. Make a left on Bach Dang Street and follow this street until you reach a small bridge. Cross the bridge and navigate through a couple narrow alleyways to reach Tran Phu Street. If you are unsure where to go, just follow the traffic. Head north on Tran Phu Street until you see the old airport's runway on your right hand side. Now here you have a choice, you can either continue north along Tran Phu Street until you reach Cach Mang Thang Tam Street to reach Cua Can Road OR you can drive down the old airport. We recommend driving down the old airport as it is a lot of fun. *** As of 2015 the City Route is no longer available as the old bridge has been torn down and replaced by a newer bridge.

Once you have reached Cua Can Road, head north.
Scenic Route or Standard Route To Dai Beach Directions
Standard Route: Take Cua Can Road all the way to Vinpearl Phu Quoc Resort. At the resort you can either continue heading north towards Ganh Dau Village or head west to Dai Beach.
Scenic Route: Take Cua Can Road to Cua Can Town. The town is on the left hand side and it is marked by a large entrance gate. Make a left onto this red dirt road and head west and then north. Once you have passed Ong Lang Beach, Vung Bau Beach, and then finally the Mai Phoung Resort, you will have reached the southern section on Dai Beach, which has the nicest beach.
*Be forewarned – after you have passed Vung Bau Beach Resort, near Vung Bau Beach, the roads are extremely rough and have been damaged by large construction trucks (see below)


Where To Stay
Dai Beach is  an area that has upscale beach front accommodations.  The following are some of these resorts:
Vinpearl Phu Quoc is the only resort directly on Dai Beach.  The reason why Dai Beach has not been developed yet is a company known as Starlands owns all the property here.


.