The Top 10 Restaurants In Phu Quoc
Dine at Phu Quoc's best restaurants in the many areas across this paradise island. The restaurant scene in Phu Quoc has improved leaps and bounds over the years and if you have conducted a Trip Advisor or Google Search on the topic recently, you will most likely find people talking about the same old restaurants of yester-year, but we are going to shake things and recommend not only the best but also the newest/hippest/trendiest/off-the-beaten-trackish restaurants and dining experiences in Phu Quoc that serve some of the tastiest dishes on the island.

Besides your typical Vietnamese street side eateries as seen here there are numerous upscale dining options now available at the five star resorts found around Phu Quoc. There are also some cool adventures dining destinations that should not be missed, especially if you plan on spending more than 3 days on the island. Phu Quoc is all about the dining experience and below is a list of the ten best restaurants and foodie adventures that can be had on Vietnam's largest island.
Phu Quoc Night Market
Location: Duong Dong Town, on Bach Dang Street next to the Duong Dong River
Food Type: Seafood, Vietnamese food
Cost: $5.00US to $15.00US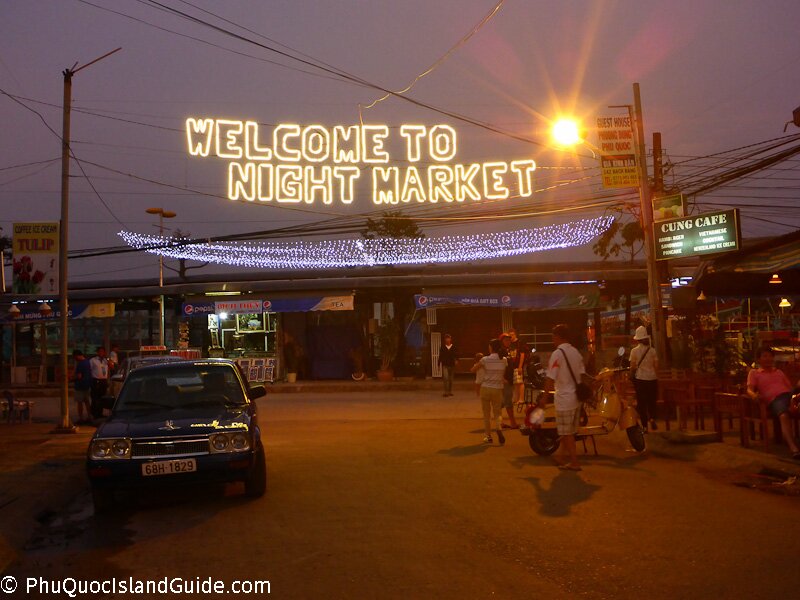 A visit to the uber popular Phu Quoc Night Market is an absolute must. Combining gastronomic feast and visual spectacle, the Phu Quoc Night Market has much to offer the discerning traveler looking for a combination of good food and entertainment. The Phu Quoc Night Market located on Bach Dang Street opens just before the setting sun at around 5pm. It consists of street lined with a variety restaurants, pubs, and souvenir shops and it is widely considered a "Must See" attraction while visiting Phu Quoc. Plan for at least one meal or drink here and try to get a table next to the Duong Dong River.  To learn more, read our Phu Quoc Night Market Guide
Xin Chao

Location: Tran Hung Dao Street, Duong Dong
Food Type: Vietnamese
Cost: $2.50Us – $15.00US

Xin Chao is a multi story oceanfront restaurant that not only has great seafood but also traditional Vietnamese dishes as well. They have one of the best seaside views and most people flock here during the evening hours to watch the sunset while sipping on one of the restaurants signature cocktail. The 4 owners are also quite friendly and the ambiance is quite relaxed and calm. Xin Chao in Phu Quoc is a great place for lunch or dinner and we definitely recommend that you come here at least once.
Cafe Phố Biển
Location: 2 Bach Dang St, Duong Dong Town
Food Type: Vietnamese dishes, beer, and coffee
Cost: $1.50 – $10.00US

Cafe Pho Bien is another great seaside restaurant that gets high grades for its well priced local dishes and its prime location – right on Dinh Cau Beach. The view of the sun setting right behind the Dinh Cau Temple, one of Phu Quoc's most iconic sites, makes a trip to this restaurant a must visit. The best time enjoy a simple meal, drink or a snack here is after 5:00pm but get here quick as it is usually busy and packed with locals during this time.
Paradise Beach Bar

Location: Sao Beach, An Thoi – right on the northern side of the beach.
Food Type: Vietnamese, international
Cost: $3.00US to $20.00US



Paradise Beach Bar is located on the beautiful white sands of Sao Beach. This resto-lounge has one of the best spots on the beach and they serve a variety of food, both local and international. To use one of their chairs just simply buy a drink. Learn more about Paradise Beach Bar. Sao Beach is considered to be the best beach on Phu Quoc and the best time to visit it is between 9:00am to 10:00am or after 4:00pm in order to avoid the crowds.
Rach Vem Seafood Restaurants

Location: Rach Vem Village
Food Type: Vietnamese
Cost: $3.00US to $20.00US

This recommendation is more about the dining experience rather than a particular restaurant. The once sleepy village of Rach Vem has transformed itself to be the "offshore dining destination" on Phu Quoc. Just a few meters from Rach Vem beach and located directly on the shallow turquoise sea are numerous restaurants that specialize in a variety of seafood dishes.  Some of these restaurants are accessible by walking along a make shift wooden bridge that is connected to shore while others require that you be transported by a small boat.  Regardless of which restaurant you choose, eating directly over the sea at one of Rach Vem's Seafood Restaurants is an awesome experience and one not to be missed while vacationing on Phu Quoc Island.   Learn more about Rach Vem.
Nearby you will also find the Làng Biển Sea Village, which is an offshore water sports activity center that also has an in-house restaurant.

Novotel Resort Restaurant
Location: Novotel Phu Quoc Resort, Duong Bao Hamlet, Duong To Commune
Food Type: Seafood, Vietnamese food, cocktails
Cost: $5.00US to $50.00US
Located in the southern section of Long Beach, the Novotel Phu Quoc Resort, a five star resort, has 3 amazing luxurious eateries:
The Seafood Restaurant, which is located next to their gorgeous swimming, serving delicious fish, shrimp, and crab dishes;
Ocean Bar, which services drinks and snacks and is located right on Long Beach, and
Lounge Bar, a relaxing upscale lounge service drinks and snacks by the pool. The Novotel Phu Quoc's menu has both local as well as international items, gluten free items, halal items, and vegetarian items. You do not need to stay here in order to eat at one of well designed eateries!



Besides the upscale atmosphere and world class food, one of the reasons why we highly recommend this place is that if you order a drink or meal here you can use their awesome beach loungers and beach-side swimming pool!
Click Here For More Resort Information
Hon May Rut Island Family Restaurant
Location: May Rut Island, An Thoi
Food Type: Seafood
Cost: $5.00US to $50.00US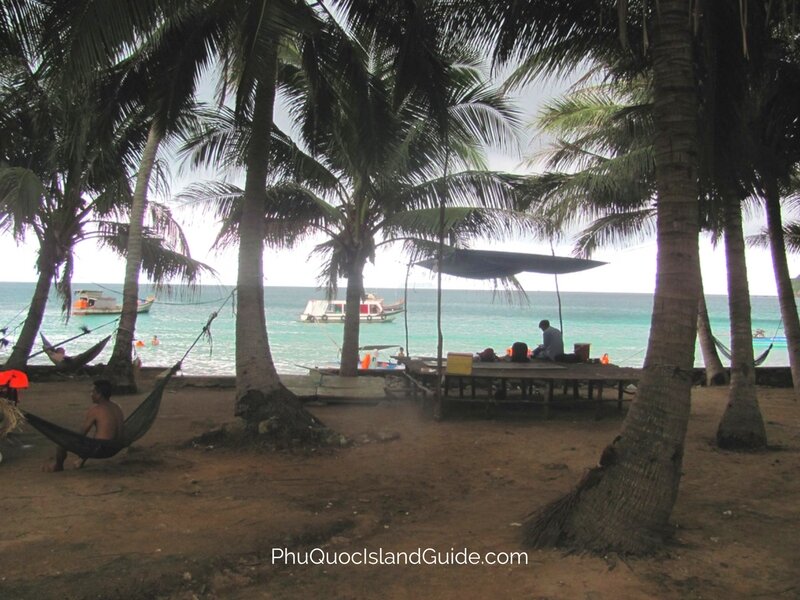 Now this is what you call a total "off the beaten track" foodie adventure experience. Tiny Hon May Rut is an island located in the An Thoi archipelago, 10 kilometers south of An Thoi Town. Fringed with white sandy beaches, tropical palm trees, and a gorgeous aquamarine sea, the island has now become a tourist attraction of sorts mainly because of the island owner, an 88 year old women named Bay Yen who reclaimed the island over 50 years ago. She and her family have transformed this island into a tropical retreat where guests can laze on their beach side hammocks, swim in the ocean, and even purchase fresh seafood from their ocean farm. You can buy (price per kg) fresh fish, crab, shrimp, and even urchin sashimi here. All food can be BBQ by yourself or the island inhabitants. If you like you can even stay here as they have a small homestay.
To get to Hon May Rut Island you can either commission a boat from An Thoi Port or join one of the numerous island hopping tours.
Chez Carole Restaurant In Cua Can
Location: Ward 1, Hamlet 4, Cua Can
Food Type: Vietnamese
Cost: $3.00US to $24.00US


Chez Carole has two restaurants, one in the Long Beach area on Tran Hung Dao Street and one at their resort up in Cua Can and we recommend both.  The restaurant located in the Long Beach area (88 Tran Hung Dao) not only has a variety of bbq, seafood, and traditional Vietnamese food options but it also has LIVE MUSIC… entertainment and food, what more can you ask for?  If you prefer eating a meal while gazing out at the sea then their hillside beachfront restaurant at their resort up in Cua Can is definitely a must try, especially if you are up here exploring the picturesque town of Cua Can with all its stunning rustic wooden bridges.
Click Here For More Resort Information
Bánh Canh Phụng
Location: 51 Bạch Đằng Street, Dương Đông Town
Food Type: Vietnamese soup
Cost: $1.50Us – $3.00US

Bánh Canh Phụng in Phú Quốc is one of the most famous Vietnamese soup shops on the Island. It's so popular that tour organizers actually have included this tiny street side restaurant as part of their itinerary, and rightfully so as the soup is delicious and ridiculously cheap. The soup that is popular is called Bánh Canh cá Thu Phú Quốc, or Phu Quoc fish cake soup, which is a rich sweet and savory soup and it often sells out so get here quick. The soup is served for breakfast only.
Phượng Vĩ Restaurant
Location: Ấp 2, Xã Cửa Cạn next to the Cua Can River
Food Type: Vietnamese
Cost: $1.50US – $10.00US

The Phuong Vi Restaurant is located next to the mighty Cua Can River and it is an awesome place to not only try some great Vietnamese food but also to explore the river either by renting one of their kayaks or joining one of their river discovery tours. Phuong Vi Restaurant is definitely an "off-the-beaten" track place set in an idyllic location. Come for drinks or food and enjoy the river scenery.