Scuba Diving Phu Quoc
Introduction | Why Scuba Dive Phu Quoc | Dive Sites | Operators | Map | Marine Life |
Phu Quoc is an island district located 45 km off the coast of mainland Vietnam that consists of 28 different islands and scuba diving in Phu Quoc is slowly becoming a popular adventure sport activity for both advance and new divers. Although the snorkeling and freediving are both much better than the scuba diving here in Phu Quoc, scuba diving can be a fun activity if you want to get up close and personal with some of the marine life that can be seen here.
Best Season For Scuba Diving In Phu Quoc
The ideal season to scuba dive in Phu Quoc is during the dry season between October through April as the seas are more calm and the visibility is at its peak. Water temperature ranges from 28C to 31C year long.   Diving in the north, however, can be done any time of the year.

Scuba Dive Phu Quoc – Introduction

First and foremost – the scuba diving here in Phu Quoc is not world class.  The majority of the coral reefs in Phu Quoc have been bleached, visibility is extremely poor (between 2 meters and 8 meters), all the larger marine animals have been caught and sold, bottom dredging of the ocean floor continues to this day, and there are no marine protected zones.  Pollution from leaky diesel engine boats & jet skis, offshore oil leaks, toxic ink leached from paper products such has guidebooks and maps, ports and piers built on reefs, anchoring on reefs, and an increase of sewage and garbage being discharged into the ocean has not helped either.
With that being said, Phu Quoc is a great place to learn how to scuba dive and get certified or to try a fun dive – a type of scuba diving where you do not need to be SSI or PADI certified, since most dive spots are here are very shallow.  As long as you are aware of what we just described above, then you will enjoy scuba diving in Phu Quoc for what it's worth – a chance to get off the beach and down in the water, exercise, and to sight see as well.  The following is an honest article on what to expect while scuba diving in Phú Quốc.

Why Scuba Dive In Phu Quoc?
Scuba diving in Phu Quoc is best for observing macro life, that is smaller animals, up close.  These animals, for the most part, do not have commercial value as they are more difficult to catch.  Animals such has nudibranch's, worms, small reef fish, schools of fusiliers, hard coral, banded sea snakes, hermit crabs, mantis shrimp, toad fish, and others can be found here.   Phu Quoc is also a great place to see barrel sponges:

Apart from the banded sea snakes, most of the above mentioned marine life can also be seen while snorkeling. If you are keen on learning how to scuba dive, then Phu Quoc is the perfect place as it is relatively safe, cheap, and a great alternative to Nha Trang or Koh Tao in Thailand.  There are many scuba dive operators found on Phu Quoc (see below) offering competitive certification rates and most of these operators share a charter boat and sail together to the same diving sites and supply the same services on board. Prices are competitive and private scuba diving excursions can also be booked.
Why You Will Not See Any Pelagic (Big Fish) On Phu Quoc?
The reason why you will not see any large fish while scuba diving is because the entire area is over-fished and there are no real marine protected zones.  Quota free deep sea fishing is popular here, and if you are scuba diving in the An Thoi archipelago area, you will encounter spear fisherman and those "snuba-ing" while harvesting the oceans bounty:
And then there are the miles and miles of underwater nets:
Most people who have been visiting Phu Quoc and exploring the islands marine life regularly, like we have, know that there are no "big fish" in the surrounding seas.  If you want to see big fish, just head over to the Duong Dong Market.  Many scuba diving and snorkeling enthusiasts find this fact disappointing, however for others they see this as a good thing and re-market Phu Quoc as a "safe" place to scuba dive because there are no "big fish" e.g. sharks, manta rays, etc.

Scuba Dive Sites On Phu Quoc
There are two main scuba diving regions in Phu Quoc:
The North: Which consists of 2 small islands located off the coast of Vung Bau Beach (Fingernail Island) and Dai Beach (Turtle Island).
The South: The islands that make up the An Thoi archipelago, also known as the Phu Quoc Marine Park.
The southern An Thoi islands were once a great place to observe a variety of marine life a decade ago, but not now.  The visibility is extremely poor in the south at around 2 to 5 meters and there are a lot of suspended particles floating in the ocean.  Global warming is not helping either.  The north is a bit better but not by much.  Visibility is at around 6 to 8 meter and the underwater topography is a little more interesting.   Scuba diving the northern part of Phu Quoc can also be done all year round, however the same cannot be said about the south.  With all else being equal, and if you really want to get your "Phu Quoc Scuba Diving" flag, then choose the north over the south for one main reason, the dive sites are just an hour or so away in the north. Besides, the carbon footprint left just by traveling to the southern islands, which consists of driving to An Thoi Port via a van and then hopping on a diesel powered ferry, is enough to justify not scuba diving the southern Phu Quoc Islands.
Scuba Diving The Northern Phu Quoc Islands
The two Northern Islands that most of Phu Quoc's scuba dive operators will take divers to are 1) Turtle Island and 2) Fingernail Island.
Turtle Island
Turtle Island, or Hon Doi Moi, is located off the coast of Ganh Dau and Cua Can Communes near both Vung Bau and Bai Dai Beach. This small island, which is approximately 50 meters in length, is surrounded by coral.  The coral reef starts at just 0.5m in depth and can reach up to 12 meters.  The ideal scuba dive depth at Turtle Island is around 5m.  Technically you can start scuba diving almost anywhere around Turtle Island, but the best scuba dive spot is on the south eastern side known as "Trystan's Trench",  a scuba dive site where  you will find anemone and anemone fish.
North of Turtle Island you will find an area that has interesting bottom topography.  This area is also a great place to observe barrel sponges covered in sea worms.  Nudibranch's and other macrolife can be spotted here as well.
Fingernail Island
There are 2 fingernail islands (Hon Mong Tay) in Phu Quoc, one located in the An Thoi Archipelago and the other one located just off the coast of Vung Bau Beach in Cua Can Commune. The latter is a popular diving destination as it is surrounded by a shallow reef that starts off at 1 meter and reaches down to 10 meters in depth.
Fingernail Island is a great place to learn scuba diving essentials and plenty of hard coral can and  smaller marine life can be observed here. .  Unfortunately a fair portion of the coral reef has been damaged due to the construction of a pier and as such this dive site is only good for "fun dives".
Scuba Diving An Thoi In Phu Quoc
The 15 islands that make up the An Thoi Archipelago is a popular area to scuba dive .  The An Thoi Archipelago, also know as the Phu Quoc Marine Park, is surrounded by coral reef, some of which is teeming with life.  Depths here range from 5 meters to up 25 meters however most of your diving will be at the 6 to 8m mark.  The visibility here is horrible at 4 meters max if you are lucky.
Map of the An Thoi Islands:

Scuba Dive Operators On Phu Quoc
As Phu Quoc becomes a popular tourist destination, more scuba dive operators enter the marketplace and offer scuba diving enthusiasts an opportunity to discover the underwater life.  Although the snorkeling and freediving are much better than the scuba diving on Phu Quoc, some tourists still opt to dive and are confused with which operator to go with.  There are a lot of marketing gimmicks and fear tactics used on the island to separate tourists from their vacation dollars so choose your scuba diving operator carefully.  You will be presented with a lot of pictures of what you "might see", e.g. bamboo shark, whale shark, turtle, dolphin, manta rays, dugong, etc but the chances of seeing them are very slim.  What you are more likely to see are anemones, polka dot nudibranch, whip coral, parrot fish, brain coral, and similar reef fish.  The depths of most dives rarely exceed 8m which is why most people skip scuba diving here on Phu Quoc and just go snorkeling instead.  If you do dive in An Thoi, some dive operators on the island will try to distract you from the damaged reefs and underwater trash by taking you to floating fish farms and/or serving you raw urchins to eat to make your experience a bit more enjoyable.
Choosing a scuba dive operator on Phu Quoc:
The more lavish the shop, the higher the costs.
The southern islands have low visibility but yield the highest margins for dive operators so they will push the southern Phu Quoc dive sites over the northern ones.
All dive shops are more or less the same.
If you are serious about scuba diving, try to organize a private trip, or better yet bring your own equipment.
Fingernail Island's reef in the north has been altered due to construction and the diving here is not that great here anymore so allocate your scuba diving expenditure elsewhere.
Turtle Island has 2 dive spots, one dive site is located directly north of the island and one dive site is located south of the island.  We prefer the south dive site because you can observe anemones – "Trystan's Trench" is the best spot (see map).
Don't trust the pictures that the scuba dive operators show you, trust the videos we have embedded throughout this page as they accurately reflect the scuba diving conditions on the island.
Phu Quoc Scuba Dive Site Map
There are numerous Phu Quoc dive sites with fancy names and descriptions however we have identified the followig 5 best scuba dive sites in Phu Quoc, they are also the most popular ones as well.
Scuba Dive Phu Quoc – Marine Life
The following are some of Phu Quoc's marine life that either we have seen or other divers have seen recently.  We will continue to update this list when users, like you, send us pictures and videos.
Anemones @ Trystan's Trench, Turtle Island Phu Quoc

Nudibranch
Nudibranchs (Order Nudibranchia) are gastropod molluscs or "sea slugs" and can be found all around Phu Quoc and other islands in the Gulf of Thailand. They can be spotted at various depths, wide range of habitats, and on top of various substrates.  The two most common nudibranchs found in Phu Quoc are the Polka Dot Nudibranch (Jorunna funebris) and the Phyllid Nudibranch (Phyllidia Varicosa).  Blue Dragon Nudibranchs (Pteraeolidia ianthina) and Pimpled Phyllidiella Nudibranch (Phyllidiella pustulosa) have also been spotted in 2017.
Seahorses on Phu Quoc
You have a better chance of seeing live seahorses being sold in Ham Ninh Village  as "food" than in the ocean surrounding Phu Quoc District.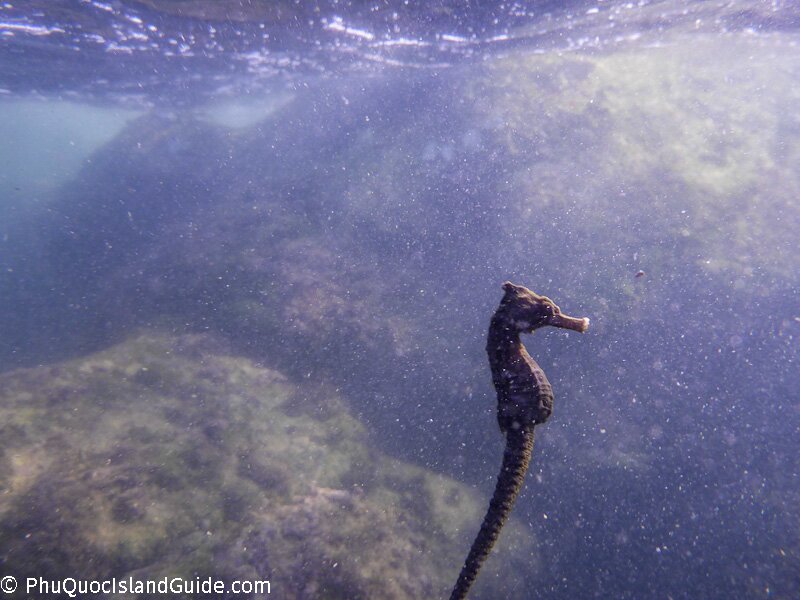 Banded Sea Snake
You can see banded sea snakes in and around May Rut Island.  The best time to observe them is at 9am in the morning.
Cuttlefish
Like with the seahorses mentioned above, you can observe live cuttlefish being sold at the Phu Quoc Night Market.
Clown Fish
Puffer Fish

Bamboo Sharks
We recently found a bamboo shark in Phu Quoc – not while scuba diving but at one of the seafood restaurants found in Ham Ninh Fishing Village.