Ganh Dau Beach
Discover Ganh Dau Beach in Phu Quoc Island. This northern beach has soft yellow sand with a calm sea that is turquoise in color. Learn more today!

Ganh Dau Beach & Cape
Ganh Dau Beach (Bai Ganh Dau) is located in Ganh Dau Village up in the northern part of Phu Quoc Island and it is widely considered to be one of the best beaches on the island.  The beach is surrounded by pristine forest & mountains and it also famous for its revolutionary past, where a Vietnamese fisherman named Nguyen Trung Truc set up a base near by and fought off the French.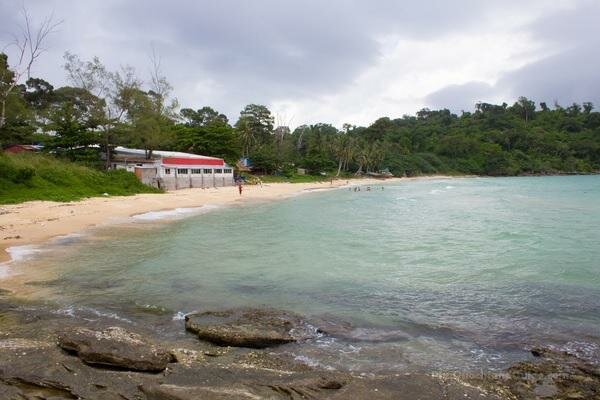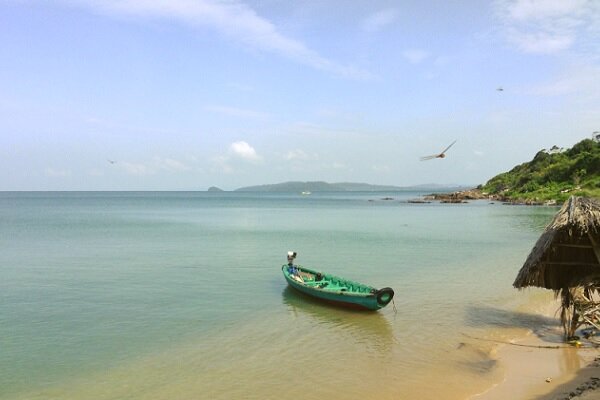 The Beach
The beach is arch shaped and about 500 meters in length, fringed by palm trees, and is shielded by two mountains.  The sand is yellow in color and a bit coarse due to the vast amount of coral found in the water.

The Ocean
The ocean is calm and teeming with life due to the presence of coral and rocks.  The water has a bluish green tint color and it is mainly free from trash.


The Wildlife
Ganh Dau Beach is a great place to observe the great sea eagle flying high above you.  In the water you will find a lot of different fish species such as parrot fish, crabs, clams, etc.  Hard coral is abundant here and the coral is healthy.
What To See
From the shore you can see two islands, Ban Island (Hon Ban) and Mouse Island (Hon Thay Boi).  You can also see the Cambodian coast and Cambodia's Mount Ta Lon.  Nearby you will find the Nguyen Trung Truc Temple, Ganh Dau Village, and Phu Quoc National Park all of which are worth a visit.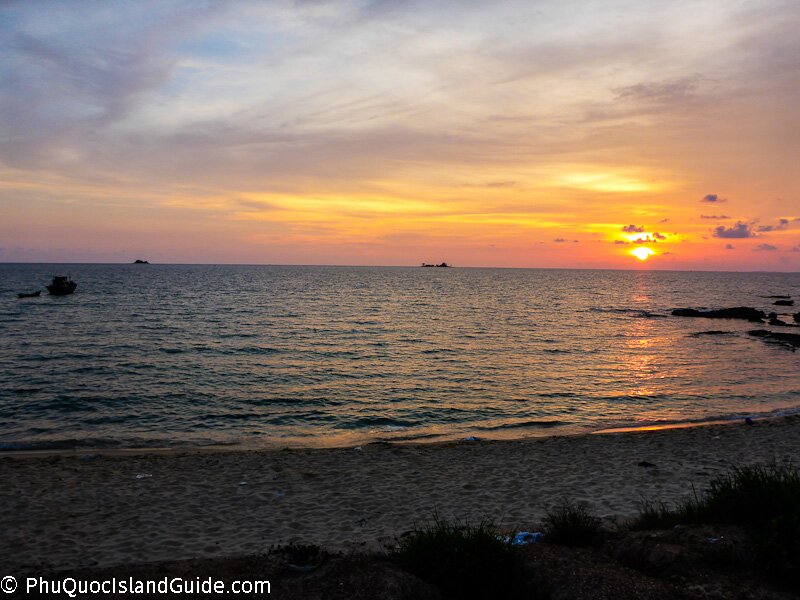 What To Do
Besides enjoying the view and swimming, you can rent a boat and take a tour along the coast and snorkel at two points. The hard coral here is healthy and the water is calm making it very easy to snorkel. Depending on the season and ocean currents, you can also rent a boat to visit the two island seen in the distant as mentioned above.
Where To Eat & Drink
There are two beach front restaurants that serve a good selection of seafood and Vietnamese dishes.  Dishes start at around 100,000VND and up.
Name: 725 Restaurant
Location: Right on Ganh Dau Beach
Name: Bien Hai Quan Restaurant
Tel: 0773645425
Location: Right on Gan Dah Beach
Near town you can eat Pho, Bun Bo Hue, and other traditional dishes for only 35,000VND.

Where To Stay
There are a few places to stay in in Ganh Dau Village but there are no accommodations on the official Ganh Dau Beach.  By the village there is another beach that faces Cambodia but it is not as clean nor as nice as Ganh Dau Beach as that beach has become a parking lot for fishing boats.
Name: Peppercorn Beach Boutique Resort
Tel: 0773989567
Name: Gio Bien Resort
Tel: 0919202699
Name: Gia Han Guethouse
Tel: 0912429156
How To Get Here
Getting to Ganh Dau Beach from Duong Dong is easy.  Just take the Cua Can Road from Duong Dong Town all the way up until you reach Vinpearl Phu Quoc.  Stay on the paved road and keep heading north and you will eventually reach Ganh Dau Beach.  The total journey is approximately 30kms from Duong Dong.
Need To Know
At Ganh Dau you will find 2 pharmacies, a hospital, as well as 2 Petrolimex gas stations.  Currently there are not ATM's at the moment but that is bound to change.